The countdown has officially begun, season 4 of Riverdale is just around the corner and we can hardly wait. We have been on the edge of our seats waiting for all of the answers to the questions we've had since the end of season 3. While we get a taste of Betty and Jughead's relationship IRL with celeb couple Lili Reinhart and Cole Sprouse, we need to know what happens in the next season. What exactly is in store for Jughead and the rest of the Riverdale High crew? The anticipation is killing us!
Luckily, the wait will be over soon. The CW hit show will air the first episode of its long awaited fourth season on Wednesday, Oct. 9! That's right, you'll see your faves Jughead and Betty in no time. Luckily, an exclusive E! News trailer for the new season has given us a sneak peek into what's to come this next season. 
What to Expect in Riverdale Season 4
For starters, season 4 is expected to take place during the summer before the cast's big senior year at Riverdale High. Trust us, summer vacation will be anything but relaxing for the Riverdale gang. Forget about prepping for high school graduation or college, these kids have much bigger issues on their hands. From a desperate search to find missing Jughead to Betty shockingly getting hit over the head with a gun– this next season will be filled with tons of mystery and scandal. 
Riverdale Season 4 Characters 
Apart from Jughead and Betty, Riverdale fans' other favorite couple Veronica and Archie will also get plenty of screen time. Have no fear, the new season definitely won't disappoint fans who have been anxiously waiting for the first episode to drop. We'll be knee deep in all things Riverdale come Oct. 31, and what better way to pay tribute to your favorite show than recreating the characters' best looks for Halloween this year?! Thanks to season 4 sneak peek photos we see that the characters stick to their signature styles. We've already come up with plenty of DIY costume ideas for you whether you want to be Betty, Veronica, Jughead, or Archie. 
How to DIY Riverdale Costumes 
How cute would a best friend Betty and Veronica costume be?! Or better yet, how about a couple's costume where you dress up as Betty and Jughead or Veronica and Archie? The options are truly endless this Halloween 2019. We've got plenty of affordable ideas for you to create your own Riverdale costumes to prep for Halloween night. They're literally all so easy to whip up–even at the last-minute.
Instagram.com/thecwriverdale
Betty Riverdale Halloween Costume
Betty's classic style is preppy and chic. Her style is timeless and seems to carry into season 4, according to teaser photos and videos. Betty keeps her style classic yet comfortable. We bet you may even have a couple pieces in your closet to DIY your own Betty Riverdale Halloween costume.
How To DIY It:
Let's dive right into it. Betty is often seen wearing lots of blouses and cardigans throughout Riverdale's first three seasons. We suggest creating your own Betty costume with this Allegra K Women's See Through Contrast Peter Pan Collar Lace Top ($20.99) paired with this Urban CoCo Women's Basic Versatile Stretchy Flared Casual Mini Skater Skirt ($12.95). Of course you can't forget a cardigan: LALABEE Women's Open Front Pockets Knit Long Sleeve Sweater Cardigan ($21.00-25.45).
Instagram.com/thecwriverdale
Jughead Riverdale Halloween Costume
Jughead's style is seemingly the complete opposite of Betty's. But hey, they say opposites attract, right? Jughead leans more towards hipster styles with an edgy flair. He's big on dark colors, sherpa jackets, and his iconic beanies.
How To DIY It:
The most important part of a DIY Jughead Halloween costume is arguably his beanie. Select a beanie of your choice or this Top Level Beanie Men Women - Unisex Cuffed Plain Skull Knit Hat Cap ($8.99). Next, let's move onto clothes. Pair some jeans with this Levi's Men's Cotton Canvas Tucker Jacket with Sherpa Collar ($79.99) styled with this Amazon Essentials Men's Slim-Fit Long-Sleeve Solid Flannel Shirt ($17.00).
Instagram.com/thecwriverdale
Veronica Riverdale Halloween Costume
Let's put our focus on another one of our favorite Riverdale couples: Veronica and Archie. While their relationship may be on-again, off-again, their style is always on point. Veronica's go-to pearl necklace and chic outfits are to die for.
How To DIY It:
Veronica's everyday style definitely has a bit more edge to it than Betty's classic style. For this Veronica look we are going with one of her darker outfits. Buy this Zeagoo Women's Semi-Sheer V Neck Summer Button Chiffon Sleeveless Blouse Office Tank Top ($12.79) and style it with this Rekucci Women's Ease Into Comfort Above The Knee Stretch Pencil Skirt ($24.99). Lastly, pick up this BABEYOND Round Imitation Pearl Necklace Wedding Pearl Necklace ($7.99) to complete your Veronica DIY costume for under $50.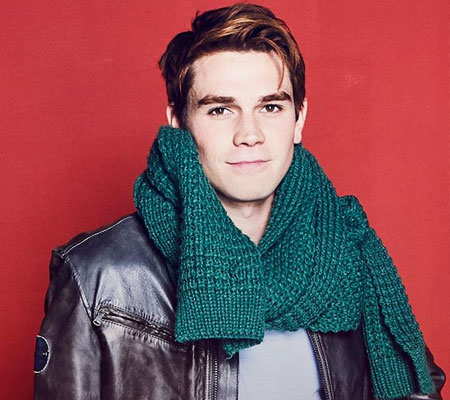 Instagram.com/thecwriverdale
Archie Riverdale Halloween Costume
When Archie actually has his shirt on he keeps his style pretty simple. We'd say he follows the classic boy next door look. This particular Archie outfit will make the perfect last-minute Halloween costume this year.
How To DIY IT:
We've found the best dupes for your Archie DIY costume. Zip up this Levi's Men's Faux-Leather Jacket with Hood ($43.45-69.99) and pair it with this Hanes Short Sleeve 50/50 T-Shirt ($5.06). For the perfect finishing touch remember this Noble Mount Mens Soft Winter Patterned Scarf ($9.99).
SheFinds receives commissions for purchases made through the links in this post.