Sephora is home to so many amazing skincare products, but nothing compares the beauty retailer's eye cream selection. They've got everything from gels and creams and each is formulated with industry-leading ingredients that nourish the under-eye area to keep it healthy, hydrated, and radiant. But to really see results, board-certified, Los Angeles-based dermatologist Annie Chiu says that you need to use an eye cream regularly.
Under-Eye Cream Usage
"Regular use of eye cream over time will keep the eyelid skin elastic and can improve or prevent against some fine lines or collagen loss. Remember: Nothing is magic. Results don't occur overnight," she says. "You can further protect the delicate skin around your eyes by choosing an eye cream with SPF or applying sunscreen every day. Over time it's about maintaining the health and thickness of the eyelid skin. Improving the skin quality in this area early on ensures that the eyelid skin does not easily lose laxity and its smooth appearance later on."
Best Eye Cream For Dark Circles & Puffiness
Not sure which eye cream is right for you? Sephora shoppers agree that Saturday Skin's Wide Awake Brightening Eye Cream is the best of the best. It's got a 4.6 rating on Sephora.com and 90% of users say they would recommend it!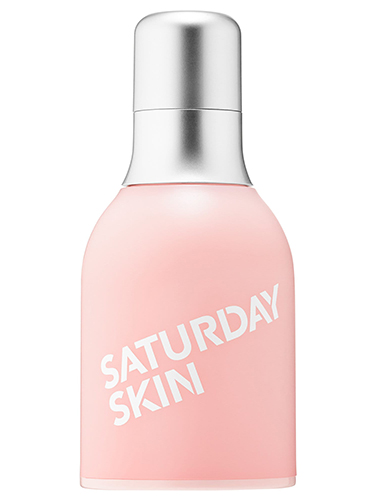 Saturday Skin Wide Awake Brightening Eye Cream ($46.00)
This hydrating eye cream contains date seed extract, which works to illuminate and refresh the eye area, while the brand's patented peptide complex improves the skin's moisture level, texture, firmness, and elasticity. Avocado protein extract and hyaluronic acid nourish and maximize hydration for the delicate under-eye skin, making it an excellent solution for dryness, dark circles, and puffiness.
What people are saying about it:
"This is a great eye cream, I got it two months ago but been using it the morning and evening. Already seeing good results. I get dry around the eye area and this cream keeps you fresh and hydrated all day. Very good eye cream." - jillandjackie
"I love Saturday Skin products and this is no exception. My eye lids are oily and the delicate skin under my eyes is very dry. Very soothing and moisturizing. Absorbs quickly. Most importantly, it does not interfere with my make-up. It is the best eye cream I have ever tried." - kaitwhit

"In Love with this eye cream. Took a chance on trusting all the positive reviews. So glad I did. My skin is hydrated, smoother and brighter. A little goes a long way with the formula being a bit liquidity more than others I have tried. And how can you not like that bottle lol." - Justine9

This isn't the only Saturday Skin product that people are obsessing over. Here are some of the brand's other bestselling items:
Saturday Skin Rise Shine Gentle Cleanser ($26.00)
This soft, whipped cleanser uses a hydrating gel formula to freshen the skin and reveal a healthy complexion. It features a unique texture that lathers up to a rich, frothy foam, effortlessly removing impurities and imparting a fresh, clean feeling—without leaving the skin feeling stripped of moisture. It removes pore-clogging impurities and improves the skin's firmness and suppleness--it doesn't get any better than that!
What people are saying about it:
"I have extremely dry skin so this was so refreshing to use! I feel like I've tried just about every cleanser out there and so far, this is the best one I've come across for my dry skin. It's a pretty thick consistency and a little goes a very long way so there's definitely value in this product. The smell isn't bad. It's almost like grapefruit to me even though the ingredients state peach extract. I'm sensitive to strong smells and this one goes away quickly so I'm happy about that. Once I'm done washing my face, it doesn't feel as tight as some other cleansers make my face feel. I feel cleansed and smooth. I've actually noticed that my face looks smoother and brighter since using this line of skincare. I'm so happy I received this free to try!" - Pamela1524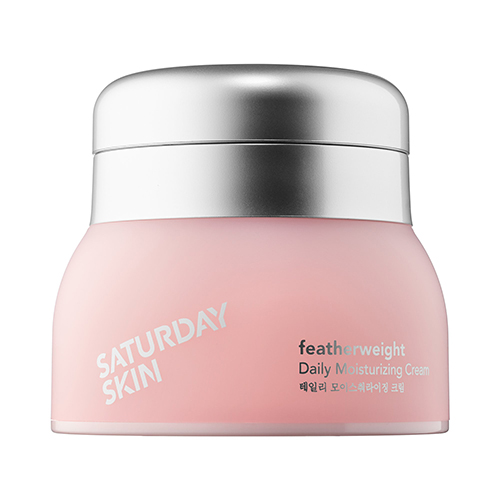 Saturday Skin Featherweight Daily Moisturizing Cream ($49.00)
This lightweight moisturizer protects the skin while improving its softness and suppleness. It's formulated with the brand's patented peptide complex, which contains nutrient fruit extracts that improve the look of skin's moisture level, texture, and tone. Avocado protein extracts help strengthen the appearance of the skin barrier, while antioxidants like peach extract promote maximum hydration and promote a supple look and feel of skin.
What people are saying about it:
"Perfect moisturizer for those trying to get the dewy look. It hydrates the skin very well and stays that way throughout the day. Also, a great company with customer service that is quick to respond if you have any questions!" - skylarpittmon

Saturday Skin Daily Dew Hydrating Essence Mist ($34.00)
This refreshing and hydrating face mist is a toner and essence all in one. It helps deliver moisture over and under makeup to reveal a flawless, radiant skin. Concentrated extracts of kiwi and grape nourish skin in a veil of moisture, while the brand's Cha-7 ES Complex supports the skin's natural regeneration process. Together, these ingredients support collagen and elasticity while reducing the appearance of melanin for a flawless-looking complexion that's protected from free radicals.
What people are saying about it:
"I love face mists! This one is my favorite so far because it triples as a toner, serum, and moisturizer or if I just want to mist my face when my skin feels dry or dehydrated during the day. This mist gives me a dewy look without being shiny. The scent is so light and fresh as well. love it!" - hcarmelle

Are you a fan of Saturday Skin? Let us know which products you swear by in the comments below!
SheFinds receives commissions for purchases made through the links in this post.