Celebrities are in a league of their own when it comes to their skin. Regardless of the celebrity, they always have a glowing, flawless complexion when they hit the red carpet. Some may think it's because they have good genes, but it's actually because of their skincare routine!
Think about it: These people have access to the finest products and get advice from some of the industry's best dermatologists and cosmetologists. So, it's not that surprising that they're skin is always free of blemishes, impurities, fine lines, and wrinkles.
Dying to know which products celebrities like Jennifer Lawrence, Gal Gadot, and Gwyneth Paltrow use to maintain their radiant skin? We did some digging and found the products that they swear by–and some can even be found in the drugstore!
Jennifer Lawrence
St. Ives Acne Control Apricot Scrub ($3.39)
J.Law fights acne with this old school drugstore favorite. It exfoliates the skin and deeply cleanses pores to reveal a fresh, soft and smooth complexion. It also contains salicylic acid, which helps keep blackheads and pimples at bay and prevents that from forming.
Kristen Stewart
Proactiv 3-Step Acne Treatment System (30-day) Starter Size ($34.95)
Like most acne suffers, Kristen Stewart turns to Proactiv's 3-Step Acne Treatment System. The popular skincare regimen is formulated with acne-fighting medicine and benzoyl peroxide and works to clear acne and prevent future breakouts. From the look of Kristen's skin, this stuff really works!
Gal Gadot
La Mer The Cleansing Oil ($90)
Gal Gadot gets her luminous complexion from La Mer's Cleansing Oil, which features precious marine oils that add moisture and energy to the skin. It also works as an effective eye and face makeup remover, which helps Gal prevent breakouts and blemishes.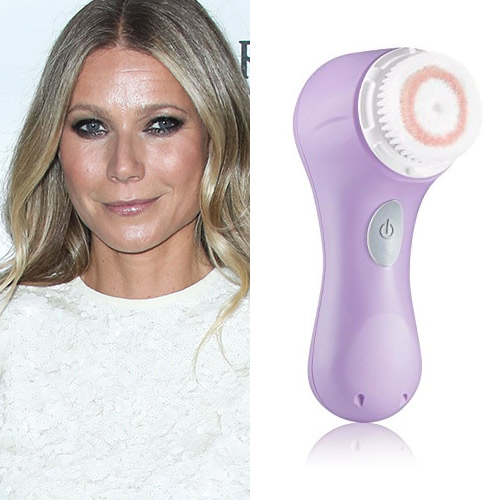 Gwyneth Paltrow
Clarisonic Mia 1 ($129)
When it comes to clear skin, goop founder Gwyneth Paltrow relies on her Clarisonic Mia 1 to get deep into the pores and remove makeup, dirt, oil, and sweat. All you need to do is apply your favorite cleanser to the brush when it's wet and gently massage it into your face in circular motions. Not only does it help to get rid of pore-clogging agents, but it also improves the skin's natural elasticity to reveal radiant skin.
Jourdan Dunn
Tata Harper Purifying Cleanser ($66)
Protect your skin from the damaging effects of environmental pollution with Tata Harper's Purifying Cleanser, which is one of model Jourdan Dunn's favorites! It unclogs pores and eliminates dead cell build-up and impurities using deep-cleaning sugars, broccoli extract, fruit enzymes, and invigorating essential oils.
[Photos: Splash]
SheFinds receives commissions for purchases made through the links in this post.