Believe it or not, you can increase your metabolism by eating certain types of food. Increasing your metabolism will help burn more calories and make it easier to maintain your weight or get rid of unwanted body fat. In addition to working out, make sure you munch on one of these delicious crock pot friendly meals to boost your metabolism this week.
Sea Bass and Seafood Italian One-pot
Iron, zinc, and selenium are required for the proper function of your thyroid gland, which regulates your metabolism. Seafood is an excellent source of all three minerals and it's a lean protein. This warming Italian one-pot meal features a plethora of seafood along with a touch of red chili (which also increases metabolism) for heat. This seafood stew is delicious, simple, and good for your body.
You'll Need:
Olive oil
Fennel bulb
Garlic cloves
Red chili
Squid
Basil
Tomato
White wine
Mussels or clams
Prawns
Sea bass fillets
Crusty bread
Craving some cajun grub but afraid it may set you back a few pounds? This one-pot spicy cajun chicken and rice is full of lean protein and a myriad of spices that's perfect for busy nights. It features metabolism-boosting spices such as cayenne pepper that will light up your weight-loss as well as your taste buds.
You'll Need
Boneless skinless chicken breasts
Cajun seasoning
Rice
Chicken broth
Bell pepper
Cilantro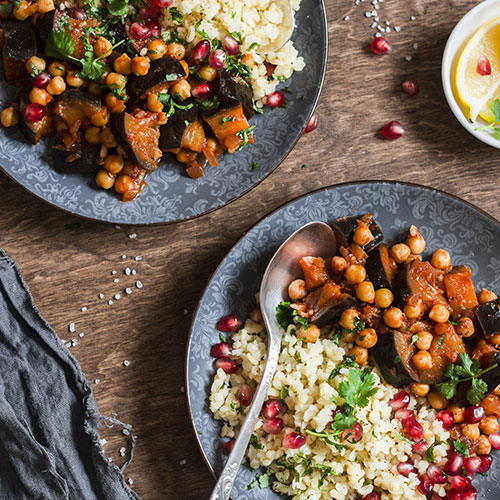 Legumes such as chickpeas contain a large amount of protein, a good amount of dietary fiber, resistant starch and soluble fiber. This means that chickpeas will keep you full longer and satisfied without consuming a lot of calories. Reminiscent of ratatouille, this vegetarian-friendly can be served over quinoa or soft polenta with sautéed spinach.
You'll Need:
Dried porcini mushrooms
Eggplants
Extra-virgin olive oil
Onions
Garlic
Dried oregano
Cinnamon stick
Salt
Pepper
Bay leaf
Dried chickpeas
Tomatoes
Fresh parsley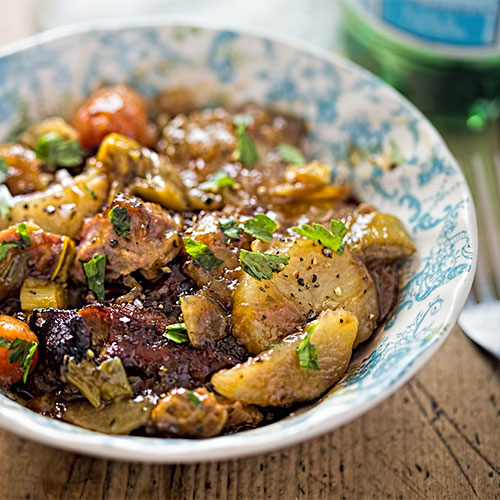 There's nothing better than a classic one-pot meal for mid-week cooking. This stew features a double whammy of lean protein: lamb and cannellini beans. Combine that lean protein with fiber filling vegetables, and you've got a metabolism-boosting dinner. The ingredient list is simple, but that doesn't mean it's short on flavor.
You'll Need:
Vegetable oil
Lamb
Onion
Carrots
Leeks
Vegetable or chicken stock
Rosemary
Cannellini bean
Crusty bread or boiled potatoes