When she's off duty, Taylor Swift tends to dress pretty modestly. She likes high-waisted swimsuits and cardigan sweaters (same, Tay, same). So when we see her in one of her smoking-hot red carpet or performance outfits, it's definitely shocking.
Her appearance at the AMA's last week was no exception. Her Balmain mini-dress-with-thigh-high-boots look was so hot, we barely recognized her for a second. Between that and J.Lo's plunging neckline, it was one of the hottest awards show red carpets of the year. Don't you agree?
T. Swift was looking like a total galactic babe in a head-to-toe mirrored ensemble from Balmain's Resort 2018 collection. See for yourself:
Fans of the brand know all about the #BalmainArmy. Taylor is in good company; the Hadid-Jenner-led posse is basically Taylor Swift's own squad on steroids. Everything about the brand is so hot–think plunging necklines, the teeniest tiniest mini dresses, lots of glitter and glam. Nice choice for a red carpet, Tay!
Her fans LOVED the look, with her dedicated style Instagram account @TaySwiftStyleDotCom pointing out that she also came through dripping in Lorraine Schwartz and Ofira jewels. Jaw-dropping!
And don't even get them started on her AMA's performance. The pop star opened the show with her anthem, "I Did Something Bad"–and boy it was no joke.
So–what do you think: was this Taylor Swift's sexiest look yet?
READ MORE: This May Be The Sexiest Thing We've Ever Seen Jennifer Lopez Wear On The Red Carpet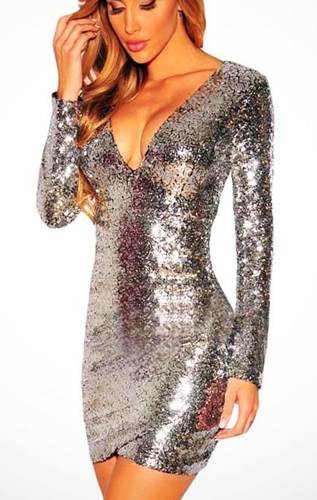 Aleya Ladies Casual V Neck Long Sleeve Sexy Party Dress ($21.99)
Sexy Backless Long Sleeve Sequined Dress ($43.39, down from $69.16)
Adrianaonline Offers Free Express Shipping And Duties On All Orders ($597.71, down from $1,494.28)