The best way to lose weight when you're over 40 is to follow a healthy, nutrient-rich diet. Most people think that only means removing fattening foods and drinks from their meals, but fitness experts say it's also an opportunity to add some delicious, fat-burning options as well.
In fact, there's one drink that nutritionists and health care physicians recommend having every day because of its anti-inflammatory properties and antioxidant-rich blend–it's green tea! 
Shutterstock
Green tea gets its metabolism-boosting effects from its rich brew of catechins, a type of antioxidant, also known as EGCG. Melissa Majumdar, R.D., a spokesperson for the Academy of Nutrition and Dietetics and senior bariatric dietitian for Brigham and Women's Center for Metabolic Bariatric Surgery, says that it's the combination of the tea's catechins and caffeine that aid in weight loss.
"Caffeine and green tea combined show enhanced fat oxidation," she tells Women's Health, noting that this increases your energy levels and gives your metabolism the boost it needs to burn calories more efficiently as energy instead of storing them as fat.
Shutterstock
Research on the full effects of green tea on the metabolism and its role in weight loss is still limited, but there are several small studies that have found a link between the two.
A 2018 study published in the International Journal of Sport Nutrition and Exercise Metabolism found that matcha green tea drinks can enhance exercise-induced fat oxidation in women following a 30-minute walk. Another 2012 meta-analysis published in the Cochrane Review found that "green tea preparations appear to induce a small, statistically non-significant weight loss in overweight or obese adults."
Shutterstock
But that's not to say that having a cup of green tea is still better than having a cup of soda or something equally as fattening, right?! Making a healthy tweak to your diet like this will definitely help you in the long run by promoting healthy eating habits that benefit your metabolism.
Majumdar suggests adding green tea to an already-established healthy eating and exercising plan and urges dieters to be smart about what they add to their cups, naming common additions like cream and sugar as "empty calories."
"Is it going to help with weight loss? Probably not much," says Majumdar. "But it can be included in a general healthy diet, and safely be included in a weight-loss plan."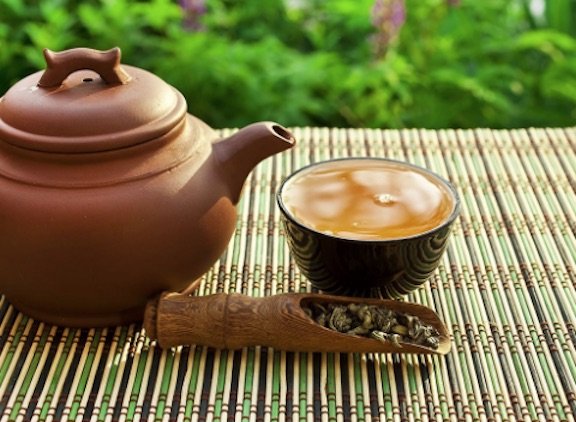 Shutterstock
Not a fan of green tea? There's another metabolism-boosting tea that can help you burn calories and shed pounds--it's oolong tea!
Oolong tea is a light, floral tea that is packed with catechins, which are antioxidant-rich compounds that are naturally found in the tea. These catechins have been found to break down adipose tissue by triggering the release of fat from fat cells. By doing this, the body is able to burn calories for energy instead of storing it as fat.
Shutterstock
A study in the Chinese Journal of Integrative Medicine found that participants who regularly sipped oolong tea lost six pounds over the course of the six-week time period.
"Oolong tea possesses properties that can lower lipid and fight obesity. Oolong tea acts by accelerating metabolism, improving fat mobilization, preventing fat cell proliferation, and helping to maintain weight loss," Charushila Biswas, ISSA Certified Specialist in Fitness & Nutrition, writes for StyleCraze.
Shutterstock
Biswas also notes that oolong tea also promotes healthy digestion, too! The tea increases the pH levels of the digestive tract, allowing your body to better digest the foods you've consumed and aid in weight loss. It's also been found to boost energy levels, which will help increase the body's energy expenditure further promoting weight loss.
Will you be incorporating these fat-burning teas into your weight loss routine? Let us know in the comments below!