We've already schooled you on what
clothing you should
be folding and what you should be hanging, but we're about to take it a step further. All hangers are not created equal—there are certain hangers for everything that's in your closet. So if you'd like to keep all of your clothing in mint condition, you really should be using the proper hangers. Click though the slideshow to learn just what those are.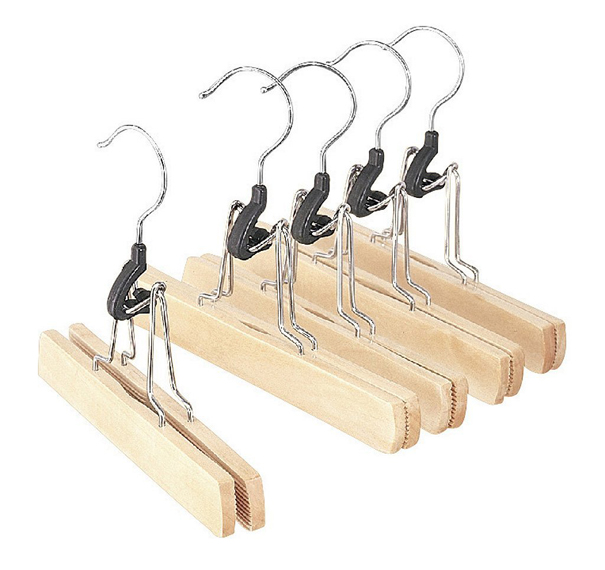 Trousers
To avoid that inevitable crease that results from folding pants over a suit hanger, hang them by their cuff on a clamp hanger.

Whitmor 6026-342 Natural Wood Collection Slack Hanger Set of 5 ($9.99)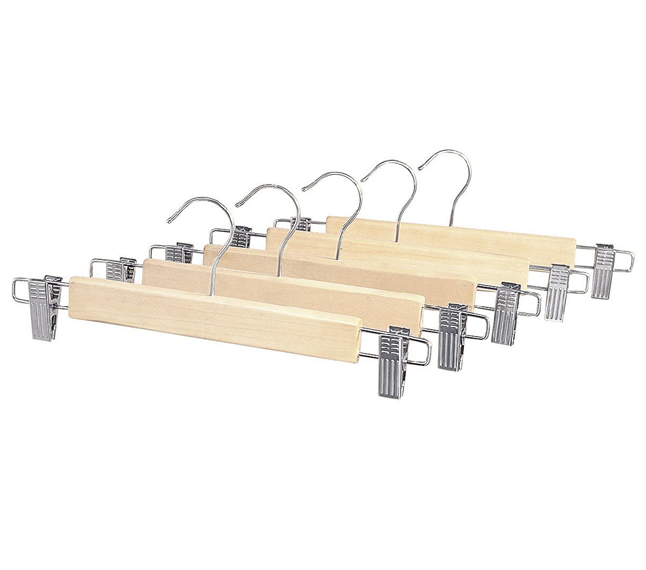 Skirts
Just like trousers, skirts shouldn't be folded in half and over a suit hanger—they get creased too. Skirt hanger, or clamp hangers (you say potato), are great for hanging your skirts and keeping them free of any wrinkles. But make sure to look for the skirt hangers with cushioned clamps though, to avoid those ugly dents that clamps tend to make.

Whitmor 6026-341 Natural Wood Collection Skirt Hangers Set of 5 ($9.99)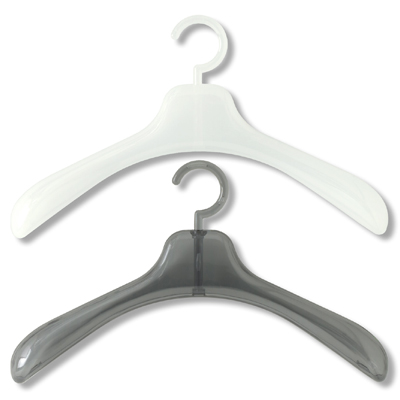 Dress Shirts/Button-Ups
It might be tempting to leave your dress shirts on the wire hanger they came back on from the dry cleaners, but it's a really bad move. Those hangers are super flimsy, and aren't durable enough for long-term usage, plus they can cause dents and puckering. The best and cheapest way to hang a button-up is with a plastic tubular hanger, like this $6.99 Euro Hanger from the Container Store.

Added tip: To avoid wrinkling all together, make sure to button every other button on your shirts after they're hung up.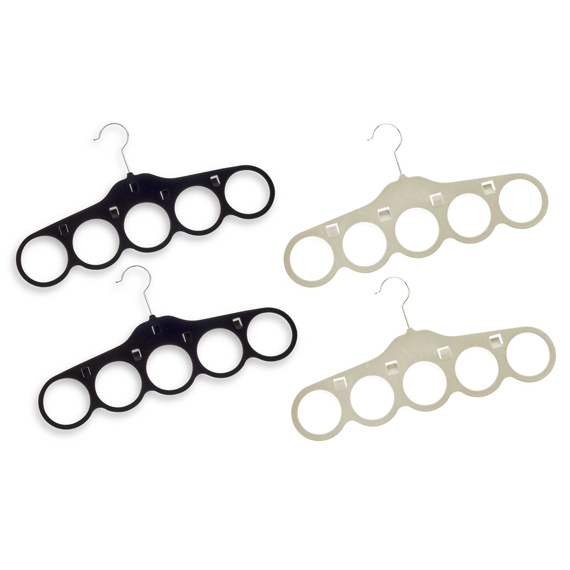 Lightweight Scarves
Instead of throwing your scarves into a drawer to wrinkle and get all tangled, try hanging them up. Now they even make special hangers for scarves, and they work wonders at keeping them neat and orderly. Try Real Simple's Slimline Scarf and Belt Hangers, they're under $10 bucks for a set of two.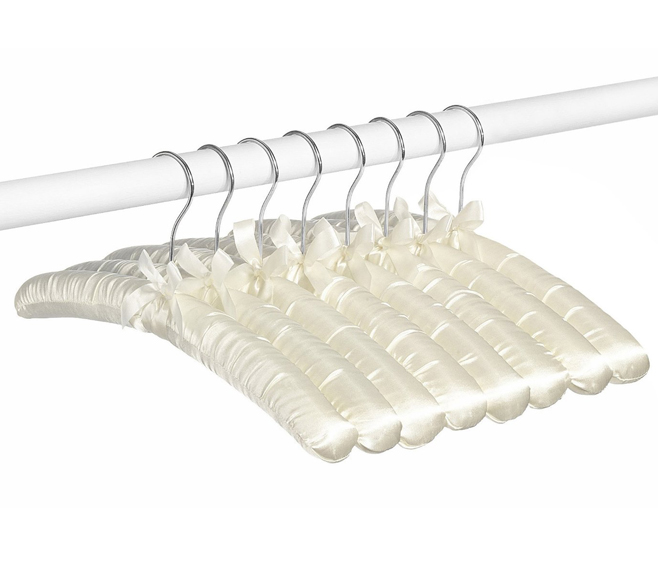 Silk Tops
If your silk tops always seem to end up on your closet floor, it's probably because you're not hanging them right. Silk is delicate, not to mention slippery, so a plastic or metal hanger isn't gonna cut it. Opt for hangers with padding—they're made to hold delicate fabrics, plus your tops won't slide off.

Whitmor 6114-48-C Set of 8 Satin Padded Hangers-Bone ($8.28)
Blazers
Curved suit hangers are the way to go when hanging up your blazers and tailored jackets. The contours in the hanger help to maintain the shape of the jacket, and wooden ones, like these, provide the right amount of support.

Superior Natural Wood Hangers ($9.99 ea)
Dresses
If you're guilty of cutting out the hanger straps on you're dresses, you're not alone, but they actually serve an important purpose. Unless your dress has thin straps that can be used for hanging, those hanger straps'll come in handy. Use them to hang your dresses on hangers that have notched shoulders—the notches help to prevent dresses from sliding off. Personally, I love velvet dress hangers, like these from Amazon—they're under $20 for a pack of 50, can't go wrong.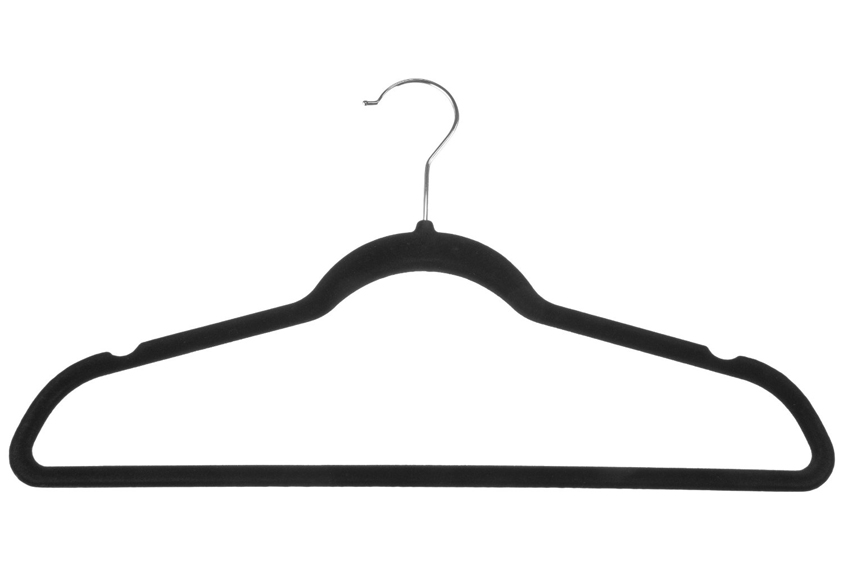 Sweaters
Ideally, sweaters should be folded and not hung, but if you're drawer space is limited, fold your sweaters in half, shoulder to shoulder, and drape them over a velvet suit hanger.

AmazonBasics Velvet Suit Hangers - 50 Pack ($24.99)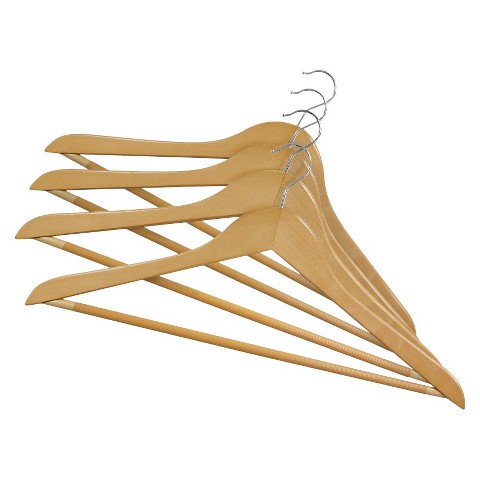 Heavy Coats
I'm sure you've seen what a warped hanger looks like—that's what happens when you hang something really heavy on a hanger with minimal support. So when you're looking to hang up your coats and heavier jackets, choose a sturdy curved suit hanger, like one that's made of solid wood.

Threshold 24 Pack Wood Hangers ($14.49)