Places like Target are loaded with amazing and affordable skincare finds. In fact, one of their bestsellers is Aveeno's Positively Radiant Daily Facial Moisturizer With Broad Spectrum SPF 30, a popular drugstore formula that offers SPF protection and helps reduce the appearance of fine lines and wrinkles. This moisturizer is so good that it's practically always out of stock–that's how you know it's good! In fact, some happy Target shoppers are even calling it the best moisturizer with SPF for aging skin!
The Best Moisturizer With SPF For Aging Skin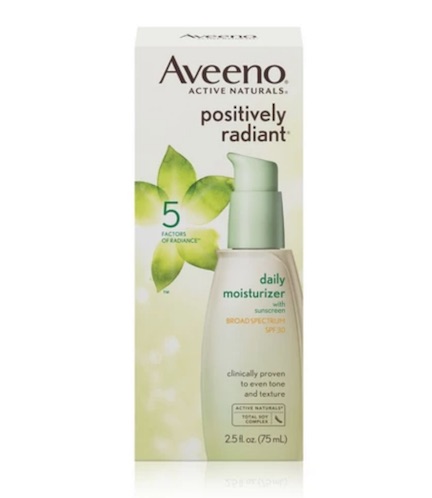 Aveeno Positively Radiant Daily Facial Moisturizer With Broad Spectrum SPF 30 ($12.19) 
This moisturizer is clinically proven to improve tone, texture, dullness, blotchiness, and brown spots using Aveeno's exclusive ACTIVE NATURALS® Total Soy Complex and natural light diffusers, which work to even skin tone and texture and reflect light for luminous skin.
Why People Say This Is The Best Moisturizer With SPF For Aging Skin
Check out what people are saying about this moisturizer in the reviews section on Target.com!
"This moisturizer is so amazing! I have acne, oily skin, and also sensitive skin that gets really dry and flaky when I use my acne medication. This moisturizer is so good at taking care of all my skin needs! After you put it on and it settles after like a minute, there's no thick greasy feeling or anything. Your skin just feels super soft and looks great, my skin is actually less oily throughout the day! Plus it hasn't clogged my pores or anything which is what I also need!" – Jennifer
"I love this moisturizer! My skin actually looks great after using it. It targets age spots and gives my skin a healthy glow. I'm in my thirties, but after using this product my skin has a radiance that I have not seen since my twenties. This product also improved the texture of my skin. Great product for ages 30+!" – Target Shopper
"My daughter uses Aveeno products and has gorgeous skin. I recently started using the Aveeno Positively Radiant and noticed an immediate improvement. I am in my sixties and my expectations were low. I must say, Aveeno has given my skin a healthy look and feel. I like the results from using Aveeno more than the results from my expensive facials." – NurseNora
Find Out Why Dermatologists Also Think This Is The Best Moisturizer With SPF For Aging Skin
Aveeno's Positively Radiant Daily Facial Moisturizer also comes recommended by the pros, including Dr. Joshua Zeichner, M.D., director of cosmetic and clinical research, Department of Dermatology, The Mount Sinai Hospital. "I was introduced to this product when I was a resident. I love that it not only protects from UV exposure, but it's the one product that really brightens up the skin, thanks to its soy complex and light diffusers," he tells TODAY.com.
Not only is this formula super hydrating and nourishing, but it also provides adequate SPF protection to keep your skin protected from the damaging effects of the sun's UV rays. For Zeichner, this is what makes this moisturizer extra great as he considers sunscreen to be the best anti-aging product available.
"While there are many expensive skin care treatments on the market, nothing is better at preventing both skin cancer and premature skin aging than sunscreen," Zeichner explains. "In one recent yearlong study, regular sunscreen use was even shown to improve the cosmetic appearance of the skin, likely because protective skin was able to heal itself. The best treatment for aging skin is preventing ultraviolet light damage to begin with. Skipping one day will not result in too much loss, but if you regularly take a pass, your skin will ultimately pay the price."
Check Out Other Products That Work Like The Best Moisturizer With SPF For Aging Skin
Looking for other great anti-aging moisturizers from Target? Here are some of Target's other bestselling brands and formulas that will help transform your skin and leave you with a healthy, hydrated glow: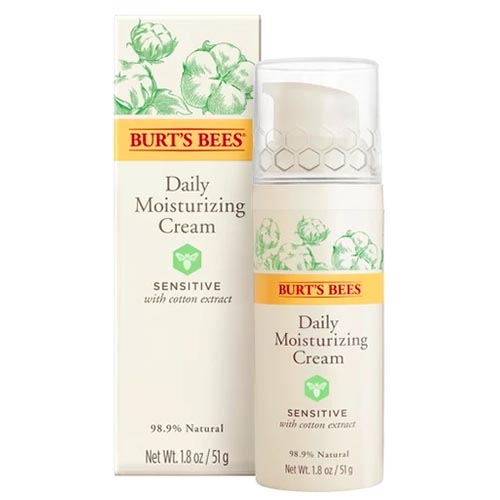 Burt's Bees Daily Moisturizing Cream for Sensitive Skin ($10.49)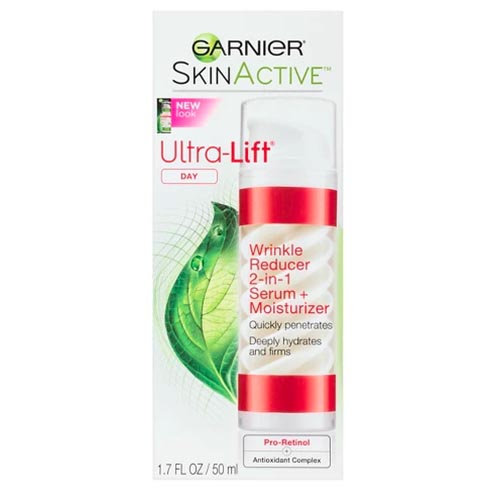 Garnier SkinActive Ultra-Lift Anti-Aging Moisturizer & Serum ($12.99)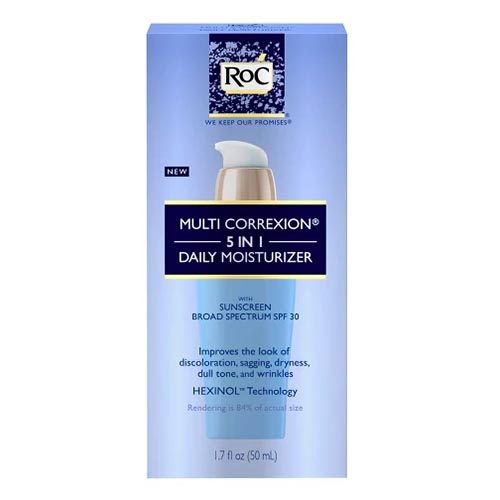 RoC Multi Correxion 5 In 1 Anti-Aging Face Moisturizer ($16.99)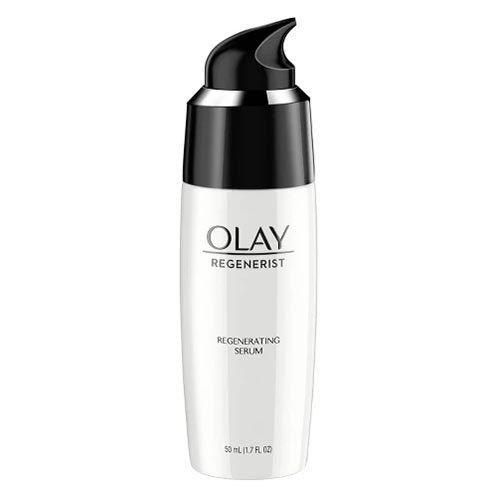 Olay Regenerist Regenerating Serum ($19.99)
SheFinds receives commissions for purchases made through the links in this post.