Drunk Elephant's bestselling skincare products are cult—but have you had a chance to try them?
For context, the brand was founded in 2012 by Tiffany Masterson with the mission of using clean biocompatible ingredients. It quickly became one of the most coveted skincare brands for women of all ages, and was sold to Shiseido for a reported $845M earlier this year.
And there's a super simple explanation for why the company has had success: the products really work! Not only are they free of questionable ingredients like essential oils and drying alcohols, but anyone who gets their hands on them is instantly hooked. The moisturizers, serums and masks are truly effective in treating a myriad of the most common skincare issues, from wrinkles to dark spots and more. And I can personally attest to how the T.L.C. Framboos™ Glycolic Resurfacing Night Serum works for treating dark spots.
Glycolic Acid
To start, the product contains Glycolic Acid, which my dermatologist suggested that I use for some dark spots or hyperpigmentation on my neck. (PSA: wear your sunscreen on your face AND neck, girls.)
"Glycolic is one of the cornerstones of dermatology because it truly can change the landscape of skin by helping improve tone, texture, and fine lines, and it can be used on all skin tones and types—that's why it's so popular," says Jeanine Downie, M.D., founder of Image Dermatology in Monclair, New Jersey told Cosmo.
But of course not all products containing a certain ingredient are created equal. To be honest, I was already using another similar product from a luxury skincare brand that container 10% Glycolic Acid and was also over $100. How would this one be different?
Editors' Pick
After using the Drunk Elephant T.L.C. Framboos™ Glycolic Resurfacing Night Serum for two weeks, I could already tell that it was a superior product.
While I had been struggling to see any noticeable difference in my dark spots using the other stuff, I saw almost immediate results with the Framboos. I can't tell you how satisfying it felt to look in the mirror after using the product for a month and to see the dark spots fading away. And, as an added benefits, but skin felt insanely smoother instantly and the fine lines around my mouth are looking better as well. Editors' note: the product does tingle, so be prepared for that!
While I still have more of the discoloration to lift, and will continue to use the product nightly, I definitely know that my money was well spent. (Psst–it's cheaper than getting an IPL photo facial, Clear + Brilliant laser or one of the other cosmetic dermatology treatments that are so popular now. Those can cost thousands of dollars. I'll be sticking to my Drunk Elephant, thanks!)
Key Benefits
– Diminishes fine lines & wrinkles
– Reduces discoloration
– Evens skin tone & texture
– Eliminates excess oiliness
– Reduces dullness
– Shrinks the apprance of pores
"This high-tech gel resurfaces dull skin, lifting dead skin cells away by gently dissolving the glue that holds them to the surface. The results are greater clarity and a smoother, more even-looking complexion," according to the product page.
Formula
This product is an AHA/BHA blend including glycolic, lactic, tartaric, citric, and salicylic acids, and blended with raspberry extract.
Because of the formula, T.L.C. Framboos™ sinks into skin easily and delivers an effective level of chemical exfoliation without harsh side effects like dryness or sensitization.
Horse chestnut, bearberry, and white tea help to calm and soothe, while improving the appearance of broken capillaries.
Promising Reviews
"OH. EM. GEEZY. BEST STUFF EVER! This stuff is the most incredible thing I've ever put on my skin. I have dermatillomania (a compulsive skin picking disorder with a depressingly low remission rate) and this is the only product I've ever used that has given me less stuff on my skin to pick at… Pores? Almost non-existent. Scars? Obliterated. Uneven and/or dry spots? NOPE. I can't say enough about this product. Definitely worth the hype, and the price. How did I ever live without it?!" — @dsznyter
"amazing product! I received a sample bottle of this serum. It works amazingly! I use 3 small pumps for all face. After 2-3 weeks of use, my old acne scars faded and my skin looks so clean! I'd love to buy this product during next sale…" – @EmmaFL
"fantastic product. I don't normally review products but this one was worth the effort. I routinely use the Peter Thomas Roth Pumpkin Enzyme Mask to exfoliate dead skin from my face and thought my face couldn't get any smoother. Well, after reading up on the Drunk Elephant company and how they choose their product ingredients (from both artificial and natural sources) based on EFFECTIVENESS first (rather than some kind of gimmick like being all natural) I decided to give this product a try. I used the P.T.R. Pumpkin Enzyme Mask first, washed my face, and then applied this Framboos Glycolic Night Serum. When I went to apply my moisturizer over top I was surprised to find little bits of grit in my moisturizer! At first I thought there was something wrong with my moisturizer but then I realized – it was all the dead skin pilling off my face! The Glycolic Night Serum was taking off all this dead skin that the Pumpkin Enzyme Mask had missed! Unbelievable!! After that, I was a believer." [email protected]
Try It Now: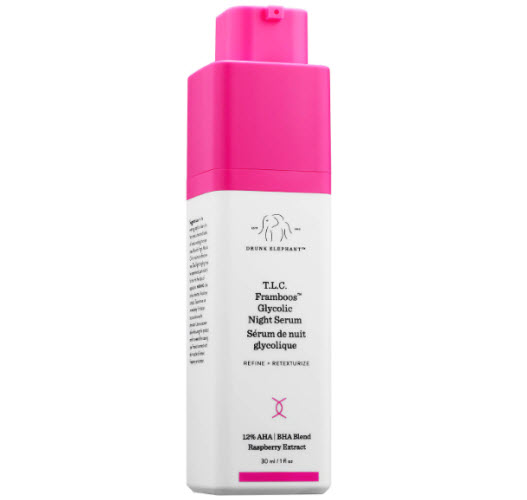 DRUNK ELEPHANT T.L.C. Framboos™ Glycolic Resurfacing Night Serum ($90)
SheFinds receives commissions for purchases made through the links in this post.