Anyone with Internet access has probably seen the phenomenal viral Dr. Phil episode with the notorious "cash me outside girl," AKA Danielle Bregoli. If you missed the memo on this meme-inducing video, here's a refresher. This fiery fourteen-year-old, in the peak of her angsty teenage phase, appeared on Dr. Phil in January with her mom. Bregoli chatted about her strained, violent relationship with her mom and her habit of stealing cars, while speaking in a barely understandable dialect that she claims she developed from "the streets." While appearing on the show, she coined the popular phrase "cash me outside, how bow dat?" which her mom translates to meaning "catch her outside and she'll do what she has to do." Highly intimidating. Nothing inspires trendy Halloween costumes better than viral videos and memes, so the "cash me outside" girl makes the perfect cheap and easy 2017 costume. You only need a few accessories to DIY this costume and work on your "street" accent to prep for your upcoming Halloween parties.
Bregoli's flaming red hair is one of the key components of this costume, so your locks definitely need to look the part for your new persona. Bregoli appeared on the show with stick-straight, red hair, so this wig works perfectly. And, who knows, you might even need this hair accessory for future themed parties.
Long Straight Tail Adduction Middle Part Synthetic Wig ($15.44)
For the rest of the costume, Bregoli kept her Dr. Phil attire pretty simple with a fitted black cropped tank top, big gold hoop earrings, a gold chain, claw-worthy white acrylic nails, olive capris, and black strappy heels.
Any fitted black tank top with thin straps can work, but make sure it's cropped, or cut the bottom off yourself. You also need to wear a white or nude bra underneath the tank with the straps and side exposed.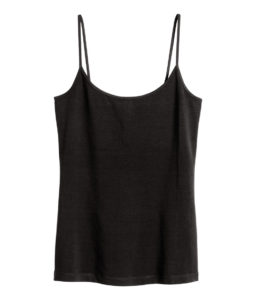 H&M Basic Tank Top ($5.99)
For bottoms, these Charlotte Russe capris most closely resemble Bregoli's pants, which she rolled up almost to her knees during her Dr. Phil debut. These pair is actually pretty cute, so you can wear them even after the Halloween festivities fade.
Charlotte Russe Refuge Crop Boyfriend Destroyed Jeans ($25)
As for shoes, "cash me outside" girl's footwear looked she was heading clubbing after the show, with sky-high strappy stilettos. If you want to be able to walk, this tall shoe style might not bode well, and you can stick with a shorter pair of black booties or slip-ons. But, if you want to go all out, consider this more tasteful pair from Forever 21.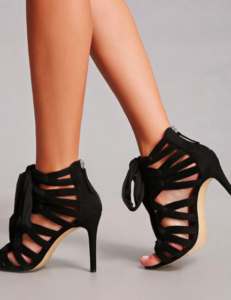 Daya by Zendaya Lace-Up Heels ($68)
Let's not forget about jewelry! For Bregoli's gold hoops, the bigger and thicker, the better, like this pair from Macy's.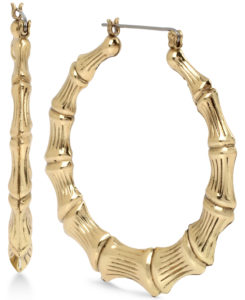 Betsey Johnson Gold-Tone Bamboo-Style Hoop Earrings ($28)
A gold chain fully completes the look.
ASOS Midweight Chain ($9.50)
Last but certainly not least, the "cash me outside" girl Halloween costume wouldn't be complete without obnoxiously long acrylics, which you can flaunt whenever you push fake red hair out of your face. This KISS nail kit will do, or you can check out this Etsy nail set for a completely spot-on dupe.
KISS Acrylic French Kit, Long Length ($6.27)
[Photo: Splash]