On her way to a meeting, Emily Ratajkowski was spotted by flashing cameras, capturing her classic boots over jeans look. Her MOTHER The Stunner Fray in Smoke 'Em ($205) are anything but basic and play well with all types of looks. And what a surprise – she wore her skinny jeans with over-the-knee boots that are really similar to fellow model Karlie Kloss' "it" boots! Forget stylists, these models know what's up when it comes to street style. They definitely sit around backstage discussing the best jeans, boots, etc. (right?) and we find that MOTHER denim always makes the cut. Why? Just try them on. Denim has never felt so comfortable. Shop them below before they sell out!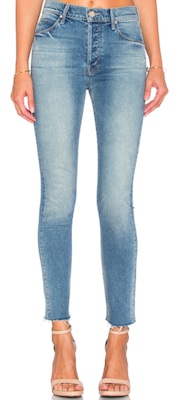 MOTHER The Stunner Fray in Smoke 'Em ($205)
Don't miss fabulous celeb style finds such as Gigi Hadid's black skinny jeans and Karlie Kloss's "It" boot.
[Photo: Splash News]