We don't see a lot of Eva Mendes, but when we do she always looks amazing. She's one of the most stylish celebs out there, if you ask us. Whether she's wearing jeans and a turban or something from her New York & Company line, she just kills it. Take this Embroidered Floral Lace Maria Dress ($79.95), for example. It's from the latest installment of her clothing collection, but on her you'd never know it was less than $100. We say get it for that graduation you have coming up next month or even for a outdoor wedding this summer. At that price, how could you resist?!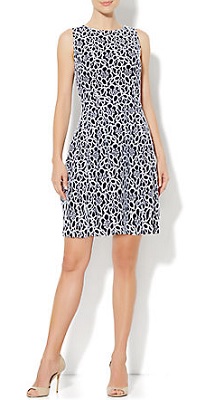 Eva Mendes Collection Maria Dress ($79.95)
You definitely shouldn't miss Jennifer Lopez's pink romper,  Beyonce's sunglasses and Selena Gomez's denim dress.
[Photo: Splash News]