Last week Beyoncé was caught enhancing a photo she posted on Instagram, and this wasn't the first time. Back in April, Bey was accused of slimming down her thighs in a photo she posted of herself golfing in a bikini. She might be the one in the hot seat right now, but Beyoncé is far from the first and only celeb to have edited an Instagram photo. Paris Hilton, Kim Kardashian ('memba that post-gym photo?), and Miranda Kerr are also repeat offenders (to name a few), and an increasing number of style bloggers are also getting called out for virtually nipping and tucking their photos. So, does the fact that "everybody is doing it" make it OK? We've taken a closer look at the trend of Photoshopping/editing/enhancing one's Instagram photos, including the readily-available apps and tools for doing so, whether it is socially acceptable or still faux pas, and of course, some really good before-and-after pics that show some of the most absurd examples of the practice.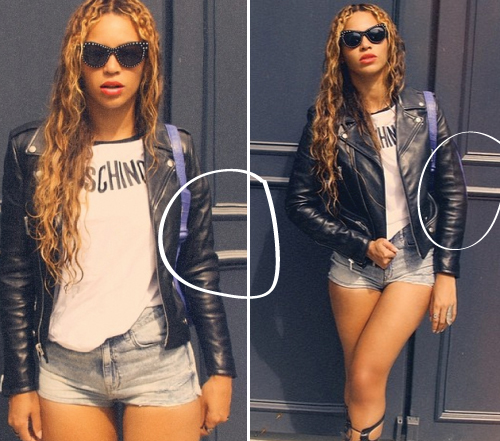 Beyonce, via Instagram, is a repeat offender. 
Where it all began: Photo-enhancing apps have been around as long as Instagram. Adobe Photoshop's app launched in 2010, the same year Instagram came out. But photo-enhancing apps really got popular two years ago, when selfies blew up. Nowadays, just about everyone is posting them, especially celebs and style bloggers. And not only is Instagram a primary selfie posting platform, it's also become a tool that many bloggers use to help launch their careers. So if a style blogger is trying to gain more of a following, she might really want her photos to look as enticing as possible, thus relying on an app to perfect her skin or hip size. About the apps and what they do: There are dozens of apps that anyone can use to tweak a photo, and a lot of them are even free. Perfect365 first launched in 2012, and allows users to apply makeup and enhance skin in a matter of seconds. I gave the app a whirl using a terrible morning selfie, and the results were instantaneous. In a matter of a few clicks my unwashed face and dark circles were transformed into a flawless version of myself. Photowonder is another free app that does it all. Not only can you clear up your skin and trim down your legs. If you've always wanted a boob job, Photowonder can give you one. Naturally I had to test this one out too, and suddenly my barely there chest grew into a full C. Talk about big dreams. Then there's Facetune and Skinny Camera, two apps that'll cost ya, but promise to make you look picture perfect. Skinny camera focuses on the obvious feature of making you thinner, while Facetune is similar to Photowonder, where you can enhance your skin and "thinify" yourself. Who's guilty: Beyoncé is not the only celeb to have gotten caught sprucing up her bod in photos. Kim Kardashian has been accused of it more than once, and even supermodel Miranda Kerr has been called out for doing it numerous times. In 2013 she was accused of enhancing a photo she posted with fellow Victoria's Secret Angels, where she looked way slimmer than the other two models. When the original photo got leaked, Kerr denied having ever known that the photo she had posted was altered, and quickly swapped it for the original. Even despite this, she recently posted a shot of herself doing ballet, where the cabinet behind her is curved. And in another selfie, the motif on the carpet follows the shape of her ultra-slim hips. I mean, supermodels feel the need to Photoshop? Come on.
Miranda Kerr's photos have appeared altered on numerous occasions [Instagram].
Then there are those questionable photos of Paris Hilton posing in a bikini. In her Instagram version of the photo, Paris' stomach and hips look way slimmer than a photo taken by paparazzi on the same day. Other celebs to have been accused of enhancing Instagram photos include Kylie Jenner and Britney Spears.
Paris Hilton via Instagram (L) and Splash News (R). 
Taboo or socially acceptable? Not many will own up to tweaking their photos, but one style blogger decided to admit it. Dana Suchow, the style blogger behind Do The Hot Pants, came clean about Photoshopping her photos in August, and offered an apology to her readers on her blog. Her current Instagram bio reads "positive body blogger". Singer Lorde is another celebrity who not only came clean about Photoshopped pics, but also went ahead and posted the original shots on Instagram. She wanted fans to see that her skin was far from flawless, reminding her fans that flaws are indeed okay. So until more people are willing to admit it, Photoshopping Instagram photos will be largely kept concealed—no pun intended. It's sort of like Botox; lots of people do it, but nobody is willing to admit it. (Except us.)