Forgive me SheFinds readers, for I have sinned. I failed to see Lindsay Lohan at yesterday's Terexov runway show. There was a small hullabaloo before it began–cameras flashing, a huddled group entering, some hushed whispering in the crowd–and I heard LiLo's name thrown around. Then the lights dropped, the music pumped, and for the life of me I just couldn't see her! Alexandr Terexov is an up-and-coming Russian designer whose flowing, feminine dresses wowed the audience…so I'm not surprised she dropped by.
OK, so I missed Lindsay, but I did spot a few trends while I was there – and it didn't look much like what was going on on the runway.
Black and White. It's still in. Despite the generally colorful outfits the majority wore, black and white was still a frequent sighting, from a bizarre modernist pants-suit like this one from International Concepts ($60), definitely not my favorite ensemble of the day,…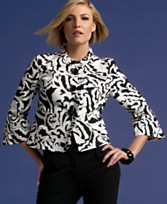 …to the now standard white shirt/black vest combo (Aqua makes a nice version for $54), which I assume to be the refuge of girls who forgot they had to hit the tents today so they stole an undershirt from their man and went running to Bloomingdale's to snazz it up…
…to the black-and-white evening dresses interspersed among Terexov's otherwise pastel-inspired collection. This Elaine dress from A.B.S. ($229) is reminiscent of his elegant creations.
But the most noticeable outfit at the Terexov show? NYC stylist Rosemary Ponzo's fuschia tunic with Shriner-esque headress:
The woman was sitting near me (no, I'm not in this picture, alas), and I couldn't take my eyes off her getup. Or maybe it was just the pink-and-green hat that was blocking my view. In any case, I wouldn't know where to find clothes like this, nor would I recommend wearing them, so I'm just going to leave you with her image (and not a link to look like her).