In a perfect world, we'd all have closets filled with designer items right? I mean, who doesn't want to choose from the best of the best when getting dressed every day?
The start of a new year is always a nice excuse to treat yourself to one amazing item; it's a way of commemorating a fresh start and all the exciting things to come. This year's splurge? A Fendi Peekaboo handbag.
I recently had the opportunity to experience this incredible handbag and I can tell you without any doubt, it's worth every single penny.
When it comes to size, this bag is perfect no matter your lifestyle. The Fendi Peekaboo actually comes in four different sizes: micro, mini, regular and large. If you're like me and carry unnecessary amounts of stuff (I mean, can you really carry too many beauty products?!), then the regular is ideal. It's not too big and will easily fit everything you need… even a 13″ Macbook Air! Don't write off the mini or micro sizes though–micro bags are having a major fashion moment these days.
As for color options, you won't be disappointed. If you don't like to take risks in color–no worries! You can get this bag in a classic black or tan. If you want to have some fun, however, this bag is also offered in colors like blue and green. I chose a beautiful gray-green with maroon detailing since I love my handbag to make a statement.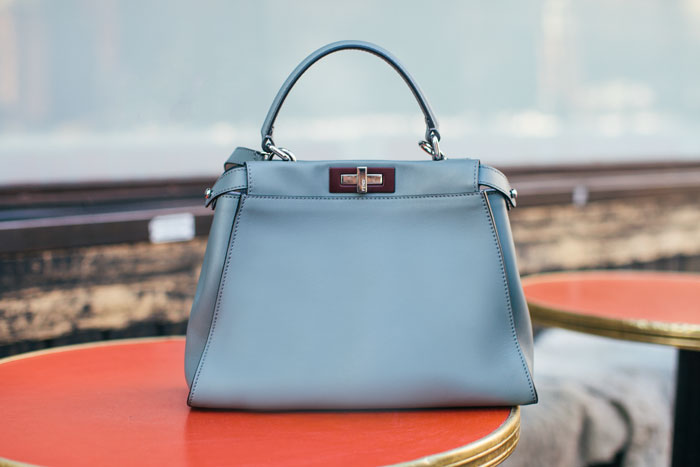 Most importantly, you'll be pleasantly surprised by how functional this luxury handbag is. I always look for handbags that can be carried different ways and that's one of the reasons I'm so obsessed with the Fendi Peekaboo. You can wear this bag on your arm or on your shoulder. You can also style the Peekaboo closed (as pictured), or open to reveal its often contrasting interior and achieve the "peekaboo" effect. An added bonus? Fendi has an entire collection of interchangeable straps if you want to change things up and keep your bag looking new.
I know this bag is definitely an investment, but trust me, you'll be so glad splurged. You'll be carrying this classic style for years to come and what better way to kick off the new year than with a stunning new purse?
SHOP THE FENDI PEEKABOO BAG NOW
[Photo: Shelby Rodriguez]
SheFinds receives commissions for purchases made through the links in this post.