For a long time, I really couldn't decide how I felt about the "dad sneakers" trend. They are definitely a lot to look at and some are just plain weird. That being said, I'd sometimes see a pair of chunky sneakers and think, "Hmm, those aren't so bad."
That was actually my response when I first saw these GEOX Kirya Sneakers. They definitely have a thick sole, but it's not as crazy as some I've seen. Plus, I was drawn to the pretty blue color palette and GEOX is pretty well-known for making insanely comfortable and supportive shoes. I decided the time was now or never try dad sneakers… so I did it.
My first reaction? I'm so tall! Wearing these sneakers definitely gives you a nice boost. Height aside, these sneakers did not disappoint in the comfort department. The insole is soft, yet has great arch support and I was able to wear them for a full day walking around the city without any issue.
The one thing that really shocked me, though? How lightweight these sneakers are. Looking at them and how chunky they are, you'd think it'd feel like walking with bricks on your feet. But not so! They're no heavier than my regular kicks.
My final verdict? Two thumbs up for these chunky, dad sneakers. I can't say I'm totally sold on the trend across the board, but these sneakers are good.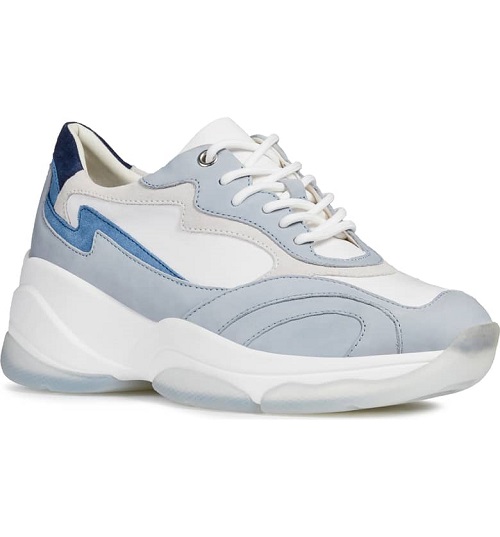 GEOX Kirya Sneakers ($159.95)
PS: They come in other colors like white and red!
SheFinds receives commissions for purchases made through the links in this post.