Instead of lamenting over your cold-weather softness, let this photo of Hayden Panettiere be the inspiration you desperately need to kick your booty back into bikini-body shape. Summer is just two shorts months away, after all.
Hayden recently flaunted her near six-pack on the beach in a Beach Bunny One Way Ticket Bikini Top ($85) and Bottom ($88). This teeny, weeny bikini leaves nothing to the imagination, but has some cool flair in the way of fringed hips and turquoise beading. May we suggest a Brazilian before you strut your stuff? Hey, just lookin' out for you!
Shop Hayden's bikini below!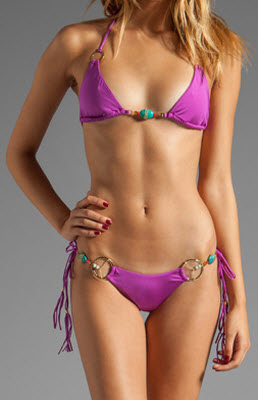 Beach Bunny One Way Ticket Bikini ($173)
[Photo Credit: Splash News]
Looking for more style inspiration? Check out looks like Blake Lively's mini dress, Ashley Tisdale's eyelet dress and Kourtney Kardashian's chevron dress.