Thanks to this year's Snow White sequel "Huntsman: Winter's War," the Charlize Theron villainess Ravenna is back in demand for Halloween this year! Since the original "Snow White and the Huntsman" came out back in 2o12, every bad blonde with an attitude has wanted to be her for Halloween (I mean–who doesn't want to look like Charlize for a night??). Her evil Queen character is so wicked, it makes for the perfect dramatic Halloween costume.
As you know, the Queen is Snow White's wicked stepmother, who is painfully jealous of her stepdaughter's true beauty (played Kristen Stewart), who she makes work as a servant (major Cinderella vibes–why is this a Disney theme??). Everyday the Queen asks her magic mirror, "Who is the fairest one of all?" to which he replies… well, not the answer she likes. You could think about carrying around a mirror with you or having a friend be the bitchy mirror (group costume!). If you have a really big group, someone can play Snow White, someone can play The Hustman (Chris Hemsworth–yum!), and someone can play Queen Freya (Emily Blunt). There are lots of good characters! But let's focus on Ravenna for the time being.
Here, you can watch the trailer for the film to get some good close-ups of Ravenna's character:
Here's what you'll need for her costume:
Ravenna's costume is difficult to DIY at home because it has very elaborate detailing. You are welcome to try, but I thought this Deluxe Queen Ravenna Costume ($54.35) was an easier route to take. Typically I'm anti pre-packaged Halloween costumes, but in this case the quality looks good and costume comes with a petticoat and tiara, too, for just $50.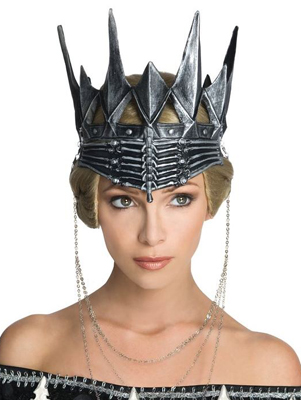 Since she's a Queen and all, you'll need a crown. Again, hers is a very distinct crown, so you can't just use any tiara from your collection (I'm not assuming you're Kate Middleton–I just mean, if you have a Halloween bin already or a birthday tiara). This official Snow White and The Huntsman Queen Ravenna's Crown ($16.69) would probably be a good idea to buy.
You should also make sure your makeup is FIERCE to play the role. Here's a Youtube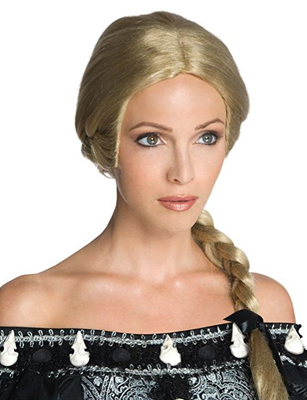 If you don't have blonde hair, you'll need a wig. This is the wig from the original Snow White and The Hutsman (obviously, if you're blonde, you can simply do a braid and tie it with a black ribbon or bow). Snow White and The Huntsman Adult Ravenna Wig ($14.17)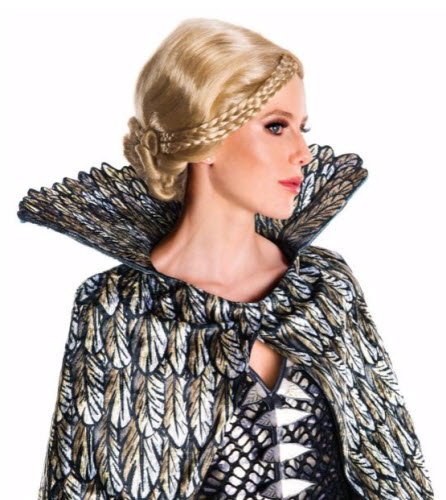 Or you can go with this hair look specifically from Winter's War: Ravenna Wig Huntsman Winters War ($19.99). Again, if you have blonde hair, you can simply style it instead of buying a wig. Here's a hair tutorial on getting her hair (see, brunettes can do it, too!):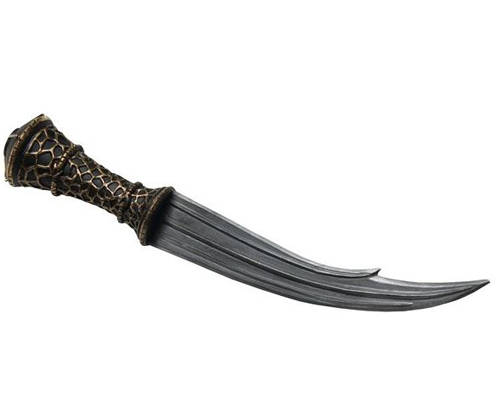 Lastly, you'll need Ravenna's dagger to complete the look. This one is the official costume one: Snow White and The Huntsman Ravenna's Dagger ($8.75).
More 2016 Halloween costume ideas:
Eleven from Stranger Things Halloween Costume
Rey from Star Wars Halloween Costume
Dauntless from Divergent Halloween Costume
Barb from Stranger Things Halloween Costume
Ghostbusters Girls Halloween Costume
Beyonce Lemonade Halloween Costume
Harley Quinn Halloween Costume
Rihanna With Wine Glass Halloween Costume
Sandy from Grease Halloween Costume
Kylie Jenner Halloween Costume