When graphic sweatshirts started showing up in stores last fall, many of us went out and stocked up on a couple of these fun, cozy tops. What we didn't think about was how we were going to get any use out of them outside of a movie night in or at a hungover Sunday brunch. But with a few cues from street stylers, we've found a way that you can wear this season's graphic sweatshirt  to work without HR slapping you with a dress code violation. But how? By dressing it up with some glitzy embellishments.
1. Start with an appropriate (read: no curse words) graphic sweatshirt. Graphic sweatshirts are pretty much everywhere, so if you've been considering the trend but haven't made the purchase, now's the time to do it. Stay away from anything offensive, and stick to fun, texty play-on-words or colorful images. Kenzo has been the popular brand of choice if you're willing to drop extra money for its vibrant, tiger-screened sweatshirts. You can get those and similar styles at places like Shopbop and Matches. If you want to save the cash, try Zara and Urban Outfitters for those covered with witty isms.
2. Add an eye-catching skirt. Pairing your sweatshirt with pants will always be too informal. Opt for a skirt that makes a statement, either through a cool pattern or a fun fabric, like lace or sequin.
3. Top with a bold, glamorous statement necklace. Chunky baubles will dress up anything you wear – especially something as low-glamour as a sweatshirt. If your top is a neutral like gray or white, go for a necklace with a lot of color.
Voila! You've got yourself a style savvy, office-ready ensemble. Want to up the prep factor? Layer a collared button down under that sweatshirt. Need to weather-proof it? Throw on tights. This outfit formula is versatile, so make it work for you! We've compiled three looks you can shop inspired by some seriously stylish ladies.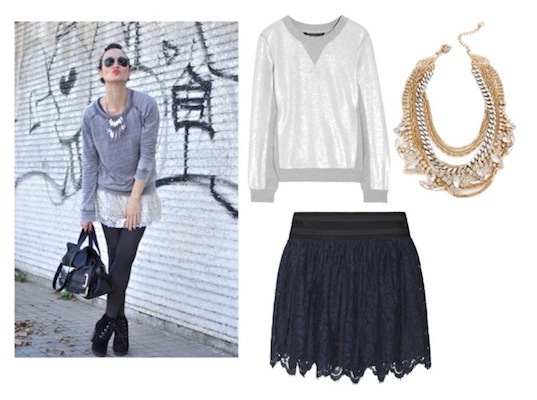 Get the look: Marc by Marc Jacobs Foil-Printed Cotton-Jersey Sweatshirt ($198); Milly Margaret Cotton Blend Lace Skirt ($250); and Juliet & Company Mirage Necklace ($150).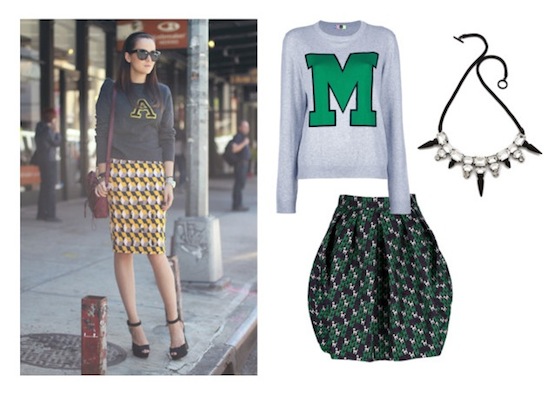 Get the look: MSGM Printed Sweatshirt ($316); M Missoni Bubble Skirt ($397); and Noir Jewelry Nightfall Crystal Bib Necklace ($82.50, down from $165).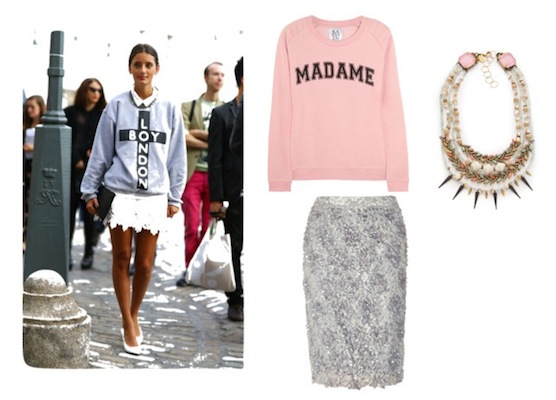 Get the look: Zoe Karssen Madame Cotton Blend Terry Sweatshirt ($125); J.Crew Sequin Lace Skirt ($850); and Erickson Beamon Pretty in Punk Layered Necklace ($865).
For more street style inspiration, check out how to dress for work on a "blah" day, how to wear leopard print pants, and subscribe to our newsletter for the latest.
[Photo: Chictopia, Street Peeper, StyleScrapbook]