Our editors love love love cropped flare jeans. Also known as "crop kicks," they are just happy jeans. The kind you want to do high kicks in when you put them on (but look, like, really cool doing it). Whether you're eyeing the affordable Gap ones, or are thinking about splurging on the Rag & Bone ones everyone wants, it's a pretty safe bet that you're going to be happy with them.
READ MORE: These Are The Jeans Every Editor In New York Is Wearing Right Now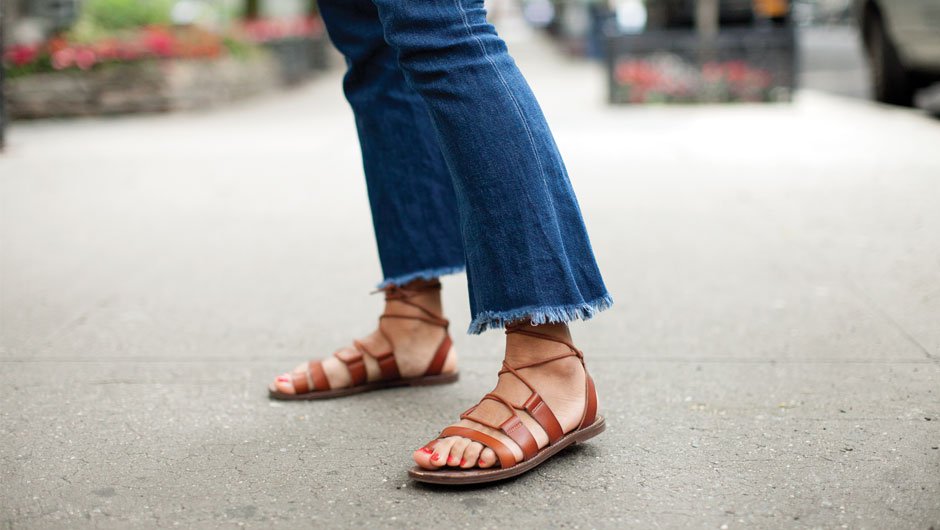 Gap's Crop Kick Jeans on our Vice President Of Content, Jeanine Edwards
They're great, but–let's not forgot that they are cropped, and I know my petite girls out there are wondering to themselves, "Can I pull off that length?". Even Anna Wintour admitted that crop jeans look best on the likes of Karlie Kloss ("If you're tall and thin like Karlie Kloss, yeah."). Okay, Anna and everybody calm down. You can totally wear crop kick, aka crop flare, jeans if you're short. Here's how:
1. Buy a petite pair, if possible. The hemline is supposed to hit right around a third of the way up from your ankle to your knee. This seems obvious, but you want to get the shorter inseam version if it's available (we know not all brands have petite!!).
READ MORE: The Best Shoes To Wear With Cropped Flare Jeans
2. Pair them with an ankle strap sandal or pump. You're going to want something with a heel to elongate the leg. Visual trickery, you see! Flats just accentuate the shortness. A neutral or nude-colored shoe is best. Again, the flesh tone will look like it's apart of your leg, which is now suddenly 4 inches longer thanks to that aforementioned heel. It doesn't matter the type of heel–block or stiletto–you just want some height (kitten heels are fine, too!).
READ MORE: Can You Tell Which Crop Flare Jeans Are Rag & Bone And Which Are From The Gap?
3. Avoid long tops (or tuck if you have to). You don't want to cut off the jean at the top–again, we're creating an illusion of a longer leg. Don't wear a top that is too long–it should skim right around the waist-line/belt loops of the jeans. If the top you want to wear is long, do a half tuck or full tuck.
READ MORE: 4 Ways To Tuck In 5 Different Shirts
4. Get them tailored. For a mere $10 or so, you can take the jeans in to get tailored. Even though they're flared, they can totally be hemmed an inch or so which will make a world of difference. Obviously, use a tailor that you trust to do the job (and maybe start with an inexpensive pair first–not the Rag & Bone ones!).
5. Choose styles in a lighter color. The lighter, the better when it comes to wearing cropped pants for petite girls because you want to match your skin tone as much as possible to create the illusion of a long line from hip to toe. The transition from the jean to your skin shouldn't be too obvious (if possible–I mean, we're talking about jeans here!).
So, there you have it–tips for how to wear cropped jeans if you're short. Will you try them now? Leave a comment below, or send us more of your burning fashion questions!
[Photo: Always Judging]