I'm kind of a no-fuss dresser, so when I came across Lanston's simple, yet perfect tees and dresses while browsing Shopbop a few months back it was love at first wear. And because it's never enough to just wear great clothes, I had to hunt down the woman responsible for my new favorite basics. Turns out, Krisabelle Ann Tan doesn't just design Lanston–she oversees Krisa and Three Eighty Two, as well. Umm, three majorly successful brands?! Talk about a superwoman. What's more is that celebs like Gwen Stefani, Kendall Jenner, Jessica Alba and Nikki Reed are all huge fans. And soon you will be, too.
SHEfinds: Celebs like Gwen Stefani, Taylor Swift and Kendall Jenner are fans–what's that like?

Krisabelle Ann Tan: It's kinda amazing. Celebrities, and consumers alike, have such a vast array of choices so it's exciting to see them wear and identify with something I've created. It's also fun to see the different ways they style the pieces and incorporate them into their wardrobe.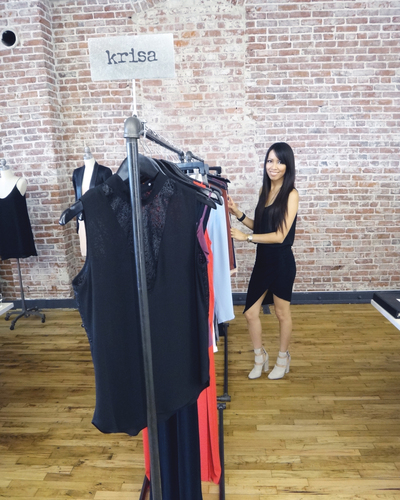 SF: You oversee two different brands–krisa and Lanston–how do you do it?

KT: Actually three, but who's counting? Three Eighty Two is my third brand. I guess I would call it organized chaos. It can be tricky and challenging at times; it definitely tests my ability to focus and my time management skills, but overall, it's strangely quite seamless and fun. The brands are different offshoots of my personality so they have different characteristics but inherently have the same core values.
SF: Who is the krisa woman? Is she different than the Lanston woman?

KT: The krisa woman is chic, sophisticated. The Lanston woman is effortlessly cool. They are a little different in attitude, but they are both modern women, on the go. Both have an ease and confidence about them, both definitely subtly sexy.
SF: What do you hope woman feel when they wear your designs?

KT: I hope she feels confident and feels good about herself. I really try to design with her and her lifestyle in mind, making each piece effortlessly chic and wearable, so whether she is running errands or going on a hot date, she still has that underlying confidence about her, knowing she looks good.
SF: If you weren't a designer, what would you be doing?

KT: Tough question. Fashion has always been a part of life, so it's hard to imagine my life without it. But maybe a travel writer or photographer, something where I got to explore the world and felt like I was permanently on vacation.
SF: Do you have favorite designs from the two collections?

KT: My favorites always change every season, but some staples in my closet are my Lanston Racerback maxi dress–it's my go-to when I can't think of what to wear–and my Krisa tunic tank, which it goes with everything.
SF: What's the one thing in your closet you couldn't live without?

KT: My grandpa's Rolex. It was an engagement gift from my grandmother, so it's irreplaceable to me.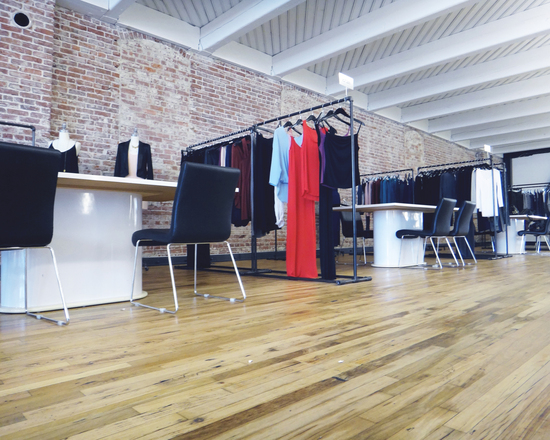 SF: Heels or flats?

KT: Heels. I'm not the tallest, so I like the extra elevation.
SF: Morning person or night owl?

KT: Night owl–you don't want to talk to me before lunch.
Click through the slideshow to shop some of our favorite Krisa and Lanston piece of the moment.
Be sure to check out our Q&A with Diana Ra of dRa, plus behind the scenes at the Smythe design studio.
[Photo: krisa]