Celebrity-brand collaborations are always exciting, but when we heard that Miley Cyrus was teaming up with Converse on a custom line of Hi and Low Top Chuck Taylor sneakers, and more, we couldn't think of a more perfect match.
We first got news of the new sneakers in November 2017 when the singer posted images to Instagram of her sparkly high top, low top and platform designs. We know of Miley's personal love for Converse, because she's always photographed in them. And on February 11, we were blessed confirmation that the collection is happening, plus a sneak peak of the line: black glitter sole kicks modeled by Miley herself, again on Insta.
While we don't have an exact release date for the MC x Converse line, the 25-year-old assured us that it will be "coming soon" on her post.
Check out all the styles we know about so far–you'll definitely want to add them to your wish-list ASAP:
In addition to a glittering platform and laces, these stacked-sole kicks feature a Mickey Mouse-like emblem that seems to pay homage to the star's Disney days. Considering the collection is closely intertwined with the singer's roots, we're guessing this hunch may not be too far off.
"Chucks have always been a part of who I am," Miley says in a promo video on the brand's website. No doubt about it – Hannah Montana practically lived in her Chuck Taylors.
Another platform version, these dazzling pink sneakers look both fun and comfy. In all honesty, we may just swap out our favorite pair of heels for these sparkling beauties.
And just when you thought Miley's line couldn't get any more fabulous, she debuted these bubble gum pink glitter high tops that practically left us salivating. "Are you freaking out?!?! Because I am!!!!!!" she captioned the photo. Yes, Miley, we are indeed.
Even without the height, these low tops are just as stunning. The simplicity of this white pair is off-set by a glittering base (of course) and paisley pattern on the inside of the shoe. Plus, there's an adorable "MC" charm dangling from the front of the laces for even more eye-catching detail.
You'll also find that paisley design on the platform of these black and white versions, which the singer deems "unisex."
Can't wait until the launch drops? You can also check out more Converse celebrity collaborations – like the One Star collection by Tyler the Creator –  and shop these other amazing styles to get your sneaker fix in the meantime!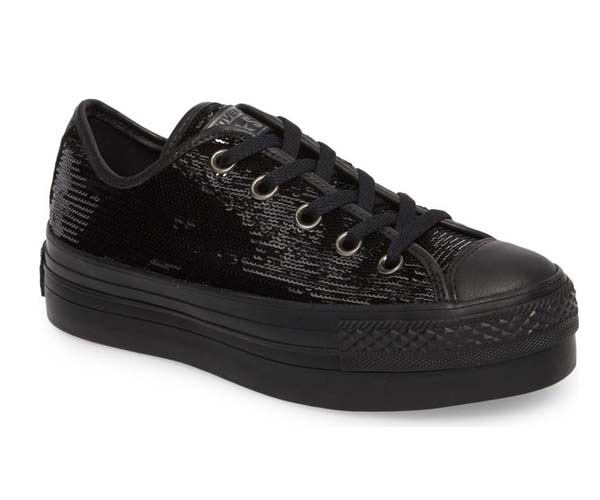 Chuck Taylor All Star Platform Sneaker ($74)
These sparkly platform sneakers are a close sister to Miley's own original glittered pair (we're tempted to get out our credits cards right now!) To mirror the singer's pick even further, try swapping out the standard black laces for some shimmering silver ones! After all, there's no such thing as too much sparkle.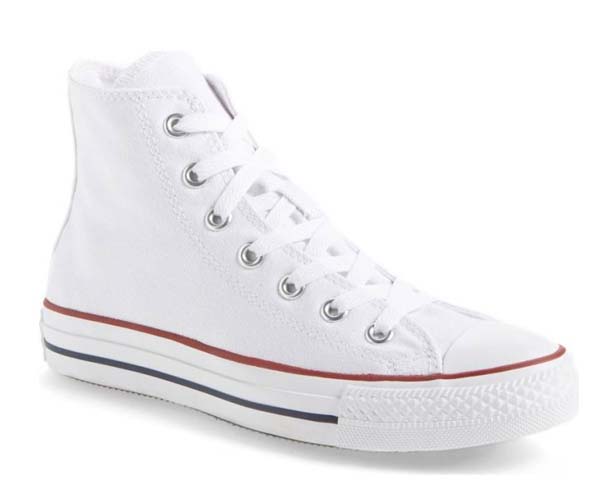 Chuck Taylor High Top Sneaker ($54)
In the promo video for the new launch, the star is seen wearing these classic high tops – and we're sure she has at least one pair of them in her closet at home. To get the ultimate Miley-approved look, you can even add your own embellishments with a pen just like the star does to her favorite Chucks in the Last Song.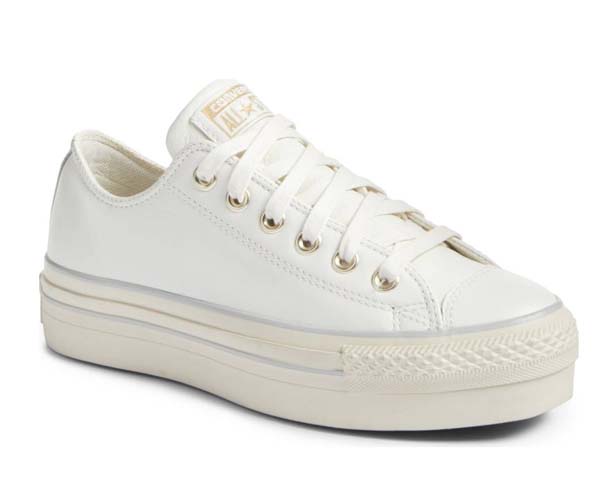 Chuck Taylor All Star Platform Sneaker ($69 – $74)
Bringing on the height, these stunning platform sneakers also provide comfort and style all in one. You can never go wrong with classic white, but try this pair in "Pink Nectar" to get that Barbie-inspired look.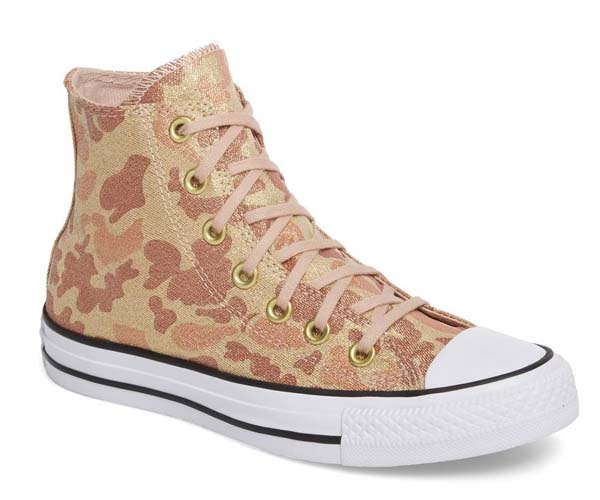 Chuck Taylor All Star High Top Sneaker ($64)
Take a note from the singer's sketch book and opt for a pair of patterned Converse. Although we were hard-pressed to find any paisley versions, these high tops features camouflage print and a dusting of glitter to really kick things up a notch.
For even more amazing fashion collaborations, check out Target Casually Just Dropped A 50-Piece Collaboration This Morning and These Are The Best Collaborations You Need To Know About Now. And keep coming back here for more updates on Miley's own launch – we'll give you the full scoop on the highly anticipated kicks as soon as they become available!
SHEfinds receives commissions for purchases made through the links in this post.