When Jimmy Fallon has a musical guest on "The Tonight Show," you know he's going to go all out with an outstanding music-themed skit. Last week, Miley Cyrus joined the late night host to do an impromptu performance in a New York City subway station, and it was amazing.
Dressed up in matching denim outfits, cowboy hats, and wacky accessories, the two hit the subway station and posed as a country singing duo. Miley was almost unrecognizable in her long black wig, but it wasn't long before fans caught on to her identity once she started belting her favorite song.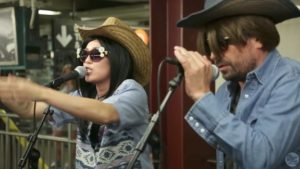 Miley and Jimmy performed Dolly Parton's hit song "Jolene" to add some Southern flair to the crowded New York City subway station. The "Malibu" singer took the reigns with lead vocals, while Jimmy sang back up and played tambourine. They had the commuters singing and dancing along to the beat of their killer duet.
Once the song was over, Miley and Jimmy took off their disguises and thanked the crowd for their amazing energy. Then, they treated them to a live acoustic performance of her pop hit "Party In The U.S.A.," which the fans really seemed to enjoy.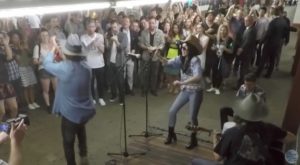 You can guarantee that we're going to be on the lookout for Jimmy Fallon the next time we walk through the subway. Watch the incredible "Tonight Show" skit below.
[Photos: YouTube]