If you've spent any time on SheFinds, then you know we love Nordstrom. Like, hardcore. The department store has everything: the best brands, inclusive sizing, amazing customer service and let's not forget the amazing sales throughout the year.
But if you're not an intrepid shopper, staring down pages and pages of products can feel a bit overwhelming. Where do you even start? That's where Trunk Club, Nordstrom's amazing styling service owned, comes in.
Trunk Club is the secret Nordstrom shopping hack we wish more women knew about. And getting in is super easy. First, you start by taking a quick style quiz to be matched with an online personal stylist (that is a real person BTW). Your stylist does the hard work of finding the wardrobe pieces at Nordstrom that you want and need based on your style, size, fit preferences and yes, your budget. Once they've identified 10-12 good options from Nordstrom's vast selection, they send them to you to preview and you can give feedback on what you love or don't before your items ship. Once your Trunk Club box arrives, you have 5 days to decide what you want to keep, return or exchange. And yes, the return process is painless. Each shipment comes with a prepaid label so all you have to do is schedule a UPS pick-up or drop it off. You can also return the items you're not keeping to your nearest Nordstrom store.
The cost to get access to this incredible shopping service? Just $25, which gets credited to the cost of any items you decide to keep from your shipment. (Editor's Note: Sign up with a Nordstrom credit card and that $25 fee gets waived!)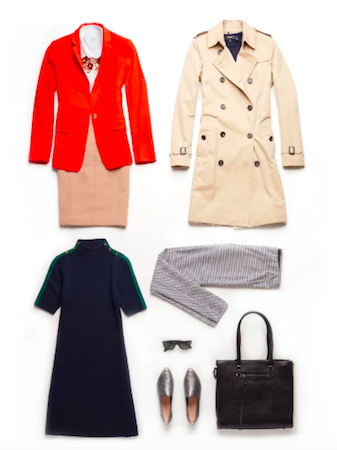 If you're feeling anxious about the commitment of getting new clothes every month, chill! Trunk Club is not a subscription box, so you can set up recurring shipments or just request a new Trunk when you feel like you need it. You also have access to your stylist (via the app, email, or online) whenever you need their help, whether it be for a new piece or simply some style advice.
Here's the last piece of really good news about Trunk Club: your Trunk Club purchases count toward your Nordstrom rewards so you can continue earning Nordstrom notes. Trunk Club also grants you access to Nordstrom's amazing alterations if your new items don't fit perfectly.
Ready to fill your closet with Nordstrom goodness without having to do the heavy lifting of actually find the best items yourself? Create your Trunk Club account now!
The editors at SheFinds wrote this post on behalf of Trunk Club and received compensation as part of our agreement.