You don't have to be crafty to decorate your home inexpensively. Here are other ways to stretch your design dollars.
By: Laura Gaskill, Houzz Contributor
The Internet is overflowing with ideas (many good ones!) for crafting, painting and DIYing your way to a beautiful home on a budget. But what if you don't want to DIY? Here are 10 smart ways to save money while decorating your home — with nary a staple gun or stencil in sight.
Ask about floor sample sales. Most shops at some point each year (or season) sell the floor models that have been on display in the store — for a steeply discounted price. These pieces are the same as the full-price versions but with a bit of wear and tear. Each store handles the sale of floor models differently (some have an annual sale), so you'll need to ask to find out. And if you are interested in a particular floor sample, it never hurts to ask if you can buy it.
Host a decor swap party. If you have a few friends who love to decorate, arranging a decor swap can be a fun — and free — way to infuse your space with a few new goodies. Ask each person to gather up decor items (trays, lamps, artwork, vases) they aren't so into anymore, and get together for a casual party to make trades.
RELATED: Browse Thousands of Inspirational Designs on Houzz
Sell before you buy. Before making her annual pilgrimage to the Round Top Antiques Fair in Texas, homeowner Kathryn Janes gathers up any items she can find around her home to sell. Between consignments, hosting garage sales and selling items on Craigslist, she builds up a fund to fuel her shopping trip. "Once I have my money in place, it's a hard-stop budget, and I don't go over," she says.
This is a smart approach because it helps clear clutter and covers furniture and decor expenses at the same time. If you don't feel comfortable selling your items online, seek out a local consignment shop and try selling a few things to see how it works.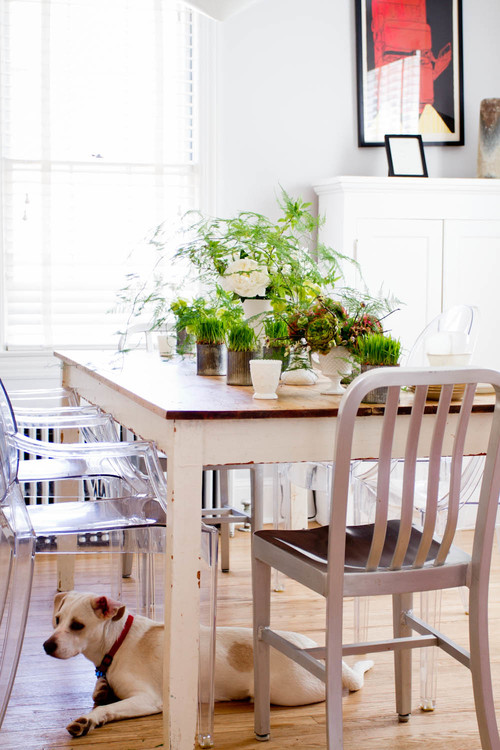 Fill up on greenery. Fresh green plants are relatively inexpensive and can do so much to boost the atmosphere in any room. If you feel as though your room needs something, but you can't afford to make a major change, try adding a few plants instead.
RELATED: How to Decorate Smart and Slow
Paint the walls yourself, but hire out the tricky parts. If you're not a fan of painting, take a moment to consider which part is your least favorite. Consider hiring a pro to tackle just your least favorite part (ceiling, I'm looking at you) and do the rest yourself. Maybe you don't mind painting walls but hate fiddling with intricate trim. Do the walls yourself, then have a pro come in and finish the job. You'll save a little cash and a lot of sanity.
Have a thrifty find reupholstered by a pro. Hunt for chairs with a great shape at a flea market, thrift store or yard sale, but don't get carried away — stick within a strict budget, keeping in mind you will need to shell out for a pro to upholster the piece. Having a specific upper limit amount in mind can make it easier to be firm when bargaining with a seller. Once you have your piece, shop around for a local upholsterer to find a pro with fair prices and good references. Ideally, the finished piece will look custom but cost far less.
Hunt down affordable art. There are so many ways to find affordable art these days that there's really no excuse for blank walls. Cut up a pretty calendar, frame squares of graphic wrapping paper, shop for prints on a site like Etsy or here on Houzz, or browse flea markets, Craigslist and eBay for vintage paintings.
RELATED: Revamp Your Living Room With a New Sofa
Stick with a theme. Sometimes what you don't buy is just as important as what you buy. Knowing the style, colors, textures and materials you want to bring into your home, and sticking with them, will help you avoid decorating missteps. Use a limited budget as an opportunity to slow down and consider what you really want your home to look and feel like, and then set about collecting the things you love over time.
RELATED: 15 No-Cost Ways to Invigorate Your Space
Wait for sales (but don't feel you have to buy anything). It sounds simple, but having the patience to wait for something to go on sale is easier said than done. The fact is, nearly all retailers have sales several times a year, and if you're on a tight budget, it makes sense to shop then. That said, it's equally important to avoid the sale trap: Just because it's on sale does not mean you should buy it.
Always be prepared. You spy a yard sale with great stuff when you're out of cash, or you spot a beautiful piece at a flea market, but you're not sure if the measurements are right — don't let the best finds pass you by because you weren't prepared. If you know you like to scope out yard sales or flea markets that take only cash, try to have a little on hand (not too much; you don't want to blow your budget). And if you are hunting for a piece to fill a specific space in your home, keep a drawing with exact measurements in your pocket or stored on your phone to take away the guesswork.
RELATED: Incorporate a Pop of Color With New Curtains
Tell us: What's your best budget decorating tip?
[Photo: Lark Architecture]