Let's get real for a second: jeans are definitely not the most comfortable article of clothing. They come with tons of downsides, but the worst one has to be how unbearable they are in extreme temperatures. When it's winter time, you better believe that I'm putting on a pair of leggings underneath my jeans for extra warmth. And forget about wearing them in the summer without nearly fainting from almost getting a heat stroke. But, thanks to the miracle workers at NYDJ, be prepared to kiss those problems goodbye with their new Smart Embrace denim!
So, what do these magical jeans entail? Well, although you may believe it's witchcraft performed by only the most powerful fashionistas around, it's actually a much simpler explanation. They're made with LYCRA® COOLMAX® fabric technology, which does all of the temperature-controlling work you never realized you needed in your life (and your jeans). In the simplest of terms, these jeans work to keep you feeling comfortable no matter what the weather is. The pants are made of varying fibers: ones with wicking ability to suck out moisture you're feeling a little too hot, and other "hollow-core fibers" that are insulated to keep you comfortable toasty on colder days.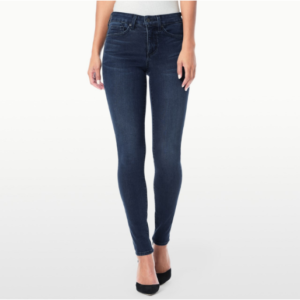 NYDJ ALINA LEGGING IN SMART EMBRACE DENIM ($134)
I couldn't believe that these could actually exist, so I just had to try these for myself. So,  being the skeptic that I am, I decided to get a pair of these jeans for myself and test them out for a day. And when I say they work, I mean they really work!
It was one of those odd summer-fall transition days in New York, so these jeans we're really put to the test. Early in the morning, it was freezing, and although my arms were unfortunately bare and slightly chilled, my legs were so warm and toasty in these jeans that I didn't mind the cold weather at all. I sat outside waiting for my  morning train at ease, with not even a single shiver in my legs.
By the end of the day, good ol' Mother Nature decided to kick up the heat to a sweaty 80 degrees. Usually, I'd stop and buy shorts in desperation (I get very hot, very easily), but I really didn't find the need to in these jeans. I strolled around NYC, and even sat in the humid subway station in comfort.
So, my final verdict: I mean this in the best way possible when I say they're unlike any other pair of jeans I've ever owned. I tip my hat to you, NYDJ, because these jeans are a serious game-changer. If you don't believe me, then grab a pair for yourself and test them out!
NYDJ's Smart Embrace denim are available in  2 washes and 4 fits (I wore the Alina Legging fit). They come in such a wide variety of sizes (and for my tiny ladies: they come in petite!), so you're guaranteed to find the perfect size and style for your comfort. They're a little bit on the pricier side, but it's definitely an investment I'm willing to take, and you should, too. If you want to buy a pair of these miracle-working jeans for yourself, then head over to NYDJ's website and check out their amazing styles and fits!