We know that the peel-off lip stain makeup trend sounds absolutely bonkers (like, is it candy or makeup?) but trust us, this Cocoon Lip Stain ($22) from Cailyn Cosmetics actually works incredibly well. Here is our Marketing Coordinator (and part-time hair model) Amanda Bauer trying it out:
So, it's pretty easy to use. You just carefully apply the lip stain, as you normally would, and let the thick gloss dry for 10 minutes. Then, peel the dried pieces off your top and bottom lips for a matte finish! It leaves you with a flawless color-stained pout that's light and subtle. How pretty! Even though the finished product doesn't look as dramatic as the photos on the website, your lips still get a splash of long-lasting color coverage, and you don't have to worry about lipstick rings staining your wine glasses (#GirlProblems). The Cailyn Cosmetics stain comes in four vivacious colors: Tantalizing Orange, Innocent Pink, Pink Desire and Devilish Rose.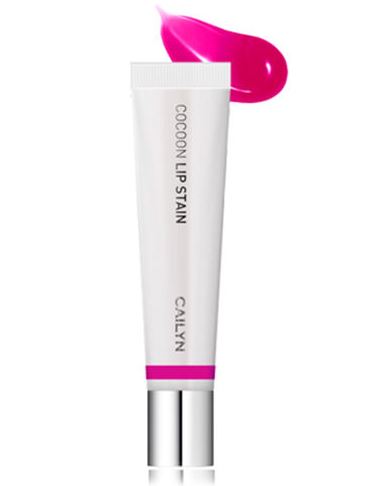 Cocoon Lip Stain in Pink Desire ($22)
You can also check out this set of peel-off lip stains from Walmart. For a third of the price, you get 6 lip stains in red, pink and orange hues that you can bust out for any occasion. Their fun names, like "Lovely Peach" and "Sweet Orange," make them an even cuter makeup essential.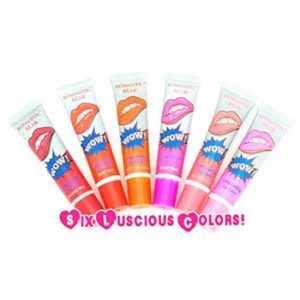 6-PACK Peel-Off Colored Lip Stain Gloss ($7.99)
Berrisom is another popular peel-off lips stain brand that beauty masters alike have adorned on their lips. It's a Korean beauty company, so be warned that the product's directions don't come in English.
Berrisom Oops My Lip Tint Tattoo Pack ($15)
When you apply this product, make sure you don't get it anywhere other than your lip line because, you guessed it, it'll stain. Precision is key here, ladies, so arm yourself with a steady hand and a lot of patience. Otherwise, your mouth might have the semi-permanent appearance of a popsicle mustache. Also, if you have super chapped lips, be careful. In some extreme cases, people with dry lips reported that actually peeled off pieces of their skin or experienced bleeding when taking off the product. To make the removal process as painless and safe as possible, moisturize your lips thoroughly before you rip the stain off.
But, despite negative warnings, peel-off lip stains have a tattoo effect and supposedly stay on for a full 10 hours—way longer than any other regular lip color. People who used the peel-off stain even noted that they still had leftovers the next day, which makes evenly applying the product inside the lines HUGE. If you mess up, your makeup mistake haunts you for ten whole hours (gasp!). Make sure you don't miss any spots, either. You can apply another coat before the stain dries to ensure that you've got every inch of your lips covered.
Don't forget to check out more videos: how to straighten your hair like a pro (featuring Amanda, obvs) and the right way to shape your eyebrows (with ya girl who wrote this post).
[Photo/Video: Shelby Rodriguez]