Based on their favorite places around the world, the designers had to each create a look inspired by their chosen locales. Althea picked a safe St. Tropez shorts look, while Logan designed a cute, if poorly accessorized, young Hollywood look.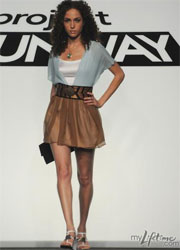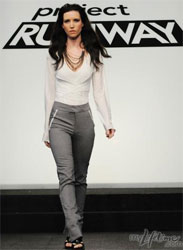 Along with Logan, Christopher and Nicolas (Sante Fe and Greece, respectively) were chastised for being too safe. It was a shock, though, that Christopher got to stay after his third week in the bottom two. Bye, Nic.
Gordana wowed guest judge Milla Jovovich with the flashy necklace on her Park Ave. dress, as did Carol Hannah's Palm Beach twisted sundress.
But it was Irina's back-to-the-80s Aspen ski lodge faux fur vest and faux ski pants that got the judges panel panting this snoozy week. I thought the oversized cowl neck sweater was cute, but the look all together was a little ironic.
Irina was on point, though: faux fur is hot for fall and winter. Just ask Rachel Zoe. The one thing to watch out for is looking too much like an extra from Where the Wild Things Are. To glam it up, I liked the Gryphon "Rocker" beaded collar faux fur vest. For something a little different, the Juicy Couture Faux Fur Vest is lighter-colored and fluffier, but just as adorable. And the cropped length on each is perfect for sipping hot toddies at the lodge.
Shop for more of the best faux fur, and then pair it off with black jeans and button-down shirt for a trendy but not over-the-top look.