It was team challenge time on Episode Seven of Project Runway. Macy's asked the design teams to create two looks–only in shades of blue–for the Inc brand.
Good news: Kors was back. Along with Marie Claire Senior Fashion Editor Zanna Roberts and Macy's EVP Martine Reardon, the judging panel praised Carol Hannah and Shirin for their day-to-night high-waisted skirt with blouse and their going-out tunic.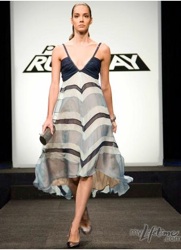 However, team leader Irina and Gordana, who had some difficulty working together, shone with their chevron-patterned sundress and sheer blouse with leggings.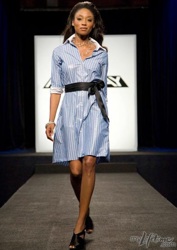 On the flip side, judges criticized the Christopher/Epperson team for their shiny shirtdress and high-collar shiny tunic. Kors even said the shirtdress looked like a tablecloth, which brought Christopher to tears.
Louise with partner Nicolas didn't get the save, though. Kors described one of their ruffled dresses as a bridesmaid dress with a shower loofah up the front (see above). Nicolas had immunity from last week, so Louise had to pack up her workspace.
While judges were big fans of Irina's patterned sundress, it's a little cold to wear a strappy, thin dress. And really, I didn't think the shape was flattering to anyone over a size 4. But, if you want something in stripes, with some camouflage to create curves, this navy and white Stripe Origami Jersey Dress ($70) is a good option.
Even though Irina was unconvinced, judges loved Gordana's simple semi-sheer blouse. From J. Crew's new line, the Silk Pleated Posy Top ($89.50) isn't sheer, but it's a gorgeous slate blue with a pretty neckline. And, it can go from work to happy hour, too. For something sheer with a unique pattern, try out the 3.1 Phillip Lim Petal Sleeve Blouse ($375).
For more pretty looks, take a look at the best evening tops for jeans, cocktail dresses, and pleated skirts.