All too often celebs take what could have been a fabulous red carpet ensemble, and turn it into a fashion nightmare.  With Red Carpet Re-do we take stars' style slip-ups and show you  how to make it work better. Emily Blunt has proven her acting and style chops in movies like Devil Wears Prada, but we can think of more then one fashion editor who would turn up their nose at this overly styled outfit.  We've laid out where Emily went wrong and how to save this wrap dress from making it onto the worst dressed lists again.
What She Did Wrong:
Shirt or dress, with a wrap dress you don't need both
One brooch on each strap makes her look wider than she actually is
An all black dress plus all black tights is too much of the same
Above the ankle booties with a short dress cut down the length of your legs making them appear shorter than they really are
What She Should Have Done:
Lose the undershirt and let the wrap dress do all the talking
Wear just one brooch down by the knot of the dress,  this draws the eyes down to the smallest part of the waist
Choose a brightly colored brooch to add some pizzaz
Accessorize with bangles that add an element of playfulness
Try nude tights instead of black opaque ones
Go for sky high pumps with subtle detailing or color flatter your legs and add an exciting edge
Here's how we would rock this look: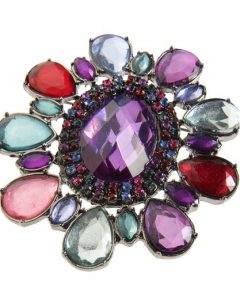 Get more star fashion with our guide to celebrity style including celebrity jewelry and celebrity handbags.  Find all of this week's best deals with our online sample sale calendar.