Alfred Angelo Filed For Bankruptcy, And Brides Are Absolutely Freaking Out
Once you say "yes" to the wedding dress of your dreams, anything standing in the way of you wearing it down the aisle on your big day is just flat out inexcusable. Or, at least so we thought. Until now. After beloved bridal designer Alfred Angelo announced it was filing for bankruptcy and closing all stores, many brides are now left without wedding and bridesmaids dresses right before they're set to tie the knot. On July 16, Alfred Angelo posted a short, sweet, and to the point bankruptcy notice on its website, and announced that the company was closing all 62 locations. The notice listed contact information for brides to check on their order statuses, and the Florida-based brand said they would provide updates on pending orders on their website as soon as they received information. Sounds promising! They also never gave any specific information about what led to the bankruptcy. [Photo: Instagram] For brides and bridesmaids, the most stressful part of the situation is that they already paid good money for their dresses, and they might never get to actually see them. Alfred Angelo brides now have to struggle to find replacement gowns, which means dropping even more moolah. Not only this, but hundreds of employees also unexpectedly lost their jobs. Maggie Klaysen is the maid of honor in her best friend's wedding this October. She placed an order for her bridesmaid dress from Alfred Angelo in May, and the rest of the bridal party ordered theirs before her in March and April. On July 15, Klaysen says the bride received an email from Alfred Angelo at 2:30 p.m., saying that they were closing their doors for good at 8:00 p.m. that day, and that all customers had to come pick up their dresses by then if they were ready in the store. [Photo: Instagram] "I had many friends who had to leave work early and drive hours to go and pick up their dresses to get them in time," says Klaysen. "My dress wasn't in store yet, so we were kind of at a loss as to what that meant. The bride got ahold of someone and they told her my dress was already in manufacturing, so I was ok and it would be shipped out August 8." But, after a few days, Klayson received a claims notice from the company in the mail, which meant that she actually wouldn't get her dress, and she could file a claim to try to get her money back. She says she reached out to Alfred Angelo multiple times via both phone and email, and never got a clear response as to whether her dress was getting shipped to her or not. She's the only member of the bridal party without a dress. "Now, I'm kind of in a scramble trying to get a bridesmaid dress by October," says Klayson. [Photo: Instagram] So, what's a bride or bridesmaid to do in this situation? Many women sell their bridesmaid or wedding dresses, so brides impacted by the bankruptcy should check used clothing websites like Poshmark or even eBay. Klayson looked online to find used or returned Alfred Angelo dresses in her size and in the color she previously ordered, but she says it wasn't easy. The bride even considered getting Klayson a different color or style since she's the MOH, but Klayson says it's hard to pick a new color without seeing the dress in person. She eventually found a dress in a boutique in Virginia that matches the color of the bridal party dresses, but has a different style. It's still unclear whether her dress will actually come August 8, so she didn't want to risk not having a dress in time. She ended up having to pay for two bridesmaid dresses. [Photo: Instagram] It's not looking promising for Klayson's Alfred Angelo dress. The company's attorney, Patricia Redmond, said that dresses shipped after June 24 are allegedly stuck in a port in California, according to NBC. But, there is one silver lining. Certain retailers and boutiques are taking pity on brides stuck without a dress from the Alfred Angelo disaster. Klayson says she talked to David's Bridal, and they're offering 20-30 percent off for brides and bridesmaids who show their Alfred Angelo receipt. If you're a victim of this situation, stay positive, and remember that not all hope is lost! If you didn't receive your dress, we recommend that you follow up with the company repeatedly through their bankruptcy trustee, Margaret Smith, via email at [email protected] Smith has actually filed a motion for the company to resume certain business functions in order to help customers, according to the South Florida Business Journal. This motion also means that you can potentially ask your credit card carrier to remove the dress charge and refund you if you think your order won't be completed. Regardless, whatever happens, you're still going to look just as beautiful on your wedding day. [Photo: Shutterstock]
8 Mistakes Brides Make When Choosing Bridesmaid Dresses
9 Bridesmaid Dresses That Look Good On All Body Types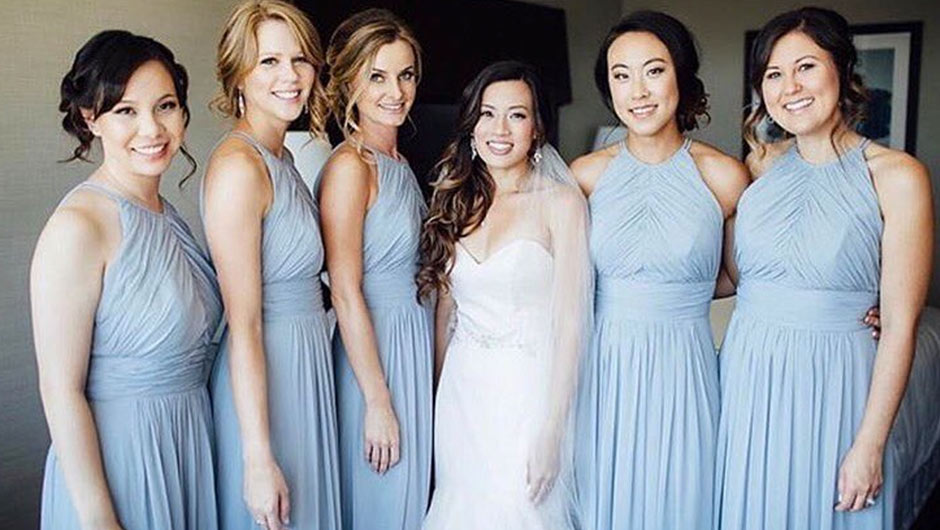 This Is The Most Flattering Bridesmaid Dress Ever
6 Mistakes Bridal Parties Make When Selecting Bridesmaid Dresses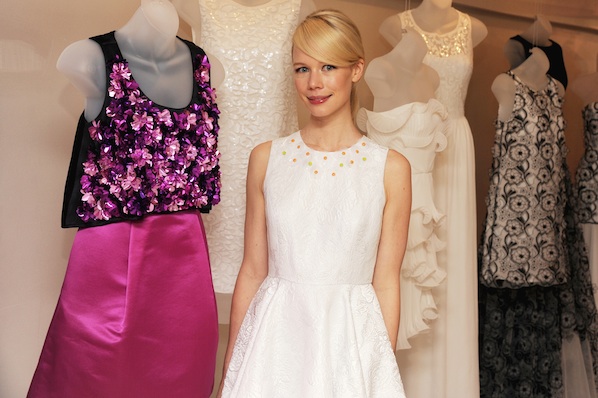 Erin Fetherston & Nordstrom Just Made Bridesmaid Dresses A Little Less Awful
If you're "always the bridesmaid never the bride" and you're feeling #ForeverAlone, then this collab is for you. Thanks to Erin Fetherston and Nordstrom, you won't have to worry about having to wear a hideous bridesmaid dress at your bestie's wedding. Just tell her to check out this collab. In August (if your bestie's wedding is before that, you're out of luck), Nordstrom Weddings will release Fetherston's line which will "bring a fashion perspecitve" to the wedding world (aka. you won't have to wear a fugly dress). In an interview with WWD, Fetherston also explained that planning her own wedding and dressing her own bridesmaids with her dresses motivated her to release a wedding line. She also recently launched a bridal lingerie collab with Cosabella, and is planning to design wedding dresses next. Her Nordstrom line will include 22 new styles, as well as, dresses from her existing dress archive, and new colors. The dresses will retail between $225 and $695 and will be available at 18 Nordstrom Wedding Suites across the country and nordstromweddings.com. So all the brides out there better be on the lookout if you want your bridesmaids to actually look cute. For wedding tips and advice check out: sticky situations that could ruin your wedding,  10 ways to save on your honeymoon, and 10 surprise wedding costs couples should be prepared for. [Photo: Splash News]
Like EVERY Bridesmaid In America, Jennifer Lawrence Wore A J.Crew Dress
When you're a celebrity attending a non-celebrity's wedding, it's hard to make the event not about your existence/presence there. It's a fine line that Jennifer Lawrence tread at her older brother Blaine's nuptials, which were photographed for Martha Stewart's Real Weddings magazine. Forget that the bride, Carson Massler, looked so gorgeous in her gown on that day, or that she and Blaine professed their love for one another in front of 325 guests and Martha Stewart's camera crew. What are folks really interested in? The fact that J.Law was a bridesmaid...aaaand that she was wearing J.Crew. The Academy Award-winning actress and ten (!) other gals got gussied up in three versions of peachy gowns form the retailer, with Jenn rocking their Arabelle Long Dress ($365). This can mean one of two things: 1. Bridesmaids across America will be wearing J.Crew dresses all this summer. 2. Bridesmaids across America were wearing J.Crew dresses all along, and now we only care because J.Law's wearing one. ummmmm... we're gonna go with option #2. Arabelle Long Dress ($365) Don't forget to check out: Shay Mitchell's 'Sorry Not Sorry' necklace, 16 cool places to organize and display your shoes, and where to get a printed jacket for spring. [Photo Credit: Martha Stewart Weddings]
Target Launches A Bridal Line; Get Your Wedding Dress In The Same Checkout As Your Toilet Paper
It's official: You can buy everything at Target. The mega-store just launched an in-house bridal collection, meaning you can now order your wedding dress and a new blender at the same time. The collection, named Tevolio (inspired by the Italian phrase for "I love you"), is available at target.com and features dresses ranging in price from $69.99 to $129.99. It includes 4 styles for brides, 10 styles for bridesmaids and 2 styles for flower girls. The simple, no-fuss wedding dresses are guaranteed to appeal to the masses. We are all for cheap bridesmaid dresses, but we aren't sure we'd want a Target brand wedding gown. Click below to check out the collection and let us know what you think: Would you wear one of Target's new bridal gowns to your wedding? SHOP TARGET'S BRIDAL COLLECTION Brides, don't forget to check out ideas for what to do between the ceremony and reception and 8 ways to make you wedding more fun.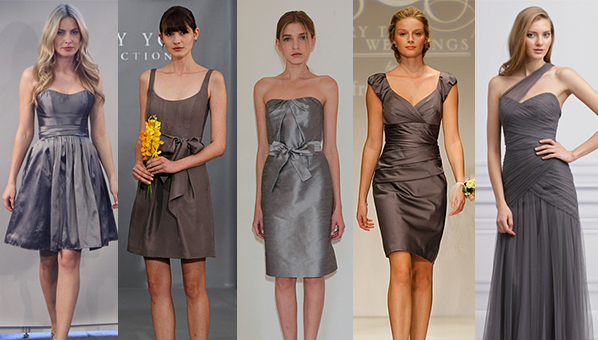 Gray Is The New Black For Bridesmaid Dresses In 2013
Deep down you really do want your girls to be able to wear that bridesmaid dress again. A neutral color is an obvious choice, but who needs yet another black dress? Wedding experts say that gray is going to be a big color this year, as well it should be. It looks great on everyone and can be dressed up or down. Add the right accessories and your girls will look fabulous. Monique Lhullier, Jenny Yoo, WTOO were just a few of the designers who used the color in their Spring 2013 collections. We found nine new gray bridesmaid dresses that could be worked into any wedding, be it formal or backyard. From cocktail to ballgown, it's a color (or shade?) worth considering. Check out everything you ever wanted to know about bridesmaids, places to buy bridesmaid dresses online and how to avoid Pinterest wedding cliches.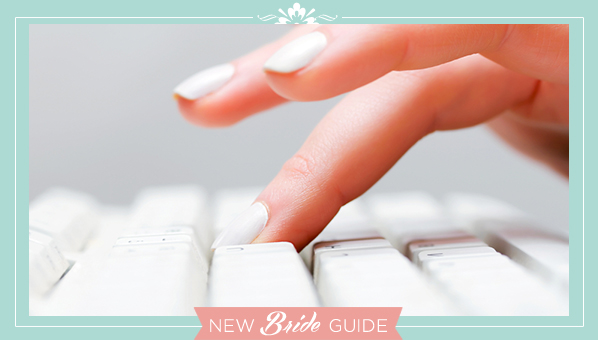 The Best Places To Buy Your Bridesmaid Dresses Online
In the old days, buying a bridesmaid dress meant doling out hundreds of dollars for a frilly satin number that you really couldn't ever wear again - and physically having to go to the store for fittings and such. The marvels of the internet have made this transaction a lot easier - you can actually do it on your lunch hour. From Shopbop's wedding boutique, to Net-A-Porter's curated bridesmaid section, there are so many places to buy bridesmaid dresses online, that run the gamut from cheap and easy to high-end and designer. And unlike your wedding gown, which is worth fussing over, it makes total sense to buy bridesmaid dresses online. The selection is far greater and you can easily stay within a reasonable budget - if you just know where to look. Click through the slideshow above to find the 10 best places to buy your bridesmaid dresses online. We found 10 of the best places to buy bridesmaid dresses online with solid return policies and phone numbers where you can actually speak to someone, should you get confused. Check out more wedding insight with 10 things you need to know about bridesmaids, 10 things to know before buying your wedding dress and 10 things to know before picking your wedding venue.
Watch Out, Brides — Bridesmaids Are Stealing The Show in 2013
While attending Bridal Market this weekend, our weddings editor noticed a recurring trend on the runways. No, it wasn't a bold gown trend or something Vera Wang did (like black wedding dresses) -- but instead, a recurring theme in bridesmaid dresses. And that theme is that your maids are about to steal the show. Sorry, brides! Gone are the days of ill-fitting pastel dresses and where-does-this-go satin sashes; bridesmaids are about to shine. From high slits to "skirt drama," trends that are typically reserved for wedding gowns are now popping up for the ladies in waiting. Designers are no longer catering solely to the women in white -- and the bridesmaids are busting loose. Thanks to Monique Lhuillier Bridesmaid and Alfred Angelo, the oft-overlooked bridesmaid is finally having her day. Planning a wedding? Check out these 10 places you should never get married, fall wedding ideas and fun bridal shower games.
Katie Ermilio Tries Her Hand At Bridal In New Collaboration With BHLDN
Successfully marrying Katie Ermilio's signature feminine minimalism with BHLDN's frothy, bohemian aesthetic may seem like a stretch, but as it turns out, the combination isn't too far from perfect. A master of special occasion dresses, Ermilio designed an exclusive capsule collection of frocks for Anthropologie's year-old bridal label, BHLDN. Perfect for bridesmaids or any holiday party (they're creeping up!), the three-piece range includes two colorful drop-waist cocktails dresses (the Coral Cadence Dress, $1,200 and the Syncopated Swing Dress, $1,275) and the Stork Stork Club Dress, a sleek A-line design in black and white, priced at $1,250. The designer talked to ELLE.com about how creating the line was organic and intuitive: "As I designer, I find a constant source of inspiration in the women who wear my clothes," Ermilio told ELLE.com. "There's a distinct femininity ever-present in my work, a quality which certainly lends itself to all things romantic, and thus my organic—and very unexpected—entry into the world of bridal. We played with color, hemlines, and special details to marry my aesthetic with the very special experience that one gets when visiting BHLDN. Our capsule is all about the BHLDN woman and the kinds of dresses she wants to wear and feel beautiful in throughout all of the days, parties, toasts, and celebrations surrounding the big day." The collection will launch in select BHLDN stores and online at www.bhldn.com on September 4, so you'd better start thinking about which dress you're going to snag for the new season. Stay in the know about the newest sartorial releases, like Karl Lagerfeld's latest lower-priced line for Net-a-Porter, shop Kendra Scott's amaze fall collection, or  get the deets on this $3 Theory jacket!
Lavender Is For Lovers: Shop Bridesmaid Dresses In This Pretty, Pale Hue Now
Now that you have a sweet-smelling lavender-themed wedding planned, you're going to need some pretty pale purple dresses for your bridesmaids. We scoured the web for the best lavender bridesmaid dresses, because it doesn't get much sweeter than this soft hue. From Marchesa to under-$200 dresses, there are so many great options out there. Shop now: s Shop our Editors' Picks now Photos: Elizabeth Anne Designs, Style Me Pretty. Shop more gorgeous bridesmaid dresses: blush bridesmaid dresses (our favorite!), floral bridesmaid dresses, and cowboy boots for bridesmaids.
Blush Bridesmaid Dresses Make For The Most Gorgeous Bridal Party Photos #Fact
We're smitten with blush bridesmaid dresses. This is not a "trend" or anything new to bridal -- but these pale pink dresses are just gorgeous for photos and totally on our radar. We found gorgeous styles from Donna Morgan, White by Vera Wang, Two Birds, and more. Opt for a soft jersey style, like these b-maids (above), or structured, embellished styles from Vera's diffusion line for David's Bridal. The options are endless -- and all pretty. (more…)
Nothing Says Spring Like This Crop Of Fresh, Floral Bridesmaid Dresses
The floral trend keeps popping up everywhere! We've already shown you some faboosh floral wedding shoes this season, and now we're here to make the case for floral bridesmaid dresses. Jessica and Ashlee Simpson recently donned floral dresses when they did bridesmaid duty for a close personal friend, and Miranda Lambert's b-maids wore floral bridesmaid dresses and cowboy boots at her wedding last year. So if your girls are gagging at the idea of pink taffeta dresses, pitch them one of these beautiful floral print frocks instead! (more…)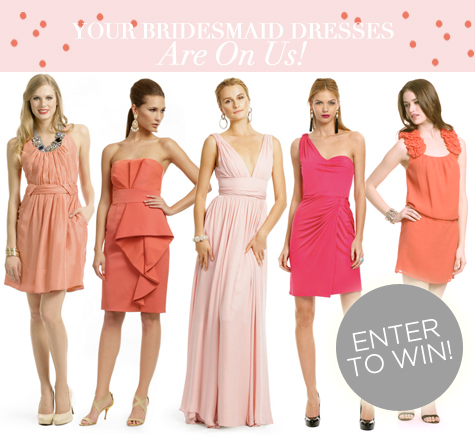 Enter To Win 5 Free Bridesmaid Dress Rentals From BRIDEfinds & RentTheRunway.com!
We've been fans of Rent The Runway's Weddings Boutique since it launched last year, and now the site is making us fall in love all over again: not only have they just introduced a Weddings Hotline just for brides -- but they're giving 5 free bridesmaid dress rentals to BRIDEfinds readers to celebrate the launch! The Hotline offers Rent The Runway members personal styling advice for their weddings and wedding-related events. Call 866-740-3599 for styling tips or check out their Wedding Boutique in the meantime. Ok, now who wants free dress rentals for their entire bridal party?! (more…)
It's Officially Spring & One-Shoulder Bridesmaid Dresses Are Back In Demand: Shop Now
It's officially spring! Your bridesmaids can now get away with a bare shoulder (or two) without contracting frostbite during your 15 minute ceremony. Browsing for some fresh, spring b-maid options (like the silver styles from this pretty Florida wedding, above) Shopbop has a faboosh line-up of beautiful, one-shoulder bridesmaid gowns, all under $300! (more…)
The Season's Mint Trend Hits Weddings — And We Love It #Mintspiration
Mint green is the freshest spring fashion trend - and like all fabulous trends, this one has made its way into the wedding world. We're a huge fan of this light n' airy hue. We were so inspired by the mint-themed collage on Revel, that we put together our own assemblage of "mintspiration". (more…)
Spring Has Sprung & Yellow Bridesmaid Dresses Are Starting To Look Like A Pretty Good Idea
We recently came across this sunny image (courtesy of Style Me Pretty), which made us see yellow bridesmaid dresses in a whole new light: not only is the color happy and bright, but perfect for spring/summer weddings (think daffodils and buttercups). It's already a huge fashion trend for spring '12, so why not bring your b-maids up to speed? (more…)
Shop The Perfect Summer Wedding Color Palette: Pink & Orange Sorbet
Summer brides, we're a little jealous. We thought spring weddings were the bomb - until we saw this gorgeous wedding on 100 Layer Cake. Now we're obsessed with lush, barely-there blush pink and deep, sherbet orange tones. If you're still on the fence about wedding colors for your July or August nuptials, allow us to kindly insist that you adapt this as your color scheme. (We took the liberty of finding a few color appropriate picks for wedding stationery, b-maid dresses, and decor for you.) (more…)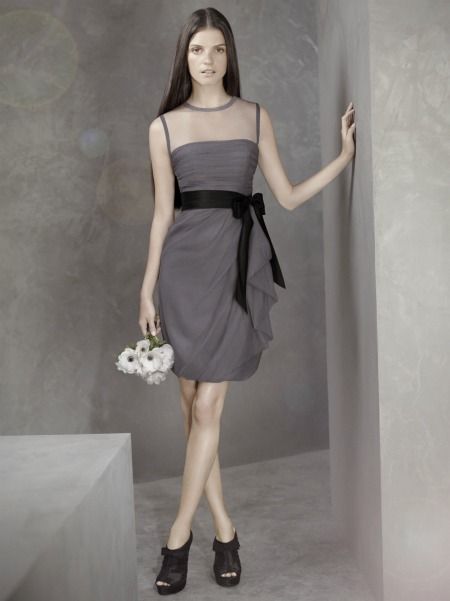 Luxe Wedding Style For Less! New White by Vera Wang Bridesmaid Dresses At David's Bridal
We've always gushed about Vera Wang's fashion forward (and budget-friendly) line for David's Bridal - but it's time to give her bridesmaid dresses their due! Take for example, these two brand new White by Vera Wang bridesmaid dresses at David's Bridal. Vera's Bobbin Net Dress (seen above) features several trendy elements such as an illusion neckline, a demure little asymmetrically draped bubble skirt, and a ruched bodice that will undoubtedly flatter any figure. (more…)
The Glee Girls Do Their Best "Bridesmaids" Impersonation (The Dress Is From Target!)
So apparently SOMEONE on everyone's favorite TV musical series "Glee" might be getting married. Aren't these kids still in high school? "Glee" star Lea Michele tweeted this pic from the set - check out the Target bridesmaid dresses! At only $25, they're well within a high schooler's budget. (more…)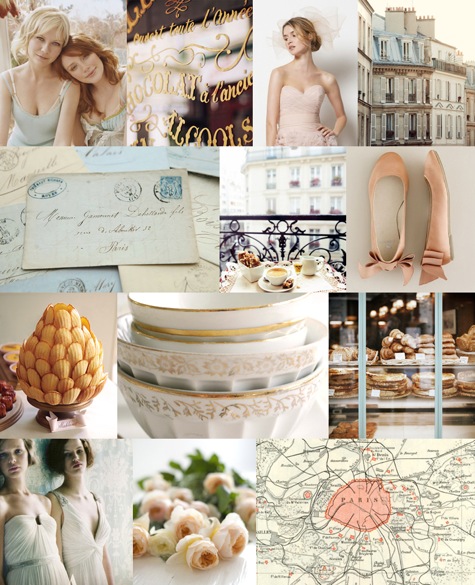 Just Say 'Oui' To A French Blue And Blush Color Scheme For Your Wedding
We recently spotted this gorgeous inspiration board on Snippet & Ink, and we instantly fell for this exceedingly lovly color combo- the palest, barely there pink you can conceive of, and a faint "french blue". Whether you're a bride who plans to wear a blush gown, or a bride who'll be putting her bridesmaids in two different shades, there's so much blush n' blue dress and decor inspiration to play with - your wedding decor scheme will be easy peasey! (more…)
Get 25% Off Of Sleek & Sophisticated Wedding Dresses From Ann Taylor, Plus FREE Shipping!
Did you know Ann Taylor has a wedding line? As you might expect, their gowns are super classy, and for a limited time, they're 25% off. You heard us. That's hundreds of dollars off - PLUS you get free shipping. Is this a dream?! So if you haven't been introduced to Ann Taylor's "Weddings and Parties" section, it's time to get acquainted. There's lots of lady-like lace, fluttery details, and sleek, modern silhouettes to take in. To claim your discount, just use the coupon code "GORGEOUS"! (more…)
Target Launches Bridesmaid Dresses
Now one of the many joys of being a bridesmaid doesn't have to come with such a wince-inducing price tag. Target has just rolled out a line of nine adorable new sateen, chiffon, and shantung b-maid dresses. Not only are they inexpensive ($69.99) they all come in at least six different shades, AND are available in sizes 2-28W. #WIN (more…)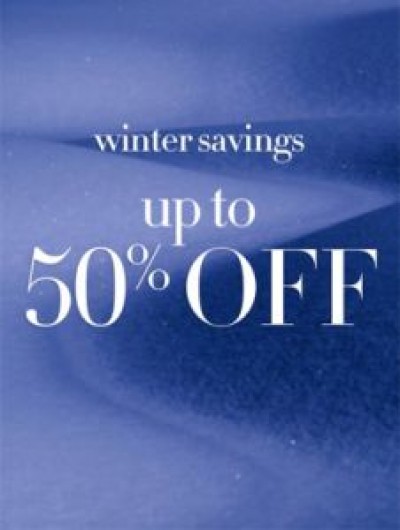 65% Off Engagement Party Dresses At Nordstrom's Seasonal Sale (Plus, B-Maid Dresses & More)
We LOVE Nordstrom, but unlike other retailers, they really don't overdo it with sales. So that's why we let out a little squeal of delight when we heard about their Winter Savings sale. Get 30-65% off party dresses for everything from your bridesmaids to your engagement party. Even designers like Lela Rose and Monique Lhuillier got on board. They have something for everyone -- from one-shoulder numbers, to strapless, plus size and more. (more…)
Get Blair Waldorf's Exact Vera Wang Bridesmaid Dresses Before 'Gossip Girl' Fans Buy Them All
If you've ever watched Gossip Girl for more than 20 seconds, you know that Blair Waldorf is an extremely determined (read: vindictive) young woman, with a crazy designer wardrobe. So, it's no wonder that she chose to deck her bridesmaids out in Vera Wang... but here's where she lost us: the dresses are from Vera's David's Bridal line, and are under-$200. How reasonable of you, Blair! (more…)
Shop After-Christmas Sales For Up To 90% Off Your Bridesmaid Dresses
Once you've returned those unwanted gifts, cashed in on some serious store credit, and had your way with After Christmas Sales, why not take a minute to check out these super affordable bridesmaid dress options? They're on sale for a limited time only! Save your favorite ladies a bundle this holiday season - and maybe snag a cute NYE dress for yourself? (more…)
Pantone's Color Of The Year Is… (Plus, Bridesmaid Dresses In That Hue!)
Pantone has declared "Tangerine Tango" the hottest new hue for 2012! Want to outfit your bridesmaids in this bright citrus shade? We're one step ahead of you - check out this extra fresh selection of tango-riffic dress picks! (more…)
Emily Blunt Shows How To Be A Rockstar Bridesmaid In Notte By Marchesa — Get It Now
We ADORE this gorgeous, fitted fuchsia gown that Emily Blunt recently donned on the red carpet, and we think it'd make a fabulous option for a bridesmaid's dress. That hot pink hue is absolutely ideal for holiday, spring, or even early summer weddings. You can get Emily Blunt's exact Notte By Marchesa Ruffle Peplum Gown ($990) or get 75% off Notte Marchesa at The Outnet. (more…)
Just In: New Holiday J.Crew Wedding Gowns, Bridesmaid Dresses & Hair Accessories
J. Crew just added new holiday styles to their wedding collection, and the gorgeous styles (think cascading ruffles, sequined party dresses, and crystal-feather belts) are good enough they might even help you out of that post-holiday slump. Beat youor case of the Mondays with these brand-new, pretty polished finds: (more…)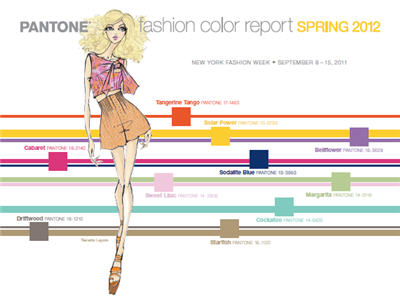 We're Calling It Now: Pantone's Spring 'Cockatoo' Color Is Going To Be A Big Bridesmaid Trend
We're getting a vibe that seafoam, err, we mean "cockatoo" might just be a big deal in Spring 2012, and our friends at Pantone seem to agree. If you're planning a springtime wedding celebration, why not put your 'maids in this cool, flattering shade? (more…)
70% Off Black-Tie Bridesmaid Dresses At The Outnet (Marchesa, Badgley Mischka, More)
If you're planning a formal or black-tie wedding, you'll need your bridesmaids to reflect the tone of the day. No mini or linen dress here -- you'll need long, silky gowns that they'll look and feel gorgeous in. Luckily, The Outnet has 70% off designer gowns today, so you and your ladies can save literally hundreds of dollars on designers like Marchesa, Badgley Mischka, Robert Rodriguez, Jil Sander and more. (more…)
Metallics Are Huge This Winter: Get The Look For Your Bridesmaids In Gold, Silver, Navy & More
What's more perfect for a winter wedding than a sheer, shimmering palette of bold metallic hues? Whether your wedding color scheme is silver and gold, or a trendy mix of deep purples and light blues, there's no reason to dress your b-maids in drab, muted duds. Here are a few of our favorite metallic frocks - ideal for wedding parties and holiday parties alike! (more…)
Shop J.Crew's Holiday Wedding Collection Now — Plus Our Favorite Styles
J.Crew has just rolled out a fresh new wedding lookbook, and it's bursting with bridal looks we love! Check out the latest batch of bridesmaids' dresses - they come in a gorgeous palette of on-trend hues like taupe, forest green, ice blue, daffodil, and aubergine. There are plenty of simple, elegant dress picks for autumn or any season, so if you haven't found your dream dress (or dream bridesmaid's dress), go ahead and take a gander! (more…)
Can You Tell Which Red Ruffled Bridesmaid Dress Costs $317 More?
This Notte by Marchesa pleated satin bow strapless dress ($474, down from $790) costs more than twice as much as this Max and Cleo Fanfare for the Uncommon Girl Dress ($157.99). Shop our guides to the best inexpensive wedding shoes, wedding costume jewelry, and black bridesmaid dresses.
40% Off J.Crew's Wedding Boutique: Silk Chiffon Gowns, Strapless Bridesmaid Dresses, More
If you're in the market for a classic wedding gown, reception dress or bridesmaid frocks, check out today's best sale: up to 40% off J.Crew's Wedding Boutique. Their tasteful bridal section is filled with classic silhouette gowns, silk chiffon numbers (like this Spun gold 'Tiernan' gown), bridesmaid dresses in every color of the rainbow, pearl necklaces, strappy heels and more. (more…)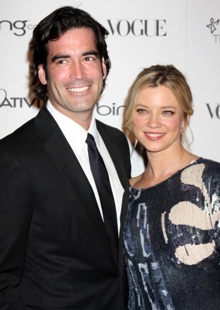 Amy Smart Is Married! New Details On Her Wedding
September bride Amy Smart was just married to celebrity carpenter Carter Oosterhouse this weekend in the couple's hometown of Traverse City, Michigan. Amy wore a Carolina Herrera gown and Neil Lane diamonds down the aisle (including 6 carat diamond and platinum chandelier earrings and a diamond and platinum bracelet), and her bridesmaids wore navy Ann Taylor dresses. (more…)
30% Off Twobirds Convertible Bridesmaid Dresses (As Seen On Tori & Dean Storibook Weddings)
We're big fans of Twobirds and convertible bridesmaid dresses in general -- they can be worn countless ways, are ideal for bridesmaids of all body shape and size (from maternity to plus size to petite), and make for a very stylish and unique bridal party. Apparently, Tori Spelling feels the same, because she chose them for her Oxygen wedding series Storibook Weddings in episode 3. Now, the exact dresses are 30% off: get this Twobirds Tea Length Convertible Dress for $208.60 (down from $298). Shop our guides to the best strapless wedding dresses, white wedding shoes, and inexpensive wedding dresses.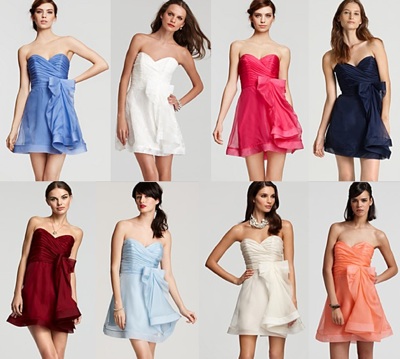 70% Off ABS Allen Schwartz Bridesmaid Dresses In A Bunch Of Great Colors
If you're still on the hunt for a flattering, classy bridesmaid dress that won't break yours girls' bank, look no further: this ABS by Allen Schwartz Flouncy Strapless Dress is starting at $99 (down from $330) at Bloomies. Check your sizes and colors: In Cornflower blue ($99), Carnation pink ($118.80), ivory and black lace ($221.76), Midnight Navy ($99), Scarlet red ($118.80), Teal Green and Powder Blue ($99), and Apricot ($99). Shop our guides to the best strapless wedding dresses, white wedding shoes, and inexpensive wedding dresses.
The Kardashian Sisters Wore White Vera Wang Bridesmaid Dresses — A La Pippa Middleton
Kim Kardashian went for an ivory Vera Wang wedding gown yesterday, but there were white gowns at the big day: those worn by her sisters, who served as co-maids of honor, and opted for white Vera Wang bridesmaid gowns. Were the sisters channelling Pippa Middleton because of the incredibly popularity she earned after wearing that infamous silky white Alexander McQueen gown to the royal wedding? (more…)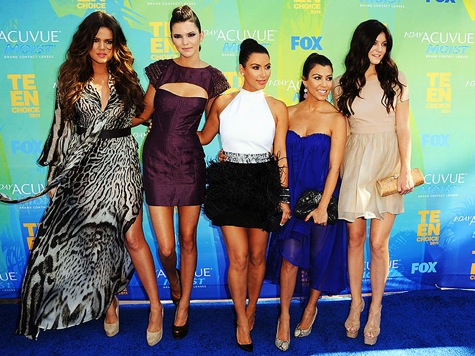 Kim Kardashian Picked Her Bridesmaid Dress Color!
After bringing a blue swatch to Kris' tuxedo appointment, we thought Kim Kardashian had chosen the color for her bridesmaids. It turns out we were wrong -- or she's a fickle bride -- because her sister Kourtney just confirmed, via Twitter, that the dresses will be... (more…)
50% Off Black Bridesmaid Dresses — The LBD's Of Weddings
Trust us -- your b-maids will definitely go for black bridesmaid dresses. Not only are they slimming (when compared to some of the other atrocious bridesmaid colors) but they can double as LBD's long after the wedding has passed. Luckily, Nordstrom has 50% off black bridesmaid dresses now -- from Monique Lhuillier to Allen Schwartz and Adrianna Papell. Editors' pick: this Eliza J One Shoulder Jersey Dress ($86.90, down from $158). (more…)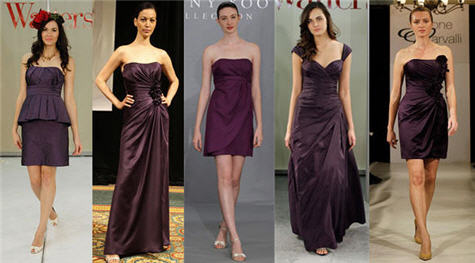 Plum Is The "It" Bridesmaid Dress Color For Fall – 10 Styles We Love Most
Plum bridesmaid dresses popped up on countless bridal runways this season, from Simone Carvalli to Jenny Yoo, Watters, and more. The rich color is versatile and contrasts beautifully against a bride's white gown, making this one color trend you'll wish you jumped on: (more…)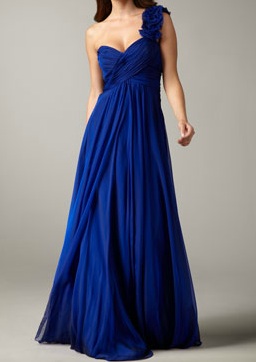 Can You Tell Which Blue, One-Shoulder Bridesmaid Dress Costs 10x As Much?
Shop our guides to the best strapless wedding dresses, white wedding shoes, and inexpensive wedding dresses.
40% Off Strapless Bridesmaid Dresses At Nordstrom – Most Are Under-$100
Don't fret, summer brides who've waited until the very last second to purchase choose a b-maid dress style. Nordstrom has 40% off strapless bridesmaid dress styles, which for under-$100 will make for a very happy bridal party: Attention bargain-hunters: shop our guides to the best wedding jewelry, lavender bridesmaid dresses, and outdoor wedding dresses.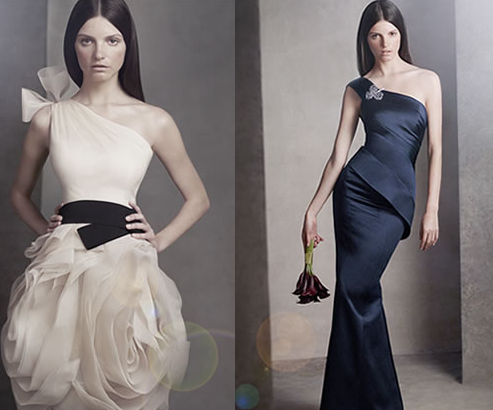 Vera Wang's Much-Anticipated David's Bridal Bridesmaid Collection Has Arrived
Vera Wang's spanking new bridesmaid collection has officially been added to her White by Vera Wang collection at David's Bridal. Prices for the new bridesmaid options range from $158-198, all with stunning, very-Vera details. Preview the beauties right here, then head to David's Bridal to be one of the first to try them in person, since they're only in stores at the moment. The minute that changes, we'll update you. (more…)
No Headlight Flashing On Your Big Day — Keep It Classy With These Savvy Nipple Concealers
Wearing a drapey, strapless, or delicate wedding dress and concerned about showing a little more than your guests bargained for? Free yourself from worrying about inadvertently flashing your -- or your bridesmaids' -- diamond cutters with a pair of reusable, stick-on silicone Commando Top Hats Nipple Concealers ($30). These lightweight covers are so smooth, no one will even suspect you're wearing them. Find more smart wedding day saviors in our wedding day survival kit and our guides on comfortable wedding shoes and cheap bridesmaid dresses.
Pippa Middleton's Dress Now Available In Actually-Appropriate B-Maid Colors (Aka, Not White)
Yes, Pippa Middleton's white Alexander McQueen wedding dress was fab - but did anyone else think aloud, "I can't believe she's wearing white"?! Raise your hand if over your cold dead body would you let your bridesmaids wear white. Luckily, A.B.S. made a version of their Pippa dress in black ($390) and plum ($390), which are actually-appropriate (and on-trend!) bridesmaid colors. Pre-order both styles by calling Lord & Taylor, 212-391-3287. Shop our guides to the best strapless wedding dresses, white wedding shoes, and inexpensive wedding dresses.
Can You Tell Which Blue One-Shoulder Bridesmaid Dress Costs $173 More Than The Other?
Shop our guides to the best inexpensive wedding shoes, wedding costume jewelry, and black bridesmaid dresses.