VIDEO: How To Clean Your Diamond Ring With Products You Have At Home
There's really no need to go out and buy jewelry cleaner for your diamond ring when you likely already own products that work just as well. With a little dish soap, baking soda, and a toothbrush, your ring will be sparkling in no time. Check out how easy it is to do in the clip below. [youtube]https://www.youtube.com/watch?v=OREnA_H5St4[/youtube] For more, check out these awesome packing hacks, and how to remove deodorant stains.
Khai Khai Transforms Internet Memes Into $1K Fine Jewelry
Usually fine jewelry is associated with engagement rings, classic diamond studs, and your mom's locked-away collection of bling. But Khai Khai gives fine jewelry a refreshing makeover fit for the young lady who adores her diamonds but also the Internet, her Twitter account, and Beyoncé music videos. The New York-based line, founded by the brother of Man Repeller Leandra Medine (so you know these pieces are bound to be both fun and fashionable), offers super-luxe earrings, rings, and necklaces with quirky nods to memes like diamond-studded @-symbols, a thumbs-up "Like," and kale, everyone's favorite vegetable. Now you can wear fancy jewelry without feeling frumpy. Khai Khai @ 18-karat gold diamond earrings ($1,100) Khai Khai Kale 18-karat gold tsavorite necklace ($1,150) Khai Khai Thumbs Up 18-karat gold diamond ring ($1,300) Check out more Best Finds: Jennifer Lawrence's Isabel Marant coat, Cameron Diaz's $68 ring, and Kim Kardashian's hoodie.
The 25 Best Wedding Earrings: Gorgeous Studs, Drops & Hoops From $20 To $2,000
Hoops, studs, chandeliers - what's your earring personality? Whether your preference is pearls, diamonds, or gorgeous topaz, there's something for every bridal style in our ultimate guide to wedding earrings. And in case you missed it, check out our top picks for wedding pumps! (more…)
How To Get The Engagement Ring You Want
Sure, you could always just slip a magazine ad into his brief case, steer him into a jewelry store at the mall, or tell him pointe blank. But where's the mystery in all that? We prefer a slightly more coy approach…. 1. Make a Pinterest board of rings you want, and share it with him. Ain't no shame — there are already hundreds of "Rings I Want" boards on the site. (If you don't want to send it to him directly, just "share" it with your "friends" on Facebook...repeatedly.) 2. Wear jewelry in the same style or shape that you'd like your ring to be. (Guys do occasionally notice that stuff.) 3. Work diamond terms into everyday conversation. Like "classic," "vintage," "solitaire," "princess," "cut," "color" and "3 carats." 4. If your heart is set on a Tiffany ring, sign him up for the Tiffany newsletter. Ditto for Zales, Gemvara, Blue Nile… in fact, if subtlety's not your thing, sign him up for all of them! (more…)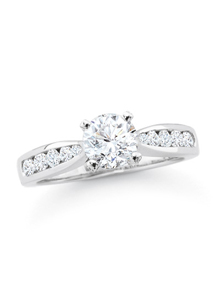 It's The Most Wonderful Time Of The Year: 70% Off Diamond Engagement Rings & Jewelry
No holiday season is complete without a little silver and gold. If you're helping your significant other shop for THE ring, or you're just on the hunt for some gorgeous bridal jewelry, be sure to check out the amazing sale at Zales right now. Right now you can get an extra 20% off on select styles when you shop online, and receive 10% off store-wide. Editors' pick: this Certified Diamond Engagement Ring in 14K White Gold ($3431.40, down from $5719). (more…)
Get The Look: Outfit Inspiration From Four Style Bloggers Around The Web
As an antidote to the mid-winter slump, where you start to repeat the same outfits over again while you wait for spring, we've chosen four of our favorite  bloggers and show you how to achieve their unique looks. Take a few cues, and pair some unexpected pieces, with a little style inspiration from gals who dig deep into their closets every day for new looks: Sea of Shoes Who: Jane Aldridge  is a Texas high school student who pairs vintage and bargain finds with her mother's high-end clothes--she's got a penchant for amazing shoes paired with vintage jewelry, plus a closet filled with designer finds to covet.  This year she was featured in Vogue and Vanity Fair,  and designed a line of shoes for Urban Outfitters. Did we mention she's a teenager? Pair together a fur vest by Juicy Couture ($209), and a drapey asymmetrical skirt like this one by Dondup Quodlibet ($149) to get an unexpectedly cool vibe that's a mix of fabrics, textures and lengths. The boots Jane is wearing are wedges, with a slouchy detail and buckles--these boots by Sudini ($40, down from $200) channel the pointed shape of Jane's slouchier pair, and an enamel giraffe bracelet by Kenneth Jay Lane ($59.98) covers her penchant for vintage animal jewelry. (more…)
News: Calvin Klein To Livesteam, Naomi Shows A Softer Side, More
1. Calvin Klein is jumping on the digital bandwagon--the brand's mens's and women's runway shows will air live on calvinkleincollection.com and Facebook, including a live chat. See the men's collection at 2 p.m. on Sunday, and the women's collection at 3 p.m. on Feb. 18. See our guide to sneaking into fashion week, and how to get your digital ticket to the shows. Speaking of simple clean lines, check out our guide to sheath dresses for the perfect work look. [WWD] 2. Naomi Campbell is giving back to Haiti in a big way during Fashion For Relief, a charity fashion auction, where pieces will both be sold off the runway and online at Net-a-Porter after March 15. See what you can do to help Haiti through fashion. [Vogue UK] 3. Eco-friendly Anya Hindmarch will be collaborating with a London street artist to create bags inspired by his graffiti with British phrases like "Loot," "Booty," and "Back Britain." No doubt they'll be in demand as limited edition pieces. See our guide to vegan shoes and handbags available now. [WWD] 4. British department store Marks & Spencer will up their ante, signing on Kylie Minogue and the first supermodel, Twiggy, to star in their new ads for spring. Look like a supermodel in their off-duty uniform of skinny jeans and a leather jacket. [Elle UK] See a list of all of this week's best online sample sales, filled with designer treasures waiting to be snatched up, and see our sales and deals so you can save a little cash.