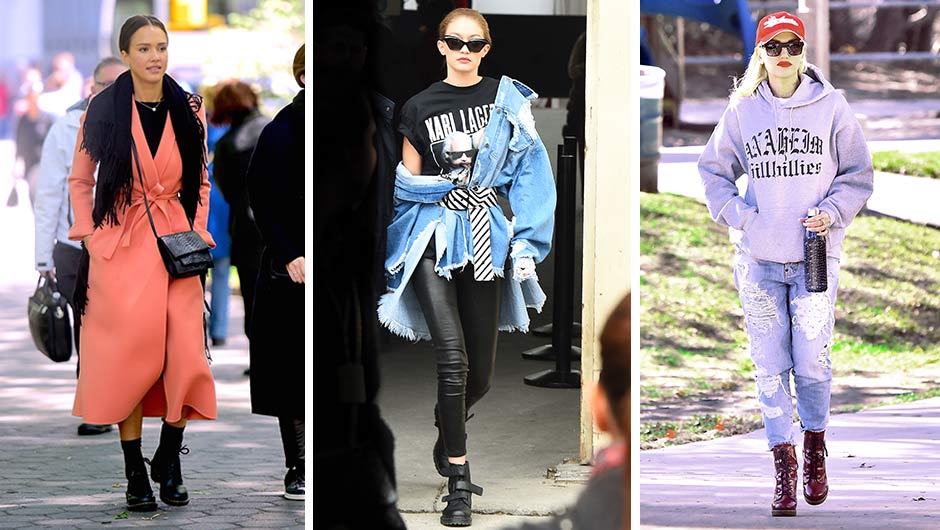 We're Calling It Now: Every Celebrity Will Be Wearing These Boots This Spring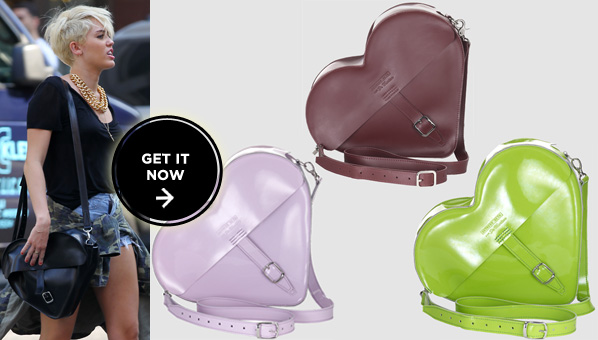 Is Miley Cyrus Slowly Transforming Into Agyness Deyn? Here's Proof.
When Miley Cyrus made her new bleached, pixie 'do public, we thought the haircut looked vaguely familiar. And by familiar, we mean she's copied exactly British supermodel Agyness Deyn's signature cut. And to prove that Miley is an Aggy-wannabe even further, check out these photos of her rocking a grung-y get-up that the British "It Girl" would totally wear -- down to the Agyness Deyn x Doc Martens bag. Yep, that's right, the Disney star is rocking a heart-shaped satchel from Aggy's very own line. And if you think you can't pull off the haircut that made the Internet go haywire, at least you can get her exact bag. The Heart Satchel is available in eye-catching colors like Cherry Red, Acid Green, and Pale Lilac ($225). Heart Satchel in Acid Green ($225) Heart Satchel in Cherry Red ($225) Heart Satchel in Pale Lilac ($225) Shop more celebrity style: Pippa Middleton's purse, Sara Jessica Parker's camo-print jeans, and Nicole Richie's heels. [Photo: Splash News]
Aggy Deyn's Collection For Doc Martens Is Here! Shop Our Favorite Picks Now
We announced to you guys about this match-made-in-heaven collaboration between model Agyness Deyn and the boots brand Dr Martens, then we gave you a first look into what the collab had in store. Heck, we even talked about Aggy's sudden marriage to Giovanni Ribisi! As you can see, our love for this style icon runs deep. And now this anticipated collection, which actually includes a few more things than we expected, is finally available for you to shop RIGHT. NOW. Check out our slideshow of our top picks, which include a lime green heart-shaped satchel, daisy-printed midi-dress, and a checkered skirt. Read more fashion and beauty news: five things you can buy instead of Tom Ford's new $500 perfume, Bottega Veneta's monogramming service, and scratch-and-sniff nails.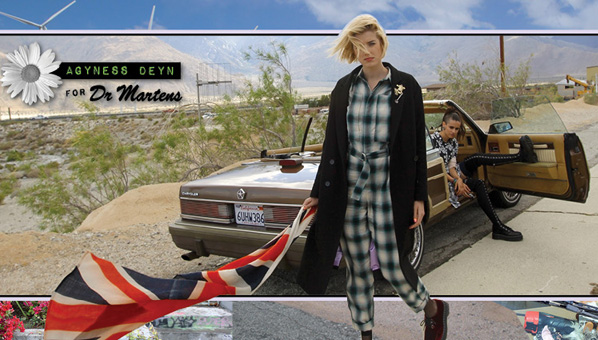 See The First Photos Of Agyness Deyn x Doc Martens (Which Hits This Week!)
When we announced that too-cool model Agyness Deyn was collaborating with major British footwear line Dr. Martens for two seasons, we couldn't contain our excitement. This joint collection is a match made in heaven with Aggy's androgynous and edgy style and the iconic grunge-inspired boot. Thanks to British Vogue, we got a glimpse of the entire collection before it's available online (August 15 to be exact!). For those who love midi-length dresses, heart-shaped satchels, flannel-print, platform-style combat boots, and daisy prints (lots of daisy prints), this anticipated collection is calling your name. Have a peek at what's in store in the slideshow above and try to test your patience until its release. CHECK OUT AGGY'S DESIGNS FOR DOC MARTENS Read more fashion and beauty news: Madonna's show collection for Macy's, Mariah Carey x OPI, and Rag & Bone's handbags.
Just What The Doc Ordered: Dr. Martens x Liberty Launches Stateside Today
Opposites do attract. Back in April, our favorite tough-boot company (and to my mother's disdain, my teen go-to brand), Dr. Martens, announced collaboration plans with Liberty London, UK brand known for their retro floral prints. While the Brits have been having all the fun wearing Dr. Martens x Liberty London accessories for the past month, we have been patiently waiting for the collaboration's arrival stateside. That is until today's U.S. launch. Available in the $130-$310 price range, the 14-piece collaboration collection includes floral-printed boots and satchels. The boots come in classic three-hole and eight-hole styles and the satchels in two different sizes. We can't wait to get our feet hands on the vibrant green "Strawberry Theif" pair which features the cutest little bird prints. Even my mother would approve of these floral bad boys! Shop Dr. Martens x Liberty collection here For more upcoming collaborations, check out Dr. Martens x Agyness Deyn, coming out in August, and Beth Ditto for M.A.C, launching next week.
Agyness Deyn Turned The Dr Martens Modeling Gig Into A Designing One
While Agyness Deyn's modeling career may be on hold while she pursues theatrical jobs, that doesn't mean the UK beauty isn't still fashion obsessed. Since she's already been featured in campaigns for them, its not a huge surprise that she's releasing a collaboration with Dr Martens (joining the ranks of Hello Kitty and Liberty London, whose Doc Marten collab drops next week). Agyness spoke with British Vogue about her inspirations, which include stylish 90's couples like Brad Pitt and Juliette Lewis, and Johnny Depp and Winona Ryder. I love that grungy look, that freeness and real vintage vibe. I wanted the collection to look like someone had gone into a charity shop, like I did when I was a teenager, and come out dressed head-to-toe in what they'd bought. It's a wear-it-all-together collection. What makes this anticipated collab even more amazing—besides the fact that pairing Deyn with Docs is pretty much inevitable—is that the debut collection will include apparel and accessories, in addition to the line's signature footwear. Expect to see these items in the flesh come August, and another range will also be available the following spring/summer season in 2013. Read more fashion and beauty news: nail polish that smells like white chocolate, Louise Gray x Topshop, and Karen Walker's pop-up shop.
Would Daria Approve Of These Floral Liberty London x Doc Martens? We Think Yes.
Nineties icon Daria Morgendorffer wouldn't be caught dead (but maybe a little deadpan) without her Doc Marten combat boots -- but how would the deliciously dry character feel about a collaboration with Liberty London, purveyor of the flower print? As devotees of the MTV series, we can say with absolute certainty that she would approve of these rugged, yet extremely-floral lace-ups, which hit stores May 1. And whether you remember Daria or not, this season, floral is having a moment. Wait! Hear us out! Unlike every spring, when we get a floral skirt here or a floral dress there, the print is showing up on literally every piece of clothing—blouses, jeans, pants, even blazers. The iconic eight-hole and three-hole boots and shoes will be covered in the Brit line's signature prints: "Strawberry Thief," the classic print designed by William Morris in 1883, ia a retro combination of flowers and birds, while "Martens Flower" is a modern take on the 1930s Carlino print. We're pretty sure this cool collaboration was inspired by the phrase, "April showers bring May flowers." Or, if you're Daria -- just more showers. For more shoes news, check out this Loeffler Randall sale, these colorful Nike Free Runs, or these Rebecca Minkoff pumps that are pure 'Bliss.'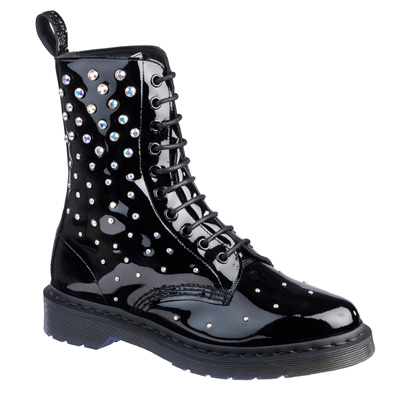 Swarovski X Dr. Martens: Think Of It Like Paris Hilton And Kelly Osbourne's Friendship
First, there were the Hello Kitty Dr. Martens. Now, the next unlikely collaboration to come out of the iconic combat boot brand? Swarovski X Doc Martens' crystal-embellished line! The collection of heels, boots, and flats is already available at London's Selfridge's, but will hit the US just in time for holiday season this December. The six shoe styles range in price from $400 - $1,000, so I'd say either start saving up now, or invest in a quality glue gun and a good DIY session. (more…)
Can't Wait For Your Cambridge Satchel Company Bag? Dr. Martens Sells These Collaboration Bags Stateside
Four of the satchels from Dr. Martens accessories line One month ago, I wrote a post about my obsession with Cambridge Satchel Company's neon satchels. One month ago, I also placed my order for the 11" fluorescent yellow version, and I have STILL yet to receive it. After stalking their Facebook page a bit, it appears other people are having similar complaints---I guess that's what happens when a small business goes absolutely viral. So in the meantime, go ahead and shop these adorable Cambridge Satchel Company X Dr. Marten (yup, the punk loving combat boots brand) bags. The satchels are featured as part of their "Made In England" series---and at $190 with US shipping, they equal out to be about the same price as regular Cambridge Satchels--they'll just end up at your doorstep sooner. (more…)
Dr. Martens Finally Designed Some Clothes To Go With Those Iconic Boots
Dr Martens has collaborated with Hello Kitty and showed off on Gossip Girl. And now? Even bigger news. Dr. Martens is distributing their very first clothing line starting Monday. Featuring chambray shirts in a variety of colors and prints as well as leggings, we can finally rock our Dr. Martens without worrying about matching the infamous combat boots. How much longer until Monday? (more…)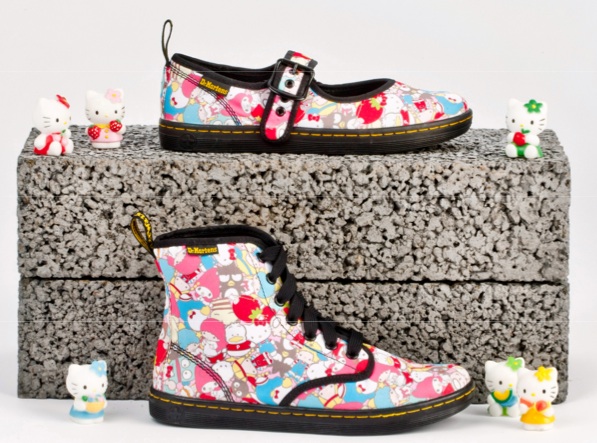 Hello Kitty And Doc Martens Collaborate Again, In The Least Likely Duo Since Beibs And Luda
In honor of their respective 50th anniversaries last fall, unlikely pair Hello Kitty and Dr. Martens launched a joint collection of Kitty-themed combat boots and mary janes, and now they're back once again with a second limited edition line of shoes featuring a pattern of Hello Kitty and other Sanrio friends (including the likes of Chococat, Keroppi, and Little Twin Stars [!!]).  Though there is plenty of other Hello Kitty merchandise currently on the market, the Dr. Martens for Hello Kitty collection won't be available for purchase online and in department stores until later this spring. Pull out those beepers to page your friends, because this might just be the best retro footwear collaboration since Keds for Gap. (more…)