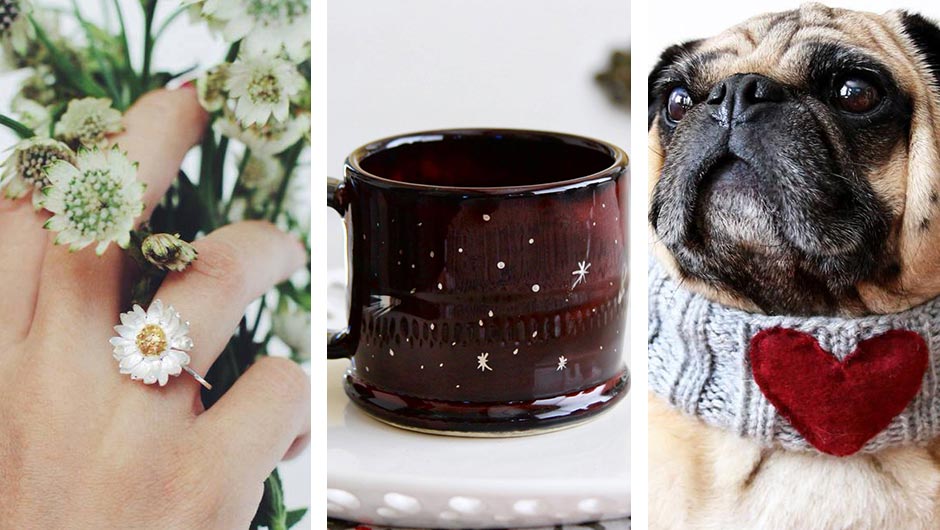 6 Shopping Secrets You Never Knew About Etsy
The Best Beauty Buys From Etsy: 'Moon Fruit', Holographic Nail Polish, More
You'll Never Guess Where Mila Kunis Bought Her $90 Wedding Ring
Mila Kunis and Ashton Kutcher are the chillest celebrity couple ever. Need more proof than this? Mila bought her and Ashton's wedding bands on Etsy for a grand total of $190. The actress was on Conan O'Brien's show when he noticed her playing with her wedding band and commented that it's "not showy." "I can't believe the fact I'm telling anyone this story," Kunis started. "So my husband and I got married... a little while ago, she told O'Brien. "Beautiful engagement ring. Like, stunning, stunning, stunning. But for our wedding bands—for when we got married—I decided to just get them off of Etsy. She wanted "the thinnest possible platinum band" and went to look at Tiffany & Co. "I was like, 'They're how much? This is astronomical," she said. "So, I went on Etsy and I was like, '$90?' I was like, 'Buy now!'... Ashton's is $100, so technically his wedding band was a little bit more expensive." I mean, could these two be any more #couplegoals? Watch the full interview below and if you're looking for some Etsy wedding band inspo, here ya go. [youtube]https://www.youtube.com/watch?v=_0eT3hUFcFY[/youtube] Don't forget to check out: the dress and earrings FLOTUS wore at the DNC and the best shoes to wear with cropped flare jeans [Photo: Splash News]
How To Buy The Wedding Dress Of Your Dreams On Etsy
I've worked in the world of weddings for many years and it wasn't too long ago that experts actually warned against buying your wedding dress online? A purchase that important merited the full bridal boutique experience, they argued. Fast forward to 2016 and more and more brides are planning their entire wedding online! No site helps brides pull of the big day of their dreams quite like Etsy, which is why we couldn't pass up the opportunity to chat up Dayna Isom Johnson, Etsy Trend Expert, to get the scoop on emerging wedding trends and her best advice for brides buying a gown online. SHEfinds: Etsy has so many great items for weddings--would you recommend brides consider Etsy for their wedding dress? Dayna Isom Johnson: With over 35 million unique items in the marketplace, Etsy allows shoppers to create a wedding that is completely their own. Shoppers can connect directly with sellers to personalize, customize, and/or add a special touch to many items, including their wedding dress. Brides can discover trends ranging from draped silhouettes and dropped shoulders to modern jumpsuits and every take on lace imaginable. There's truly something for every kind of bride on Etsy. SF: Are there any designers on Etsy you think brides should check out? DIJ: There are so many talented wedding designers on Etsy. Here are just a handful of sellers that create unique, customizable bridal wear: - Amanda Jennings of MinkMaidsCollection loves to design for the woman who doesn't see herself in the usual white wedding gown - she designs for the woman who wants to show her personality on her wedding day and is ok with stepping out of the box with color and pattern, rather than just wearing what everyone expects from a bride. - Rebecca Schoneveld creates original, unique bridal wear that is truly one-of-a-kind. No design is a duplicated! - Yanique Barnes of Dreamers and Lovers likes to think of herself as Cinderella's fairy godmother, ensuring that every woman receives a custom made dress that makes her feel beautiful, comfortable and confident on her special day. - Mother-daughter duo Lana and Kat, the sellers behind LankkaBridal, specialize in simple, timeless and affordable wedding dresses, which are fully customizable. SF: What are some of the top wedding gown trends you're seeing on Etsy? DIJ: This season is all about blush tones, and we're seeing it as an emerging trend translating from wedding to decor to bridal fashion. We've also been taking note of floating embellishments, which is using materials like silk flowers, rhinestones and illusion lace to create a "floating" effect. Brides-to-be can also peruse our Editor's Picks pages, which are curated by Etsy Editors, to discover unique finds and emerging trends in bridal fashion. SF: What's the best advice you can give brides considering buying a wedding dress online? DIJ: Choosing a wedding dress is one of the most exhilarating choices a bride makes, and deciding on a custom gown can raise the stakes. Here are some key tips for brides considering purchasing a gown online: - Brides should take a peek inside their own closets to learn about what they already own that fits and flatters them, and what makes them feel pretty. - Everyday looks can be a great touchstone for finding a wedding dress. The gown shouldn't look like a costume--it should be an extra-special version of the bride. - Good communication leads to the winning dress, so there should be an open dialogue between designer and client, especially when designing a custom gown. - The key ingredient for purchasing a wedding dress online is to take the right measurements. If the bride can't or doesn't want to go to a professional for measurements, they should be sure to ask their designer for a measurement guide and have a trusted friend to help them. - Adding custom details to your pre-owned dress, like vintage lace, silk flowers, hand beading, or adding buttons down the back, can really set a dress apart without too much time and expense. Adding or changing straps is another simple alteration that can contribute a lot of custom flair. - In the end, it's really all about the fit. No matter what your budget, it's really worth it to invest in a dress that matches your measurements. A dress that fits you beautifully will always look dynamite. SF: How can brides ensure they are getting a quality wedding gown when buying online versus in a bridal boutique? DIJ: Etsy provides a variety of tools to help shoppers verify that a seller is reputable. Buyers can use Etsy's five-star review system to review feedback and check out purchase images from other customers. Also, the best part about Etsy is that shoppers can connect directly with sellers at any time by using Etsy conversations ("convos"), so brides should be sure to reach out to their designers to ask questions or clarify any points of confusion. SF: There are a ton of sellers on Etsy - what's your best advice for sorting through all options? DIJ: With over 1.6 million active shops, Etsy helps shoppers find one-of-a-kind products, and these tips can help brides navigate the marketplace, and discover bridalwear amongst all of the unique options: - Brides should start by searching something they know they like. A search for "lace," then filtered by category such as Wedding Dresses, will narrow a search down. - When planning for your wedding, it's especially important to keep organized by adding all the dresses you like to a Favorites list. To add something to your Favorites List, just click the heart-shaped Favorite button then select Add To for a menu of lists you've created. - Etsy's Wedding Dress Guide is a great resource to help pinpoint and shape a definition around a bride's unique style--be it by silhouette, color, trend or mood. The guide acts as a jumping off point into ideas with added shopping tips, letting brides pick up the lead from there. - Can't settle on a single style with all of the exciting options? Why decide! We're seeing brides plan multiple looks for the big day, allowing more flexibility and fun. - Sign up for Etsy Weddings email blast to stay on top of all of the emerging trends and curated unique items from Etsy's editors. SF: A wedding gown isn't complete without accessories--what are some great accessories trends/shops on Etsy? DIJ: Accessories are a great way to help define style through finishing touches. In addition to seeing trends in blush tones, metallics and floating embellishments, we're taking note of brides choosing unique accessory alternatives like boho-style headpieces, unconventional earrings, and Juliet-style cap veils are making new wave. Brides can also check out Etsy's Bridal Accessories Guide to source inspiration and discover new trends in wedding accessories. Be sure to check out the best workout for your wedding dress and mistakes brides make when planning a daytime wedding. [Photo: Etsy]
The Etsy Wedding Awards: 12 Shops Every Bride-To-Be Should Bookmark Now
Etsy is a bride's paradise. From stationery and decorations to favors and lighting, there is nothing you can't find on this amazing site. With so many vendors to choose from, you'll want to make sure you're giving your business to the right shop, so take a look at these tips to make shopping on Etsy stress-free. And then click through the slideshow to check out some of our favorite Etsy shops to help you get your shopping started. Ask lots of questions. If you have any concerns of this shop being legitimate always send a message, ask a few questions about the product, says Phallin Marie, the owner/creator of Four Sisters Farm Soap Co. "Ask when the ship date will be (custom items can require longer ship dates). A truly upstanding Etsy shop will respond to your messages within 24 hours--unless there is an emergency." Look over the listing carefully. "The most important thing a bride-to-be can do when ordering Etsy items for a wedding is to read the entire Etsy listing and provide a date by which the piece is needed when placing an order," says Jean Kake of Quilted Cupcake. "Especially during the wedding seasons, some shops have longer lead times than a bride may expect." Read reviews. Each seller has reviews once you click on the product. Skim those reviews, paying particular attention to any negative reviews, says Michele Velazquez, owner of The Wedding Bomb, a pop-up wedding company. "If people are saying the product looks better in photos or shipping was delayed, run!" Check out the location. Shipping from another country can seriously slow things down and more importantly, items could be held at customs. Try to order in the country you reside in if possible. Pay attention to the materials. The materials are usually featured in Etsy tags if not in the listing text itself –knowing this will help ensure all of your products, even from various vendors, coordinate (all one fabric type, all one ribbon, all one paper finish, etc.), says Kate Ziegler of Union Jack Creative. Order in advance. Cut down on pre-wedding stress by having everything ordered at least three months before the big day, says Kendra Barnes, owner of CUTEnCRAFTY Shop. "You will feel prepared and organized and this leaves a little wiggle room for delayed shipping, lost packages, etc." Protect yourself. If you pay with a credit card or Paypal, you are protected if anything goes wrong. I don't recommend mailing a payment, recommends Angie Barrett, owner of Angie's Suds 'N Such. [Photo: Etsy]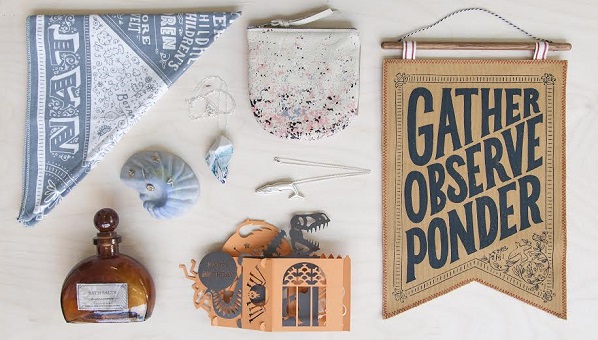 The One Collab You Must Shop This Month? Etsy + AMNH
When I heard Etsy and the American Museum of Natural History were teaming up on a collection of handmade goods "inspired by the natural world," I really had no idea what to expect. Even still, I'm a sucker for just about everything Etsy, so I decided to give it a peek. And lucky I did because the collection is gorgeous. Comprised of everything from jewelry and accessories to home goods and stationery, these are the one-of-a-kind treasures you could only hope to ever come across. Except, thanks to this awesome partnership bringing a bunch of local artisans to the forefront, you can buy them all right from the convenience of your own home! We rounded up 6 of our favorites from the collection in the slideshow, but trust me--you'll want to see everything. SHOP ETSY + AMNH NOW! Be sure to check out cute raincoats for spring, how to make over your kitchen on a budget and Neiman Marcus' clearance sale. [Photo: Etsy/American Museum of Natural History]
13 Etsy Jewelry Sellers That Should Be On Your Radar
Etsy's been around long enough that it really shouldn't come as any big surprise that there are tons of good finds. Obviously, it's a go-to for wedding supplies, but there is so much good jewelry on the site, too. And the prices? Beyond competitive! If you haven't hit up Etsy for jewelry yet, the time has come. Make your first purchase at one of these 13 amazing shops and we promise you'll be back for seconds (and thirds and fourths and fifths...). Be sure to check out the best bras for big boobs, J. Crew's wedding sale and spring's best slide sandals. [Photo: Sol del Sur/Etsy]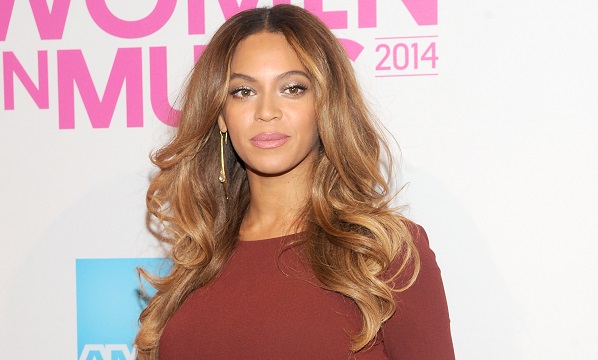 Beyonce Might Be Suing Etsy Over Those 'Feyonce' Mugs
TMZ is reporting that Beyonce threatened to sue Etsy for selling "Feyonce" mugs. You know, the handcrafted mugs with the word "Feyonce" (as in, a play on fiance) and the letter "O" as a ring? Tons of people would buy this as a present for their newly engaged friends. Well, now you can no longer purchase a "Feyonce" mug on Etsy thanks to the powers of Queen B. But wait--isn't she all about celebrating putting a ring on it?? Also, does she know how many Beyonce-themed products exist in the world? Do you think it's right for Bey to go after Etsy? Let us know in the comments below! UPDATE: It looks like you can actually still buy some of these on Etsy. Shop below: Fiance Mug ($12) Fiance Vinyl Ceramic Mug ($11) [Splash News]
We Crashed An Etsy Seller's Jewelry Studio And Yes, It Was As Amazing As It Sounds
We're diehard Etsy fans here at SHEfinds, mostly because the jewelry selection is unbeatable. Of course, that's due in large part to the thousands of sellers who find and make gorgeous products the rest of us can't resist. But rather than simply be content ordering jewelry up the wazoo, we decided to go behind the scenes a little and actually meet one of these highly talented Etsy sellers. I was actually introduced to Soledad Proaño of Sol Del Sur at an event here in NYC and as soon as I saw her stuff, I knew I wanted to learn more. So I enlisted the SHEfinds graphic designer/resident photographer to trek it to Brooklyn with me where we got up close and personal with Sol's amazing pieces and how they come to life. Take a peek: A few of Sol's latest pieces on display in her Brooklyn studio. SHEfinds: What were you doing before you started selling on Etsy? Soledad Proaño: I was an acoustical engineer. I studied audio and acoustics, but ended up focusing on architectural designs to create spaces that had good sound quality. We basically came up with treatments and materials to make texture in spaces. It was the best job I could have had with my education, but it wasn't enough for me. I really wanted to make creative decisions. Sol wearing some of her favorite pieces. SF: So you decided to start selling on Etsy? SP: I think it was probably 2008. I started selling mosaics, but they were very time-consuming. So I started making scarves with all these amazing yarns, but then summer cam so I had to diversify. Probably a year after I joined Etsy, I started doing jewelry. Works in progress. SF: Do you have any formal training? How long have you been making jewelry? SP: I started when I was 10, off and on making friendship bracelets. Later I learned some wire-grapping and metal- and leather- work. I love all kinds of processes, though. That's my thing--to figure out how things are made. SF: What made you decide to try your hand at jewelry? SP: At craft shows I would see people doing jewelry and it was selling and selling and I said, "I can do that!" Where the magic happens. SF: How do customers find you? SP: I have repeat customers, but most of my customers are new and honestly, I don't know where they come from. Sometimes I will get referrals or when I do an event I will get a lot of traffic right after. The early stages of some new Sol Del Sur cuff bracelets. SF: How does it feel to work for yourself? SP: It has its pros and cons. Sometimes I do miss the security and teamwork of working for a company. It's sometimes lonely and hard to connect with other creative people. But, of course, it's also nice to have my own ideas about how things should be made and execute them that way. Sol's favorite necklace. SF: Do you have a favorite piece? SP: It's always the newest. Click through the slideshow to shop our favorite Sol Del Sur pieces, then head over to Etsy to shop Soledad's collection yousrself. Don't miss these stunning unique engagement rings, black moto jackets for fall and quilted shoes. [Photo: Shelby Rodriguez]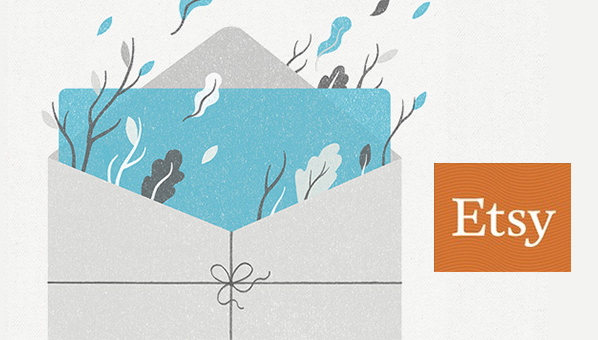 Get A Head Start On Holiday Shopping: Etsy Gift Cards Are Here
The arrival of the Etsy gift card has been much-anticipated, namely because it's the closest the world will ever get to a gift card for Pinterest. Just picture it, instead of parting with actual dollars to buy all the adorable handcrafted home decor you could never make yourself, now you'll just be saying goodbye to what essentially feels like Monopoly money. Genius! Buy one for a friend or yourself on the Etsy site, or add it to your own wish list . Since you're feeling crafty, here are a few DIY Halloween costumes for you to try: Pinterest, Suri Cruise, and Honey Boo Boo.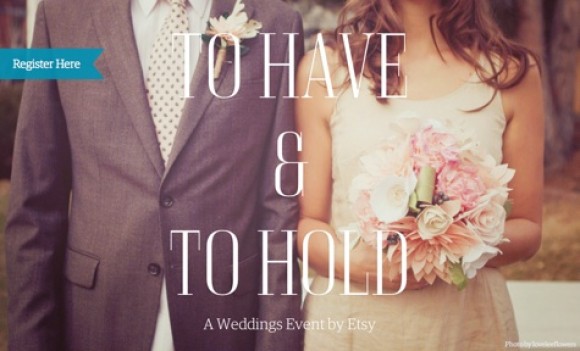 Mark Your Calendar For Etsy's Very First Wedding Event: NYC Residents And DIY Junkies Rejoice!
NYC metro area brides, save the date! On April 28th, Etsy will totally throw down the wedding gauntlet. While they've hosted a lovely "Handmade Weddings" series on their blog for some time now, this will be their first foray into wedding events. "To Have & To Hold" will be a one day only, indoor marketplace that will feature some of Etsy's most fabulous wedding vendors. Spend your Saturday in a sea of gorgeous wedding inspiration, curated exclusively by Etsy Admins! The vendor roster hasn't been announced just yet, but if you want to get a sneak peak of the wedding goodness to come, just take a gander at a few of our most recent Theme Thursdays posts! Once again, that's Saturday, April 28th, from 10am - 6pm EST, at 91 Horatio Street.  Tix are $20 each, and you can snag them here! (more…)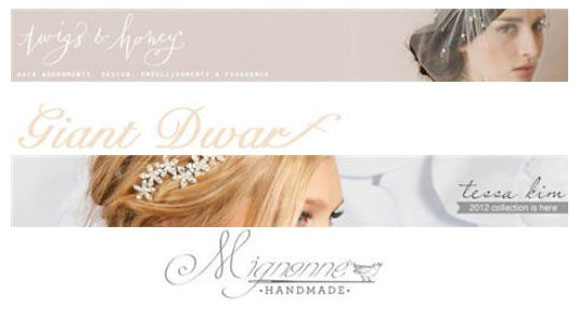 4 Etsy Sellers You Need To Know Now (Plus, Discount Codes For BRIDEfinds Readers)
Etsy is a treasure trove for handmade goodies - and a Godsend if you're planning a wedding. As you know from our weekly Theme Thursday posts, you can find pretty much anything on the site, from laser-cut banners to custom wedding invitations and handmade favors for pretty much any theme you can dream up. If you're looking for a truly unique hair accessory, Etsy is the first place to go -- especially these 4 outstanding shops we're featuring this week. These professional sellers have been chosen for their exceptional quality, rave customer reviews, and for having the most inspired design we've seen in a long time. Some even shared exclusive discount codes, just for BRIDEfinds readers. You can't reinvent the wheel, but you absolutely can reinvent the veil - and these talented handmade artisans are doing so on a daily basis. So without further adieu, here are our top four picks for wedding hair accessories vendors on Etsy: (more…)
Etsy Sunday: Up, Up and Away
I'm so in love with this pair of hot air balloon mobiles from Etsy.  It's a fun, easy way to add whimsy to the nursery, and what baby wouldn't be amused with his favorite teddy bear floating dreamily above his crib before dozing off to sleep. Cuteness overload! (more…)
Etsy Sunday: Turn Off the TV and Get Crafty
What to do when it's raining or pouring?  Turn off the TV, gather the kids around the table and get crafty. This DIY kids' art kit in a bag comes complete with everything your kid needs to create her very own little family, including paint, brushes and seven wooden dolls ready to be personalized. And that's just the start. The fun continues when the paint dries and your kiddo has a new one-of-a-kind wooden toy. (more…)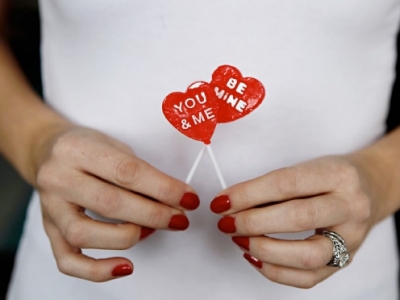 We Heart You, Etsy: Shop Handmade, Valentine's-Themed Decor That Is Simply Romantic
It's February (!) and in two weeks, it'll be time to put on your finest cocktail dress (and your laciest unmentionables) and properly celebrate l'amour...(fiances, we're putting you on alert!). Whether you're looking for romantic, handmade touches to add to a Valentine's Day party, or you're dreaming of a Valentine's Day wedding extravaganza, we've found some of the sweetest wedding invites, burlap buntings, vintage props, and paper accessories available on Etsy. (more…)

Etsy Sunday: Personalized Valentine's Day Tees for Your Love Bug
Sure, you can pick up a generic Valentine's Day tee for your kid at the mall for a few bucks, but why not get your love bug something a little more special? Like one of these sweet Valentine's Day tees on Etsy. (more…)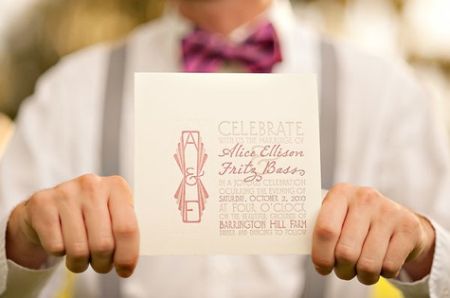 Transport Your Guests To Another Era With These Art Deco Invitations From Etsy & Beyond
Everything old is new again! Have you noticed? Our latest vintage obession: all things Art Deco. The typefaces, the architecture, the dapper gents and swooning dames,  the Hollywood glamour... And like all truly fabulous trends, Art Deco is creeping into every aspect of decor -- particularly stationery. There's a plethora of beautiful Deco-inspired  invitations and save-the-dates available on Etsy and some of our favorite wedding stationery sites - so many in fact, that we knew we just had to share. (more…)

Etsy Sunday: A Sweet Gift for Dragon Babies
Have a dragon baby on the way? Lucky you since dragon babies are known for being highly intelligent, energetic, imaginative and ambitious.  Hey, maybe your babe will grow up to be the next Bill Gates? (more…)

Etsy Sunday: Sweet Mommy and Me Apron Sets
Resolving to eat healthier, homemade meals this year?  Make it a family affair with this sweet mommy and me apron set from Etsy.  Because everything tastes better when you have a little kitchen helper. (more…)
Etsy Sunday: A Must-Have for Holiday Card Procrastinators
Still haven't sent out your holiday cards? Relax and just send New Year cards.  Your friends and family will love them just the same, especially if you dress up your baby boy in this Happy New Year Baby Bow Tie from Etsy.  Super-cute for just $12, and he can wear it on New Year's eve! (more…)
Courtney Love Is Into 'Big Fat Crystals' And Knives (Or So We Learned From Her Etsy Account)
Courtney Love, who apparently has an "Occupy Courtney" column on XOJane.com, wants to let the world know that she is quite the Etsy aficionado. Furthermore, she invites you to peep her personal Etsy account, CherryForeverReturns, which displays her love for vintage lace gowns, dolls, and um, knives. Read her hilarious (and grammatically untouched Etsy About Me section after the jump): (more…)
Etsy Sunday: Crayon Dreidel, Dreidel, Dreidel
Dreidel, dreidel, dreidel, I made it out of...crayons! These festive crayons are made from 100% brand new Crayolas, and the set of 8 costs just $5.49. So you can have one night of Hanukkah where your kid's gift doesn't blow your budget. (more…)
Etsy Sunday: Festive Hats for Santa Babies
Ho, ho, ho!  Can you say perfect prop for holiday cards, and really, what better gift for baby's first Christmas?  This baby Santa hat is made to order and ready to ship in 2-3 days, and if baby has a big brother or sister or if you want a matching set for yourself and dad, you can order more in larger sizes. (more…)
Etsy Sunday: A Personalized Necklace for the Mama Bird
Shopping for the new mom and looking for something other than the personalized mommy necklace with baby's initials stamped on a round or square disc?  Take a look at this sweet sterling silver mama bird necklace on Etsy with baby's initials stamped on leaves instead.  And you'll like the price, too--it's just $38! (more…)

Etsy Sunday: Bundle Up Baby with a Sweet Baby Blanket
The perfect solution for all those dark, cold days ahead?  This sweet patchwork baby blanket from Etsy.  The colors will bring you back to summer time fun (doesn't it remind you of popsicles?), and baby will love snuggling up against the soft, minky back. And if you simply can't get enough of the print, you can order a coordinating crib set to add a punch of color to the nursery. (more…)

Etsy Sunday: Custom Artwork for the Nursery
You know what you can do with that birth announcement you just received from your sister or best friend?  Use that info and turn it into a custom birth canvas from Etsy.  The simple, modern design will brighten up any room, and what new mom wouldn't love unique artwork based on her newborn. (more…)
Love This Polaroid Prop? We Found It On Etsy #OfCourse
For hours of photobooth-style amusement (without the expense of photobooth rental), just toss one of these customized Polaroid props into the mix at your reception. It's a surefire way to make sure every one of your wedding guests gets their moment in the spotlight. Of course, some awesome Etsy seller has one you can buy now: the Ultimate Polaroid Prop ($75). No shaking required! Shop our guides to the best customized wedding favors, flower girl dresses, and wedding centerpiece decorations.
Etsy Sunday: A Turkey Play Set Just in Time for the Holidays
You probably don't want your kid playing with his food, but this turkey play set will be the exception. Handmade from felt and complete with stuffing, your kid can learn what it takes to make a perfect turkey for the holidays. And when it's time to "eat", your kid can serve up drumsticks to his guests--they're fastened with velcro tabs! (more…)
Etsy Sunday: Cold Outside Yet? A Foxy Scarf to the Rescue
Already time to bundle up the kids?  How about this cute fox scarf for your little animal lover? Each one is hand knitted from super-soft Peruvian wool and adorned with safety eyes and nose. Choose from five sweet colors and made to order in 3 days. (more…)
Etsy Sunday: Handmade Sensory Toys Baby Will Love
There's something about tags and crinkly sounds that babies' love, so if you're ever been on a playdate with other babies, chances are your little one will have the same sensory toy as the next baby. (more…)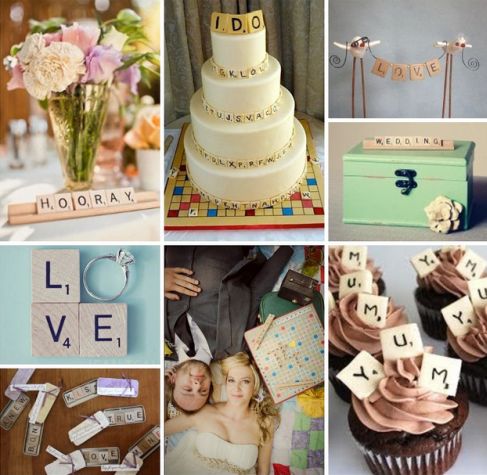 Theme Thursday: Score Mad Points With A Scrabble Or Crossword-Themed Wedding
Marrying a man of letters? Do you and your spouse share a mutual love of clever wordplay or a challenging Sunday crossword puzzle? Perhaps you should perlustrate our Scrabble, crossword, and other word game-related decor picks from Etsy! (And yes, "perlustrate" is a real word) (more…)
Etsy Sunday: LEGO-Inspired Furniture for the Brick-Obsessed Kid
What to do with all those LEGO bricks scattered around your house?  Behold, LEGO-inspired furniture from Etsy's BadappleFurniture.  Amazing, right? (more…)
Etsy Sunday: Candy Corn Teddy Bears…What Could Be Sweeter?
What do you get when you combine candy corn and teddy bears?  You get this sweet hand knit candy corn teddy bear perfect for Halloween.  Just think, you won't have to worry about your kid rotting her teeth. Price: $22 Get Yours: etsy.com (more…)
Bride-To-Be Mad Libs: Finally, A Shower Game That Doesn't (Verb)
Ah, bridal showers. So much pressure to politely sip cocktails and be civilized, yet so much temptation to get black-out drunk, if only to avoid another lame bridal shower mixer. Thanks to Etsy seller Cami's Paperie, shower guests of all ages (from your college roomie to Great Aunt Edna) can channel their inner pig-tailed pre-teen self with these amazing Bridal Shower Mad Libs ($20). These printable, personalized mad libs are the coolest bridal shower activity we've seen in awhile -- and if you love them, this seller also makes a wedding version for the reception. Yes. Bit by the shopping bug? Shop our guides for the best bridal shower favors, unique wedding invitations, and wedding centerpiece decorations.
Etsy Sunday: A Sweet Pumpkin Hat for Your Little Pumpkin
I would never let my baby wear one of these bloody baby bonnets, but this sweet Halloween pumpkin hat I found on Etsy?  Definitely.  And I wouldn't even wait until Halloween.  It's that cute, don't you agree? Price: $18 Get Yours: etsy.com (more…)
Kids Not Ready for a Carving Knife Quite Yet? How About Bedazzling Your Pumpkin Instead
Even though I am admittedly not the biggest Halloween fan, I am totally into this jeweled pumpkin trend. Haven't heard of it? It's a thing... over on Etsy, of course. How awesome are these blinged out foam pumpkins I found? [slideshow] (more…)
Etsy Sunday: Baby Sushi Halloween Costumes, Anyone?
You gave up sushi for nine months, and now that baby's here you can't have enough. If you can relate, you'll be drooling for these adorable baby sushi Halloween costumes. Choose from four types of sushi--the shrimp is my favorite--and they come in newborn and adult sizes. You know, in case you want to dress up the entire family and serve up a whole platter of sushi for Halloween. (more…)
5 Awesome Stroller Costumes for Baby's First Halloween
Here's the thing about baby's first Halloween costume. After you take those requisite Halloween photos, baby will probably wear it for a few more minutes before he spits up on it or decides it's the worst thing in the world. And even if baby ends up loving his costume, half the time he'll be in his stroller where it'll be covered up. Solution? Outfit baby's stroller in one of these stroller Halloween costumes.  Yes, there is such a thing and they're pretty awesome.  Just note that each one is handmade and takes up to 4 weeks for delivery, so if you're interested in any of them, get your order in ASAP. [slideshow] (more…)
Etsy Sunday: An Adorable Halloween Costume Idea for Your Baby Doll
We're not fans of the gory hatchet baby bonnet costume, but this red mop top for baby?  Adorable!  Besides, everyone always tells you how much your baby girl looks like a doll, so it only makes sense to dress her up in this Raggedy Ann Baby Wig.  And the best part is that you don't even have to buy her a new dress.  Just pick you favorite one from her closet! Shop for more baby Halloween costume ideas in our buying guides. Sign up for our newsletter to get even more finds delivered right to your inbox. Click here to email Farah, the author of this post.
Etsy Sunday: A Personalized Necklace for Under $20
Have a little girl who adores bling? If her ears aren't yet pierced, how about a sweet little personalized necklace for just $18. This hand stamped pendant can be customized with your daughter's first name and is finished off with a freshwater pearl and a rose--in 7 different colors. (more…)
Etsy Sunday: Cute, Handmade Pencil Cases for Back to School
Last week we shared a few of our favorite cool pencil cases for your back to school shopping list.  Well, we found a few more from Etsy, and  they're just as cute.  Think Capri Sun cases and personalized cases made from repurposed denim.  Happy shopping! [slideshow] (more…)
Etsy Sunday: Head Back to School with these Clever Headbands
Even if you have the bulk of your back to school shopping already done, bet you can make some room for these girls' headbands. We give them an A+ for being cute and clever, and they'll show everyone in class your little girl means business. Price: $14.50 for set of 2 Get Yours: etsy.com (more…)
Etsy Sunday: A Cool Back-to-School Tee for Your Preschooler
Counting down the days until your kid's first day of preschool? If you're picking out his back-to-school outfit, check out this custom "Preschool Rocks" shirt from Etsy. Choose from a dozen color tees, and then pick out the circle color, guitar color, and text color. Kid heading off to Pre-K or Kinder or first grade? You can personalize that too. You'll get your tee in about two weeks, so order early to make sure you get it in time. Price: $20 Get Yours: etsy.com (more…)
Etsy Sunday: Boutique-Style Hair Clips at Tarjay Prices
Sure, you can get cute hair accessories for your little girl for $5 or $6 at your local Target, but why not get something handmade for the same price? Like these one-of-a-kind hair clips on Etsy. The pair above is just $6, and the crocheted flower is stinkin' cute.  And if your princess isn't a fan of yellow, you can convo the seller and request a custom color combo. Get Yours: etsy.com Shop the best girls' swimsuits in our buying guides. Sign up for our newsletter to get even more finds delivered right to your inbox. Click here to email Farah, the author of this post
Etsy Sunday: An Eye-Catching Print for Your Sunshine
Apologies in advance if the song gets stuck in your head all day long, but this "You are my sunshine, my only sunshine" eye chart print from Etsy is too cool not to share with you.  Modern and just $11 (frame sold separately), I bet baby won't be able to take her eyes off of it.  We all know they love those high contrasting black and white images. Get Yours: etsy.com (more…)
Etsy Sunday: It's OK to Play with this Food
You really don't want your kids to play with their food, but this adorable felt food play set is the exception. Just look--sweet , right?  The set comes with a banana, tomato, carrot, apple and potato in an eco-friendly felt grocery bag, and it just might get your kid excited about eating her fruits and veggies. Price: $23 (more…)
Throw A Midsummer Night's Dream-Themed Wedding With Whimsical, Woodland Etsy Finds
The idea of wearing wings with your wedding dress might make you squeal with delight or roll your eyes uncontrollably. But adding a few unexpected, themed twists to your wedding can transform your special day from "meh" to magical (or something else wonderful that starts with "m"). Here are a few woodland flourishes and sparkling accents that'll infuse a bit of fantasy into your wedding celebration. (more…)
Etsy Sunday: Handmade Sandals for Your Summer Baby
Crochet baby sandals probably aren't on top of your list when it comes to baby gift ideas, but take a look at these and you just might change your mind.  The sweet shoes are cozy and cute, and the sandal style will keep baby's toes from overheating.  And everyone always appreciates a handmade baby gift. (more…)
Etsy Sunday: Festive Hair Accessories for the 4th of July
Already picked out a cute outfit for your little girl to wear next Monday?  Don't forget to top off her look with some festive hair accessories. Like this patriotic girl's headband we found on Etsy. (more…)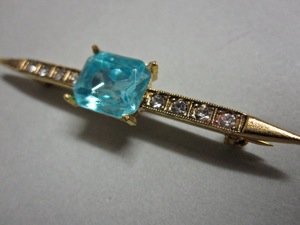 How To Get "Something Old" Without Stealing It From Granny
What to do if you need the lucky "something old" for your wedding and mom or grandma won't let you wear their precious valuables? Simple, shop Etsy. You can find something old that's brand new to you, and you'll probably even put it to use again. Shop these vintage items now: For more wedding day accessory ideas, shop our guides to wedding jewelry sets, bridal hair accessories, and wedding veils now.