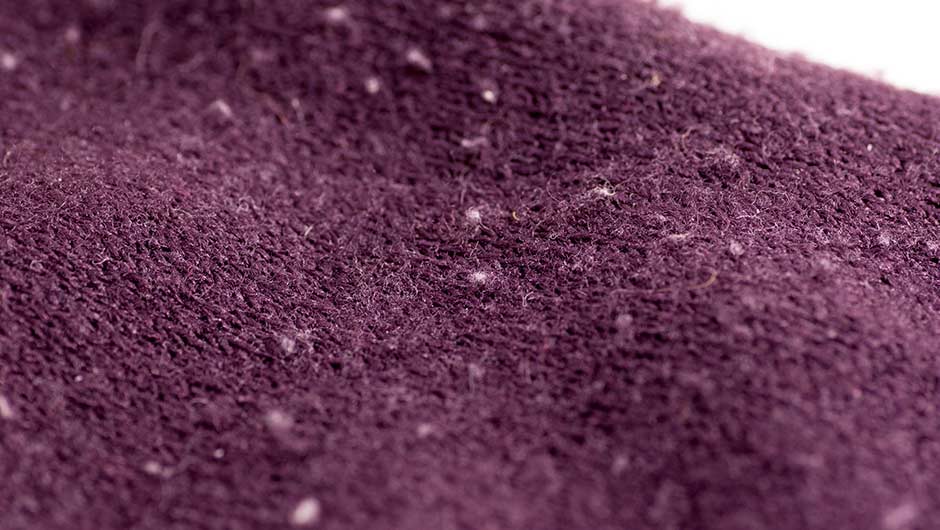 How To Prevent Your Sweaters From Pilling
We all have that one sweater we practically live in. Unfortunately, you may have started to notice that after multiple washes, your beloved top has become covered with little knots of thread. Yep, your sweater has started to pill and it's not a good look. Pilling occurs when short fibers on the surface of fabric become tangled. The pills form from natural rubbing in everyday use, especially in areas where there is the most friction (like under the arms and around the collar). And when you throw your already unraveling garment in the wash, those little pills attract all kinds of other loose threads - which is why your black sweater may end up with white pills. Ugh. So, how do we avoid the dreaded effect? Here, we reveal the multiple ways you can stop pilling in its tracks. 1. Use a gentle wash cycle. The lighter motion will cause less friction between clothes. You'll also want to turn your sweater inside out before throwing it in the wash, as this will protect it against the rough surface of other fabrics, zippers, and buttons. 2. Hand wash your garments. This is an even more gentle washing method to help prevent pilling. 3. Sort clothes before washing them. Washing your sweater with jeans will only cause further abrasion. And whatever you do, don't wash your sweaters with terry cloth, especially if they're made of polyester. Terry cloth is a lint-producing fabric, so it will cling tightly to any broken fibers on the surface of polyester. 4. Don't overload the washer. You may want to save a few quarters by cramming all your laundry in the machine at once, but you'll definitely regret it later. Cramming the washer full doesn't leave room for clothes to easily move around, which can cause more damage to the surface of garments. Plus, they probably won't get as clean anyway when they're all stuffed together. 5. Skip harsh detergents and bleaches. These can weaken fibers and cause pilling. Instead, opt for a detergent that contains the enzyme cellulase, which will help break down any pills. You can also throw in a fabric softener to help coat your sweater and minimize the effects of rubbing. 6. Avoid the dryer altogether. We're sorry to tell you, but your dryer is the leading instigator of pilling. We recommend line drying your delicate items, but if you must use the machine, make sure to keep their drying times to a minimum. 7. Choose the right fabrics. Some types of fabrics are more prone to pilling than others. You'll want opt for woven fabrics over knits, which tend to pill the most. We understand if you can't live without your knits, though, so if this is the case, make sure to choose ones that are more tightly sewn. Even if after you follow all these steps some dreaded pills occur, there's still no reason to panic that your favorite sweater is ruined. You can remove the fuzz balls with a handheld or battery operated fabric comb, which can easily be found at your local drugstore. And for a completely free method, you can remove the pills with scissors - just make sure to be extra careful so as not to cut any holes in your sweater! For even more handy clothing tips and tricks, check out how to clean Converse and how to distress jeans.
5 Brands With Amazing Plus-Size Options You Need To Know About
The recent news of This Is Us actress Chrissy Metz teaming up with everyone's favorite brand The Loft for its first plus-size collection has us so excited to go shopping this winter. While we wait for that collection to launch, there are plenty of other plus-size brands and collections that serve stylish looks. We're definitely happy the fashion industry is making moves to become more size-inclusive. I mean, have you heard about the body positive movement over at Nordstrom? The retailer is asking its brands to create more items in both larger and smaller sizes. Simply amazing. Let's take a look at the five brands with cute plus-size fall clothes you need to know about (and shop for) right now. 1. LC Lauren Conrad Fashion icon Lauren Conrad has extended her popular clothing line at Kohl's to include both maternity and plus-size fashion. Her style doesn't miss a beat no matter the avenue her eye for design goes down. This plus-size knit blazer looks so comfy and it's still professional enough to wear to work. You can definitely dress this piece up or down, that's for sure. The best part? It's marked down from $69 to $40.79 for a limited time only, so get shopping! Kohl's Plus-Size LC Lauren Conrad Knit Blazer ($40.79) 2. ModCloth  It seems that everyone is loving long floral printed dresses this fall. This button-up shirt dress from ModCloth features the prettiest fall colors and florals. We would definitely pair this with some mules for warmer weather, and switch over to tights and booties for cool fall days. ModCloth promotes size inclusivity and offers this dress in a range of sizes from small to 4x. ModCloth Work Button-Up Shirt Dress in Floral ($69.99) 3. H&M +  Even fast fashion is in on the movement. H&M definitely knows how to keep up with the go-to trends while keeping its prices affordable. These khaki green pants are comfortable yet trendy for casual fall days. They're also high-waisted and have a tie belt that you can cinch in to accentuate your waist. H&M + Paper-bag Pants ($49.99) 4. Target x Who What Wear™ This capsule faux-wrap blouse from Target x Who What Wear™ is definitely in for this fall. The wrap design is trendy and the sleeves, while not bell sleeves, have a little extra volume to them. This top also comes in a pink floral pattern in addition to the polka dot design. Target Women's Plus-Size Faux Wrap Blouse - Who What Wear™ ($29.99) 5. ASOS CURVE ASOS Curve offers everything from plus-size tights to plus-size denim jackets. The retailer also carries many different options when it comes to dresses and skirts. This affordable skater skirt is less than $20, and it even has pockets-- definitely can't beat that! ASOS CURVE Mini Skater Skirt with Pockets ($19.00) We've got the scoop on all of the best plus-size fashion you'll love to shop. For more plus-size fashion tips make sure to check out plus-size bralettes with amazing reviews, Forever 21's plus-size activewear line, and the best brands for plus-size swim. [Photo:  LC Lauren Conrad, ModCloth, H&M, Who What Wear for Target, ASOS]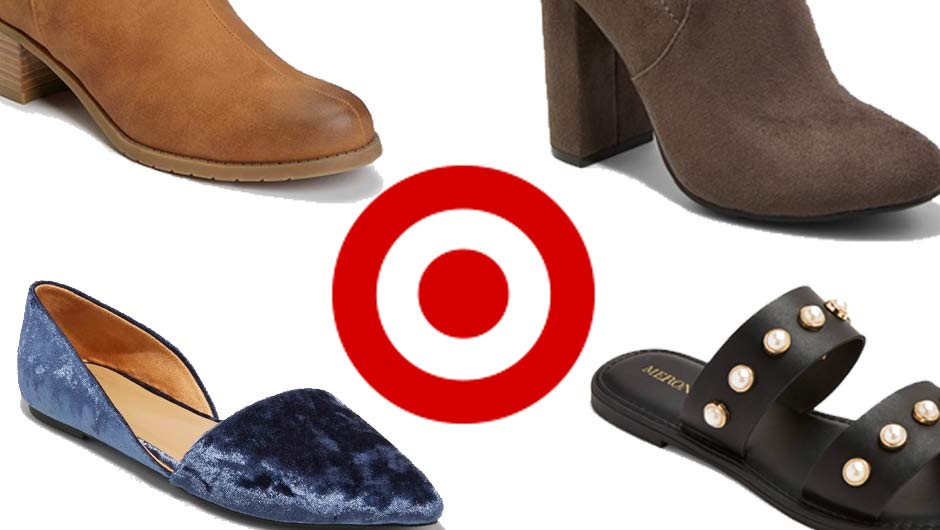 5 Fall Shoe Trends You Can Shop On Target Now
It seems that nearly every time we blink, Target's selection of wears just keeps getting better and better. In addition to a new plus size inclusive line and collection of affordable athleisure, the retailer just introduced a whole slew of fall-friendly trends we're dying to add to our wardrobe. Our favorite items from the launch? Shoes, shoes, and more shoes! From velvet to leather finishes and flats to heels, the options are truly endless no matter what style you prefer. Here, we uncover the looks every fashion girl will be wearing this season. The best part? They're all under $100! 1. Women's Poppy d'Orsay Pointed Toe Ballet Flats - A New Day ($22.99) All women love little a sparkle and shine. But to truly stand out, you'll want to try this not-so literal take on the trend. These velvet beauties add just the right amount of radiance to your look without being too blingy. Plus, their pointed toe and slender fit make them oh-so versatile for a variety of occasions - whether you choose to pair them with skinny jeans for a casual brunch or a flirty dress for a night out on the town. 2. Who What Wear Women's Trisha Pointed Toe Silver Heel Mules ($34.99) It's no secret that mules have been all the rage over the past few months. And the style continues to make an impact this fall with a slight twist. We're absolutely obsessed with these fuller-figured mules in a pure white finish. Peep the iridescent silver heel, and you'll completely be sold (that is, if you weren't already). 3. A New Day Women's Donnie Side Zipper Sock Booties ($37.99) If you've been eyeing those popular sock sneakers worn by models Gigi Hadid and Kaia Gerber, this next shoe is for you. That skin-tight look is predicted to be the hottest trend in boots right now - and it's not hard to see why. Try a short, sleek pair to nail the coveted look. 4. Women's A2 by Aerosoles Craftwork Knee High Boots ($79.99) For those feeling a little less adventurous, you can never go wrong with a staple rider boot. This version from Target is so chic, you'd hardly guess it's made of faux leather (is it just me, or does that finish look pretty darn real?). And the shoe is more than just a pretty exterior. In fact, it features Heel Rest Technology and a memory foam sole for ultimate comfort throughout the day! We guarantee you'll never want to take the pair off. 5. Merona Women's Margo Pearl Slide Sandals ($24.99) While warmer weather still permits, these stunning slides are a must-have for all fashion lovers. The studded pearl decals are reminiscent of iconic Gucci embellishments - minus the extravagant price tag. But you'll to act on these chic duds while you can; they're part of Target's Merona line, which will soon be completely phased out by the retailer to make way for its 12 new launches. For even more styling inspiration this season, check out how to wear fall hats and how to wear jeans and boots.
Move Over PSL! Starbucks Has A New Fall Latte & It's Amazing
The New TOMS Sneakers Look So Different–You're Gonna Freak Out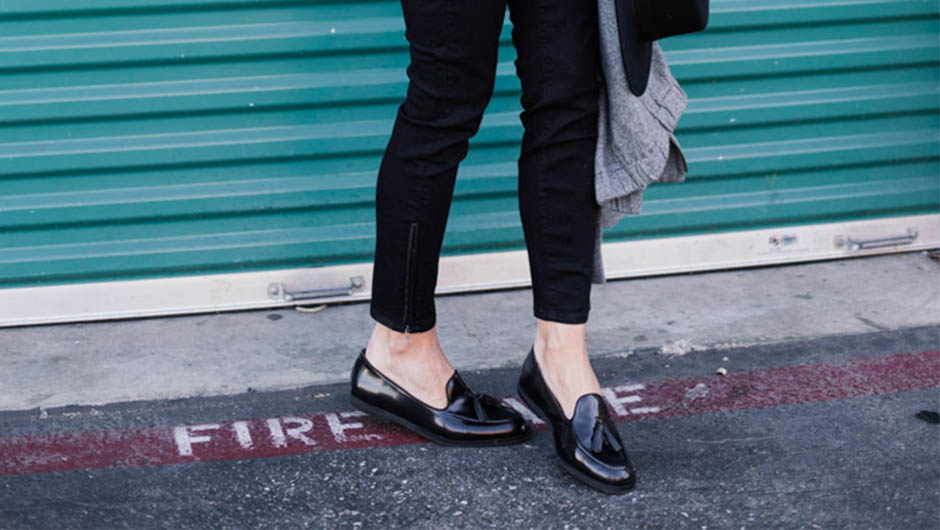 Shop Tassel Loafers Now Before They're Everywhere For Fall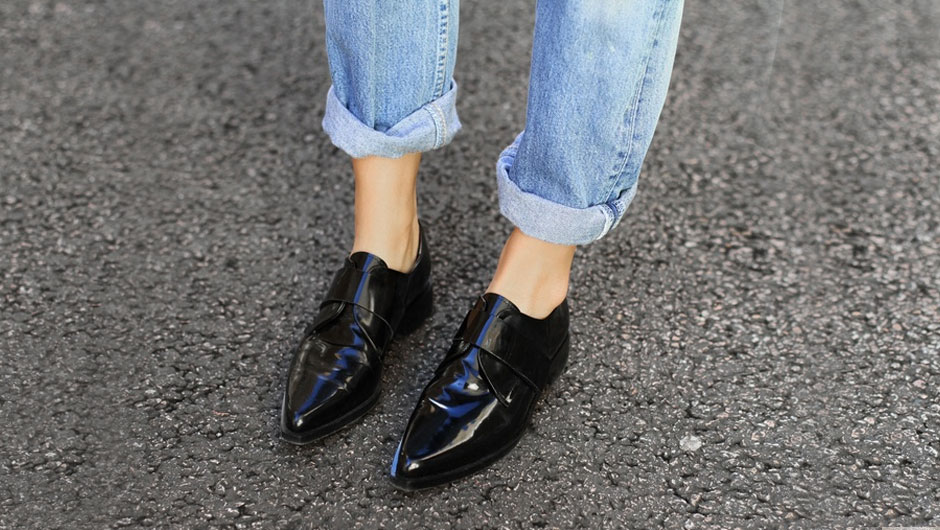 21 Pairs Of Flats And Loafers That Are A Must-Have For Fall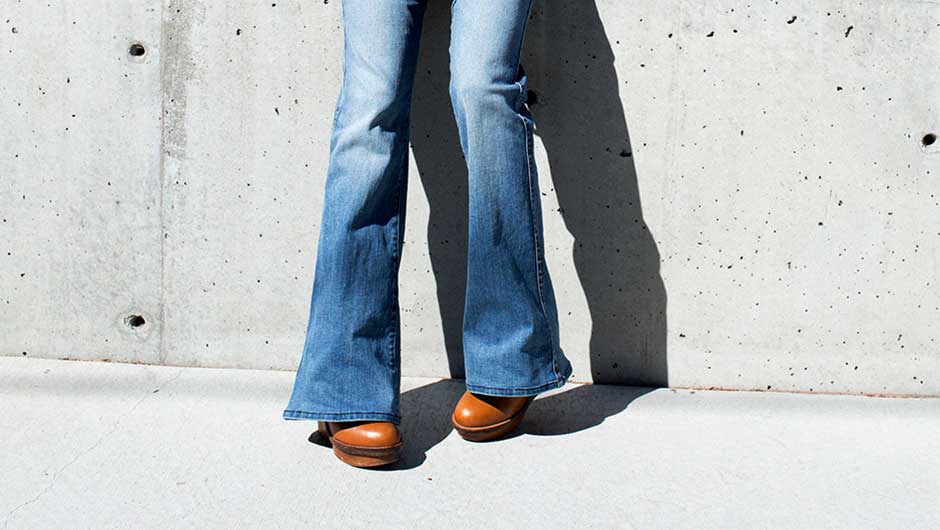 Clogs Are The Best Shoes To Wear With Flare Jeans, FYI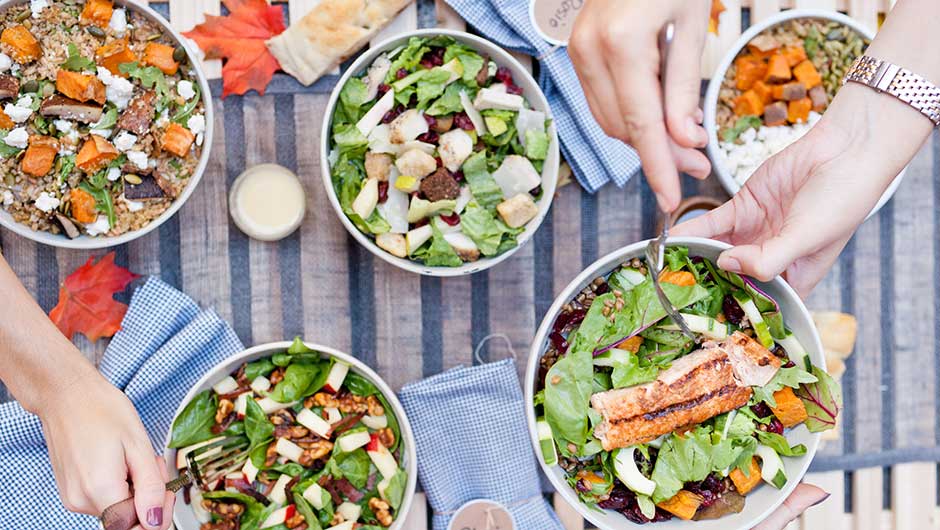 4 Super Easy And Delicious 'Just Salad' Recipes You Can Make At Home
Calling all salad lovers! We've got four delicious, fall-inspired salad recipes you can make at home. The best part? Each recipe was designed by the amazing people at Just Salad. Now you don't even have to leave your house if you're craving a salad from Just Salad! For the following recipes, simply combine all ingredients and chop up! Autumn Ceasar  Ingredients: *Serves 4 3 Cups of Chopped Romaine 1/4 Cup of Dried Cranberries 1.5 Cups of Croutons 1 pear, sliced 3/4 Cup of Parmesan Cheese 1.5 Cups of Roasted Chicken Fall Farro Bowl Ingredients: *Serves 4 1/2 cup of Arugula 3 Cups of Quinoa & Farro Mix 1/4 Cup of Pumpkin Seeds 1 Cup of Sweet Potatoes 3/4 Cup of Goat Cheese 4 Portabello Mushroom Caps Grilled Salmon Harvest Ingredients: *Serves 4 3 Cups of Chopped Romaine 1/4 Cups of Cucumbers 3/4 Cup of Dried Cranberries 1 Cup of Wheat Berries 1/4 Cup of Sweet Potatoes 16 ounces of cooked Salmon Sweet Mama Ingredients: *Serves 4 3 Cups of Organic Baby Spinach 1 apple, sliced 1/4 Cup of Honey Maple Walnuts 3/4 Cup of White Cheddar 8 strips of turkey bacon Enjoy! Don't miss your chance to win a Le Creuset dutch oven and a $500 kitchen makeover and 5 affordable recipes you can make using ramen noodles! [Photos: Jamie Lefkowitz]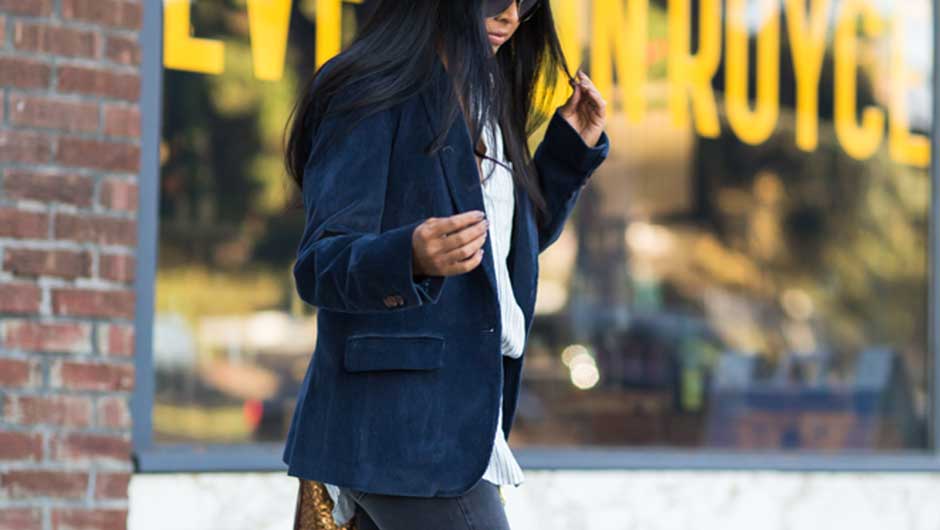 Fall's Best Corduroy Pants, Dresses, Jackets And More Right This Way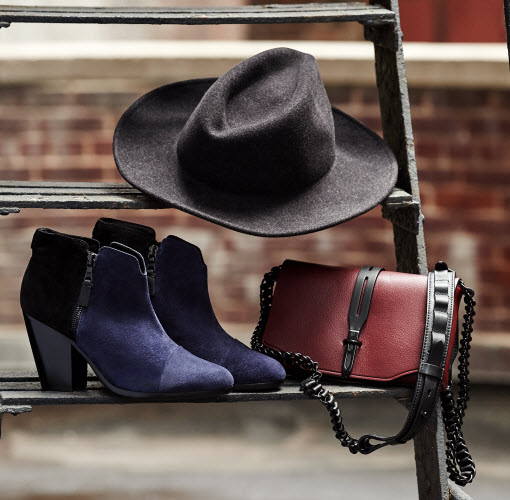 Rag & Bone/JEAN Is Killin' It Right Now For Fall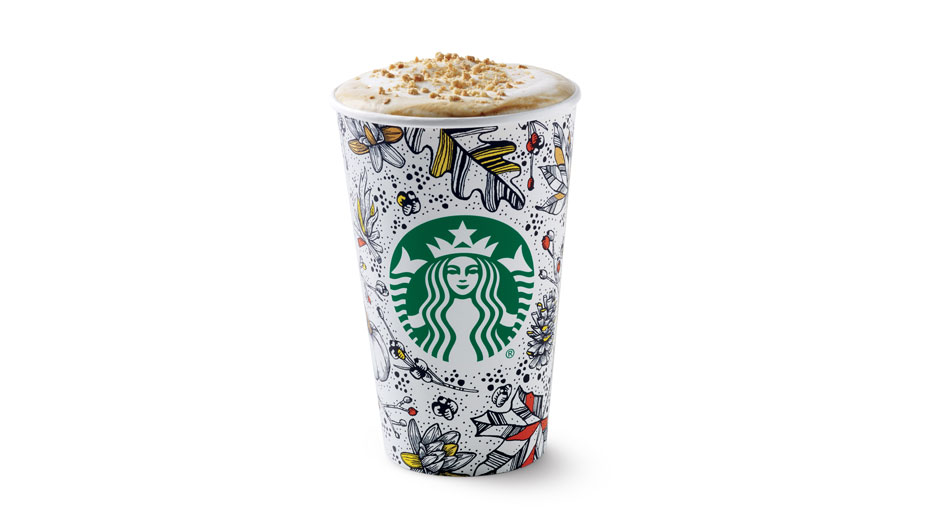 Starbucks Released A New Fall Flavor For The First time In Four Years
For the first time in four years, Starbucks has released a new fall flavor to their menu! Introducing the Toasted Graham Latte, which is available today just in time for the first day of fall. The new latte is a blend of "graham and sweet cream, mixed together with steamed milk and Starbucks' espresso," according to Us Weekly. To make it even better, it's topped with cinnamon graham crumble. In addition to this delicious fall drink, Starbucks is rolling out brand new cups and matching sleeves nationwide! The fall-inspired cups that feature illustrations of pinecones, berries and leaves. You may also notice your Starbucks baristas wearing a new uniform, such as "flannel scarves and sweaters." Plus, your name will be written in orange marker. It sounds like Starbucks is really excited about fall! Get into the fall spirit yourself and shop Starbucks' fall mug collection. Umm, I think the Pumpkin Spice Latte needs to watch its back! Oh, and just in case you don't have time to wait on line, Starbucks just released their new Mobile Order & Pay feature, which is now available nationwide. Don't miss how to make a Starbucks Pumpkin Spice Latte at home and 7 things you didn't know about Starbucks! [Photo: Starbucks]
We're Loving Eva Mendes' New Fall Collection For New York & Company: Shop Now!
New York & Company just up the ante; as if we were excited enough for sweater weather, they just made us even more jazzed for fall. Who needs summertime sadness when you can have super-soft suede boots and pretty plaid skirts from Eva Mendes' new Fall Collection? The day-to-night collection has everything you want in a fall clothing--jacquard skirts, leather shifts, tall boots, statement jewelry, colorways like "Sangria," "Plum," so much more. Here's hoping that the temps drop soon--we cannot wait to get into this line. Also be sure to follow New York & Company on Facebook and Instagram @nyandcompany for some serious style inspiration! SHOP EVA MENDES FOR NEW YORK & COMPANY NOW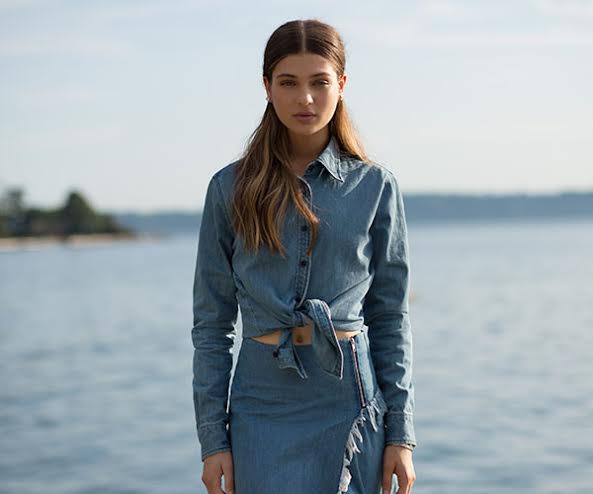 Nordstrom's New Pop-In Shop Has Fall Basics–But With A Really Good Twist
Here's How To Get Yourself A Starbucks Pumpkin Spice Latte Before Their Official Return Date
Starbucks announced the official return date of the famous Pumpkin Spice Latte (PSL) will be September 8. However, there's a way to get your PSL fix before they officially hit stores. If you follow the official Twitter account for the PSL (yes, they have one) you would have seen this very important tweet last night: https://twitter.com/TheRealPSL/status/639603851184607232 To get your PSL before September 8, go to the PSL Tumblr fanpass page and enter the password "pumpkin" to receive a pass to show your Starbucks barista. You'll be on your way to enjoying that pumpkin-y goodness in no time! #You'reWelcome Don't miss the new pumpkin spice latte M&M's and learn how to make your own Italian ice! [Photo: Shutterstock]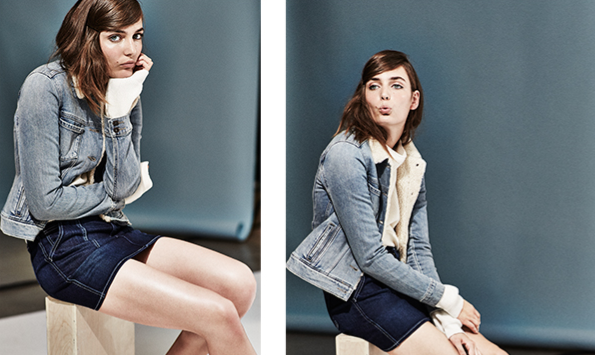 The 8 Denim Pieces Every Woman Needs For Fall, According To Shopbop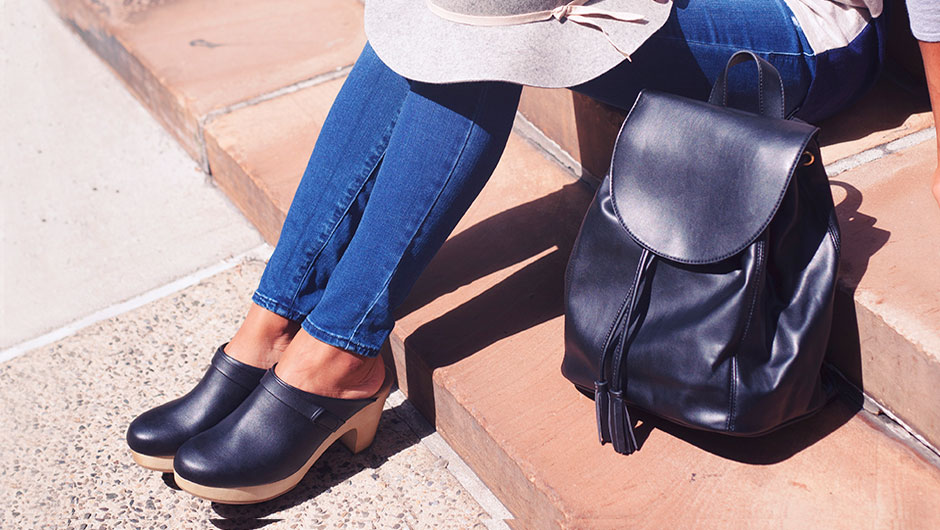 Old Navy's Fall Collection Is So Insanely Good–And Most Of It Is Less Than $50!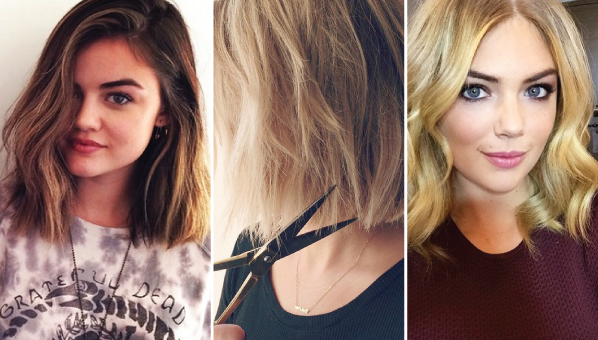 15 Celebrity Hair Transformations That Happened This Fall
There's always that one celebrity who is your hairspiration. You know, the one whose photo you have saved to your phone so you can show your hairdresser? Well, get your screenshotting fingers ready because we found 15 stars who got a new hot style this fall, and you're sure to find at least one you're going to want to copy. Check out the cuts and color changes in the slideshow. Some might shock you! Don't forget to check out: 17 awesome White Elephant gifts, shop Alexander Wang's debut denim collection and Phillip Lim bags on sale [Photos: Instagram]
We Saw All The 'It' Girls Wearing Wool Fedoras, So We Want Wool Fedoras
I never thought I would say this, but I am seriously considering buying a hat this fall. We spotted quite a few models and street style bloggers wearing rag and bone's Wide Brim Fedora ($195) at New York Fashion Week, so naturally a few of the SHEfinds staffers followed suit and got their own headgear for fall. Just because some of the best hats, or as I like to call them "head warmers," are made by designers like Lanvin, Gucci and Eugenia Kim, you don't have to spend a fortune to pull of this trend. Nasty Gal and Urban Outfitters make great knock-offs of the rag and bone "it" girl hat. So whether you're on a big 'ole budget or you're just looking for something simple to cover that pretty head of yours, we've got a wooly fedora for you in our slideshow. Be sure to check out: Burberry ponchos, Nicole Richie's jewelry line and shop the fall runway.
Fall Is One Week Away–Get 25% Off On Everything You Need At J.Crew's Sale
J.Crew has one of the best fall collections we've seen this year, so when we found out that all of their sweaters, jeans and jackets were going to be on sale this week, you can't imagine how excited we were. From now until September 24th, you'll get 25% off select fall styles at J.Crew.com AND and extra 30% off of everything in the sale section with the code SHOPFORFALL. Since the 23rd is the official first day of fall, there is no better time than now to stock up on everything you'll need for the season. You only have one week to prepare yourself, so check out our picks from the sale in the slideshow or just click the link below to shop the entire site. SHOP THE J.CREW FALL SALE NOW And don't forget to check out: the best fall sales, Limited x Scandal and Altuzarra x Target.
Reasons We Love Madewell: Two Sales In One Week, This Time It's 30% Off
The people at Madewell must've been really busy this week, because they forgot that they already put all of their fall sweaters and tops on sale once this week, and now they did it again. In addition to tops and sweaters, the brand also added bottoms like skirts, pants and jeans to their offering. If you were hoping for a new pair of jeans during the last sale, or you just missed it all together, now you have another chance to save. Everything you need for fall is 30% off with the code ADDTOBAG for the next 48 hours, do don't waste any time. Start shopping right now. GET 30% OFF FALL STYLES AT MADEWELL HERE For more fall deals, check out: J.Crew 50% sale, 30% off at Neiman Marcus Last Call and Half-price Loeffler Randall booties.
Good News For The Stuff In Your Bag–Shearling Will Keep It All Warm This Winter
We already told you that shearling was going to be a huge trend this season. From coats and jacket to shoes and handbags, we saw it all at the Fall 2014 runway shows in February, and now we're seeing it in all of our favorite stores stores. But there's one shearling accessory that stands out among the rest, and that's the handbag. It might seem strange to carry around a shearling handbag since a purse can't keep you warm, and that's the main purpose of this fuzzy material, but fashion doesn't have to make sense and it definitely doesn't have to be functional. Just ask Fendi, Loeffler Randall or Tory Burch. They'll tell you that wearing a shearling bag is the thing to do this season. And if you agree, check out our roundup of bags. You're going to want one to match your coat when the temps drop, just you wait. For more fall trends, check out: powder blue coats, plaid and quilting.
Your Black Booties Have Nothing On These Burgundy Ones
When fall officially kicks off on September 23, you'll probably reach into the back of your closet for your black, brown or tan booties to match your sweaters and jeans. While these colors are obviously a necessity and very easy to pair with any outfit, they're kind of basic. And since you probably already have a pair (or 5) of black or tan boots, you really have no excuse to buy another one. So why not try a fun color instead? Everywhere we've looked, whether it was online, in a store or on someone's feet, we've seen burgundy booties, and it's become pretty obvious that it's the color of the season. It's time to kick off your old boots and put the ones in our slideshow on instead. Just do it. You know you want to. Check out these other fall shoe trends: Loeffler Randall rainboots, fashion sneakers and cut out booties.
The 7 Leather Jackets That Need To Be On Your Shopping Radar For Fall
It may still be the beginning of September, but I am ready for fall. Don't get me wrong, I love summer. But I'm also ready for a new season. You, too? Well aside from a good pair of short boots, I happen to firmly believe that every woman should own an amazing leather (or faux leather) jacket for fall. It's at the top of my fall shopping list and I've been researching the options hardcore for the last few weeks. Obviously, there are tons out there to choose from, but after searching and searching I'm confident these are the only 7 styles that need to be on your radar for fall. Whether you want real leather or vegan, classic moto styling or unique detailing like quilting, you're covered. Just don't wait until fall to buy one--they'll be long gone by then. Be sure to check out Trina Turk's new handbag collection, Sam Edelman clothing and these amazing initial rings.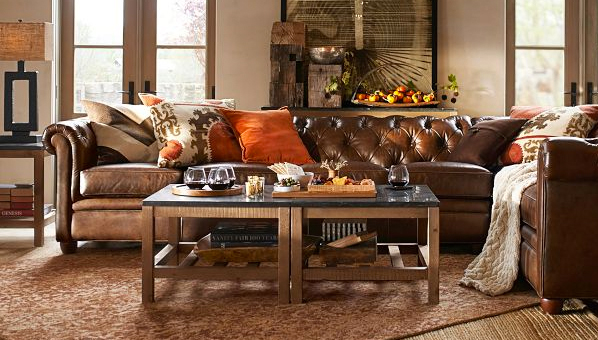 How To Update Your Home This Fall For Under $100
By now you've realized that it's time to start thinking about updating your fall wardrobe, but have you considered updating your home? If you're like me and you love home decor, you probably picked up some knick-knacks like faux flowers, neon napkins or towels or fruity candles to brighten your home for the summer. But now that the season is changing, it's time to put those things in storage and get something to match the season. Right now, burgundy is trending in both the clothing and home decor department, which totally makes sense. It isn't too red so it won't make you feel like it's time for the holidays (you still have time before you have to think about all those decorations, so don't panic), but it's just red enough to compliment the deep orange and brown leaves on the trees outside. (Yep! It's that time of year again) Deep golden yellow is also a great color to accent your living space, since it's also warm and home-y. Unfortunately, as much as all of us gals would love to buy a million dollars worth of fall themed things for our homes, that isn't exactly realistic. After all, fall is only going to last for three months, so it definitely isn't necessary to drop a ton of cash on your seasonal accents. But if you're looking for a few little things to get you into the autumn spirit, check out our slideshow. Warning: If you purchase all of our fall picks, you're going to go over $100. So if you plan on sticking to this budget, all you have to do is mix and match a few things from our list until you get the look that's right for your space. For more ways to get ready for fall, check out: booties, the navy trend and plaid. [Photo: Pottery Barn]
Don't Tell Your Vegan Friends, But Calf Hair Is Back For Another Season
Calf hair made an appearance on the Fall 2014 runways and now it's popping up in stores everywhere. It may seem kind of strange to carry a hairy bag or wear it on your shoes, but calf hair it's trending whether you like it or not. It was popular last fall and remained on our radar throughout the year. We even saw some summer accessories that incorporated the trend. Now, it seems like all of the greatest designers including Christian Louboutin, Jérôme Dreyfuss and Bottega Venta are pushing calf hair this season, and naturally, it's trickling down to the more affordable brands like Loeffler Randall, Vince and Sam Edelman. Next time you're out shopping or you're browsing the web, you'll probably see it everywhere. But the real question is, will you wear it? We're inclined to give the faux versions a go, but to each her own. From C. Loub to Forever 21, shop the calf hair trend in the slideshow. For more fall trends from the runway, check out: slouchy boots, plaid and open toe open heel booties. [Photo: Imaxtree]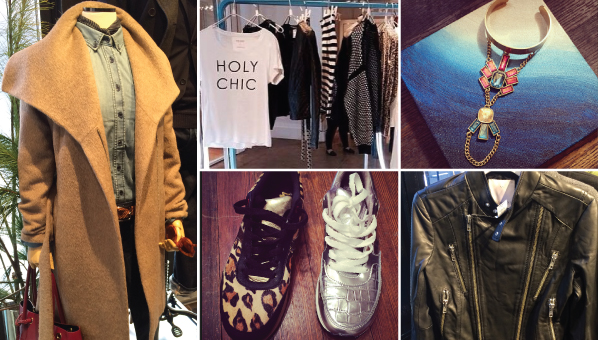 Editor's Picks: What We Want For Fall From All The Previews We Attended
While you were busy traveling and taking Summer Fridays these last few months, we've been running to and from appointments previewing what's gonna be hot this fall. Hard job, right? Actually, it is kinda torture because we saw so much we wanted to buy and share, but we had to keep it a secret. But ladies, the time has come! Lots of fall items are already in stores with more to come soon, so we're letting you on in what we want most from all the fall previews we attended. All I'm saying is, have your credit card handy. PS: Be sure to follow us at @shefinds on Instagram for insider access to fashion shows and previews. Be sure to check out the 13 brands celebrities love, this amazing fringe bag from Target and Tory Burch's private sale.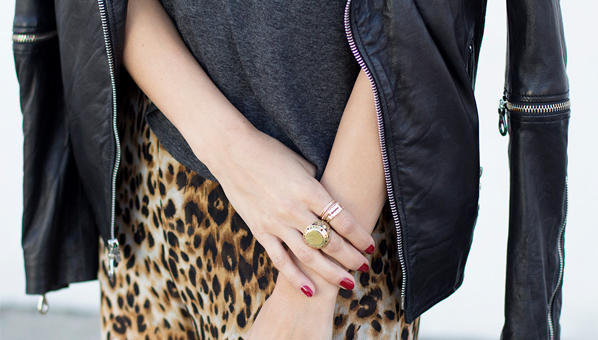 10 Summer Trends You Can Keep In Your Closet For Fall, According To Bloggers
It feels like we were just telling you what you need to buy for summer, and now we're already bringing up fall trends? We promise this won't freak you out, actually it'll do the opposite. We've been on the lookout to bring you the 'it' items for this fall, and luckily you probably own many of them already. That's right: a lot of summer styles will be popular for fall. Now, it's obvious there are a lot of trends going on right now, from the lip clothing to chain link jewelry.  And while those are very direct trends, we're thinking more broad. So, we rounded up the top 10 summer to fall trends styled by our favorite bloggers to give you a one up on everyone else. What are you waiting for? Take a look! Shop the latest sales from Diane von Furstenberg, Shopbop and Intermix [Photo: Walk In Wonderland]
12 Beauty Products That Obnoxiously Smell Like Fall
There are certain things that automatically make you think of fall, like pumpkin pie, apple pie, cinnamon, pretty much any baked good with these ingredients. And so to celebrate the first day of fall, we thought we'd tell you how to smell like your favorite fall scents. Yep, I said smell. You can make your hair smell like pumpkins with some re-hydrating shampoo, take a nice bath with some apple and spice fizzbangers, or wash up with granny's homemade apple pie. Basically between Bath & Body Works and Philosophy you can get any kind of weird scented item you could possibly want.  So if you're in the market for some beauty products that smell like fall, click through the slideshow to see your options. The possibilities are endless. In other beauty news, get the Stila eye shadow used in NYFW, cult nail polishes that you have to try, and the truth behind no-crease hair ties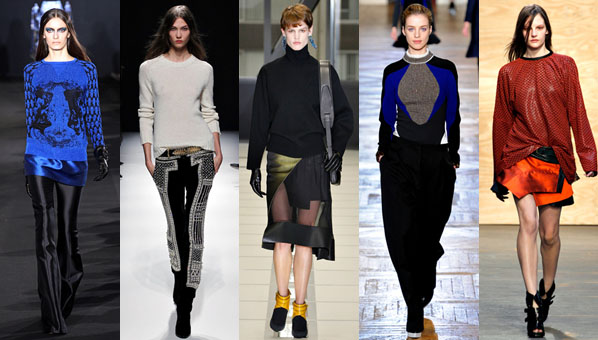 Give Your Cardigans A Much-Needed Break: 5 Sweaters To Try Instead This Fall
Fall is here! And what makes us so excited for the season is the number of sweaters and knits we can finally unearth from our closets and wear literally everyday. But with so many types of knitwear out there, it's tough to figure out which styles you exactly need to celebrate autumn in style. Luckily, we've narrowed it down to five top choices—and a slideshow of our favorite picks online—that give you plenty of choices for the rest of the year's cooling temps. Graphic: The runways for fall were filled with graphic sweaters. We love the crazy selection of quirky messages and cool icons that's available this season. Make a statement with this type of sweater and then work your outfit around it. Crew Neck: While we're still lovers of the V-Neck sweater, we definitely prefer a simple and effortless crew neck for fall. It's the perfect pedestal for a bold collar, another major trend for the season. Turtleneck: This retro look is having a comeback! Have a go at it this autumn. It totally saves you from wearing a scarf all day. Colorblock: Dizzying prints and patterns aren't meant for knits. Instead, when it comes to colorblock sweaters, opt for a varsity-style look that's more about dramatic geometric shapes. Mesh: We consider this netted look the perfect in-between seasons sweater. But you can easily add some shelf life to this breezy knit by layering underneath a basic tank to t-shirt. It adds a cool effect if you play with colors or prints (like wearing a striped shirt under a solid color sweater). Read more must-haves for fall: denim, shoes, and prints/patterns.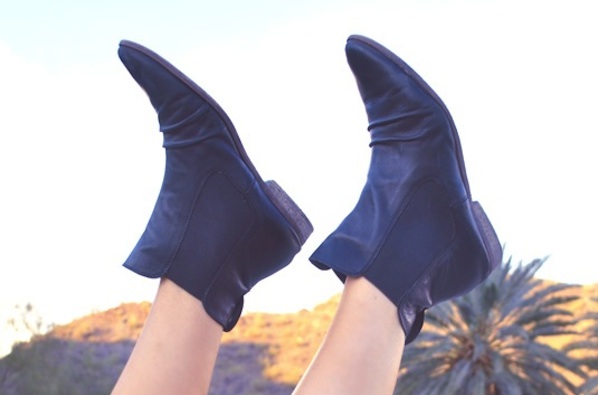 The Chelsea Boot Is Back — This Time, With A Heel & A Touch Of Miu Miu Glitter
You've waited all summer, and now, at long last, the bootie is back! We're talking about bootie season, aka, the happiest time of year for stylish girls (especially those with cankles -- just kidding). This year, you should be zeroing in on the Chelsea boot -- that black leather boot with an elastic ankle and tough-girl vibe (it's just one notch down from moto boot). Historically, the Chelsea has been a flat boot -- but this year, designers have kicked it up a notch with a little heel -- and Miu Miu even added their signature glitter to the classic boot. Shop our slideshow above for the best flat and heeled Chelsea boots on the market this season. For more shoe news, see the first photos of Matthew Williamson's footwear line, Loeffler Randall's shoe sale, and Bergdorf Goodman's 111th Anniversary Collection (including exclusives from Christian Louboutin, Brian Atwood, and more). [Photo: One Of Each]
If You Can't Afford A Precious Gem, Rock The Jewel Tone Trend Instead
Lush shades of ruby, amethyst, sapphire, emerald, and yellow topaz strutted down the runway for fall, adding a sense of drama unlike other seasonal trends like baroque and velvet. These jewels tones are rich in saturation and look great as statement pieces or for a monochromatic look. Lanvin, Gucci, Milly placed these hues on evening dresses and floor-length gowns. On the other hand, Marc by Marc Jacobs opted to use a ruby red color for a casual, loose-fitting ensemble, which actually gives the look a sophisticated feel. Shop more fall trends: geometric prints, digital prints, checkered plaid, wide belts, oversized coats, wrap skirts,  hard-shell clutches, jumpsuits, silver, doctor bags, varsity jackets, military, peplums, cobalt blue, burgundy, tuxedo trousers, leather accents, lace, white, lurex, and cap toe shoes.
It's Fall: Do You Know Where Your Tall Black Boots Are?
While tall black boots are nothing out of the ordinary, the season of fall is the perfect time to start browsing and investing in a staple pair for the cooler (and then colder) months. And when it comes to choosing a particular style, designers like Alexander Wang, Bottega Veneta, Proenza Schouler, Nina Ricci, and Givenchy, prefer you pick a tall black boot. The height can lengthen the legs, while the black shade is ultimately flattering (and goes with anything that you're wearing too!). For those days when the temps are nearly freezing, take a hint from Alexander Wang and Proenza Schouler by slipping on over-the-knee black socks for extra coverage. Shop more fall trends: geometric prints, digital prints, checkered plaid, wide belts, oversized coats, wrap skirts,  hard-shell clutches, jumpsuits, silver, baroque, doctor bags, varsity jackets, military, velvet, peplums, cobalt blue, burgundy, tuxedo trousers, leather accents, lace, white, lurex, and cap toe shoes.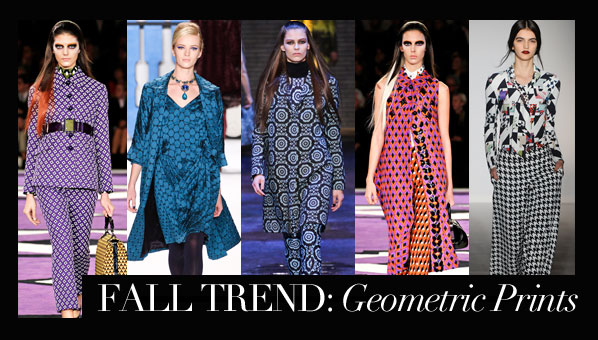 Geometric Prints Come In All Shapes And Sizes This Fall — But Mostly Shapes
We already gave you rundown of what prints you need for this fall, which included one of our favorites: digital prints. But what we forgot to mention—in addition to giving a shout-out to checkered plaid—is that a slew of designers opted to adorn their garments with geometric prints. Prada took shapes with a various number of sides and created a motif that adorned trouser pants, suit jackets, and coats. While Basso & Brooke created collages with a dizzying patterns on blouses and wide leg pants, as well as their accessories, which were made in collaboration with Cambridge Satchel Company. Anna Sui's geometric prints channeled a retro look, while Versace line Versus had geo-centric motifs that were fittingly flashy. Shop more fall trends: wide belts, oversized coats, wrap skirts,  hard-shell clutches, jumpsuits, silver, baroque, doctor bags, varsity jackets, military, velvet, peplums, cobalt blue, burgundy, tuxedo trousers, leather accents, lace, white, lurex, and cap toe shoes.
The Wider The Belt Is, The Skinnier The Waist Looks — Trust Us
The size of the belt is decidedly on opposite ends of the scale each season. One year it's skinny, the next, wide. And for fall, the latter reigns supreme, as designers supersized the waist-bound accessory to cinch in everything from this coming winter's oversized coats to dresses and two-piece outfits (preferably a top and skirt). But there's more interesting details than just playing with size. Acne accented their fall/winter looks with large belts in a bright orange, adding a pop of color to a monochromatic outfit. Altuzarra and Fendi preferred basic black for belt hues, and chose classic and vintage-style metal hardware for fasteners and buckles. But the winner of fashion-forward thinking goes to Haider Ackermann, whose structured leather belts, in matte mauve tones or textured leather, are literally cinched in at the waist, which adds a major special effect, almost futuristic, to females' curves. Shop more fall trends: wrap skirts,  hard-shell clutches, jumpsuits, silver, baroque, doctor bags, varsity jackets, military, velvet, peplums, cobalt blue, burgundy, tuxedo trousers, leather accents, lace, white, digital prints, lurex, cap toe shoes, and checkered plaid.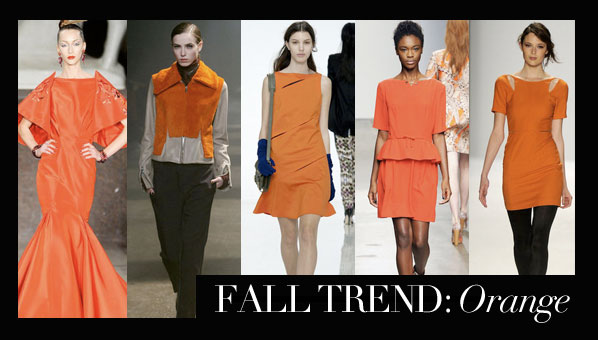 Orange You Glad You Can Still Wear The Tangerine Trend This Fall?
Ever since Pantone announced Tangerine Tango as the color of 2012, we've been obsessed. So obsessed that we scoured the shops for pieces in our favorite citrusy hue—and even Sephora shared their excitement with a tangerine-inspired beauty collection. So it's no surprise that the fashion catwalks for the last half of the year will include the hue of the year, including Zac Posen, 3.1 Phillip Lim, ICB by Prabal Gurung, Karen Walker, and Rebecca Minkoff. Instead of the season's trendy dark burgundy or cool cobalt blue, pack a punch with this bright shade, we've found the best pieces available for fall/winter online for you—from knits to fancy dresses—in our slideshow above. Shop more fall trends: hard-shell clutches, jumpsuits, silver, baroque, doctor bags, varsity jackets, military, velvet, peplums, collars, high-slit skirts, tuxedo trousers, leather accents, lace, white, digital prints, graphic sweaters, lurex, cap toe shoes, and checkered plaid.
Fall's Wrap Skirt Trend Is A Stylish Homage To Those Beloved Skorts From Your Youth
In addition to your fall stock of high-slit skirts, be sure to grab a few lady-bottoms that follow the designs of Rag & Bone, Lela Rose, Proenza Schouler, and SUNO. In various lengths—from just-above-the-knee to mini-status—these skirts are all wrapped up in ways that make us wonder if they're a high-end version of our trusty skorts or not. Regardless of the questionable inclusion of shorts, these pieces are forward-thinking creations of any typical pencil or mini skirt: a bit asymmetrical, kind of messy, and in cool prints and patterns. We love the modern update and can't wait to throw these on with a graphic sweater or a top with a bold collar. Shop more fall trends: oversized coats,  hard-shell clutches, jumpsuits, silver, baroque, doctor bags, varsity jackets, military, velvet, peplums, cobalt blue, burgundy, tuxedo trousers, leather accents, lace, white, digital prints, lurex, cap toe shoes, and checkered plaid.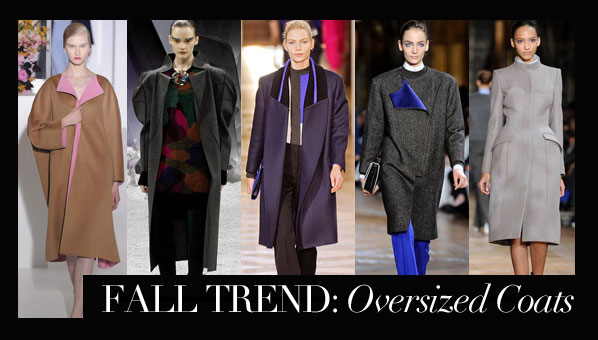 The Bigger The Better: Wrap Yourself In Fall's Oversized Coat Trend
While we're still trying to hold onto as much summer as we can, fall will inevitably be upon us, and yes, a wooly winter coat is probably the last thing on our minds. But it's never too early to browse for a potential outerwear staple. This year, designers decided to supersize the coat—creating a vintage-meets-boyish silhouette with dropped shoulders, long lengths, and plenty of room (perfect to fit your layered outfits). Jil Sander created coats that are neutral in tone, with pops of color and subtle collars. On the other hand, Chanel dramatized the garment with exaggerated shoulders and below-the-knee lengths, and Stella McCartney played with details, such as stand-out lapels and accentuated hips. Shop more fall trends: hard-shell clutches, jumpsuits, silver, baroque, doctor bags, varsity jackets, military, velvet, peplums, cobalt blue, burgundy, collars, high-slit skirts, tuxedo trousers, leather accents, lace, white, digital prints, graphic sweaters, lurex, cap toe shoes, and checkered plaid.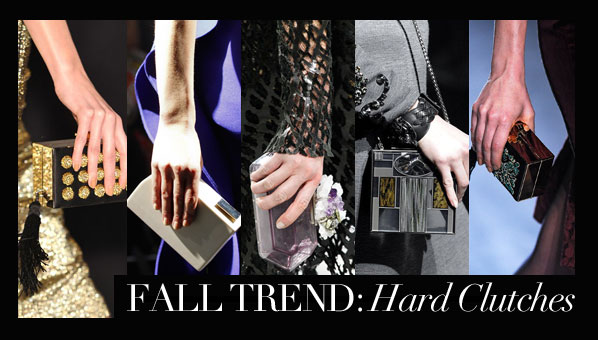 You'll Fall Hard For These Geode, Shell & Rock Clutches
Instead of the usual leather clutch, go for this coming season's favorite handheld accessory, the durable clutch. Not unlike a mini-jewelry box (check out Jason Wu), these clutches are sturdy in a glamorous way, boasting lush tones like Lanvin, or Art Deco-inspired designs. For those hoping for something more organic, opt for Chanel, whose clutches are bedecked in natural crystals. These pint-size purses aren't your typical tote, so for those that like to carry almost everything on-hand, you'll have to downsize. But with clutches that look so luxe for fall, who wouldn't want to? Shop more fall trends: jumpsuits, silver, baroque, doctor bags, varsity jackets, military, velvet, peplums, cobalt blue, burgundy, collars, high-slit skirts, tuxedo trousers, leather accents, lace, white, digital prints, graphic sweaters, lurex, cap toe shoes, and checkered plaid.
Meow! Ditch Your Wayfarers And Snag A Pair Of Cat-Eye Sunglasses For Fall
The cat-eye frames are always on-trend, but for fall these kitties are having a major moment in the spotlight. Designers like Acne, DSquared2, Roberto Cavalli, and Iceberg added their own creative spin to the classic shape, such as new colors, extreme silhouettes, or quirky accents. Whether you're channeling a vintage look or something more fashion-forward, our slideshow's selection of the newest frames in stock are bound to suit any style. It's time say farewell to your masculine-like wayfarers and aviators, and opt for something purrr-fectly feminine. Shop more fall trends: jumpsuits, silver, baroque, doctor bags, varsity jackets, military, velvet, peplums, cobalt blue, burgundy, collars, high-slit skirts, tuxedo trousers, leather accents, lace, white, digital prints, graphic sweaters, lurex, cap toe shoes, and checkered plaid.
We Would Say Forest Green Is The New Black, But We Think It's Even Better
We love neutrals as much as the next girl, but what really excites us finding a new shade that can be our go-to. This season, it's the sultry, sexy, and subdued forest green. Suddenly, everything looks great when paired with the hue--whether its other neutrals like white and beige to brights like persimmon, mustard, and cobalt blue. We're seeing forest green pop up on pants, dresses, tops, and accessories and can't wait to embrace it this fall. How do you rock the trend? Easy--pretend it's black. We guarantee it'll match any shade, and will look considerably less boring. SHOP OUR FOREST GREEN FAVES NOW Other colors we're loving this season? Orange, Silver, and Tribal Print (we know that last one's not a color--we just can't resist!)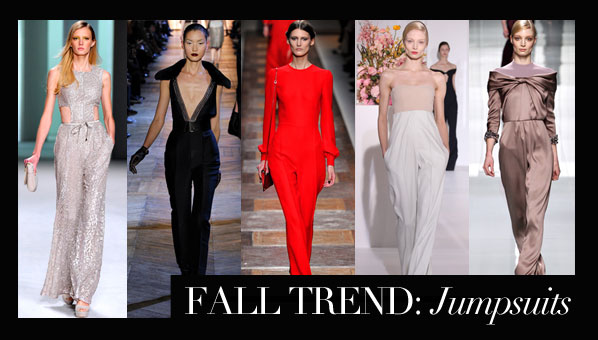 Rompers Have Evolved Into Full-On, Head-To-Toe Jumpsuits For Fall
Your favorite summer staple, the romper, gets a luxe update this fall. The changes? For starters, the length hits well below the knee, nearly grazing the runway. These jumpsuits are androgynous-inspired alternatives to the floor-length gown, and a contemporary take on the trendy tailored suit. We love how Elie Saab applied a bit of disco fever to her sequin-covered jumpsuits, while YSL, Jil Sander, Valentino, and Christian Dior kept it classic in glam-style silhouettes (check out that super deep v-neck and chic knot detail) and solid colors, from signature red to nightlife-ready black. Shop more fall trends: silver, baroque, doctor bags, varsity jackets, military, velvet, peplums, cobalt blue, burgundy, collars, high-slit skirts, tuxedo trousers, leather accents, lace, white, digital prints, graphic sweaters, lurex, cap toe shoes, and checkered plaid.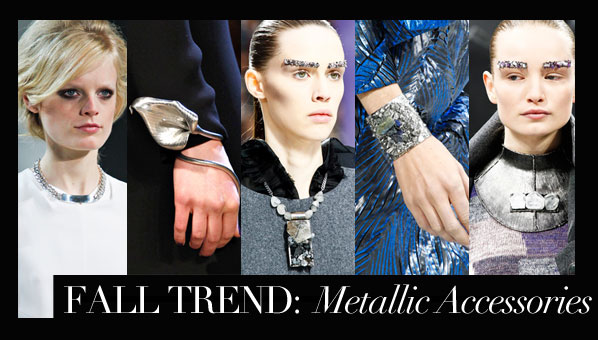 Sorry, Bronze & Gold: Everybody Wants To Wear Silver This Season
It's pretty much common fashion sense to know that metallics are instant stylish add-ons to your ensemble. For seasons, we've been practicing this universal rule through metallic knits, gilded footwear, and stacks of glittering arm bling. So for fall, designers like Derek Lam, YSL, and Chanel choose silver as their favorite metal material when it comes to jewelry (gold, on the other hand, is having a moment on the runway through clothing). The sleek style adds a shining look in a more subtle way than its golden counterpart, and looking much more polished than bronze. We love how silver was transformed into structured ID necklaces via Derek Lam, or into delicate cala lillies a la Yves Saint Laurent. Karl Lagerfeld added some extra luster to his Chanel collection, placing crystal rocks on silver necklaces, cuffs, and collars. Shop more fall trends: baroque, doctor bags, varsity jackets, military, velvet, peplums, cobalt blue, burgundy, collars, high-slit skirts, tuxedo trousers, leather accents, lace, white, digital prints, graphic sweaters, lurex, cap toe shoes, and checkered plaid.
This Fall, Designers Want You To Go Baroque
While it is 2012, designers were channeling the 17th-century for their fall runway collections. The result? Drama. Lots of it. Clothing and accessories by the likes of  Dolce & Gabbana, Aquilano e Rimondi, Lanvin, and Etro were covered with ornate jewels, swirling motifs, and excessive embellishments. The idea of these designs may come off as a lot to handle for the average dresser, so we advise you to just go for it pair an on-trend piece with something simple—printed trousers downplayed with a solid silk blouse, or a simple pencil skirt and top accessorized with a Byzantine-style cuff or necklace. Shop more fall trends: doctor bags, varsity jackets, military, velvet, peplums, cobalt blue, burgundy, collars, gold, high-slit skirts, tuxedo trousers, leather accents, lace, white, digital prints, graphic sweaters, lurex, cap toe shoes, and checkered plaid.
Wanna Play Pretend With Fall's Leather Doctor Bag Trend?
While doctors are more likely to carry iPads with up-to-date medical apps than a traditional bag filled with patient-friendly tools these days, fashion designers have taken this vintage accessory and updated the iconic silhouette with lush materials and contemporary details. We love the strong structure of this bag, and designer, including Marni and Miu Miu, kept true to its physique while adding their own stylish spin with sleek hardware, leather cut-outs, and supple suede. Check out our slideshow to shop for your very own doctor-style handbag. Then stash your everyday beauty needs in it like these heatwave-resistant products. Shop more fall trends: varsity jackets, military, velvet, peplums, cobalt blue, burgundy, collars, gold, high-slit skirts, tuxedo trousers, leather accents, lace, white, digital prints, graphic sweaters, lurex, cap toe shoes, and checkered plaid.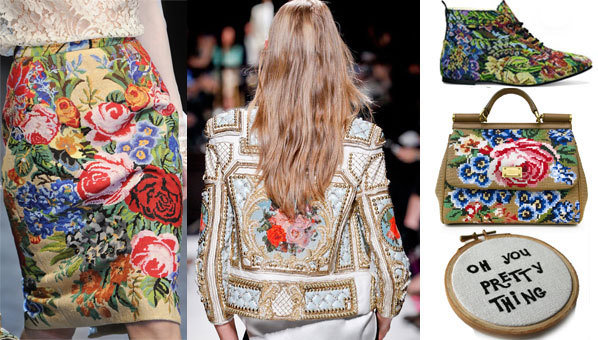 Thanks To Dolce & Gabbana And Tory Burch, Needlepoint Isn't Just For Grandmas
If embroidery reminds you of your grandma's weird throw pillows, you've got another thing coming this fall. The style, previously reserved for little old ladies, Etsy fanatics, and country houses, is making it's way onto purses, shoes, and dresses-- and you can thank designers like Dolce & Gabbana, Tory Burch, Tracy Reese, and more. It even comes in the form of combat boots (courtesy of Dr. Martens), dresses and handbags. Go on--rock a little embroidery this season. What else are we loving for fall? Leopard print, strappy flats, and dark florals!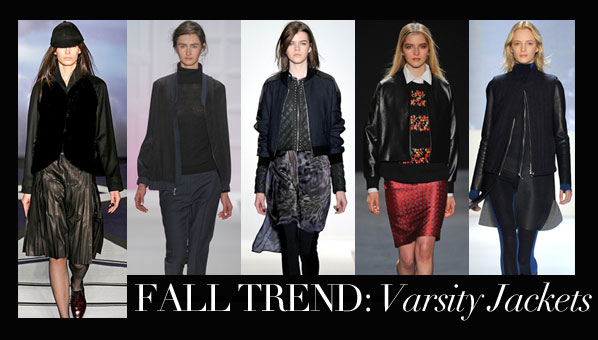 Get To The Top Of Your Class This Fall With One Of These Varsity Jackets
While we usually relate varsity jackets with jocks and scholarly athletes, this classic piece of Americana made its ways to the runways as early as last year's fall season. And this upcoming fall, the collarless jacket with detailed cuffs and waistline still reigns as a favorable sporty alternative to your usual moto-style leather jacket. As opposed to last fall, when designers kept true to the jacket's iconic silhouette and played with materials and embellishments instead, the varsity jacket's palette remains dark (seen from designers like Jen Kao, Tibi, Rebecca Taylor, Vivienne Tam, and Lacoste) with navy and black hues. Shop more fall trends: military, velvet, peplums, cobalt blue, burgundy, collars, gold, high-slit skirts, tuxedo trousers, leather accents, lace, white, digital prints, graphic sweaters, lurex, cap toe shoes, and checkered plaid.
ATTENTION! Earn Your Stripes In Military-Inspired Gear This Fall
Ah yes, the inevitable and obligatory military reference on the fall runways. While this season is bound to nod to our dear soldiers for inspiration, the creations are always fresh and new. Tommy Hilfiger and Salvatore Ferragamo designed outerwear with militant hints of high collars, long lengths, oversize pockets, and glossy gold buttons. Victoria Beckham channeled the armed forces throughout her own namesake collection with army-green hues, shoulder tabs, and chest pockets, while Rochas combined soldierly outerwear with the silhouette of a knee-grazing dress to create a shoulder-baring number fit for any stylish general. Shop more fall trends: velvet, peplums, cobalt blue, burgundy, collars, gold, high-slit skirts, tuxedo trousers, leather accents, lace, white, digital prints, graphic sweaters, lurex, cap toe shoes, and checkered plaid.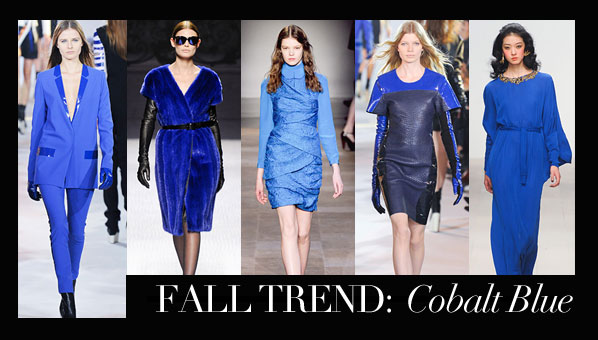 Cobalt Blue Is A Bold Departure From Fall's Normally Muted Palette: Shop Now!
For those of you that can't bid farewell to your summer neons and pastels, but need something brighter than this upcoming season's burgundy hues, we've got you covered. This fall, rock cobalt blue as your signature pop of color. Designers, including Paco Rabanne, Issa, and Carven, splashed this shade on dresses from head to toe, while Italian fashion house Iceberg decided to place this color on tailored trousers and knitted crewnecks. Felipe Oliveira Baptiste and Antoni & Alison played with accents using cobalt blue. But what we love most is Céline and Alberta Ferretti's choice in using this hue in outerwear, from lush fur vests to oversized wool coats. Shop more fall trends: velvet, peplums, collars, gold, high-slit skirts, tuxedo trousers, leather accents, lace, white, digital prints, graphic sweaters, lurex, cap toe shoes, and checkered plaid.
Soft, Crushed Or Classic: Velvet Is Everywhere For Fall
Remember when you were younger and got to wear frilly little dresses for the holidays? Most likely they were made in velvet and every time I see this material, it reminds me of family gatherings and well, childhood. But this fall, the dense fabric gets a sophisticated update thanks to designers like Paul Smith, Topshop Unique, Alberta Feretti, Gucci, and Thomas Tait. While we may be a little older, we can still rock this nostalgia-inducing material in grown-up ways, including tailored threads (think trousers and blazers), form-hugging dresses (it gives our gowns a cool new luxe factor), and accessories (clutches and duh, smoking slippers!). Try your hand at this touch-tempting trend today. SHOP FALL'S VELVET TREND NOW Shop more fall trends: peplums, collars, gold, high-slit skirts, tuxedo trousers, leather accents, lace, white, digital prints, burgundy, graphic sweaters, lurex, cap toe shoes, and checkered plaid.