The Gifts Every Woman Wants This Year: Dior Sunglasses, Adidas Sneakers, More
Gifts Every Woman Wants This Year: Stuart Weitzman Boots, Monster Headphones, More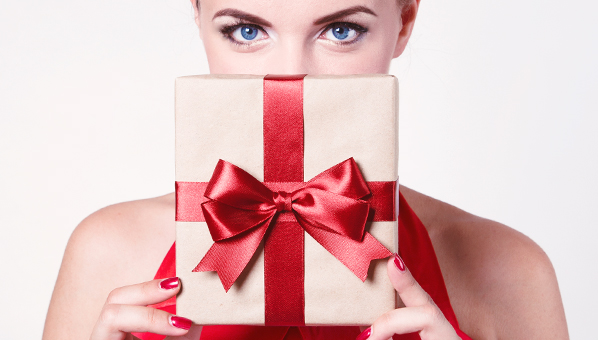 100+ Gift Ideas For Her, Him, Kids & More: We Literally Thought Of Everything
This week is prime time to start your holiday shopping--the best deals of the year are going down!  Still don't know what to get your peeps? No sweat. We have over 100+ ideas in our gift guides. We even break it down by who you are shopping for: her, him, kids, homebody and beauty junkie. Check them all out below and you'll be crossing people off your holiday shopping list in no time. And don't forget to check out: Amazon's Black Friday sale, things you didn't know you need and what to know before buying headphones [Photo: Shutterstock]
The Best Gifts For Her: 40 Things To Give (And Ask For!) This Year
Yes, it's really time to start holiday shopping. Don't know what to get your mom? What about your bestie or crazy aunt? No sweat. We have 40+ ideas for you right here on our annual Gifts for Her guide. From BaubleBar earrings to rag & bone sweatpant jeans, there's something for every type of gal on this list. Plus, we're pretty sure you'll find something for yourself too. Since these are the hottest gifts for the ladies, so we recommend you start shopping, like, right now. It's never too early! SEE THE ENTIRE LIST And don't forget to check out: Neiman Marcus' holiday gift guide, early Black Friday deals and Piperlime's 25% off shoe sale
The Annual SHEfinds 'Going Going Gone' Gift Guide Is Here!
It's about that time people. November 1st is tomorrow, which means we have t-minus seven weeks until Christmas. So there's no better time than now to announce our annual guide of the season's bestselling gifts. From the iPhone 6 to Louboutin nail polish, we rounded up all the hottest gifts right here. There's something for everyone on your list: the latest tech (Beats headphones, Kindle 6), must-have clothes and accessories (Burberry poncho, Mansur Gavriel bag), the best fitness gear (Tory Burch for Fitbit, Nike kicks) and more. We found all the best presents so you don't have to. Just think of this list as our early holiday gift to you. Make sure to shop early because these items are going to sell out real quick! SEE THE ENTIRE LIST  For some more gift ideas, check out: Kate Spade x Gap Kids, The Outnet holiday jewelry and blanket coats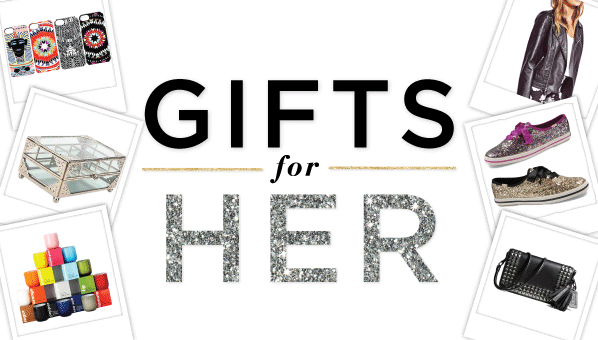 50 Best Gifts For Her: Your Guide To What To Give (And Ask For!) This Year
Don't know what to get your bestie this holiday season? What about your mom or crazy aunt? No sweat. We have 50 ideas for you right here on our annual Gifts for Her guide. From JBrand jeans to Jonathan Adler accessories, there's something for every type of gal on this list. And we're pretty sure you'll find some goodies for yourself too. But since these are the hottest gifts for girls, we recommend you start shopping. Like, right now. It's never too early when the items are this good! SEE THE ENTIRE LIST And don't forget to check out: 6 reasons why holiday shopping will be easier this year, the Kate Spade x Keds holiday collection and our first patterned tights awards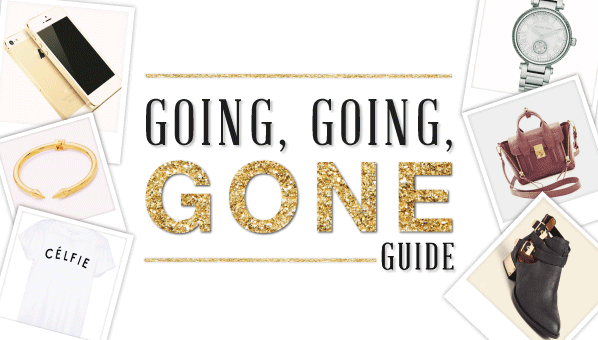 The SHEfinds 'Going Going Gone' Gift Guide Is Here!
We know, we can't believe it either, but the holiday season is just around the corner! So there's no better time than now to announce our annual list of the season's bestselling gifts. From the iPhone 5s to the Michael Kors Selma Bag, we rounded up all the most-wanted items right here. There's something for everyone: the best beauty products (Tory Burch Perfume), must-have accessories (Vita Fede, 3.1 Phillip Lim), the latest tech (iPad Air, Google Chromebook) and more. Consider this list our special gift to you--we found all the best presents so you don't have to! Just shop early because these hot items are going to sell out soon. SEE THE ENTIRE LIST For some more gift ideas, check out: Tory Burch's new home collection, Tay Swift's Louboutin bag and the best leather drapey jackets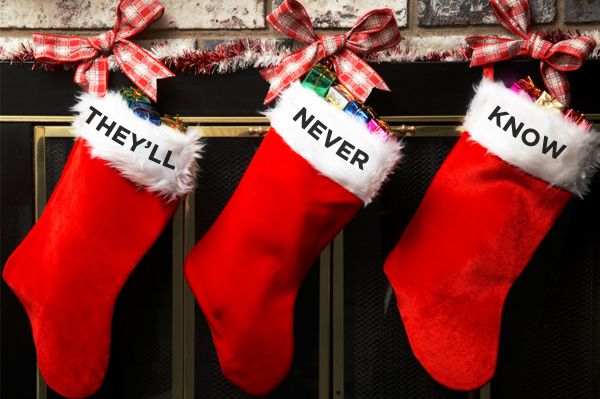 10 Last-Minute Gifts That Don't Look Last-Minute
Okay, so you waited until the very last minute to do your Christmas shopping. We're not judging, don't worry! We're doing you a solid, in fact: we found 10 of the year's most awesome, most coveted and bestselling gifts, that you can still order today and get by Christmas. From the hottest tech gifts for him, to the fashion & accessories she's really wants, to the coolest kids toys, there's no need to wander around the mall tomorrow -- just fill your virtual shopping cart today. And don't forget to select "overnight shipping." 1. iPad Mini The year's hottest tech gift, the iPad Mini ($329) is on everybody's list. If you really want to impress the recipient, order one now - with a data plan - and load it up with their favorite apps. 2. Rag & Bone's Newbury Booties These best-selling Rag & Bone Classic Newbury Booties ($495) are a favorite of Gwyneth Paltrow, Katie Holmes and more, so any stylish lady on your list will be impressed if you get her a pair. Plus, they don't just come in black; shop other favorites like brown leather, gold metallic, purple, and more. They also run true to size, which make them even easier to gift. 3. Michael Kors' Glitz Watch Rose gold watches ruled this season, and nobody did it better than Michael Kors. Get your accessory-obsessed friend or loved one this Michael Kors Camille Glitz Chronograph Watch ($295), which looks way more expensive than it actually is. 4. Jawbone Big JAMBOX This highly-rated portable speaker, the Jawbone Big JAMBOX ($299), is the year's best gift for music lovers and tech enthusiasts alike. They'll be so impressed that you read all it's 4-star reviews before buying (even though you didn't). 5. Year Of Flowers Subscription If you're looking for a gift for a very close family member, a Calyx Flowers Year Of Flowers Subscription ($479.95) does not disappoint. What could make her feel more loved than 12 months of home or office flower delivery. You will score major brownie points, we swear. 6. Makeup Station For the ultimate beauty buff, this Color Daze Blockbuster set ($49.50) includes basically everything you need to get started as an amateur makeup artist: 64 eye shadow shades, 12 cream eyeliners, 6 eye top coats, 6 lip top coats, 48 lip glosses, 3 blushes, and much more. 7. Wii U If it's a kid, or grown-up kid, you're still shopping for, the Wii U ($342.99) has been flying off shelves for months. They'll be able to play exclusive-to-Wii-U games like Lego City and Nintendo Land and Sing City. 8. NARS x Andy Warhol Gift Set The year's most-talked-about beauty collaboration, NARS x Andy Warhol, includes limited edition NARS products in pop-art packaging. Any beauty enthusiast will flip for this NARS 'Andy Warhol' Beautiful Darling Gift Set ($49), which is also perfectly priced at under $50, for the gift-giver on a budget. 9. Michael Kors Collection Clutch Even before Emerald was announced as Pantone's Color of the Year, this Michael Kors Collection Clutch with Lock ($450) was a highly-coveted gift. Get one for the handbag-lover in your life, and she'll be able to wear it well in to 2013 and beyond. 10. iPhone Gramophone This iPhone Gramophone ($249) is more than a conversation-starter; a nod to another era, this gramophone-shaped iPhone and iPod speaker is a one-of-a-kind gift that men and women of all ages will love. Thomas Edison would be proud.
Don't Cancel Christmas! Just Use Overnight Shipping So Your Gift Gets There In Time
Way to wait until the very last minute. If you are reading this post because you actually still have gifts to buy, let me just say you are brave. How you are not stressing the eff out about getting gifts in time for Christmas is beyond me. But alas, it is actually still possible to order a gift online and have it arrive by December 24. You know how? Overnight shipping. Yes, it's expensive and yes you'll be making some poor person work on Christmas Eve, but gosh darnit the gift will arrive in time. You've already put it off long enough, so here's the info you're looking for: where to shop and how much it will cost. Now get to it! Anthropologie (up to $30.95) Bloomingdale's (up to $26) C. Wonder ($25) J. Crew ($25) Kate Spade ($32) Macy's (up to $29.95) Madewell (free on orders over $250) Nordstrom (FREE--but you must order by 3pm EST) Piperlime ($22) Ralph Lauren ($25) Saks (free with code HOLIDAY at checkout) Shopbop ($25) Splendid (up to $36.95) Tory Burch (Free!) Urban Outfitters ($25) Zappos (Free!) When you're finally done gift shopping, check out Blake Lively's wedding pics, Forever 21's capsule collection and Taylor Swift's cute Coach bag.
All I Want For Christmas Is… Charlotte Olympia's Holiday Collection
You guys already know I have a thing for Charlotte Olympia. Let's not call it a girl crush, because I have no idea what she looks like, let's call it a shoe crush. Every pump the woman designs turns me on - especially that boudoir collection for Agent Provocateur, rawr - and now that she's just released a super Christmas-y collection, I'm all of a sudden in the holiday spirit full force. Her stacked pumps just have the affect on me. From jingle-bell ankle strap red velvet pumps to a "Frostie" clutch paying tribute to the iconic snowman, the collection is anything but subtle - but neither is the designer herself. Click through the slideshow above to shop the entire collection now. For more awesome news, check out these bestselling Nails Inc. leather nails, Alice + Olivia's Clueless-inspired skirt suit, and
It's Officially Crunch Time: The Best Under-$50 Gifts For Girls
Ladies, ladies, you're down to the wire on your holiday-shopping! What are you going to get all the wonderful women in your life? You may have browsed through our Gifts for Her Under $50 which proves holiday shopping can be budget-friendly. However, in the final days before gift-giving, you need a quick snap shot of what to buy the girls who have everything. You are bound to find something in our top 6 list that will wow your BFF/sister/mom. They can relive their middle school era with a Lisa Frank designer set or go green with a fashionable canvas tote or give them a gift of luxury with fleece-lined tights. We promise these items will cause heartfelt thank you's all around. SHOP THE BEST UNDER $50 GIFTS Looking for more holiday-inspiration? Check out our Going Going Gone Holiday Gift Guide or our list of Gifts for Him!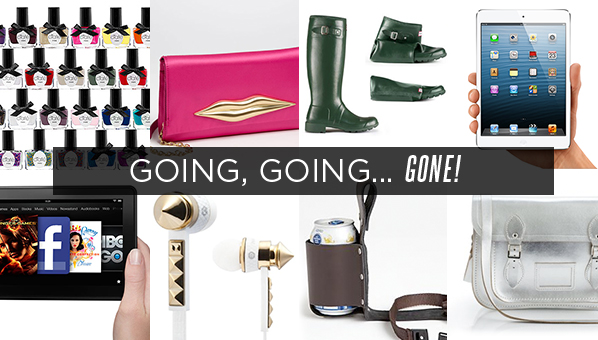 Going Going Gone: What's Still In Stock From Our Mostly Sold-Out Gift Guide
Christmas is exactly one week away which means one thing: it's gift shopping crunch time. Are you ready? If not, read on - we're here to help. At the start of the season we published our annual Going Going Gone gift guide, but now many of the items are sold out, including Isabel Marant wedge sneakers and Lady Gaga's Beats earbuds. However, six of our favorite gifts from the guide are still in stock, but considering the fact that this week is anticipated to be the biggest shopping week of the season, they won't be for long. See our picks in the slideshow and step on it. When you're finished with your holiday shopping, read about Anthro's very Carrie Bradshaw-esque tulle skirt, get a sneak peek of Miss Wu, and check out Estée Lauder's Macaron-inspired polish collection.
Mindy Kaling's Gift Guide For Shopbop: This Funny Girl Has Serious Style
We love when celebrities dish on their favorite items, and Mindy Kaling's Shopbop gift list might just be our favorite. The former star of NBC's The Office now has her own show on FOX, The Mindy Project, where she plays an OB/GYN - but clearly her style hasn't degenerated to just scrubs! Her gift guide is chock-full of on-trend items, aligning her with gift guide gurus like Oprah, Gwyneth Paltrow, and Rachel Zoe. See Mindy's favorites in slideshow and why she loves them. For more gift ideas, check out gifts for the jetsetter, gifts for your co-workers, and our Going Going Gone gift guide.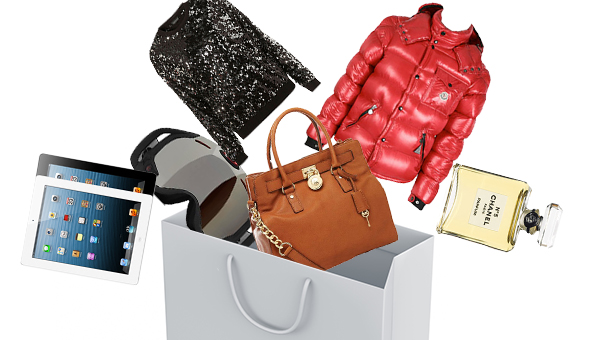 The 10 Best-Selling Products Of The Season, According To WWD
Are you shopping for one of this holiday season's bestsellers? According to Forbes, this week will eclipse Black Friday as the biggest holiday shopping week of the year. Which means that just because the items on your gift list haven't sold out yet, doesn't meant they won't. In fact, WWD reported that ten items are performing particularly well this holiday season, and  because the items on the list run the gamut from men's underwear to Moncler jackets, no shopper is immune. Better click through the slideshow to see if you're shopping for one of Santa's most-wanted, and if so, snatch it up immediately! For more gift ideas (in case your original is no longer available), check out our Going Going Gone gift guide and gifts for men. Also, subscribe to our newsletter so you're always in the know.
Gifts For Your Jetsetter Friend. (Cue The Envy.)
The jetsetter might just be the toughest person to shop for during the holidays. Why, you ask? Here's why: First, you wish you were her. I mean, doesn't everyone wish they were a trust fund baby who could travel around the world? And second, there are so many gifts that would be perfect for her, and that you wish you needed! From designer passport covers to luggage tags, to jewelry cases and comfy robe, shopping for her present basically becomes a legal form of torture. This year, though, we've made the process virtually painless for you by rounding up 11 gifts that she'll love and that you could totally get away with gifting to yourself and pretending you're a globetrotter. For more gift ideas, check out our Going Going Gone gift ideas, gifts for the men in your life, and gifts for your drunk friend.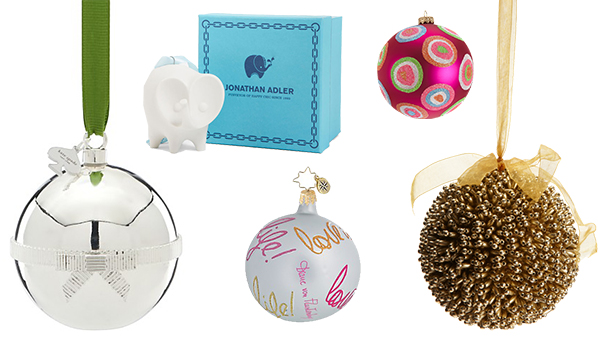 Accessorize Your Tree With Designer Ornaments From DVF, Jason Wu & More
Christmas trees need love, too. Especially if their owners are decked out in designer. If you've got a friend or loved one who's a label whore, and who also loves the holidays more than Will Ferrell in Elf, a designer Christmas tree ornament is a pretty amazing gift idea. Especially if this person has champagne taste (Veuve Clicquot, to be exact) and you're on a beer budget: the price point couldn't be more perfect. I mean, when/where else can you get Jason Wu for under $50? Click through the slideshow above to shop now. For more gift ideas, check out our Going Going Gone gift ideas, gifts for the men in your life, and gifts for your drunk friend.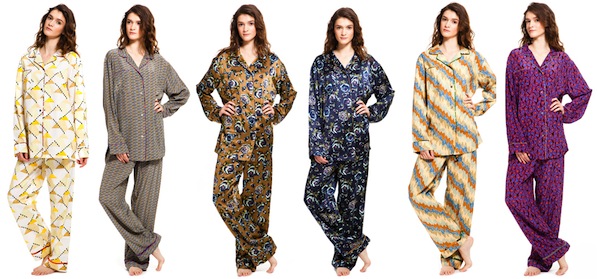 Suno Makes Pajamas That I'd Like To Spend Christmas Morning In
If Thanksgiving is the holiday of fat pants, Christmas is the holiday for cozy pajamas. It's the one time a year you can wear them all day (asides from cases of the flu) - but you can't just wear any old pair: Christmas is also a day when lots of pictures are taken. So reach for a stylish pair - like J.Crew's vintage pajamas, or these ah-mazing printed ones that Suno just released. Sold on their website, the limited edition jammies come in silk (for $175) and cotton (for $165) and will make you camera-ready for Christmas - or any day of the year. Shop now.  For more holiday finds, check out these designer playing cards, our favorite gifts from eBay's Holiday Collective (they've got Jonathan Adler, Tibi and more), and gifts for your party-girl friend.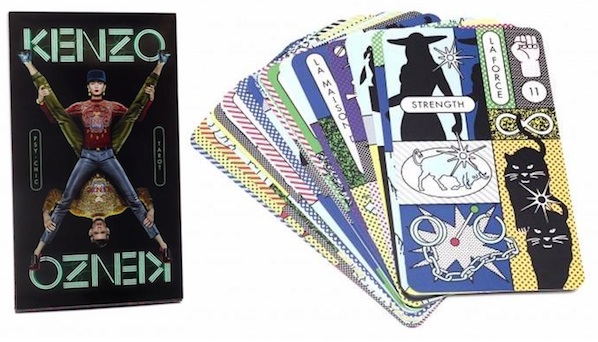 Kenzo To Kanye West: Collectors-Worthy Playing Cards Are "So Hot Right Now"
Kenzo, the print-friendly Japanese brand, just introduced a deck of "Psy-Chic" tarot cards ($33) designed by English graphic artist Michael Willis. The cards feature Kenzo's signature patterns, and are the perfect gift for your psalm-reading BFF (doesn't everybody have one?). And speaking of crazy playing cards - did you know that Adidas makes Star Wars cards, and an Italian company is selling pop culture playing cards - which feature the mugs of Lady Gaga, Kanye West, Anna Wintour and more. So, here's your chance to finally impress that friend whose always pushing for a game night. The best part of this little gift idea? These cards are sure become collector's items and they're all under $35. You in? See them all in the slideshow. [High Snobette] For more gift ideas, check out our Going Going Gone gift guide, what men really want, and the best gifts for your drunk friend.
The Best Of eBay's Holiday Collective: Gifts From Jonathan Adler, Tibi, More
If you thought eBay was just for selling off those impulse buy pink Frye boots or the label-covered Coach bag you had to have in 2007, you were wrong. The online marketplace has joined up with seven of-the-moment designers—Jonathan Adler, Tibi, Chris Benz—to create an original, limited-edition collection of apparel, accessories and home decor gifts under $100. The collective only goes through Dec 19, so this is your last chance to shop. We've compiled 10 of our favorite offerings from the collection to save you time. Click through to start shopping. Need more gift ideas? Check out Oprah's Favorite Things, browse our Going Going Gone gift guide and don't forget to check out today's sales and deals.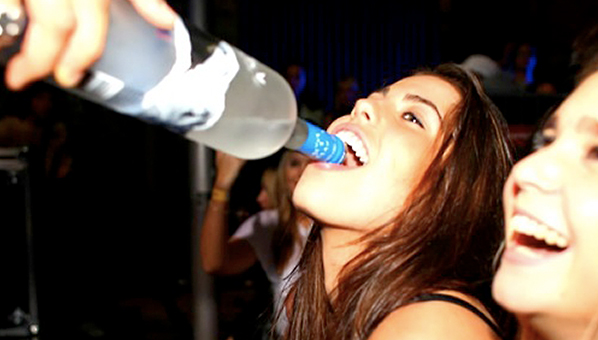 Gifts For Your Drunk Friend – 'Cause We've All Got One
Let's face it, we've all got (at least) one perennially drunk friend. You know, the one that's the first to buy a round of shots and the last to go home - if she makes it, that is. And while you might hate the thought of being an enabler, we've rounded up the best drinking-themed gifts for the party gal in your life. From zany pocket shots to a classy craft beer of the month membership, there's quite a selection - see them all in the slideshow. For more gifts, check out our Going Going Gone gift guide, the best gag gifts, and our men's magazine-approved gift guide. [Photo: Adela and Tessie]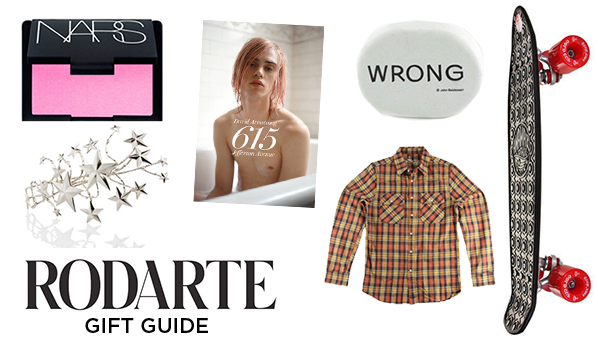 You Won't Believe The Average Price Of A Gift From Rodarte's ELLE Guide
Design duo Kate and Laura Mulleavy of Rodarte aren't known for being particularly "mainstream." The sisters - whose previous work includes costumes for Black Swan and Mozart's Don Giovanni, and a discontinued MAC collection inspired by Jaurez - don't really play it safe. So, when we heard that they'd curated a gift guide for Elle.com, we assumed it would be filled with overly artsy/pricey gifts that didn't fit our personal taste or budget. Instead, the gift guide is a very thoughtful list of personalized gifts - many under $100. Like books and music from Amazon starting at $4.50, cool gifts for your guy (like a skateboard and flannel shirts), and of course, a few pieces from their own line, like their Rodarte x Opening Ceremony graphic Tee. If you don't count the $1,500 lithograph from artist Raymond Pettibon, the average gift is just $98. Not bad, ladies. For more celeb-approved gift guides, check out Oprah's Favorite Things 2012, Rachel Zoe's gift guide and Gwyneth Paltrow's GOOP wish-list.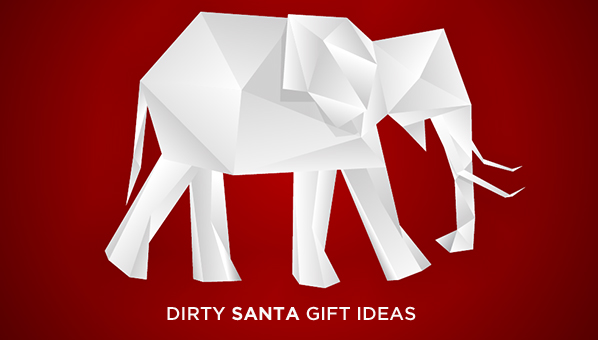 13 Hilarious Gag Gifts To Take Your White Elephant Party To The #NextLevel
Every holiday season, my friends and I indulge our inner trailer trash and hold a tacky Christmas party, complete with heinous sweaters we snagged from our moms' closets (thank you, 1980s), a viewing of Elf, and a White Elephant gift swap. In case you're new to the ways of the White Elephant, here's the idea: everyone brings a wacky, out-there, or just plain useless gift, throws it in a pile, and follows the gameplay rules. The object of the game is to end up with the least crappy gift, but my friends and I have an unspoken rule that the person who brings the worst possible gift is really the winner. This year, I think I'm in the running with this Justin Bieber Singing Toothbrush ($14.99), but we found 12 other awesome gifts that are a close second (in the slideshow above). For more legit gift ideas, check out our Going Going Gone gift guide, the Target x Neiman's collaboration, and grown-up BFF bracelets.
The Perfect Gift For Your BFF? Friendship Bracelets & Other #Twinsies Jewelry
Remember when friendship bracelets could mean social life or death on the middle school playground? Luckily, the friendship bracelet/necklace has been updated in stylish new ways to make them worthy of gift-giving this season. The most important person in your life (your BFFer, of course) is always hard to buy for and nothing says 'you're my best friend in the world' than a little nostalgia and matching bracelets. We also found some adorable heart stud earrings ($55), a puzzle necklace ($84), and our personal favorite, the DIY Friendship Bracelet Kit ($28). Most of our finds are under $100 so spread the love this year! Plus, you get a new piece as well. Looking for more inspired gift ideas? Check out our Going Going Gone Guide of 2012 or best gifts for the men in your life.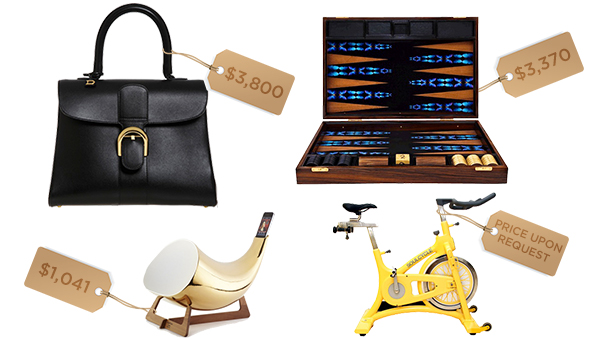 Gwyneth Paltrow's Gift Guide: Incredibly Personalized Or Unnecessarily Expensive?
Gwyneth Paltrow just revealed her infamous GOOP Holiday Wish List, and we say "infamous" because the actress is known for her not-so-practical gift guides (last year's list topped $11,000). Generally, the tone of the list reflects the tone of notoriously pretentious lifestyle blog itself - clever, aspirational, thoughtful, overpriced. This year, Gwyn picked quite a few personalized gifts - from vintage linen napkins to nameplate mommy necklaces, and even customizable wrapping paper (of course, she has "Apple" and "Moses" sets). And, there are some gifts for the 1% in there, too. Like the $3,300 backgammon board, the $1,000 speakers and a $3,800 handbag for mom. So, what do you think: is this list incredibly thoughtful and personalized, or just over-the-top #cray?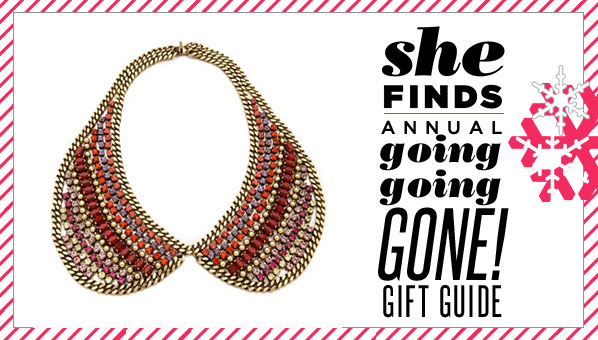 Dannijo's Swarovski Collar Necklace Is The Perfect Gift For Your Jewelry-Loving BFF
Ever since collars became cool again (no, not the poppin' polo collar from your middle school era), designers have bombarded our vision with all kinds of sparkly pieces to choose from. As always, one will always rise to the top and this year, Dannijo really stole the show (it doesn't hurt that the infamous blogger Man Repeller teamed up with the jewelry designer). So for your fashion forward friend, the best way to spread some holiday cheer is easy - the Dannijo Liliya Collar Necklace ($656), one of the many positively inspired gift ideas from our annual holiday gift guide. The collar necklace is not only a trend worth indulging in, it is the easiest way to spice up a simple T shirt or add some color/texture to your winter sweaters and dresses. Shop the Dannijo Liliya Collar Necklace! Check out more gift ideas, like shopping for the men in your life or the best hostess gifts, and gifts that give back.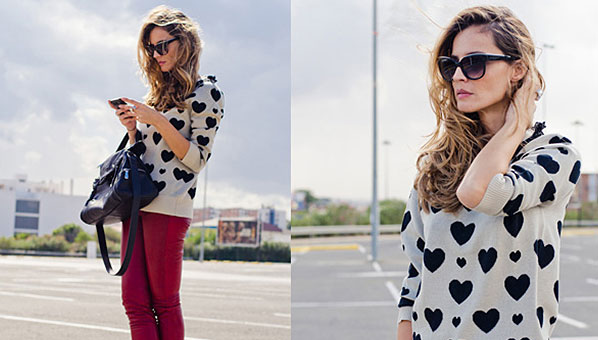 What's Better Than A Heart Necklace? Head-To-Toe Heart Prints, That's What.
Remember when we told you that lips were all the rage, seen on everything from iPhone cases to blouses? Well, it's only natural that hearts should follow. Especially after watching the DVF Lip Clutch fly off shelves (a great holiday gift idea). Seems like love is in the air for designers, and with all the turmoil going on around us (storms, post-election trauma, crazy holiday schedules) its nice to slip into something that feels, well, warm and fuzzy. You may even feel the need to give hugs to random people (blame it on the hearts). Shop our favorite heart prints above! Shop more winter trends such as fuzzy earmuffs and ombre tights or check out our holiday gift guide for glorious gift ideas!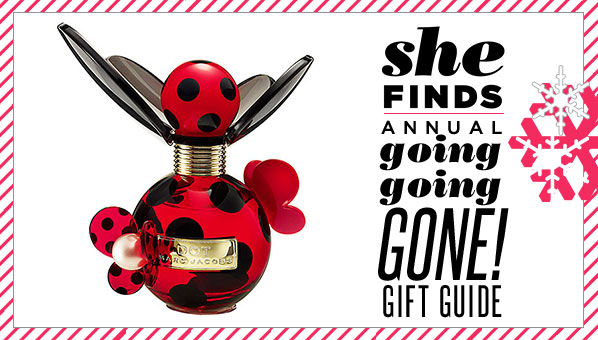 DOT By Marc Jacobs Is Not Just A Sweet Scent; It's An Omen Of Good Fortune, Too
It's clear that Marc Jacobs is semi-obsessed with polka dots, so it's no wonder that his latest scent is an ode to them. DOT by Marc Jacobs ($69), hit shelves this spring, and became an immediate bestselling for the designer. With notes of red berries, sweet honeysuckle, jasmine, and coconut water, to name a few, it "cheerful and easy to wear," (according to one reviewer). Hence why it earned a spot on our fail-proof holiday gift guide. And the ladybug motif is said to bring good luck -- so it's not just a sweet scenet, but an omen of good fortune, too. Get DOT by Marc Jacobs Perfume Shop more inspired gift ideas such as Charlotte Olympia's Kitty Flats, the Kindle Fire, and DVF's lip clutch.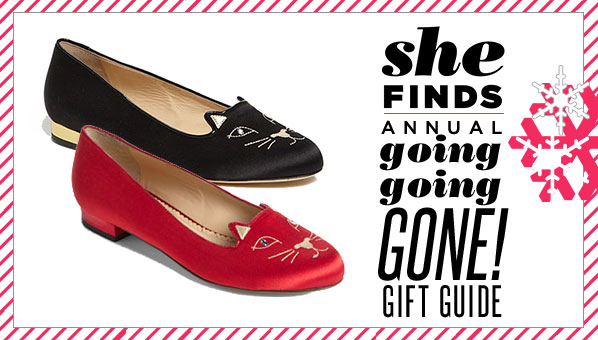 You Don't Have To Be A Cat Lady To Love Charlotte Olympia's 'Kitty' Flats
What do you get when you pair the comfy-chic vibe of smoking slippers with the a cute little kitty face? The fabulously luxe and whimsical Charlotte Olympia "Kitty" flat ($595), which have been bestsellers online all fall. A pair of these flats is the perfect gift for your friend who has everything - including a penchant for cats. Paired with black jeans and a boatneck top, they'd lend a girly punch to a gamine ensemble. SNATCH A PAIR For more gift ideas, check out our Going Going Gone gift guide, shop today's sales and deals, and check out our best find of the day pick.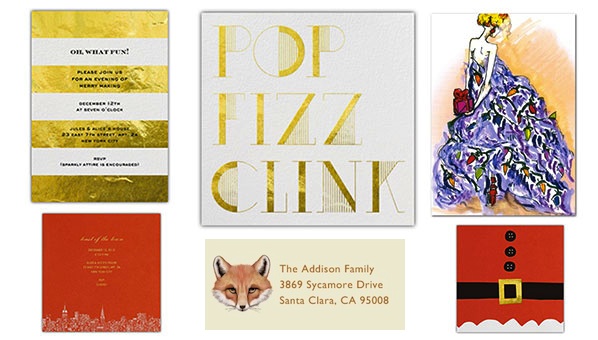 Would You Buy Designer Holiday Cards And Wrapping Paper?
As if buying their bags and clothes wasn't enough, Tory Burch, Kate Spade and Rachel Zoe want you to buy their paper products now, too. And not just stationery - the designers have turned out Hallmark holiday staples like wrapping paper, Christmas cards and even address labels, this holiday season. This may repel those of you who use newspaper and twine to wrap gifts, or who recycle bows year to year; but you can actually feel all warm and fuzzy about this designer trend: Kate Spade went eco-friendly with a digital line of cards for Paperless Post, while Tory Burch's line for Tiny Prints benefits the Tory Burch Foundation (more info here), and Rachel Zoe's wrapping paper for One King's Lane supports Save the Children. Zac Posen also created a card for Tiny Prints which benefits foster care youths in New York City, and J.Crew's Jenna Lyons line for Minted supports Teach For America. So, now that you can justify this designer splurge - get shopping in our slideshow above. They also make the perfect gift for your philanthropist-and-designer-loving friend. Love pretty paper goods? Read about designer playing cards and Anthropologie's handmade wrapping paper.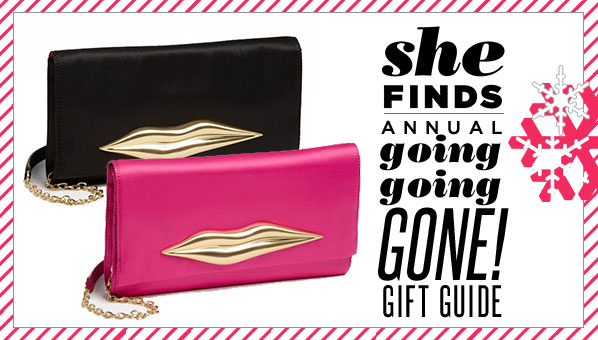 DVF's Lip Clutch Is Better Than A Kiss From Santa: Get Or Give One Now
Suddenly X's and O's are so high school and the new way to spread some (sassy) love is with lip prints & accessories, which hit the scene hard this year. Designer gave some serious lip service to everything from iPhone cases to tights, but the best lip accessory came from none other than the queen of bold prints herself, Diane von Furstenberg. Her 'Carolina Lip' Satin Clutch ($345) features a pair of pouty lips on a bright-colored clutch. Viola! A hot ticket item is born. It's so awesome and gift-worthy that it made our annual Going Going Gone gift guide (which means it won't be here for long). Plus, it's perfect for New Year's Eve - even you don't get a kiss from a boy, you've always got a pretty purse to make out with. Looking for more fabulous gift ideas? Check out the Kindle Fire, Nicki Minaj's Pink Friday perfume, and Equipment sweaters.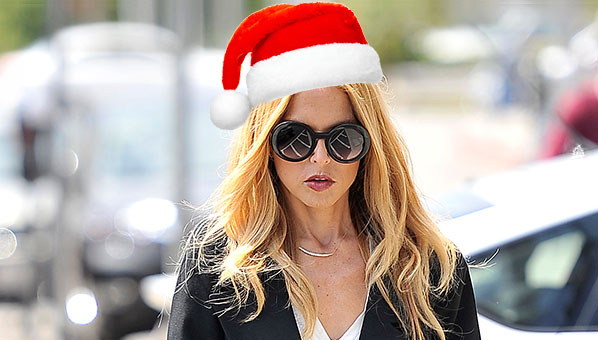 She May Not Be Oprah, But Rachel Zoe Has Her Own Favorite Things
Despite her talk show being off the air, Oprah can still make headlines - and induce seizure-like celebration in audience members - with her annual Favorite Things. The O debuted her coveted gift list on the OWN network this week (if you missed it shop everything here), but she's not the only celebrity with great taste. Stylist to the stars, designer, hoarder of vintage and reality-TV star Rachel Zoe has qualifications for gift-listing, too. Proof? Her Gift Guide for Piperlime is filled with incredibly stylish gifts (starting at $28!) for the fashionista in your life (even if that fashionista is you). And great minds think alike; her list shares a few picks with our annual gift guide (like Michael Kors' rose gold watch!). She's also got great gifts from Dolce Vita, Rag & Bone and BFF Marc Jacobs. Shop now. For more gift ideas, check out clever gifts for the shutterbug, for the animal lover, and for the hostess.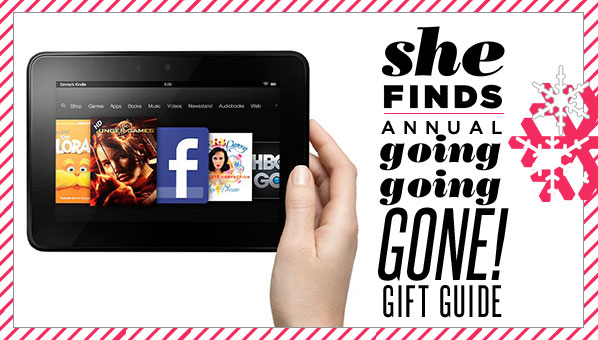 For The Techies, Travelers And Book-Lovers: Gift Them The Kindle Fire
While the Kindle/Nook/iPad battle continues, one thing is for sure - tablets are here to stay. At only $199 the Kindle Fire is sleek, fast, and in HD for all your viewing pleasure. Much cheaper than the ipad, the Kindle fire is just as user-friendly and tech-savvy. Perfect for your friends (the literary, techy, or travelers of the lot) or family members (I'm thinking dad/brother/boyfriend appropriate), you will bring tears of joy to the faces of your loved ones with this gift (okay, maybe just big smiles). Also ideal for anyone who commutes to work! Shop below! GET THE KINDLE FIRE HERE Shop more holiday gifts such as Nicki Minaj's Pink Friday perfume, Equipment sweaters, and J.Crew vintage pajamas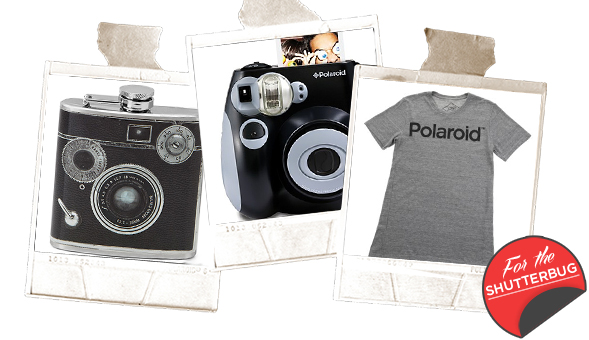 12 Picture-Perfect Gifts For The Shutterbug In Your Life: Just Point, Click & Buy
Have a friend whose obsessed with snapping pictures - maybe to an annoying extent? We're talking about that person whose constantly blowing up Instagram with photos of his or her brunch, always taking unflattering photos of you and tagging them on Facebook, has a collection of vintage cameras and always talks about it? Well, shutterbugs and amateur photogs, we've got the gift for you. Actually, we've got 12. From Polaroid vintage tees, to camera book ends, mugs and more, these photo-themed gifts will be a big hit this holiday. Just don't get pissed when you see photos of them on your newsfeed. For more gift ideas, check out Urban Outfitter's 'Throwback' gift section, the Lady Gaga headphones everyone wants, and Barneys x Disney Electric Holiday.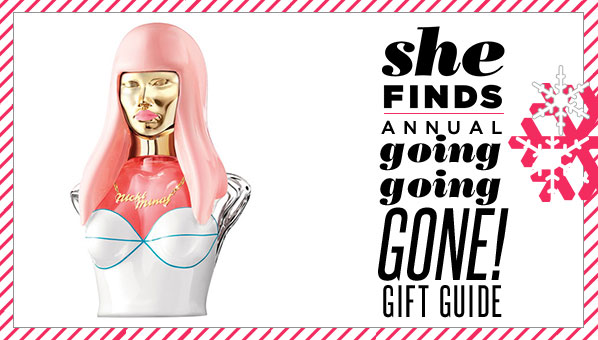 Nicki Minaj's Busty Pink Friday Perfume Bottle Is A Keepsake-Worthy Gift
'Tis the season when everyone tends to be a little crazy (blame the eggnog!) and no one does crazy better than the queen of wigs and weird hats - Nicki Minaj. Named after her award-winning album Pink Friday, Nicki Minaj's new perfume is equally cray: it comes in a busty, pink-haired bottle. Pink Friday by Nicki Minaj Eau de Parfum ($49) is the perfect gift for your Sophia Grace-like friend -- you know the one who blasts "Super Bass," in her car, has her very own pink wig, and already owns Nicki's OPI nail polish collection. IT'S CHEAPER THAN CONCERT TICKETS Don't forget to shop more inspired gift ideas such as Equipment sweaters, J.Crew vintage pajamas, and Isabel Marant wedge sneakers.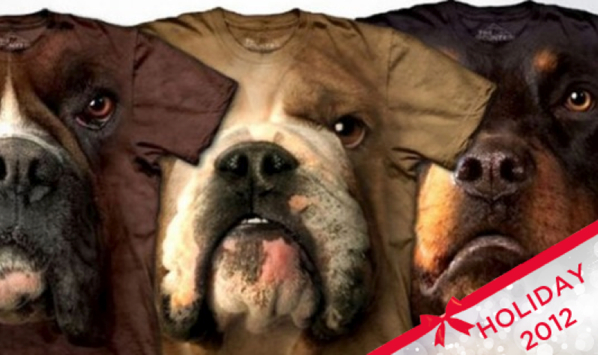 The Craziest (AKA Most Amazing) Gift For The Animal Lovers On Your List
If you have some animal lovers on your list and not sure what to get them, we have legit found the most perfect option: these Big Mountain Big Face T-Shirts. They're so ridic in the most awesome kind of way possible. Got a cat lady in your life? Light up their face with a cat face shirt. Got a friend who loves honey badgers? Honey badger don't give a f*ck, so get them a shirt too! And if you're like me, you'll get yourself a shirt (or three) as well. I personally rock my lion face shirt once a week, and also confess to gifting my cat-obsessed bff a cat face shirt. Check out our favorites now (you can thank us later). And to celebrate the holidays, they're giving SHEfinds readers %15 off all purchases through December 31, 2012. Use code "SHEfinds2012" during checkout.  For more gift ideas, check out our annual Going, Going, Gone! gift guide, and the best under-$50 gifts for him, her and home — just in time for you to start holiday shopping (because it's that time again!).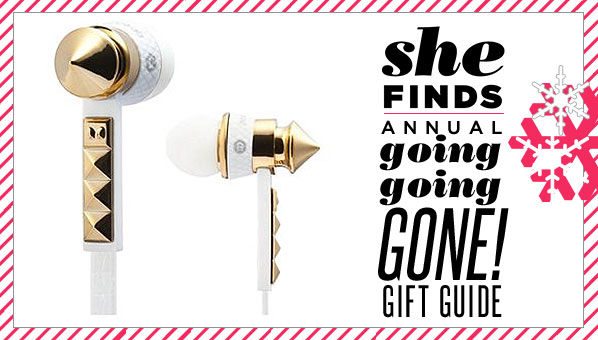 The Perfect Gift For Little Monsters? Lady Gaga Earbuds, Of Course!
If you have a friend who is simultaneously a Lady Gaga fan and an audiophile, or just a fashionable audiophile, you can stop the gift search. The earbuds that Lady Gaga designed for Beats by Dr. Dre, Heartbeats, are undoubtedly the perfect gift. Gunmetal studs adorn the the cord, and in the words of the product description they broadcast "bullets of sound through your ears and right to your heart." #deep You can pick up a pair of these earbuds for just $130, but we think it'd be extra cool to kick it old school and include a mixed CD of inside joke tunes. For more gift ideas, check out our entire Going Going Gone gift guide, read up on the best hostess gifts and the best gifts for your co-workers, too.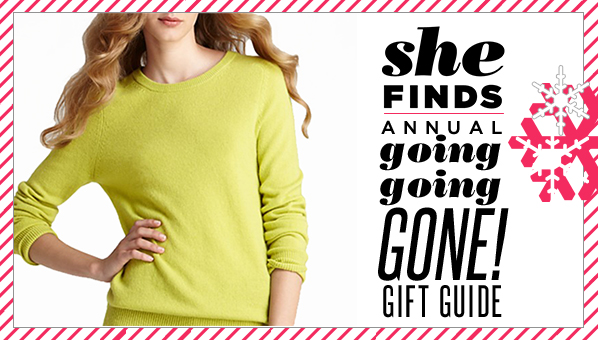 This Holiday, The Best Cashmere To Give Is From Equipment's Premiere Sweater Line
Most of us have been living in Equipment's signature silk blouses since they stormed the scene, but when the brand introduced a knit-wear line this year, we knew this would be an ever-lasting relationship. The sweaters come in a range of colors - from cayenne to harvest gold to new nude - and in basic styles like V-neck and crew cut. You won't find any graphic prints here, just the basics which makes this shopping trip easy for all your hard-to-buy-for friends and family. Featured on our annual holiday gift guide of 2012, we expect the sweaters to be a top-selling item so get your hands on them now! SHOP EQUIPMENT SWEATERS NOW Shop more inspired gift ideas such as J.Crew vintage pajamas, Ciate Mini Nail Polish Set, and Isabel Marant wedge sneakers.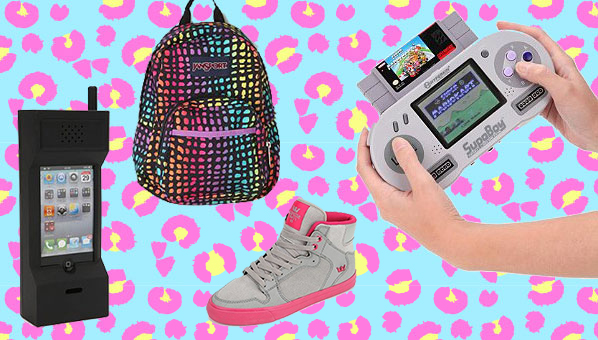 Urban Outfitters' Throwback Gift Guide Is Equal Parts 'Rad,' 'Gnarly' And 'The Bomb'
Know somebody that never really "got over" the 80s? Maybe they still use Lisa Frank folders, wear leggings and lots of neon, and have an iPod filled with Phil Collins. Oh, wait, I'm talking about myself. Regardless, we're all a little nostalgic inside, and for your friends that are really in to relics from the past -- there's Urban Outfitter's 'Throwback' gift guide. It's got stuff for both the Bettys and the Baldwins - Atari game systems, vintage MTV tees, Casio calculator watches, Jansport backpacks, copies of the Princess Bride. Basically everything you wanted in middle school, and more. Grab a memories-inducing gift for yourself, a sibling or your childhood friend -- nothing says "you're my BFF" like the game console you used to play as kids. SHOP NOW For more gift ideas, check out this bestselling metallic Cambridge Satchel, Rodarte x Starbucks stocking stuffers, and the iPad mini.
Barneys x Disney 'Electric Holiday': Rag & Bone Mouse Ears, DVF Figurines, More
Worried that Barneys wouldn't be able to out-do their incredibly memorable and off-beat Gaga's Workshop holiday pop-up? This year they traded in their Monster paws for Mouse ears, and the result is equally sensory-overloading and awesome. Their Electric Holiday shop, a collaboration with Disney, just hit online (and in stores if you live near one!) and includes such gems as Rag & Bone Mouse ears, DVF Vinylmation figurines, Minnie Mouse iPhone 4S cases, Lanvin anniversary bags and more. They even animated Alber Elbaz and other designers for a sweet teaser video on the line: [vimeo]http://vimeo.com/52246100#[/vimeo] SHOP NOW For more holiday goodness, check out these awesome hostess gifts, Rodarte x Starbucks stocking stuffers, and gifts for your co-workers.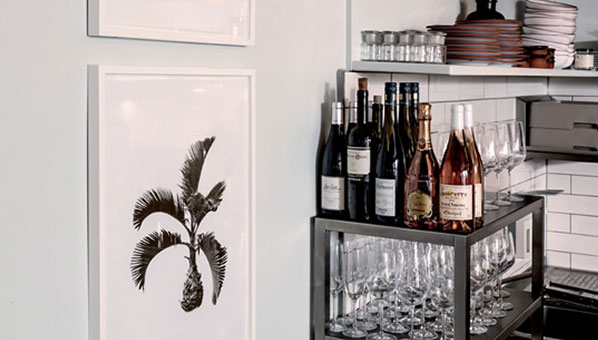 Behold, The Coolest Hostess Gifts Ever. You're Definitely Getting Invited Back.
Party season is upon us, which means the Evites and Paperless posts are going to start flying your way soon. Trust us, you do NOT want to be that guest who shows up empty-handed. Give the lame standard-issue bottle of red wine a rest and grab yourself a really awesome hostess gift that will never be forgotten. Not only will you get invited back, but you'll also skyrocket to best guest ever. Luckily for you, we've tracked down the best hostess gifts around - so stock up now!  From monogrammed stationery for your preppy Martha Stewart wannabe to exotic, luxury chocolates for the one with a sweet tooth, there's something for every hostess on your gift list. See all of our picks in the slideshow now. If you're the one hosting the party, buy one of these designer games for guests to play, make sure you know how to set up your bar, and check out the Outnet sale for a killer outfit.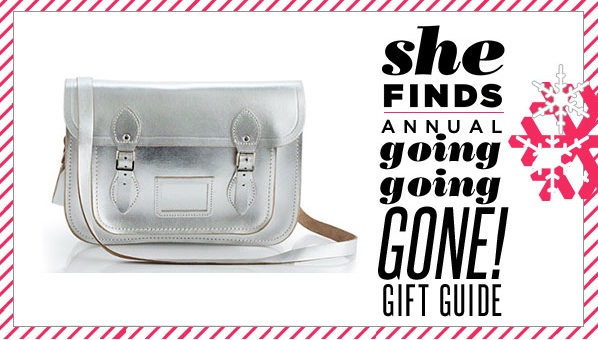 The Only Cambridge Satchel Color That Could Oust Neon? Silver Metallic.
We've been fans of the Cambridge Satchel Company ever since we spotted its neon satchel during summer 2011. And they've grown up a lot since then with houndstooth, a Chris Benz collaboration, and even Union Jack and leopard prints for ASOS. But the satchel that's on everyone's wish list, including ours, this year is metallic version ($205) that J.Crew is selling. It would be the perfect gift for your friend, whether she's Cambridge Satchel-obsessed or new to these phenom bags. Either way, this is definitely a "one for you, one for me" gift situation, because who doesn't need a new Cambridge Satchel? It's a classic! SHOP THE SATCHEL For more gift ideas, check out our Going Going Gone Guide, OPI's newest polish collection, co-worker gifts.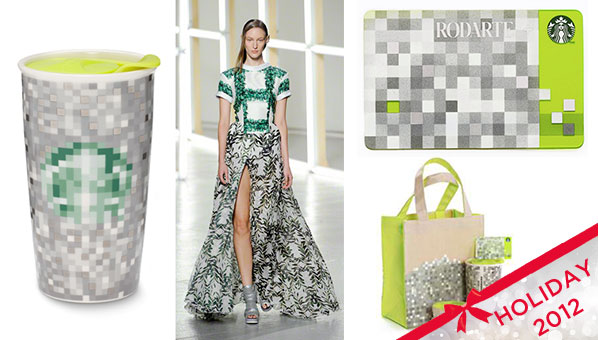 Rodarte x Starbucks: The Best $12 You'll Spend On A Gift This Year
The word "mainstream" doesn't exactly come to mind when you think of Rodarte, but sisters Kate and Laura Mulleavy have just taken a major merchandising step that puts the brand in every mall - and on every corner - near you. Rodarte's limited edition collection for Starbucks, which just dropped today, features small gifts like cups and gift cards in a "pixelated" grey, silver and neon yellow design, a color palette borrowed from their SS13 collection (above). For those of you in the market for stylish stocking stuffers (say, for a fashion obsessed niece? or yourself?), there's a tote bag ($12.95), canvas cup sleeve ($4.95) and travel mug ($12.95). While Rodarte has already teamed up with mass retailer Target, this is the coffee chain's first-ever fashion collaboration. Kate and Laura told Racked: What was really exciting was working with a brand that has such a signature visual identity and culture. Everyone recognizes the Starbucks logo. Laura and I immediately immersed ourselves in trying to find a way to play with that visual culture and reinterpreting it. It was interesting to start from something that was very iconic and known—and with products, not clothing. As a clothing designer, you think about what you're making, not what you're putting on it. We had to have a concept that we could build product out of instead of just saying well, we have an idea for a collection and this color represents that and playing with silhouettes. You have to get your point across on top of a card. While some in the industry are calling the collaboration "unlikely," we think it's a perfect fit. Aren't some of the most stylish people on the planet caught with a coffee cup on hand almost daily (ahem, Olsen twins) -- to the point that it's become almost a fashion accessory? And aren't you always struggling at the last minute to fine quality gifts under $20? Well, here you go! For more collaborations news, check out BaubleBar x Essie, Forever21 x Hello Kitty, and M.I.A. x Versace.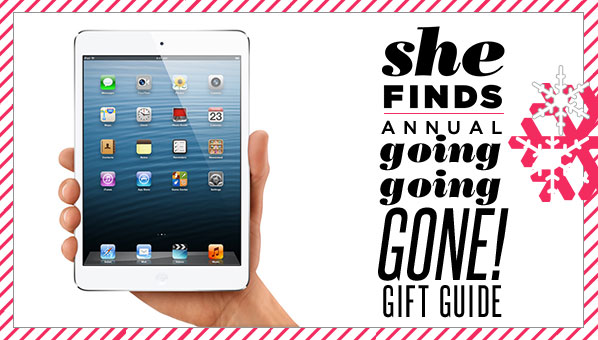 Your Smart Phone/Tablet Is About To Meet It's Match In The New iPad Mini
The tablet market seems to be moving at warp speed with consumers buying up Kindles, Nooks, and iPads. But only Apple knows the way to our techy hearts (and wallets) with their constant introduction of new versions, styles, and software updates. This season, Apple introduced the iPad Mini, a sleeker, smaller version of their iPad that rivals the Kindle Fire and Google Nexus. Cheaper, ultrathin, and lighter, the iPad mini has all the functionality of the regular iPad without the bulk. Perfect for the hard-to-buy for boyfriends/dads/brothers/men in your life, the iPad Mini will certainly be a winner (and earn you serious gift-giving points). It's also ideal  for your techy friends so don't hesitate to hand out a few this holiday season. Get the iPad Mini here!  Looking for more fabulous gift ideas? The iPhone 5 will steal their hearts or check out our entire Going Going Gone Holiday Guide!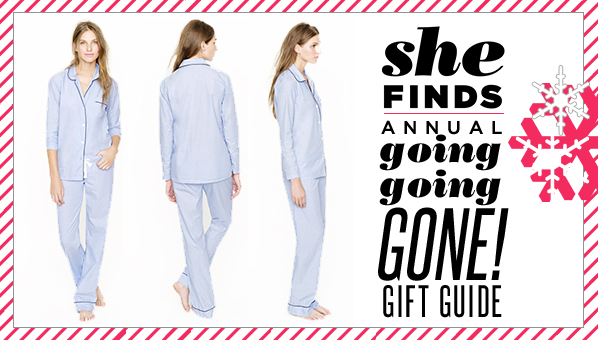 J.Crew's Vintage Pajamas Can't Cure Your Insomnia — But You'll Look Good Having It
Getting into bed just got a whole lot more stylish; this season, J.Crew introduced their absolutely dreamy Vintage Pajama Set ($85). Inspired by the boys (they know us girls love to steal sleepwear from them), this super-soft cotton set made our list of bestselling holiday gifts. And even though it feels like an oversized men's shirt, it doesn't look like one -- the piping on the tailored top and bottom gives it a polished, ready-for-that-sleepover look. Not convinced? Just remember how cold those sheets get when winter sets in and how warm, cozy, and wonderful you will feel in a long-sleeve pajama set. Old fashioned? Maybe. Fabulous? For sure. Give them as a gift, or just grab a set for yourself, and nap time will be rampant. Shop more inspired holiday gifts such as the Ciate Mini Nail Polish Set, retro fashion toys, or a copy of Vogue Weddings for your newly engaged friends.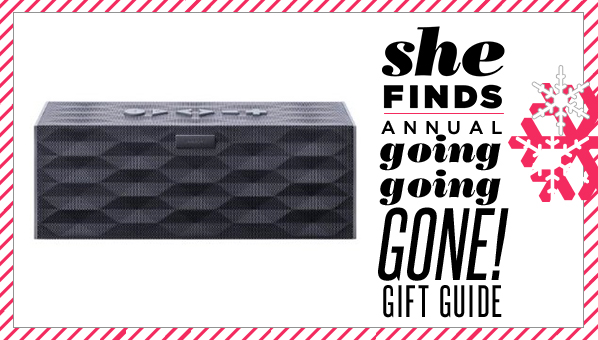 Be The Most Popular Girl At The Party With JAMBOX: The Wireless, Portable Speaker
In a stroke of genius, the tech wizards at Jawbone have re-imagined the bulky boombox of the '80s and have created JAMBOX, a wireless, portable speaker set. Simply turn on your phone or tablet's bluetooth capability, select JAMBOX as the device, pick a playlist, and you've got tunes for the party. Why is this awesome? The speaker set weighs in at just over 2lbs, the battery lasts for over 15 hours, the sound quality is unbeatable and best of all - you get to keep your phone with you and control the music wirelessly! As we said, pure genius. START JAMMIN' FOR $299 Take a look at our full 2012 Going Going Gone Gift Guide, read Pantone's 2013 Color Report, and check out this year's Oprah's Favorite Things list.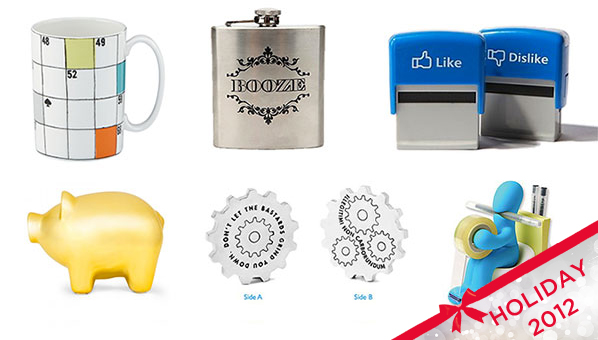 Need Office-Friendly Gifts For Your Fave Cube-Mates? We've Got You Covered
They say that co-workers are like the family you choose--wait, no that's not right--either way, there's probably no-one you spend more time with. This year, thank your favorite co-worker with a perfect holiday gift--be it quirky, sweet, funny, or useful. No matter your relationship with your co-workers, we've selected a few of our favorite office-friendly gifts. Read on to see 'em! Check out other gifts we love: fun fashion toys, iPad Mini cases, and adorable wrapping paper to package it all with!
Match Your Bracelet To Your Polish Thanks To These BaubleBar x Essie Gift Sets
The best way to rock Essie's Winter Trend Collection is with a matching bracelet from BaubleBar. And thanks to the genuis BaubleBar x Essie collab, matchy matchy has never been so easy (and actually cool). Each gift set allows you to pick a polish, a matching bangle, and two other bracelets of choice, which are then stowed away in a chic glossy pouch. Priced at just $50, this is the perfect gift idea for your bff's (or ahem for yourself). For more gift ideas, check out our annual going, going, gone! gift guide, and the best under-$50 gifts for him, her and home — just in time for you to start holiday shopping (because it's that time again!).
Vogue Releases Weddings Book Just In Time For Holiday & Engagement Season
Thanks to some warped design of the universe, engagement season falls during the holidays. So, while you're fretting about gaining 5 pounds of pumpkin pie weight, some of your very best friends will be changing their relationship statuses to "Engaged." Sure, having a Facebook feed of engagement ring photos when you're trying to get in the holiday spirit is lame (can I see more cats in Christmas sweaters, please?!), but here's a glass-half-full approach: now you know what gift to get them! Answer: Vogue Weddings: Brides, Dresses, Designers,  a no-brainer gift for the recently engaged. It's not a planning book or Emily Post-type etiquette guide, so it won't stress the bride out. Instead, it's a glossy, coffee-table worthy collection of the most glamorous weddings from the magazine's 120-year history. With nearly 400 photographs of ceremonies large and small (think royalty, social figures and celebrities), the book is endless inspiration for the stylish (or aspiring) bride. After a forward by Vera Wang (who else?), it delves in to iconic images: Grace Kelly kneeling at the altar, Kate Middleton in her Alexander McQueen gown and a bashful Carolyn Bessette Kennedy exiting that small Georgia chapel. The photography is top shelf, featuring the work of Patrick Demarchelier,  Mario Testino, Irving Penn and Annie Leibovitz, just to name a few. There is even a chapter about models' weddings that includes portraits of Natalia Vodianova and Cindy Crawford, and a guide to the 10 most influential dress makers. Hey, you might even want to buy a copy for yourself (one day -- right?). [Image: Vogue] Need more wedding inspiration? Check out 13 wedding trends for 2013, 15 non-floral bouquets and Monique Lhuillier x Blue Nile engagement rings.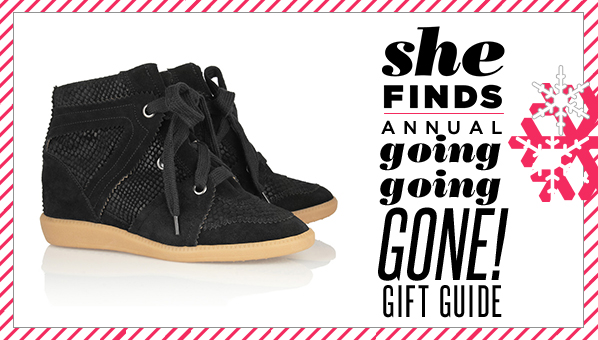 Isabel Marant Wedges Have Already Started To Sell Out In Anticipation Of Holiday
The status symbol shoe of 2012 was Isabel Marant's wedge sneaker (no contest), and if you had been waiting for a holiday (ahem, Christmas) to ask for a pair -- you might want to flag that request as "Urgent." The popular kicks, which have been seen on the likes of Beyonce and Alessandra Ambrosio and countless off-duty models, just earned a spot on our Going Going Gone Gift Guide (aka, the products most likely to sell out this season). Well, sure enough, these Boston snake-effect suede sneakers ($685) are already sold out in every size but 10, and the same pair in white is already sold out in 2 size. We did some sleuthing, and you can also get the white pair at Matches and the blue ones at Barneys. But watch out for the knock-offs! Good luck! For more holiday ideas, check out Ciate's Mini Manicure Month Set, the iPhone 5 and these retro toys.
We Love The '80s! The Top 8 Retro Fashion Toys Poised To Make A Comeback This Holiday
Last week, we found a photo of Fashion Plates, our favorite '80s toy, posted it on Facebook, and we all recounted our memories of pretending to be fashion designers by tracing outfits onto those plastic plates with colored pencils. You guys were into it, too, which only encouraged our '80s fashion nostalgia even further, so we took a lonnng walk down memory lane, and, guess what? We found tons of our old faithfuls on eBay. Legitimately, we're AMAZED at all the goodies we found. From Fashion Plates to Farrah Glamour Heads - it's all on the interwebs for the taking. We're thinking about snatching a few of these to gift at White Elephant holiday parties. Click below to see the slideshow! Don't forget to check out our 2012 Holiday Gift Guide and read up on La Mer watches at Target, and Karl Lagerfeld's watch collection.