7 Affordable Gifts To Buy For The Gucci Lover
8 Gucci Fashion Dupes That Look Like The Real Deal
Gucci is definitely one brand that every fashion girl seems to be wearing this year. The high-fashion designer brand has been seen on every celeb from Kim Kardashian to Selena Gomez, and we're obsessed. Gucci is certainly to thank for the rise of both trendy embroidered sneakers and women's leather loafers. Luckily, fast fashion retailers have caught onto the trends and have made similar Gucci knockoffs for prices that you can afford. So, before you go ahead and splurge hundreds, or even thousands of dollars on the real deal, check out these Gucci-inspired shoes and clothes for the prices that you love. Shoes:  Mules have been everywhere this year, even Target. These mules come in both a black and metallic silver color, and are super affordable thanks to their $22.99 price tag. This dupe definitely looks a lot like the trendy Gucci mules which are a whopping $680. Target Women's Kona Backless Mule Loafers - Merona™ ($22.99) Now, we've got two different embroidered sneaker options for you if you're looking for the same Gucci pair that Taylor Swift loves. While Gucci's embroidered sneakers run well over $600, TJMaxx and Aldo have much more affordable options. First, TJMaxx's red floral sneakers are just under $20 and are also just as stylish as the real deal. TJMaxx Qupid Lace Up Embroidered Sneakers ($19.99) Next, Aldo offers this embroidered floral pair with extra glam gold detailing on the laces and heel. This pair closely resembles the Gucci embroidered sneakers while having a unique flair of their own. DSW Aldo Kinza Sneaker ($69.99) Clothes:  Now, let's move onto clothes. Gucci striped t-shirts have become a wardrobe staple for every fashion girl (ones that can afford them at least). Luckily, Topshop offers a similar striped style of t-shirt for just $30. Thanks to Topshop, you can get the same look without breaking the bank. Nordstrom Topshop Amour Graphic Tee ($30.00) A similar dupe of the famous Gucci striped design can also be found at Forever 21. Many Gucci sweatshirts feature neutral dark colors with bold embroidered designs. This Forever 21 crop top sweatshirt is both simple and trendy with its stripe-trim and embroiled gold stars. Forever 21 Stripe-Trim French Terry Crop Top ($15.90) The Gucci embroidered jersey sweatshirt would cost you $2,500, but you can get a similar look for less with this satin jacket from Forever 21. From the zip-up detailing to the bold sleeve stripes to the embroidered florals, you can hit all the style bases for just $37.99. Forever 21 Embroidered Satin Jacket ($37.90) Gucci is also known for its lavish wildlife designs on simple pieces like sweatshirts and t-shirts. This H&M sweatshirt featuring both a tiger and floral print reminds us of the same style as the Gucci embroidered hooded sweatshirt. H&M Sweatshirt with Appliqués ($34.99) Floral embroidered hoods, like this one found on a sweatshirt from H&M, are also commonly seen on Gucci's everyday wear. You can get a similar look for less with this black cropped sweatshirt with a pink and green floral embroidered hood. H&M Short Embroidered Sweatshirt ($29.99) We've got you covered on all of the fashion and beauty dupes that you need right now. For more, make sure to check out the Lululemon dupes that will save you a ton of money, and Fenty Beauty highlighter dupes that are just as good as the original. [Photo: mindbodyswag]
6 Really Good Gucci Mule Lookalikes You Should Snag Before They're Gone
The White T-Shirt Every Street Style Star Is Wearing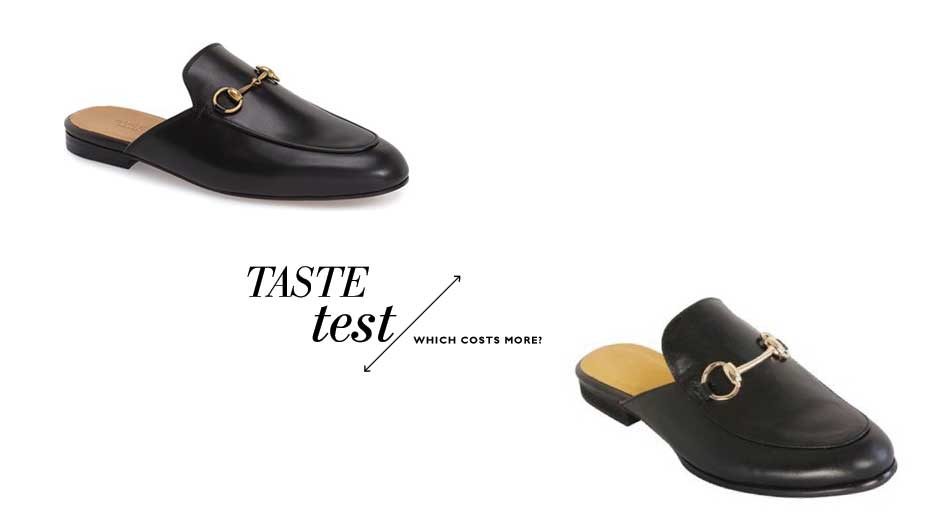 Can You Tell Which Mule Loafers Cost $450 More Than The Other?
The one new item I need for fall is those backless Gucci loafers (@everyoneIknow, birthday present?!?). They're basically fancy slippers (especially the ones that come with fur lining!) that are appropriate to wear outside the house. Sign me up! But wait, not for that price... Ugh, yes, the Gucci Princetown Mule Loafers are $595, aka, way out of my budget. However, I just found these identical WOMEN-LEANA Basic Slippers for just $145. Not bad! The description even says "THEY ARE NOT GUCCI" because they look so much like the real thing. Can you tell which pair of backless flats costs $450 more than the other? Click below to find out! Did you guess correctly? Let us know in the comments! Test your fashion savvy some more with blue velvet booties and lace-up ballet flats
Can You Tell Which Gold Mules Cost $460 More Than The Other?
The fashion crowd has been going absolutely crazy for all things Gucci lately, and the brand's footwear selection is no exception. (Those cult-favorite furry loafers come to mind.) Despite our obsession, a pair of Gucci shoes doesn't exactly come at a budget-friendly price tag. The brand's Webby Leather Mules, in all their gorgeous metallic gold glory, ring in at $595. Luckily, there's a nearly-identical alternative at a price our bank accounts like much better: Jeffrey Campbell's Kenobi Platform Heel ($135). Can you spot which mule costs $460 less than the other? Take a guess and click the pictures below to find out! Don't forget to check out: Can You Tell Which Lace Dress Costs $332 More Than The Other?, The One Color You Should Never Wear On A First Date, and What Is The Closet Strategy?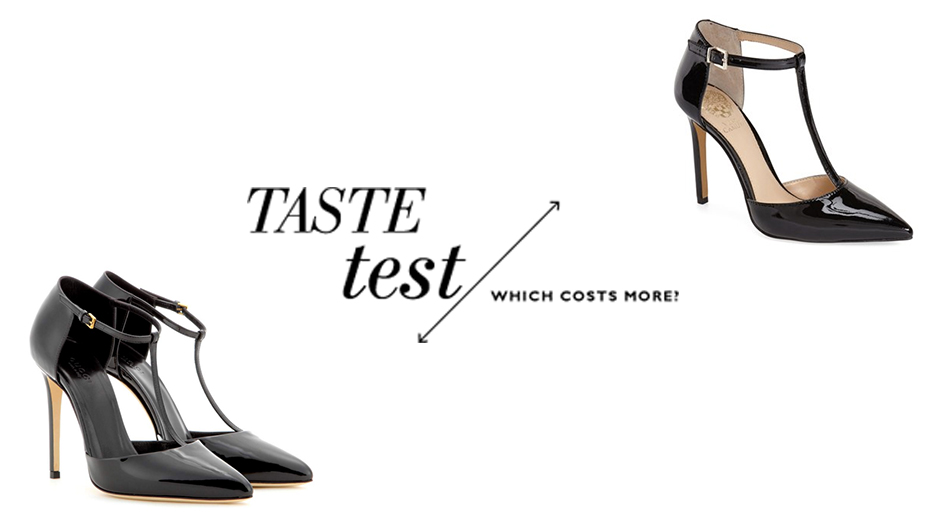 Can You Tell Which Pair Of Patent Leather Pumps Costs $606 More Than the Other?
'Tis the season for a fabulous pair of patent leather pumps — but then again, when is it NOT?? Patent leather is timeless, and these T-strap pumps are the perfect accessory for any on-the-town occasion. But bear in mind, not all stylish pumps were created equal. These two pairs (pictured below) look pretty darn similar, but their price tags tell a different story... Can you tell which pair is the luxe Gucci Patent leather pumps ($683) and which is the bargain-priced Vince Camuto 'Nihal' T-Strap Pump ($77)? Click on the images below to reveal the prices! Don't forget to check out: Here's Your Chance To Own Isabel Marant–Clothing Starts At Just $69 At Barneys Right Now! and Don't Miss Your Chance To Get A Pair Of Classic Tall UGG Boots–On Sale! #ThisNeverHappens
Sienna Miller's Fur Slippers Are Nothing Short Of Amazing
You have officially been granted permission to wear slippers in public. And you can thank Sienna Miller for that. She recently stepped out wearing these Gucci Princetown Leather Slippers ($995) and they have cozy winter shoe written all over them. Now the price may be a little hard to swallow, but this is Gucci we're talking about. At the very least, you know these babies are well-made and will last years and years. So go ahead and splurge! It's the holiday season, after all. Gucci Princetown Leather Slippers ($995) Looking for more trends worthy trying? Check out the go-to sneaker for off-duty models and the Wildfox sweater everyone goes gaga over. [Photo: Splash News]
What Does 'Gucci' Mean? A Definition & How To Use It In A Sentence
We know the term "gucci" has been around for a while now, but we enjoy using this word so much that we thought it deserved a little extra attention. What it means: Gucci is no longer only the name of a luxury Italian fashion brand. It is now an adjective describing something that is okay, good, or doing fine. According to Urban Dictionary, it is defined as something that is "good, chill, cool, awesome...." The meaning derived from Gucci the label, "because Gucci is for the "rich and ballin' therefore he is good, cool and just pimpin'." How to use it in a sentence: Next time you are out with your friends you can incorporate "gucci" into your conversation. You can talk about anything from a boy to your drinks and gucci will work. Here's how you use it: Someone accidentally steps on your shoe and they say, "I'm sorry." You respond, "It's  gucci." "Whats gucci?" Replaces "what's up?" How are you?  I'm gucci! "This drink is so gucci!" For a further explanation, you can refer to this song: [youtube]https://www.youtube.com/watch?v=aDQEhwqez6Q[/youtube] Will you be saying "gucci" from now on? Let us know in the comments below!  [Photo: Shelby Rodriguez]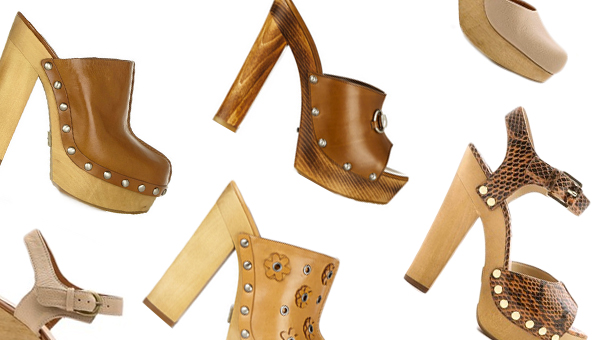 33 Of The Best Chunky Clogs For Spring: Michael Kors, Prada, Gucci, And More
I'm as shocked as you are that clogs are back for spring, but that doesn't mean I'm upset about it. Actually, I'm curious and excited. I've never owned a pair, but my mother is a big fan, and since mother typically tends to know best (especially when it comes to fashion), I'll be giving clogs a try. They're a great accessory for all of the other 70's inspired pieces that are trending this spring (wide leg pants, peasant tops), plus they're super easy to just slip-on—no buckling or tying required. Not just that, but basically every great designer did them—I'm talking Prada, Saint Laurent, Michael Kors, and Gucci—so the range of options is pretty large. And if you're not into bouncing, there are really good, less expensive styles too that you can get at Topshop and Steve Madden. So if you were on the fence about the whole clog thing, just get over it with me and try a pair out, it's good to take a chance when it comes to fashion. Also check out what's on my spring wishlist, grey handbags, and espadrilles.
The Wait Is Over–Gucci Makeup Is Finally Here!
Guys, it's been a year and a half since we first heard about Gucci Beauty, and now it's finally here. Not only is the packaging gorgeous (with interlocking G's, obvs), but the products come in every color under the sun. Creative director Frida Giannini teamed up with THE makeup artist guru Pat McGrath to develop all the formulas. We won't keep you any longer because you're probably dying to see everything. Click the slideshow to shop the entire line, from the lip gloss and nail polish, down to the liquid foundation (which comes in 18 shades!!). Have fun!! SHOP GUCCI BEAUTY NOW And don't forget to check out: Tory Burch's 70% off sale, the Moda Operandi holiday gift guide and Halle Berry's lingerie line
Gwen Stefani Loves These Yellow Loafers So Much, They're Her New Go-To Shoes
We already love Gwen Stefani tons, but when we noticed her wearing the same yellow flats over and over again, we fell even more in love with her. Because think about it: celebs have tons of shoes at their disposal. But when a star wears the same ones over and over again it's a nice reminder that this lady just loves her comfy, flat shoes. As for those awesome yellow loafers, they're the Gucci 1953 Horsebit Loafer ($575). And if yellow isn't your color, they come in red and fuschia, too. Score the exact same pair below. Gucci 1953 Horsebit Loafer ($575) Don't miss Kendall Jenner's floral sunglasses, January Jones' perforated loafers and Sarah Jessica Parker's $159 dress. [Photo: Splash News]
Gucci's First-Ever Makeup Collection Gets A Launch Date!
Last summer, we got word that Gucci was set to launch a makeup line in 2014--and we obviously freaked. The brand is one of the few high-end designers missing from the makeup counters of Neiman Marcus and Saks. So after 12 months of not hearing a peep, we kind of forgot about the big news altogether. That is, until now. We FINALLY got more deets on the brand's launch which is set to hit this September! Mark your calendars, ladies. Besides an official date, we now also know that the Gucci Cosmetics collection will include makeup for lips, eyes, face and nail polish, along with brushes and skin-prep products. Also, Charlotte Casiraghi will be the face of the collection. Don't know who this chick is? Neither did we. So we did some digging and found that she starred in past Gucci campaigns, is fifth in line for the throne of Monaco and can call Grace Kelly "grandma." So yeah, there's that. That's all the info we have for now, but watch this space for any more news and scoop on Gucci's first-ever makeup collection! We'll definitely be back with more info once the September launch gets closer. UPDATE: We just got some more info on the makeup range from WWD. It will include a set of eight natural hair brushes. Also, there will be an impact long-wear eye pencil that defines the lash line and a triangular nail polish brush for more precise application. Prices will range from $29 for a nail lacquer to $65 for an eye shadow quad. The skin prep line will go for between $49 and $69. The packaging will also look familiar. The art deco-inspired bottles come in black and gold with interlocking GG logos. Gucci Cosmetics will be sold at gucci.com, Gucci stores and top department stores. Did you just get more excited for September? Because we did! For more news, check out: Banana x Marimekko launched 2 days early, the entire Kate Moss x Topshop collection is restocked and Club Monaco x Shoshanna [Photo: Imaxtree]
Tune In Gucci Lovers: The Show Is Live Streaming Now
Before this year, there was only one thing that Gucci hadn't accomplished. It created handbags, made awesome sunglasses and accessories, launched a ton of new clothing lines, and dressed celebrities. What else could there be? But this year, Gucci dressed THE celebrity, aka Beyonce for her "The Mrs. Carter Show World Tour." It may have been an esteemed brand before, but now Gucci has reached its peak and can't get any better. Check out the livestream now and see if any Beyonce-inspired looks come down the runway. WATCH THE LIVESTREAM NOW For more fashion news, check out coated jeans are the new denim trend for fall, Peter Pilotto is the next designer collaboration for Target, and flats that you need to own for fall [Photo Credit: Instagram]
Gucci's 60th Anniversary Horsebit Loafers Are Here
This year, in celebration of the 60th year of their classic Horsebit Loafer, Gucci has released the anniversary edition of the timeless shoe. The release will include versions of the shoe in bold colors, in materials ranging from crocodile ($1,650) to patent leather ($525) to suede ($495) and python ($990). It will also include a special "60th anniversary tag," as well as all traditional horsebit and gold hardware. The collection is available now, both online and in stores. Frida Giannini, creative director of the fashion house, states that the Horsebit Loafer is one of the most important pieces ever created by the label--in fact, the shoe hasn't changed design in the 60 years since it's conception. He says: Since 1953, the classic beauty and absolute  functionality of the shoe has remained the same. The Horsebit Loafer is  still one of the most iconic items in the Gucci archives, and it has  been part of the permanent collection at the Metropolitan Museum of Art  since 1985, too. A shoe that looked cool on our grandmothers, mothers, and now us? We'll take it. For more shoes news, check out which surprising brand was the bestselling of holiday 2012, see Prabal Gurung x Casadei fall 2013, and shop super-warm shearling lined booties.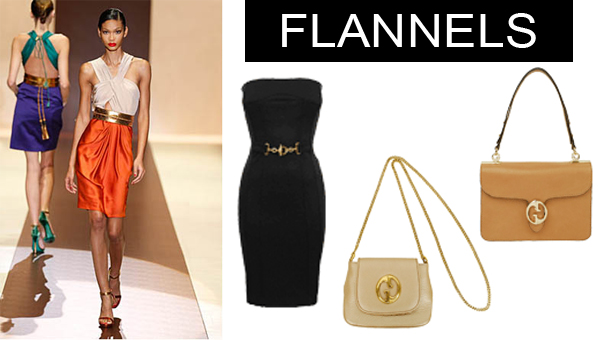 Get 50% Off Formalwear For Those Summer Weddings & Events At Flannels
Summers can mean lots of formal events: wedding season is in full swing, and it seems like cocktail parties are a weekly thing.  While all these events can seem like a bit of a pain, who doesn't like to dress up? They're an opportunity to flaunt your best cocktail dress, your favorite pair of pumps, and your latest designer bag. If you value designer name above all else, you need to check out the selection of designer goods at UK retailer Flannels. This virtual shopping destination has a most enviable selection of men's and women's clothing, shoes, and accessories from all of your favorite European and U.S. designers. At Flannels, you will find fabulous party dresses from Gucci (above), Alexander McQueen, Vivienne Westwood and Paul Smith, to name a few. And all for more than 50% off their original price tags. The next time you're in the mood to splurge on a shiny new designer bag, pumps, or a dress you absolutely need for an upcoming event, know that you'll get more designer bang for your buck (or in this case, British pound) at Flannels.
NEWS: First Photos Of Jessica Simpson's Baby, Kate Middleton's Party Dress & More
PETA is not going to be happy. See which footwear company is making genetically engineered stingray sneakers. [Fashionista] Looking to replace your Melissa jelly flats? Gucci will launch a line of eco-friendly shoes, made of biodegradable plastic, later this summer. [Refinery29] First look! See photos of Jessica Simpson's baby girl. [MOMfinds] Looks like Dancing with the Stars host and a mother of four has some time on her hands. Brooke Burke-Charvet is launching a lingerie line. [InStyle] Is the Duchess of Cambridge running out of clothes? See which dress Kate Middleton wore twice in the past month. [The Cut] Did you damage your nails after a recent gel manicure session? Check out the tip on how to restore them back to health. [Birchbox Blog] Check out more breaking news, this week's sales and deals and best find of the day picks.
7 Things You Need To Know Before Purchasing A Pre-Owned, Designer Handbag
Craving this season's hottest new designer bag but need to pay rent instead? Consider visiting online site Luxe Designer Handbags for your newest handbag addition. This site features all of the latest styles, gently worn, and offers both an option to pay in full or a monthly payment plan. You can find pretty much any designer you're looking for on their site from Louis Vuitton to Gucci! We caught up with Luxe Designer Handbag's specialist, who answered a few of our questions about purchasing pre-owned bags. 1. What are the most important things to consider before buying a used designer handbag online? When shopping online for used designer handbags, on sites like Luxe DH it is very important to feel safe and secure. There are so many sites out there offering fake merchandise. For LuxeDH, authenticity is of paramount importance. We employ a team of authenticators with a combined 25 plus years of experience authenticating handbags. In addition, LuxeDH is listed as a recommended seller on one of the oldest and most trusted sources of designer handbag authentication services, MyPoupette. 2. If the bag is on-trend, why would the dealer want to get rid of it? Some women own a bag for a month or two and realize that either the bag is not their personal style and they want to sell to us to make some extra money. Some tire of their bags quickly and are on to the next quest to find their dream 3. What are some questions the buyer should be asking the dealer before they buy? It is important for a buyer to know the condition of the bag they are purchasing. All of our handbags are pre-loved and most are in excellent condition. Always make sure to look at all of the pictures. Also, the size of the bag they are purchasing is equally as important. Since most women want to know how they will look in the bag, we show all of our bags with a mannequin, but it is very important to look at the measurements provided in the description. (more…)
In Anticipation Of The Missoni X Target Bicycle, We Present You With The 5 Most Exorbitant Designer Bikes
The $12,695 Chanel Sport Bicycle While the Urban Outfitters custom Bike Shop may appeal to fashion-savvy Bushwick hipsters, various couture designers' bikes (like the nearly $13k Chanel, above) are marketed towards more of a Hamptons-dwelling clientele. Somewhere in between the two (the West Village?), though, falls the Missoni for Target bike, which we've been declined access to any images of until the complete Missoni X Target line launches in September. We do know, however, that it will retail for a comparatively modest $399.99. In the meantime, check out our roundup of 5 ridiculously cute (and ridiculously priced designer bikes) below: Like this? Be sure to read all about the Missoni for Target Collection, kate spade, and how to look cute while riding a bike.
Now You Can Get A Gucci Bracelet For $100 AND Consider Yourself Philanthropic
Although we've seen our fair share of charity shopping ventures for Japan relief, this recent partnership between Gucci and the Red Cross seems by far the most appealing. The Gucci bracelet, which sports the colors of the Japanese flag as well as a charm that says "Gucci Loves You," retails for only $100. Best of all, though, is that ALL proceeds from each sale benefit the Red Cross' relief efforts in Japan. The bracelet will be available in Japanese Gucci stores tomorrow, April 23rd, and in the remainder of the Gucci stores worldwide next week. For more news and charity coverage, be sure to sign up for our newsletter.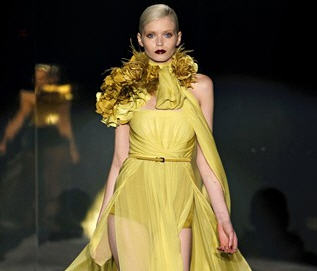 Let's Get To The Good Stuff: Gucci, Fendi, Prada, More — Our Guide To Milan Fashion Week
We hope you're not too exhausted from New York and London Fashion Weeks, because Milan started today and a pretty impressive list of designers show here. So you don't miss a thing, we've rounded up the week's biggest shows and best livestreams. (more…)
Stop Drooling Over Diane Kruger's Hollywood Glam Look And Get It For Yourself
Diane Kruger kept warm at a Gucci party while looking glamorous as ever. With her Isabel Marant fur jacket and Gucci dress (and shoes), this is definitely an outfit to drool over. And as much as we want a matching Gucci dress and shoes, we just can't take out a loan for that. So here's how to steal Diane's embellished style on a budget: Check out more celebrity styles. Shop our guides to the best faux fur and the best black dresses. Join our e-mail list for exclusive SHEFinds updates.
Thursday's Sample Sale Scoop: J Brand, Emilio Pucci, Siwy Denim, More
Editors' pick: J Brand at Rue La La Beyond The Rack: Emilio Pucci, Jill Sander, Single, Premium Watch Event, Ani, Baby Phat, Biotherm, Blush, Tova, 43.46 by Darryl Jagga Billion Dollar Babes: Siwy Denim, Kenneth Jay Lane, Treesje Handbags, Heys USA Luggage Editor's Closet: Gucci Sunglasses Gilt Groupe: Accessorize Your Summer: Carlos Falchi, L.A.M.B., and more; BOSS Black, Alice & Trixie, Havaianas, Jewelry by Cara Couture, Marco Bisego, Paul & Joe Sister Guiltless Purse: Take up to 70% off Tylie Malibu, Lauren Merkin, Marcio Furla, Kooba, Hayden Harnett, Isabella Fiore, Cole Haan, More Hautelook: Watch Blowout, Kensie, Kensie Girl, Mac & Jac, decadestwo, Baby Quasar, Jared Lang Women, Imoshion, Gresha, Soul Revival ideeli: Cara Couture, Corso Como sandals, Ecolution cookware, Jax, Tart, Green Tea Botanicals, The Sak, Body Wrap shapewear Ivory Trunk: Bvlgari Modnique: Eterna watches, Noya Design Cutlery, Kenzo scarves OohILove: Take up to 90% off Louis Vuitton, Chanel, Christian Louboutin, Marc by Marc Jacobs, More RowNine: Ladies' Watches, Wolf Designs Rue La La: Leifsdottir, J Brand, Mea Shadow, Frette The Sample Sale: Jlee Silver See our entire list of this week's online sample sales, fragrances for every season, and be sure to check out Oprah's favorite jeans, CJ by Cookie Johnson jeans, and get a pair of really cool sneakers.