Can You Believe These Gorgeous Backpacks Are Actually Diaper Bags?!
I thought diaper bags were pretty stylish when I was a new mama nine years ago, but then I came across these diaper bag backpacks from Skip Hop and wowza! I don't have a baby, but I'd totally carry this backpack! Millennial pink? Fringe tassels? Vegan leather? Yes, yes, yes! Skip Hop has always been a pioneering in the parenting space and these new diaper bag backpacks are just their game-changer. In addition to being super stylish, these diaper bags are also ridiculously functional. They feature a whopping nine pockets, stroller straps and a matching cushioned changing pad. Still need more? The changing pad pocket is big enough to fit a laptop! Best of all? This amazingly versatile bag will only set you back $100! Go ahead--treat yourself! Skip Hop Greenwich Simply Chic Backpack ($100) Skip Hop Greenwich Simply Chic Backpack ($100) Skip Hop Nolita Neoprene Diaper Backpacks ($80) Skip Hop Greenwich Simply Chic Backpack ($100) SHOP SKIP HOP'S DIAPER BACKPACKS NOW Don't miss our fun holiday gift finder. [Photo: Skip Hop]
Psst! This Amazing Kate Spade Tote Bag Is Only $63 #YoureWelcome
If you're looking for a cute, durable, versatile everyday bag to carry for the next few months, we found it. Not only is this kate spade on purpose canvas tote the perfect fall hue, but it even feels a bit festive thanks to the pretty bow detail. Even better, it's made from a quality canvas material that can hold all your daily essentials, but doesn't add any extra weight or bulk. Best of all, though? With sale items an additional 30% off at Kate Spade right now, this bag is only $63! Seriously! You can basically never get an authentic Kate Spade bag for less than $100, so this is major! Just use code DELICIOUS at checkout to score this insane deal. kate spade on purpose canvas tote ($63, down from $128) PS: There are actually a few cute Kate Spade bags on sale for under $100 right now and they're all perfect for holiday party season. Treat yourself ASAP before they sell out! kate spade cameron street arielle ($66.50, down from $158) kate spade cameron street perforated arielle ($70.70, down from $168) kate spade cameron street perforated arielle ($70.70, down from $168) kate spade haring lane jeny ($69.30, down from $198) Be sure to check out these super popular $11 leggings. [Photo: Kate Spade]
These Are The Handbags Our Editors Are Obsessed With Right Now
Score A Gorgeous Leather Rebecca Minkoff Bag For Under $100 With Our Exclusive Promo Code
If your accessories collection is in desperate need of a refresh, now is the time to upgrade. For a limited time only, our friends at Forzieri are offering SHEfinds readers an exclusive discount: 20% off all things Rebecca Minkoff! Whether you're a crossbody kind of gal or more of a hobo type, this is your chance to treat yourself to a stunning new bag for the season. Just use code SHERM20 at checkout to take advantage of this exclusive discount. Need a nudge in the right direction? Don't miss the Avery Flap Leather Crossbody. Not only is it the perfect going out bag, but you'll get so much use out of it this holiday season. Even better? It's only $88 with our exclusive promo code! Avery Flap Leather Crossbody ($88, down from $180) Avery Flap Leather Crossbody ($88, down from $180) But if you're looking to invest in a newer Rebecca Minkoff style, check out some of these other amazing bags on sale ASAP! Sand Leather Mini Darren Messenger Bag ($168, down from $210) Black Chevron Quilted Leather Small Love Crossbody Bag ($204, down from $255) Almond Studded Midnighter Large Messenger Bag ($412, down from $515) SHOP REBECCA MINKOFF AT FORZIERI NOW Be sure to check out this amazing $38 sweater dress. [Photo: Forzieri]
This eBay Hack Will Help You Get Some Serious $$ From Your Old Purses
5 Hacks To Know When Shopping For Michael Kors Purses
Something about the fall time makes us want to splurge on all of the designer purses we can get our hands on. I mean, you can never really have too many handbags, right? From totes to crossbody bags, and Michael Kors to Rebecca Minkoff, there are seriously so many options when it comes to choosing your next stylish bag. Luckily, we have five Michael Kors purse shopping hacks you need to know before you whip out that credit card. Following these hacks will guarantee that both you, and your wallet, will be thrilled about your latest purchase. You can finally stop frantically searching "how to save money when shopping Michael Kors." Without further ado, let's dive into the hacks you need to know right now... 1. Browse The Outlets You don't have to spend a fortune when you're in the mood to splurge on a bag from your favorite designer. While you may not find this season's selection, you can visit a Michael Kors outlet store to shop the bags at a discounted price. You can often find better deals at the outlets that beat any online sale prices. Plus, some designer handbag outlets sometimes have additional one-day discounts that can help you save even more money! 2. Sign Up For The Newsletter You should definitely consider signing up for the Michael Kors newsletter if you love to stay on top of all the latest trends and styles. This is your guaranteed way to be one of the first ones to get your hands on the latest MK styles before anyone else does! The newsletter is definitely the best way to stay up-to-date on all things Michael Kors. 3. Choose A Cheaper Seasonal Bag (You Could Dye It Later!) We've found one of the best Michael Kors shopping tips on Who What Wear. The Who What Wear website recommends choosing an unusual color when shopping for a designer handbag. It further notes that these seasonal colors often go on sale more often than neutral color bags. Plus, the website reveals that you can always opt to have your handbag dyed to a neutral color, such as black, at a handbag repair service for about $50 or less--cha-ching! 4. Shop On Amazon Believe it or not, you can actually find designer deals on Amazon. If you feel comfortable purchasing your Michael Kors bag from an alternative seller on Amazon then this hack is for you! Many of the bags are also available for Amazon Prime shipping so you don't have to wait what seems like forever for your latest purchase to arrive on your doorstep. Plus, you can score MK bags for a discounted cost! Let's be honest, what would we do without Amazon? 5. Remember Your Warranty One important tip to remember when shopping for your Michael Kors handbag is how you can protect it. Chances are, you'll feel less guilty about splurging on a bag when you know that you'll have protection in case something ever happens to it. The Michael Kors website further explains how you can get a free repair or replacement in case your bag breaks or is defective. "Subject to applicable conditions and exclusions, handbags, small leather goods and tech accessories are protected from the original date of purchase by a one-year limited warranty (proof of purchase required)," the website reads. For more shopping hacks and tips, make sure to check out four target shopping hacks that will save you tons of money, and beauty shopping hacks you need to know. [Photos: Shutterstock]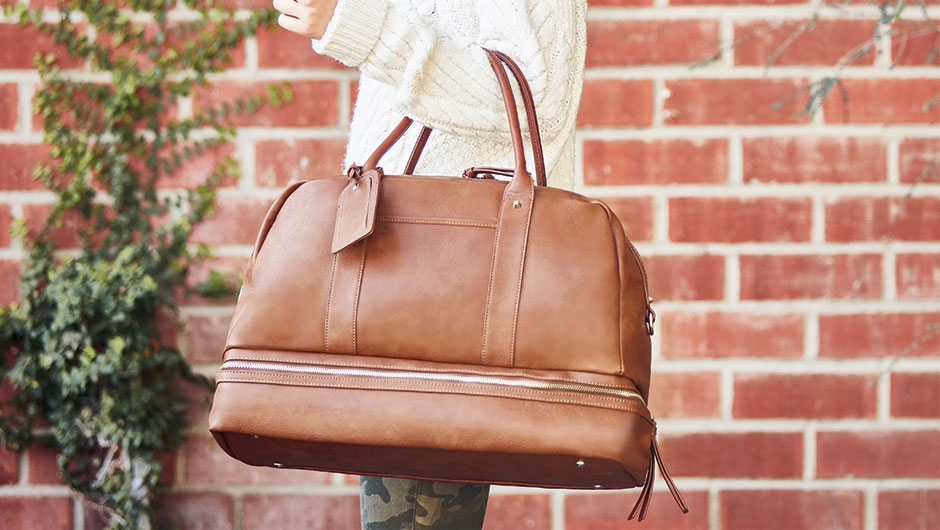 Going Away For A Long Weekend? You Need This Bag In Your Life
It's that time of year again. With the official start of fall just a few days away, the holiday travel season won't be far away. Rather than put unnecessary miles on wheeled luggage, here's a tip: invest in a gorgeous, durable weekender bag. Not only are these babies spacious enough to house 3 days worth of essentials, but they're easy to carry and look way better than a boring black rolling bag. Before you even think about using your oversized purse for your upcoming weekend getaway, don't. Please don't. Instead, treat yourself to a functional, fashionable travel bag from Sole Society. Yes, you read that right--Sole Society. They don't just make amazing shoes and boots, you know. Their bags are just as incredible and their weekenders are especially standout. First and foremost, they're perfectly sized for quick weekend trips. They're roomy enough to hold everything you'll need for a trip, but light enough to comfortably travel with it as the perfect carry-on. Even better, they're super high quality so they'll last you through many seasons of travel. The best part, though? These weekender bags are so affordable, so you won't have to break the bank on top of all those trips you have planned. Shop three of our favorite weekenders from Sole Society below: Sole Society Mason Vegan Travel Satchel ($79.95) Sole Society Lacie Vegan Weekender ($84.95) Sole Society Robin Vegan Color Block Weekender ($74.95) Sole Society Miah Structured Buckle Weekender ($79.95) SHOP MORE TRAVEL BAGS AT SOLE SOCIETY NOW [Photo: Sole Society] Return to fall footwear essentials guide >>
Psst! Here's Where To Get A Gorgeous Kate Spade Wallet For $39 Today
Attention, Kate Spade lovers! Kate Spade just unveiled a 25% off sale and this is your opportunity to get a gorgeous leather wallet for just $39. For real! The Eden Lane Stacy wallet is not only seriously gorgeous, but the color couldn't be more perfect for fall. Best of all, of course? It could be yours for less than $40! Eden Lane Stacy ($39, down from $148) Believe it or not, there are more amazing deals that you'll regret missing! From wristlets to clutches, add these steals to your cart while they're still in stock! Cameron Street Large Stacy ($39, down from $148) On Purpose Small Leather Wristlet ($38.25, down from $128) Confetti Dot Envelope iPhone 7 Wristlet ($45, down from $85) Cameron Street Tangier Floral Alfre ($44.25, down from $168) SHOP MORE KATE SPADE WALLETS NOW Be sure to check out this super flattering $27 tunic top and these amazing Sam Edelman rain boots. [Photo: Kate Spade]
Sale Items At Kate Spade Are An Additional 30% Off–Get A Leather Wallet For Just $30 Right Now!
Ladies, drop everything! With August coming to an end, now is the perfect time to step up your fall accessory game. Where to begin? Kate Spade, of course! They're having a huge sale right now; we're talking an additional 30% off sale items! There are tons of great deals (like handbags under $100!), but the one you shouldn't miss? All the crazy affordable wallets. This Cameron Street Tangier Floral Beca leather wallet is the perfect size to hold all of your important must-haves, but get this: it's only $30! Cameron Street Tangier Floral Beca ($30.80, down from $88) Believe it or not, there are tons of other super cute wallets in a variety of different prints, styles, and sizes--not to mention many other Kate Spade items--to stock up on. Make sure to snatch up these deals quick because we guarantee they won't last long! Hazel Court Darla ($43.40, down from $88) Cameron Street Jardin Adalyn ($43.40, down from $88) Cameron Street Adalyn ($43.40, down from $88) Cameron Street Confetti Dot Stacy ($49, down from $100) SHOP MORE KATE SPADE WALLETS NOW Be sure to check out these half-off Kate Spade purses and the new top Nordstrom shoppers are obsessed with. [Photo: Kate Spade]
Psst! Here's Where To Get A Gorgeous Leather Kate Spade Bag For Less Than $100
Attention bag lovers, everywhere! If you're looking to hit refresh on your fall purse game, Kate Spade has just done the best thing ever! They're having a super sale on some of their stylish purses--we're talking 50% off original prices. That means you can get steals like this Cameron Street Small Dody crossbody bag--which is a perfect pop of color to add to any outfit--for just $99, down from $198. (That's an $100 discount!) You seriously can't beat this sale, so don't wait to check out what's in stock because we guarantee that these bags will sell out fast. Hurry and get your perfect fall bag now! Cameron Street Small Dody  ($99, down from $198) Cameron Street Lane ($115, down from $228) Healy Lane Lilith ($119, down from $298) If you're getting a new bag, might as well get some pretty accessories to put inside of it, right? These wallets and card cases are all under $50. Add them to your cart, too! Cameron Street Tangier Floral Beca ($44, down from $88) Cameron Street Confetti Dot Card Holder ($35, down from $50) Cameron Street Card Holder ($35, down from $50) SHOP MORE KATE SPADE ON SALE NOW Be sure to check out the skinny jeans Nordstrom shoppers love and these wear anywhere ballet flats. [Photo: Kate Spade]
Treat Yourself To One Of These Gorgeous Suede Bags For Fall For Less Than $150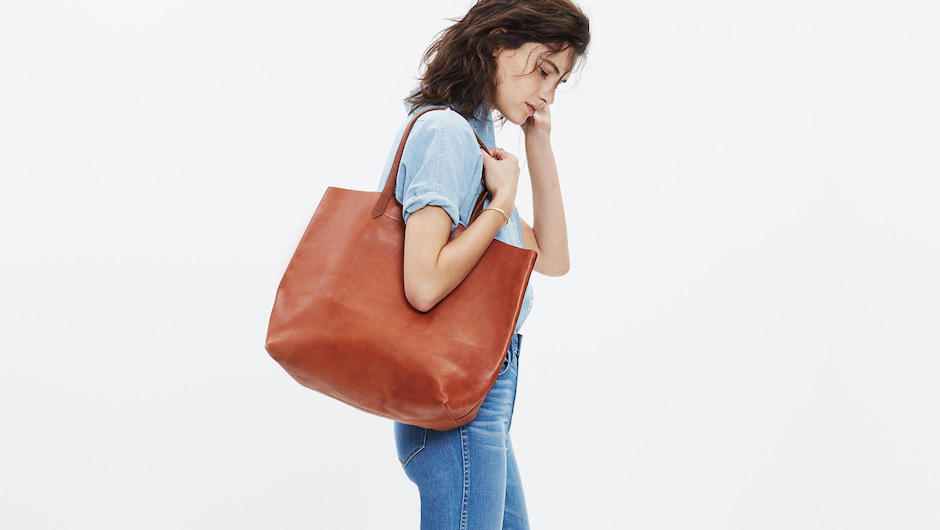 This Is The Best Everyday Leather Tote
I just got the best every day tote and I am so excited to tell you about it. The Madewell Transport Tote is a beloved cult favorite and after eyeing the bag for a long time, I finally splurged and bought one for myself. When it comes to the perfect tote, my checklist is fairly long. The bag needs to be sturdy and comfortably fit all of my every day necessities (including my laptop, which I lug almost everywhere). Obviously, it has to look good, too. To my surprise, the Madewell Transport Tote seriously has it all... and more! The leather is super high quality and it holds up extremely well. I can throw all of my must-haves in there with no problem at all fitting what I need to take along with me for a busy day. My favorite part is that even though I'm lugging around a super heavy bag, the strong, well-made handles take away from all the weight being on my shoulders and the bag looks so great with any outfit I have on. I bought mine in black, but the bonus is that there is a huge color selection to choose from, so no matter what your preference, there's a transport tote for you. Madewell Transport Tote ($168) Be sure to check out suede booties you need for fall and the perfect fall leggings at Nordstrom. [Photo: Nordstrom]
Put Your Straw Bags To Good Use With These Pretty Summer Outfit Ideas
All Of These Cute Leather Crossbody Bags Are Under $100 #BelieveIt
These Leather BAGGU Handbags Are Total Game-Changers
Most people know BAGGU for their incredibly versatile resuable nylon and mesh bags. Whether for groceries or laundry, these bags are the bomb! What most women don't know is that BAGGU also makes gorgeous leather bags, too. From spacious totes to trendy bucket and circle styles, we are seriously impressed. The leather is crazy soft and smooth and these bags hold up to everyday use better than bags twice their price. To prove how amazing BAGGU's leather options are, we had three SHEfinds editors put them to the test. Get the scoop below: The Working Mom: In my fantasy life, I can walk out the house carrying only a small crossbody bag that weighs no more than five pounds. My real life, though? I'm always lugging around a massive bag stocked to the brim with solutions for any and every unexpected emergency. Band-aids, snacks, water, toys... and that's just the stuff I need for my little one. Add to that my daily necessities and you can imagine why I can't get enough of BAGGU's Oversize Tote. Obviously it's incredibly spacious--I sometimes even use this as an overnight bag!--but what really impresses me is how high-quality the leather is. It is like butter, but doesn't feel so delicate that I worry I am going to ruin it every time I use it. People often mistake this bag for a crazy pricey designer purse, so it makes me giddy to see their reaction when I reveal it's actually BAGGU! The Recent College Grad: I recently graduated from college and moved to New York City. I love living here, but let's be honest: it's not cheap! So when selecting a bag from Baggu, it was important that it was super versatile. Between the limited space in my apartment and my limited budget, choose multi-purpose items is pretty must-have. I've been carrying the drawstring purse in caramel and I love it. This bag is the perfect size to store all my daily essentials (wallet, metro card, keys and sunglasses) when I'm headed to work, but it's also a great going-out option, too. Whether brunching with friends or hanging at a bar on a Saturday, this bag is spacious, but not heavy. Even better, the long crossbody straps means I always have use of both hands. Also, the color is perfect because it's neutral and goes with just about everything. So many reasons to love this bag, right?! The Commuter/Intern: As a fashion student and intern, I'm almost never in one place. I'm constantly running back and forth between class and my internship, which is why I love the BAGGU Basic Tote. The tote is deep so it fits my laptop, water bottle, notebooks and wallet--basically everything I'm always lugging around. I also love that the strap is sturdy. I can jam pack this bag and even when it's super heavy, it still sits comfortably on my shoulder. I use this bag for school and work, but it's also stylish enough to take out after a busy day to meet my friends for dinner and drinks. The leather is crazy soft and durable and no matter how much I stuff in it or toss it around in, it still looks great. This really is the perfect everyday bag. Be sure to check out our favorite gingham print shoes and pretty floral skirts. [Photo: Shelby Rodriguez]
These Gray Handbags Will Look Good With Literally Any Outfit
Prices Start At Just $25 At This Super Secret Kate Spade Sale
Need a Monday pick-me-up? Kate Spade's got you covered. Today only, tons of pink styles from the Cameron Street collection are on sale starting at just under $50. Just use the code PINKLIGHT at checkout and you could get a card case for only $25, a wallet for just $39 or a crossbody bag for less than $100. These styles are already selling fast, so treat yourself right away before everything is gone. Cameron Street Card Holder ($25, down from $50) Cameron Street Mellody ($39, down from $88) Cameron Street Adalyn ($39, down from $88) Cameron Street Stacy ($49, down from $110) Cameron Street Lacey ($79, down from $188) Cameron Street Sima ($99, down from $198) SHOP THE KATE SPADE SECRET SALE NOW Be sure to check out this super cheap summer tee and the best black leggings under $35!
Say Hello To Your New Everyday Bag–The Simple, Spacious Tote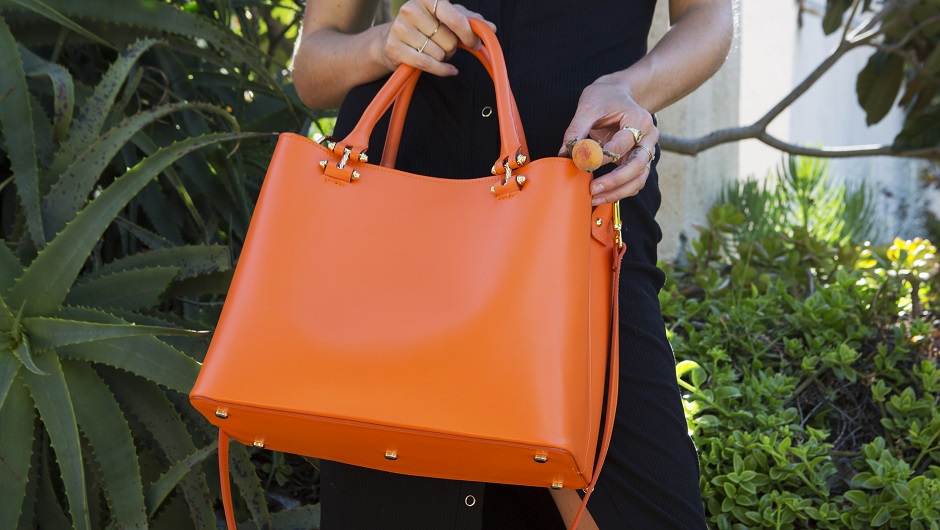 Walker + Olson Is Out To Make Luxury Leather Handbags Accessible To Every Woman–Here's How
I love a gorgeous designer handbag as much as the next person, but having to spend what equates to a month's rent on one? Not so much. So when I heard about Walker + Olson, a brand new handbag line committed to making luxury leather bags more accessible, I was immediately intrigued. Turns out the brand's founder, Kevin Walker, has deep roots in the fashion industry; he used to work at Calvin Klein. He saw firsthand the mark-up most brands charged when selling leather bags and decided it was time for change. With Walker + Olson, he's introducing a direct to consumer model that allows women like you and me to shop luxe Italian leather handbags for a fraction of what most designers charge. Pretty sweet, right?! Get to know Kevin and the story behind Walker + Olson below: SHEfinds: How is Walker + Olson is disrupting the luxury handbag industry? Kevin Walker: walker+olson is going to shake up and disrupt the handbag industry because we focus on top of line design and use old school Artisan craftsmanship in Italy to make sure quality is not compromised and with a new business model that allows us to eliminate all the middlemen in the supply chain and deliver our product direct-to-consumer at a fair price. We are using the old school design & quality methods while applying the latest software and technology to deliver an exceptional product to our customers. Let's be honest, walker+olson could could sell our handbags to all the luxury high-end department stores and charge $600 - $3,000 per bag but why? I want every woman to be able to afford a luxury handbag without the luxury price. A post shared by walker + olson (@walkerandolson) on Jun 20, 2017 at 10:01am PDT SF: What's your background? Have you alway been into handbags? KW: I went to school to study International Business & Economics with a minor in Japanese and received my MBA in Finance. I was fortunate enough to work oversees for a couple of years and traveled the world learning all the ins-and-outs of the leather operations business from logistics to customer service. Over the years I have always had a passion for the fashion industry, in particular handbags and shoes because of the design aspect and there is two things that make a woman's outfit, a great pair of shoes and beautiful handbag. I was fortunate enough to work for one of the most recognizable brands in the world Calvin Klein as their CFO & COO for one of their licensees. While there besides the operations side, I learned every aspect of the design process and this is when I saw the mark-ups that took place especially in the handbag segment. I learned quickly that these extreme mark-ups happen across all the luxury brands around the world. I knew I could come up with a business model that let's women have that same expensive handbag from the department store for much less. SF: How are you able to offer luxury bags at such a compelling price point? KW: We are able to offer high quality luxury handbags by first, cutting out all the layers of middlemen and selling direct-to-consumer. Second, with our software and logistical planning we are able to take another layer of cost out while being more efficient than all the well established luxury brands. By implementing these very important steps and leaving in the two most important qualities of a handbag, design and quality. Every women deserves a Luxury handbag without the Luxury price! SF: What challenges have you run into trying to launch Walker + Olson? KW: The biggest challenge was to find the right factory in Italy that understood my business model and what I wanted to accomplish. Italy is made up of many smaller family run factories but are use to the old way of producing for the department store business. After interviewing and meeting with almost 20 factory owners, I finally found the factory that understood my vision to deliver high quality handbags and deliver them directly to every customers front door. In this process I was extremely fortunate that their top Artisan turned out to be Paolo who came out of retirement to help train their up and coming Artisans. Paolo helped build one of the biggest brands in the world, Salvatore Ferragamo for more 20+ years. He is now in charge of walker+olson's quality process. A post shared by walker + olson (@walkerandolson) on Jun 11, 2017 at 3:36pm PDT SF: What's the one standout style women should be on the lookout for? KW: I think women are looking for that style from a brand that's unique, minimal and the feel of luxury at the same time. At walker+olson we design our handbags with unique high-end style hardware that is unique and adds that finishing touch to each handbag. We try to create our handbags with style and practicality in mind from our Savannah crossbody to our hobo bag, The "W". SF: Where do you see Walker + Olson in 5 years? KW: In 5 years I hope to grow the brand beyond the US and be known as the brand that continues to produces Luxury handbags without the Luxury price. A post shared by walker + olson (@walkerandolson) on Jun 1, 2017 at 1:01pm PDT SF: If you weren't running Walker + Olson what would you be doing? KW: This is one to ponder... If I weren't running walker+olson, I would probably be creating a similar company for women's high-end shoes without the high-en price tag. Be sure to check out . [Photo: Walker + Olson]
A Colorful Handbag Is An Absolute Summer Essential–Shop The Prettiest Of The Season Now
How To Disinfect Your Purse Without Ruining The Leather
There's something about buying a new leather handbag that makes it one of the most rewarding forms of retail therapy. The new and almost car-like smell, the rich and smooth texture, the firm shape, and the sturdy handles make leather bags of any size a coveted staple in every woman's (and man's) accessory closet. When you finally bite the bullet and splurge on such a bag, you NEED to know how to clean it properly to fully reap the bag's beauty for as long as possible. To avoid having a mini heart attack when your Louis Vuitton leather tote starts to get worn or scuffed, check out how to make it look brand spankin' new without ruining it. To start, take everything out of the bag. Now, take deep breaths, because you're going to have to put…dare we say it…water on your bag. Water and leather go together like Tom and Jerry, but don't freak out—warm water combined with hand soap or dish soap can do wonders for your leather bag. Put these two magic ingredients together in a bowl or in your sink. Use a soft cloth to gently rub this combination over the leather. Don't use too much water or else it could stain the handbag. Keep the cloth slightly damp, but not dripping. Some people have even attested to successfully DIPPING their entire handbag into the warm soap and water combo, but that seems way too anxiety-inducing. Pro tip: if your bag does happen to get water stains, like from rain, let it dry naturally. Don't use any heat, like a hairdryer, to speed up the process, according to The Leather Satchel Co. DO NOT use any at-home products, like vinegar or any intense cleaning products on your leather. These have chemicals that can damage your beloved bag, according to Cosmopolitan. If you need to get a stain out of your handbag, treat it ASAP. The longer you wait and the longer it sits there, the more likely it's a lost cause or you'll have to get it professionally taken care of. Different types of stains require different products to dispel the emergency at hand. For ink stains, use rubbing alcohol. But, test it out beforehand on a tiny, itty bitty, absolutely minuscule piece of the bag before working your way to to the actual stain to see how the leather reacts. For grease or oil stains, apparently there's no better remedy than corn starch, according to Our Everyday Life. Lather it right on the stain, let it sit for a few hours, and voilà—good as new. To seal in the fresh new clean on your bag, buy a leather conditioner and water protectant spray. You can find most for pretty reasonable prices, and you can use them on all your leather goods. Spraying your bag after cleaning it makes sure no pieces of dust or dirt can interfere with the beauty of the bag once it's sealed. However, sprays aren't permanent, and you still need to religiously clean your bag every few months. Try to keep it in its dust bag when you're not using it. [caption id="attachment_605200" align="aligncenter" width="300"] Nordstrom Leather Cleaner and Conditioner Spray ($12)[/caption] [Photos: Shutterstock]
The Unlikely Bag Trend All The Fashion Girls Are Wearing
The Coolest Way To Update Your Favorite Handbag For Spring? With A Colorful Guitar Strap
Step Your Beach Style Up With A Colorful Pom Pom Straw Tote
This Is The Best Kate Spade Surprise Sale Ever–Pretty Spring Handbags Are Just $59!
Good thing today is pay day because Kate Spade is having a surprise sale no one should miss. Whether you're a Kate Spade diehard or only buy the brand every now and then, you need to get over to this sale ASAP because the prices are unreal! There are loads of handbags under $100, jewelry starts at just $19 and small leather goods like wallets and passport holders are only $25! The catch? This epic sale ends tonight at 11:59pm, so you need to shop immediately. Go! the swing of things linear earrings ($29, down from $78) daycation bon shopper ($59, down from $148) grand street colorblock hayden crossbody ($89, down from $228) jones street reversible posey ($99, down from $298) raising the bar earrings ($19, down from $38) lily avenue smooth bennett ($109, down from $298) milton lane saffiano small lanie ($119, down from $328) daycation passport holder ($25, down from $58) tower court small daley ($109, down from $328) SHOP THE SURPRISE SALE NOW Be sure to check out our favorite flat slide sandals and pretty pastel dresses under $50. [Photo: Kate Spade]
We're So Into Laser Cut Handbags For Spring–Shop Our Faves Now
Beach Season Is Almost Here–Better Get Yourself A Cute, New Tote ASAP
The Cool Way To Wear Florals This Spring? On Your Handbag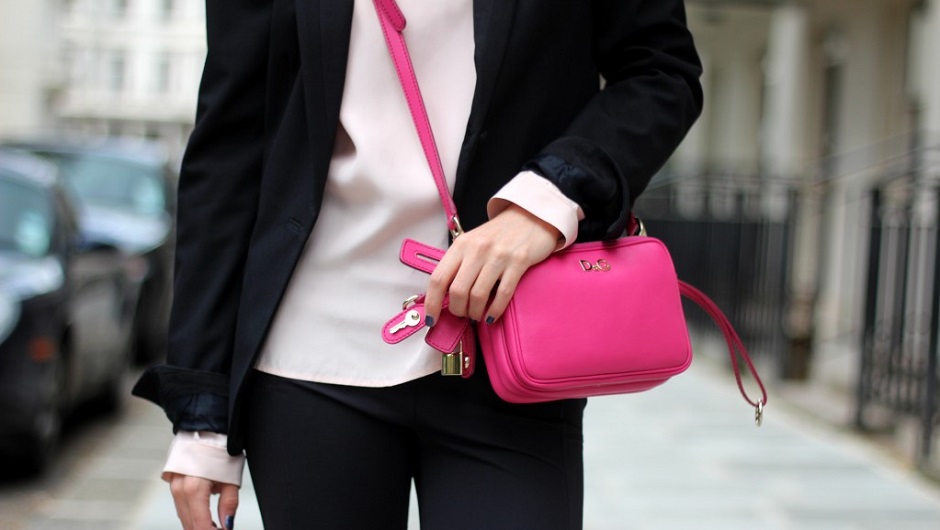 You've Been Warned: You Need A Cute Leather Camera Bag This Season
These Neutral Beige Handbags Will Look Good With Everything In Your Closet
Bucket Bags Are Still Happening–Buy One Of These Pretty Picks For Spring
Wallets Start At Just $25 At The Latest Kate Spade 75%-Off Surprise Sale–Don't Miss Out!
Pardon my forwardness, but you'd be insane to miss the latest Kate Spade surprise sale. Prices are up to 75% off, but what that really means is you could score a super cute Kate Spade wallet for just $25! For real! Prices on jewelry are even lower; think $19 for Kate Spade's signature whimsical studs. The sale ends on 2/11, but the best items are selling like crazy. Stop whatever you're doing and go treat yourself to something from this massive sale ASAP. You'll seriously regret missing out! mavis street serenade ($25, down from $68) bay street stacy ($49, down from $198) mikas pond stacy ($49, down from $100) mavis street medium davie ($25, down from $65) mavis street little shiloh ($22, down from $58) vanderbilt place mollie ($59, down from $129) cove street airel ($169, down fro $478) SHOP KATE SPADE'S SURPRISE SALE NOW Be sure to check out our favorite colorblock leggings and Rebecca Minkoff bags on sale. [Photo: Kate Spade]
Don't Miss This Secret Stash Of Crazy Cute Rebecca Minkoff Bags On Sale At Nordstrom
Been wanting to treat yourself to a new handbag for the new year? Get over to Nordstrom right now because they have a bunch of crazy cute Rebecca Minkoff bags on sale for up to 50% off. There's even a clutch on sale for just $56! Rebecca Minkoff Leo Velvet Envelope Clutch Rebecca Minkoff MAB Camera Bag Rebecca Minkoff Sofia Mini Leather Feed Bag Rebecca Minkoff Sofia Leather Clutch Rebecca Minkoff Mini Feed Bag Rebecca Minkoff MAB Camera Bag SHOP MORE HANDBAGS ON SALE AT NORDSTROM NOW [Photo: Nordstrom]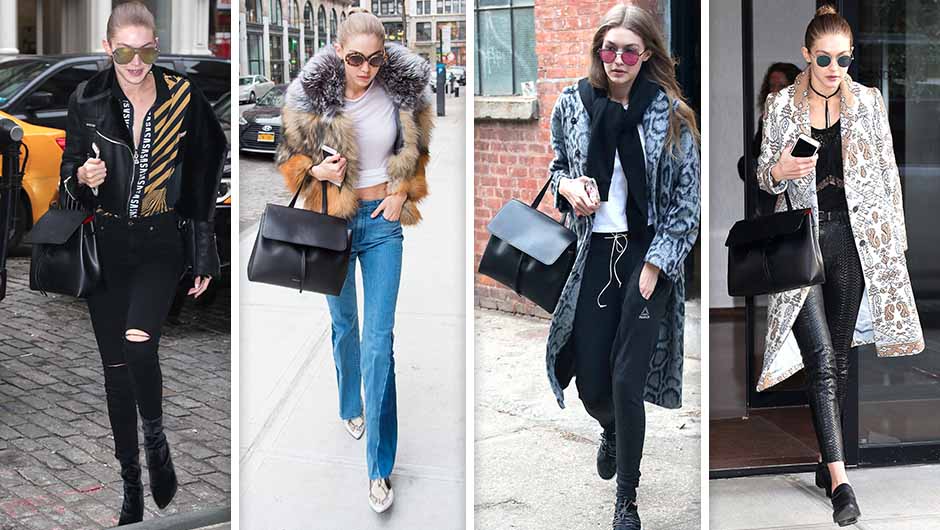 Gigi Hadid Is Kind Of Obsessed With This Black Bag
The Worst Things To Buy On Poshmark
Need A Gift That's Sure To Impress? Snag One Of These Super Cheap Michael Kors Wallets ASAP
Wallets are one of those things that many women don't really think to buy themselves. If you have a good one, chances are it probably doesn't cross your mind to buy a new wallet until you're in desperate need. So whether you're shopping for a relative or friend--or this post just reminded you that your wallet has seen better days--get to Michael Kors ASAP. Not only do they have some of the best wallets out there, but right now they're super cheap! I'm talking prices starting at just $34! Check out our faves below: Jet Set Travel Large Star Leather Phone Case Natalie Leather Wallet Jet Set Travel Studded Leather Coin Purse Jet Set Travel Perforated-Leather Continental Wallet Jet Set Travel Patent-Leather Card Holder Jet Set Travel Patent-Leather Smartphone Card Pouch Shop this perfect $44 sweater and super cheap Michael Kors watches. [Photo: Michael Kors]
Hurry! Kate Spade Bags Are Just $49 At The Latest 75% Off Surprise Sale
Whether you're staying in this Sunday or have brunch plans, there's one thing you need to make time for before the weekend end: Kate Spade's epic surprise sale! The sale just opened and the prices are insane. I'm talking handbags for under $50, wallets for just $39 and small pouches are only $25! My advice? Shop ASAP! These deals will not last long. Go! Kate Spade penn valley sophie ($49, down from $198) Kate Spade mavis street little shiloh ($25, down from $58) Kate Spade newbury lane plaid carsen ($59, down from $159) Kate Spade mikas pond stacy ($49, down from $100) Kate Spade bridge place small francisca ($89, down from $329) Kate Spade grey street mindy ($69, down from $178) SHOP KATE SPADE'S SURPRISE SALE NOW Be sure to check out $5 tops at H&M and Michael Kors boots on sale. [Photo: Kate Spade]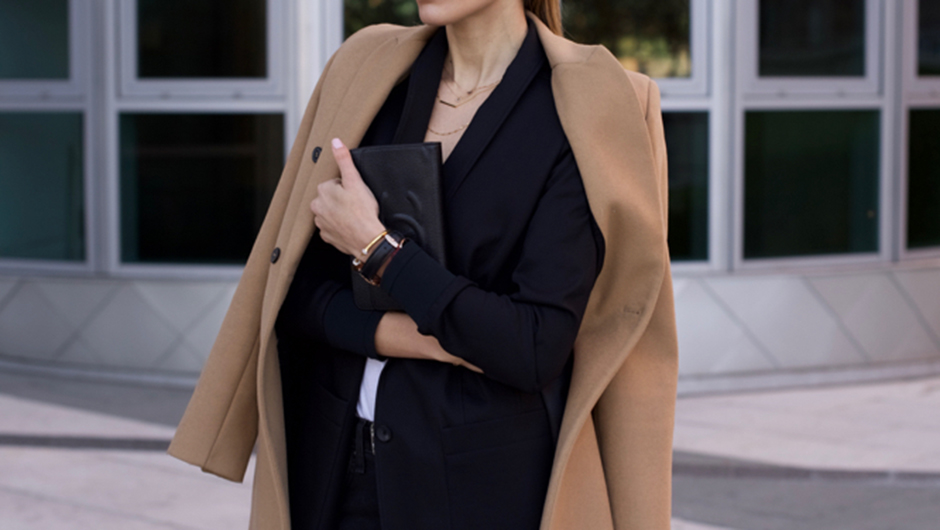 The One Color That Makes Your Outfit Look More Expensive (It's Not Black!)
7 Tips For Buying Pre-Owned Fashion Online, Plus $50 Toward Your Purchase At Vestiaire Collective
I'll admit it: I used to be one of those people who never purchased from luxury pre-owned sites because I was terrified I'd get scammed. Could there be anything worse than falling in love with a gorgeous designer handbag or pair of shoes only to receive them and find out they're fake? No matter the deal, I just couldn't bring myself to do it. But that didn't stop me from looking. And it wasn't long before I absolutely fell in love with a bag at a great price that I simply couldn't live without. Rather than just closing my eyes, clicking purchase and hoping for the best, I researched the heck out of the bag. I asked for additional pictures, receipts, anything I could think of that would prove to me this bag was the real deal. When I finally took the plunge and the bag arrived, I was hooked. I loved the thrill of getting a designer deal. Plus, I couldn't help but think that I did not want to miss out on more amazing designer pieces. Know what it feels like to want buy a luxury pre-owned item, but feeling unsure about it? We asked our friends over at Vestiaire Collective to share their best tips and tricks for purchasing from designer resale sites so you can shop with confidence. Read on for their expert advice. 1. Set yourself up for success. You likely know exactly what item you are on the prowl for, but just in case that item is rare or sells out fast, be sure to utilize the resources that websites offer, such as alerts. At Vestiaire Collective, you can set up alerts for certain styles and brands so when that item becomes available you are the first to be notified and can act fast! 2. Opt for investment pieces. While you may be lusting over the latest it-bag, it's also wise to think of your purchase as an investment. There are some brands and styles that not only maintain their value, but in some cases, appreciate over time. According to Jacquelyne Cortel, Authentication Lead at Vestiaire Collective US, the Chanel classic flap is one style that maintains its value very well because Chanel increases its prices every year. Other styles that have good resale value are the Louis Vuitton Speedy and Neverfull, as well at the Goyard St. Louis. 3. Have a good understanding of the retail price. No doubt, one of the biggest perks of buying pre-owned is that you get designer items at incredible prices. However, in order to identify a good deal, it's important to do research on what the full-priced item goes for. 4. Make sure items are authentic. There are a lot of resale sites out there, so be sure to choose one that has strict authentication standards. At Vestiaire Collective for example, every item is authenticated by a highly trained expert before it is sent to the buyer. According to Kate Foley, stylist and Vestiaire Collective fashion consultant, "What I love about Vestiaire Collective is that you can feel confident that your purchases are going to be genuine and never counterfeit as they have been checked incredibly thoroughly during the rigorous authentication and quality control system they have in place." 5. Have reasonable expectations. Yes, you may get a better deal than the price you are seeing in stores, but no, you will never find a Hermès Birkin for under $500 (and if you do find one, be cautious because it is likely fake). It's important to have reasonable expectations, otherwise you will waste your time searching for something that doesn't actually exist. Vestiaire Collective's new resale calculator can help you with this. All you do is enter in the item you are looking to either buy or sell into the calculator, and it instantly tells you the estimated resale price. No more guesswork! 6. Ask questions to the seller. You can never ask too many questions. If the pictures aren't clear, ask for more. If the seller says the item is in "fair condition," ask why. If you don't like the price, negotiate or make a lower offer. Not all sites offer this feature, but at Vestiaire Collective you can negotiate with the seller until you find a price that you both agree upon. 7. Buy from a reputable site. There are a lot of perks to purchasing from a site that has demonstrated reliability. For example, at Vestiaire Collective you can shop from their Ready to Ship section, which features items that have already been authenticated and are ready to be shipped out next business day. You can also feel safe buying from international buyers because every items is highly scrutinized before it gets to you. Feeling ready to take the plunge and score an amazing designer deal? Use code TIP50 at Vestiaire Collective and you'll receive $50 off plus FREE shipping on orders $250+ from now until 11/6/16. Hermes Kelly leather handbag ($10,431) Cartier Bracelet white gold bracelet ($5,799) Goyard Handbag ($1.086.11) CHANEL Timeless leather handbag ($4,128.48) Louis Vuitton Neverfull handbag ($995) Gucci Brown Leather Handbag ($2,205) Rolex Day-Date yellow gold watch ($20,500) CHANEL Boy leather handbag ($5.525) Hermes Birkin leather handbag ($10,328.40) SHOP MORE DESIGNER MUST-HAVES AT VESTIAIRE COLLECTIVE NOW [Photo: Vestiaire Collective]
Take 10% Off Iconic Designer Handbags From CHANEL, Gucci, Dior & More At Vestiaire Collective
There comes a point in a woman's life when she realizes it's probably a better idea to invest in handbags that will stand the test of time rather than throwing away $50 here and there on purses that need to be replaced after every season. I'll be the first to admit that I spent much of my twenties blowing cash on the cheap version of whatever handbag trend happened to be hot that month. Now that I'm in my thrities, however, I'm all about quality. Even if it means I have to save for a few months, I feel so much better knowing I'll actually be able to carry that timeless, high-quality handbag years from now. Delving into the world of designer handbags can be intimidating, which is why I decided to consult with my friends over at Vestiaire Collective. In my humble opinion, they're the premiere designer resale site right now. In addition to having an insane number of gorgeous bags, both vintage and new, they also have a wealth of designer knowledge. I recently asked them to share the most iconic designer handbags of all time and they obliged in a big way. Not only did they reveal the most cult bags by CHANEL, Givenchy, Gucci and more, but they also gave us an exclusive promo code! If one of the iconic bags below catches your eye (or any bag on the Vestiaire Collective, for that matter!), just use code ITBAG10 between now and October 2 at checkout and you'll receive 10% off your order over $300. You're welcome! HERMÈS Mini Kelly handbag ($8,362.50) CHANEL Boy velvet crossbody bag ($3,846.75) GUCCI Dionysus handbag  ($2,123.98) DIOR Lady Dior patent leather handbag ($3,456.50) CÉLINE Leather Handbag Luggage ($1,995.85) LOUIS VUITTON Alma patent leather bag ($1,728.25)   CHLOÉ Drew leather handbag ($1.034.32) GIVENCHY Antigona Handbag ($1,865) SHOP MORE HANDBAGS AT VESTIAIRE COLLECTIVE NOW [Photo: Vestiaire Collective]
Shop Olivia Palermo's Incredible Closet Now!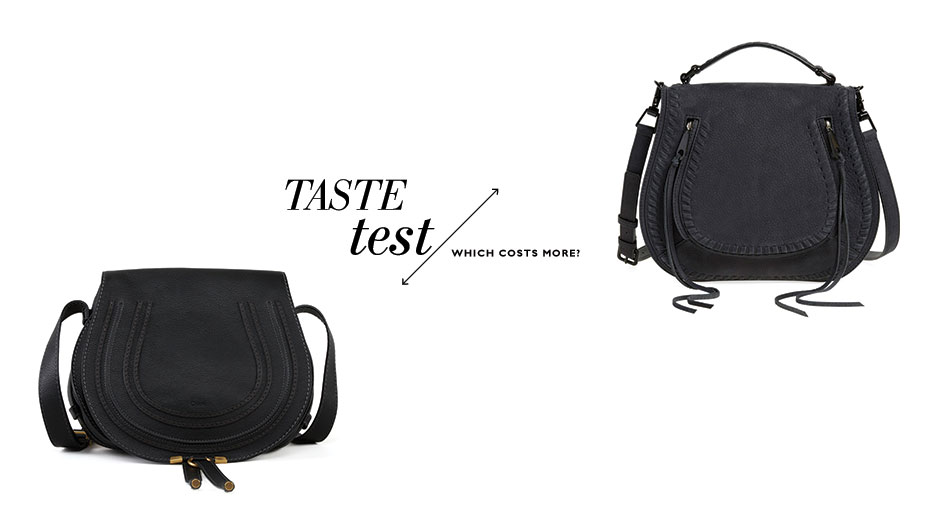 Can You Tell Which Saddle Bag Is Chloe And Costs $1,000 More?
It's that time again--time to play our Taste Test game! In today's edition, we're talking black saddle bags: can you tell which one is from Chloe and costs almost $1,000 more than the other (which is Rebecca Minkoff)? K, got your answer? Now click to find out if you were right: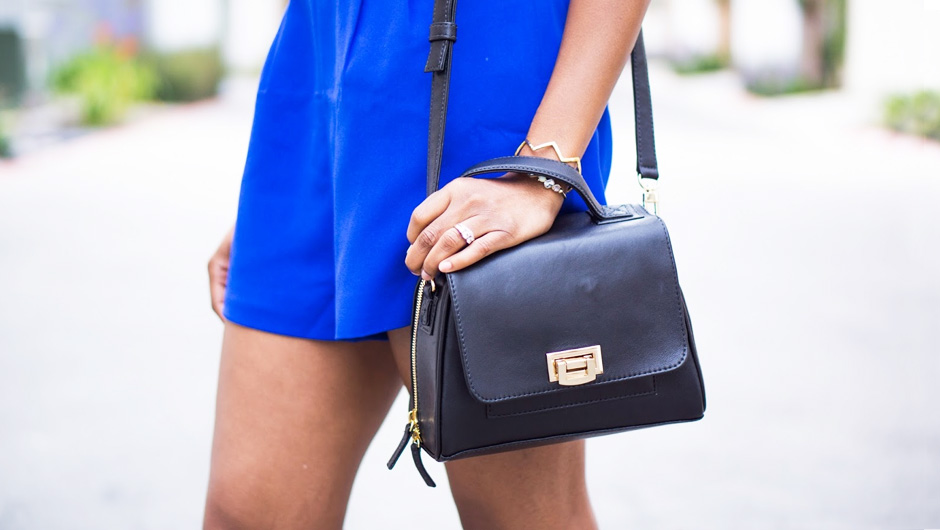 How Often Should You Clean The Handbag You Wear Every Day?
I'm not one of those girls that changes her purse every day--99% of the time I wear the same one. I like my go-to bag, it's the nicest designer bag I own and it's a neutral color that goes with everything and I think switching the contents of your purse every day is way too high maintenance. But if you're like me and wear the same bag over and over--does it mean you have to clean it more often (or in my case, at all?). How dirty is the handbag you carry everyday? Here's the answer: READ MORE: How To Prevent Denim From Staining Suede It turns out our handbags--from the handles to the inside contents and the bottom of the bag--are incredibly dirty and need to be cleaned regularly. According to a UK survey, one in five handbags revealed harmful levels of bacteria when tested. Yikes! In the survey, the handles had more bacteria on them than the average toilet bowl (OMG!), and the inside content like creams and makeup had more bacteria than the average toilet seat. The bottom of the bag showed the most disgusting results--because women often place them on bathroom floor. (A microbiologist confirmed the results of the survey to the Today show, stating "About a third of them have fecal bacteria on them." Oh. Em. Gee.) Genuine leather bags are even more at risk for bacteria because the leather is sponge-like when absorbing dirty and germs. READ MORE: How To Get An Ink Stain Out Of A Leather Purse So, what does this mean for us ladies? For one, you should never ever put your handbag on the bathroom floor, and for us city girls, on the subway ground. Use the coat or purse hooks in bars, restaurants, bathrooms, airports, etc., to hang your bag rather than placing it on germ-infested surfaces. For leather, plastic and other hard surfaces, you can actually use disinfectant wipes or hand sanitizer to wipe your bag clean. This should be done daily or weekly at the very least. For cloth bags, it's a little trickier--when possible, throw your cloth or linen totes in to the wash to get the germs out. For designer bags, the brand will often offer bag cleaning services for free or a small fee. It's definitely worth it to have your bag professionally cleaned at least once a year. READ MORE: The One Thing You Should Never Do When Cleaning Your Leather Handbag And this is also a good opportunity to remind you to wash your hands after using the bathroom--those mitts can get dirty and transfer germs to high-traffic places like your makeup, your iPhone, to the items you carry inside your purse. So, there you have it! The answer is that you should absolutely be cleaning your bag regularly! [Photo: Oh To Be A Muse]
6 Reasons You Need To Be Shopping Vestiaire Collective
CHANEL. Gucci. Chloe. Hermes. Feeling excited and intrigued just reading those names? Well allow us to introduce you to Vestiaire Collective, the cult site where you can get clothing, shoes, handbags and accessories from those designers... and more! Luxury pre-owned resale sites aren't a new concept, but Vestiaire Collective definitely perfected the model. Not only is everything on the site guaranteed authentic, but their sellers are all over the world. That means buyers like you and me have access to designer items that weren't even released in the U.S.! As if the thought of owning a limited-edition Hermes bag wasn't reason enough, here are 6 more reasons why you need to shop Vestiaire Collective ASAP: 1. Everything is authentic. Dropping a grand or two on a handbag is stressful enough without having to worry if you're being scammed. "We authenticate each and every product before it reaches the buyer," says Samina Virk, the U.S. country manager. Phew! 2. Access to luxury items from around the world. Gone are the days of complaining that all of the best designer items are only in Europe. "The U.S. site really is a treasure trove of one-of-a-kind items from some of the best closets in Europe," Virk says. 3. Option to make an offer. If the bargain hunter in you simply can't resist trying to get an even better deal, you'll appreciate the option to make an offer below the asking price for a piece you love. 4. Pay in installments. Need that Dior bag, but don't want to drain your bank account? Take advantage of Vestiaire Collective's awesome payment plan, which allows you to pay in monthly installments rather than all at once. 5. Shop hard-to-find brands. Celine? Hermes? It's not super easy to find these coveted brands online, but Vestiaire Collective has tons gorgeous items from these exclusive designers and loads more. 6. We have a coupon code! Use code 10SUMMER at checkout between now and August 18, 2016 and you'll save 10% on your order of $300 or more. Here are a few of Vestiaire Collective's bestsellers to snatch up with our exclusive coupon code: CELINE Trapeze leather handbag ($1,862.62) HERMÈS Kelly handbag in leather ($13,969.92) CHANEL Timeless leather handbag ($2,527.84) GUCCI Leather Shopping Bag ($498.92) DIOR Diorama leather handbag ($2,414.33) FENDI Leather Handbag ($1,331.14) SHOP VESTIAIRE COLLECTIVE WITH OUR EXCLUSIVE PROMO CODE NOW Note: Offer may not be combined with any other offers or promotions, is non-exchangeable and non-refundable. Offer valid within the U.S. only. [Photo: Vestiaire Collective]
Guitar Straps Are Officially The Coolest Way To Upgrade Your Bag For Fall
Music festival season may be coming to an end, but that doesn't mean we're not looking for ways to keep the carefree, cool-girl vibes going right into fall. (If we keep dressing like it's summer, summer can't technically be over, right?) One way we'll be easing the festival look into fall? Guitar strap handbags, courtesy of Rebecca Minkoff. The designer just debuted the coolest bag straps we've seen yet: edgy guitar straps that are designed to attach to any Rebecca Minkoff bag with the brand's signature dog clip hardware. (AKA, it's the easiest way to get a new bag for fall without, well, actually buying a whole new bag.) While we're obsessing over the boho, folksy vibes of the metallic embroidered option ($95), there are offerings for every style, including this inset chain strap ($95) that strikes the perfect balance between a classic chain strap and the on-trend guitar strap style. Rebecca Minkoff Metallic Embroidery Floral Guitar Strap ($95) Rebecca Minkoff Inset Chain Guitar Strap ($95) As if you needed more convincing, the trend was also spotted on the Valentino Resort 2016 runway, meaning it's definitely here to stay. Your signature wear-everywhere carryall is practically begging you for this update. Don't miss: 6 Memes That Accurately Describe How You're Feeling About The End Of Summer and How To Clean A Leather Jacket, According To An Italian Leathersmith [Photo: Rebecca Minkoff]
Kendall + Kylie Handbags Are Available For Pre-Order–Shop Now
Prepare To Be Shocked–We Found Designer Bags From Coach, Rebecca Minkoff & More For Up To 50% Off
Style Icon Robert Verdi Dishes On His New Handbag Line, Plus The Ultimate Summer Fashion 'Don't'
Do I even need to intro Robert Verdi. I don't know him, but given his infectious personality I totally feel like I know him. In my head, we're definitely best friends. If you're wondering where he's been lately, we've got the answer--launching an amazing new collection of gorgeous handbags! GREAT BAG CO. is his latest venture and we seriously can't get enough of the timeless, perfectly sized totes. Below, we chatted up Robert Verdi himself on what inspired him to delve into the world of handbags and the one item every woman should avoid in the summer. SHEfinds:  You're a fashion icon! What inspired your work with GREAT BAG CO.? Robert Verdi: I'm an art lover, a museum and gallery hopper. I get more inspiration from a photograph or a painting or a sculpture than I do from anywhere else because my creative mind has the freedom to flow. In working with so many different types of women, I realized there was a hole in the market for an art inspired utilitarian bag that could hold everything you need and always looked polished. SF: What makes the Great Bag Co. bags special? RV: GREAT BAG CO. is designed to be Brave and Playful - Colorful and Fun. Handbags are the punctuation to a women's look--it's the difference between a period and an exclamation mark... and I just love an exclamation mark! SF: What women did you have in mind when designing the bags? RV: Proclaimed the "IT" Bag by The New York Times and dubbed a "MUST-HAVE" by Oprah, the iconic GREAT BAG CO. tote is universal. It'; perfect for all women. It's perfectly perky for the girl on-the-go commuting to work. It's easy to manage for a fitness junkie. It's stylish and efficient for the student around campus. It even makes a sassy tote for the new mom. SF: What can readers expect next from you and GREAT BAG CO.? RV: We are so proud and excited to have just launched a brand new Limited Artist Edition Collection with four world-renowned artists in collaboration with AFRICA'SOUT! to raise money for LGBTI community and sex education in Africa. We also plan on launching a delicious juice program perfect for summering in the Hamptons. For the fall we are working on new customization programs and exciting new silhouettes. GREAT BAG CO. is available on-line at GreatBag.Co--and just recently launched at the legendary Isetan department store in Tokyo, Japan as well as Club 21 in Singapore. SF: Lastly, a little free fashion advice: biggest summer fashion no-no? RV: I've always hated capris pants! The only person they ever looked good on was Audrey Hepburn. They make tall girls with long legs look awkward and make short girls appear wider than they really are. SHOP GREAT BAG CO. NOW Be sure to check out how to make your manicure last longer and how to wear a denim skirt.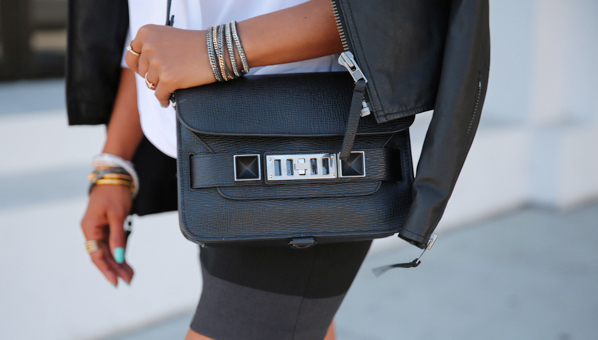 How An "It" Bag Is Made: From First Sketch To Street Style Gold
An "It" item comes in many forms--handbags, most commonly (Birkin, PS1), but also shoes (rag & bone Newbury, Isabel Marant Bekett), jewelry (Sydney Evan Love ring, Cartier nail bangle) and even clothing (J Brand Houlihan cargo skinnies, Phillip Lim Nueva York tee). We've all had a fascination with one, if not many, of these "It" items at some point. I can easily recall my own obsession with the Fendi Baguette, made famous by Carrie Bradshaw. Who could forget the scene in which SJP's character is robbed and the mugger demands that she hand over her bag. "It's a Baguette," she famously corrects him. Or in 2005 when Marc Jacobs debuted the Stam. Remember how nuts everyone went for that perfect bag, with its quilted body and chunky chain? It seemed like every girl on the streets of New York had one, especially my classmates at FIT. We were all obsessed. So how does an article of clothing or accessory earn its "It" status? Of all the collections issued each season (between New York, London Paris, Milan and beyond), and the fifty or so products within each line, how does an "It" item stand out from the rest and become the one thing that every girl around the world wants/needs/has to have? Is it a deliberate effort on behalf of the designers, like "We want this bag to sell," or is it more of a coincidence, like a celebrity posts a picture of themselves on Twitter wearing the item, causing it to go on back-order? Do the designers know from the initial sketch that they have created an "It" item, or do they have to wait to see how the public reacts to truly know? What about the role of celebrity gifting--how important is it for the item to be seen on a celeb? In an effort to better understand this phenomenon, we interviewed industry insiders, including top designers as well as those on the marketing/PR side who are responsible for promoting these "It" items and getting them in the hands of tastemakers. This is what we found: What's In A Name? There are many factors involved with the creation of an "It" item, starting with the name. Historically, if a piece is named after an "It" girl, it has a better chance of becoming an "It" item. Many brands have named or re-named products after stylish public figures such as socialites, models, actresses, etc., to achieve this. For Hermes, this meant re-naming a leather handbag that they had been making since the 1890s the "Kelly," after American-actress-turned-princess Grace Kelly used it to shield her pregnant belly from the paparazzi in 1956. Hermes had already been selling the bag under the name "Sac à dépêches" for many years by the time Grace Kelly wore it, but it wasn't truly popularized until after it took her name. As the "Kelly," it became their bestselling handbag, and still is to this day. Hermes followed the same thought process when naming their 1982 travel bag the "Birkin," after English actress and singer Jane Birkin, and many other designers have played the name game since. Marc Jacobs' Stam comes from supermodel Jessica Stam, Mulberry's Alexa and Cara bags are named after "It" girls Alexa Chung and Cara Delevingne, and Gucci's Bardot was named after French sex kitten Brigitte Bardot. When The Concept Comes First For some designers, the process of producing an "It" bag or shoe starts before anything is manufactured or even designed--it starts with the concept. In 2001, Jimmy Choo wanted their fledgling handbag collection to take off the way their shoes had (at the time, they were just making evening bags and selling about 600 units per year). Co-founder Tamara Mellon had witnessed how the Fendi Baguette, Prada Bowling Bag, Chloe Paddington and YSL Mombasa had taken off in the 90s, and she wanted the same success for a Jimmy Choo design. "Being known as an 'accessories brand' was far superior to being known as just a shoe company," Mellon wrote in her biography "In My Shoes." With the outright goal being to create an "It" bag, Mellon and her team hired an outside design consultant and held design meets to look at the prototypes as they came in from his studio in Italy. Keeping their eyes out for the next big thing, Mellon and her employees combed through the designs, finally landing on a favorite. Timing Is Everything Other brands, like Proenza Schouler, strike while the iron is hot. The design duo had just won the CFDA Womenswear Designer of the Year Award when they released their bestselling PS1 satchel in 2008. At the time, every department store was carrying their collection and every woman wanted something Proenza Schouler in her closet. They were at the top of the fashion world and the PS1 couldn't have come at a better time. And the public reception couldn't have been better. When the cobalt suede version first came out in 2012, it sold out within a week at Barney's. I remember going to Proenza sample sale that same year and almost everyone was there trying to get a PS1. Much to their (and my) dismay, there was not a single PS1 at the event. The Role Of Fashion Editors  When Celine's Luggage tote first launched, it was everywhere. It was featured on cult handbag blog Purse Blog, in VOGUE and ELLE, and in countless other fashion magazines worldwide. That doesn't happen by accident; this is where public relations comes in to play. Promoting a bag or shoe starts with getting it into the hands of the long-lead fashion editors, specifically the Senior Accessories Editors at places like VOGUE, Lucky, Glamour, ELLE, etc. Technically, these editors don't accept gifts (though that rule definitely gets broken), so publicists will have them come in to the designer's showroom to look at a collection--this is an Editor Preview. "If the editors like what they see, they'll ask to 'pull' (borrow) pieces from the collection to use in shoots for an upcoming issue. And when a bag or shoe is really strong, it's more than likely that more than one magazine will pull it to shoot," explains a PR executive we spoke to. And the buzz begins to brew. Celebs, Socialites & Beyond If a bag or shoe gets positive feedback from editors at the preview, publicists make sure that they pitch or gift that item to celebrities or other public figures who they want to be seen wearing it. They know that celebrities, in particular, have a lot of sway over what us regular people want to buy and that having their product worn by someone like Olivia Palermo or Kim Kardashian or Jennifer Aniston can make all the difference. A celebrity wearing your item can not only earn it "It" status, but can also drive sales in a major way. Such is the case for the Sydney Evan's "Love" ring.  According to the brand's designer and owner Rosanne Karmes, the ring had been around since 2008, "selling here and there," when Lauren Conrad infamously wore it in her Instagram post announcing her engagement to William Tell. Arguably, the "Love" ring upstaged her 2-carat diamond ring from Tell, and Conrad's posting caused the Sydney Evan website to crash. Soon, the ring was sold in out in many sizes and colors. "All of a sudden I started seeing the knock offs everywhere, including from very well-known designers that were much bigger than me," Karmes explains. For rag & bone, celebrities have played a major role in the success of their bestselling Newbury bootie. In fact, many celebs own more than one pair of the versatile shoe, such as Taylor Swift, Gwyneth Paltrow, Jessica Alba, Sienna Miller, Rachel Weisz, Cameron Diaz and Drew Barrymore. This is the ultimate stamp of approval for a product and a guarantee of "It" status. For Jimmy Choo, the process of pushing their Tulita bag as an "It" bag involved getting it in to the right hands. In 2003, Tamara Mellon hosted a lunch at the Plaza Athenee in New York, where she invited a small group of very-well connected women. "After dessert we gave each of these women 'the bag'." Mellon explained in her book. "It wouldn't be available in stores for another 5 months, but I wanted it to be seen and coveted, which it was. We developed long waiting lists for it." Which brings us to the concept of wait lists and their role in creating demand for "It" items. The Wait List Creating demand for an "It" item can be done in many ways, one of which is having a wait list. A bag or shoe on backorder or with a wait list can create the kind of fervor that takes an "It" item over the edge. Sometimes the wait list is legitimate, as was the case with the seasons-long one for the Chloe Paddington bag or more recently for Celine's furry Birkenstock-style sandals. Other times, not so much. Many brands have been accused of faking a wait list to create more hype (remember the Birkin waitlist sham?). Just don't count on any of them ever admitting to it--this is one of the fashion industry's best kept secrets. Style Bloggers: The New A-Listers One could argue that in 2014, the style blogger is the new A-lister when it comes to influencing "It" items. This was certainly the case for Tiffany & Co when they relaunched their Atlas Collection in 2013. Their goal was for the collection to become a status symbol among the younger, cooler set (sort of like what they had done with the Heart Tag collection for teenage girls in the late 90s/early 2000s). They wanted the Atlas collection to the be the next "It" arm candy, and so they went directly after the most influential style bloggers including Aimee Song of Song of Style, Chiara Ferragni of The Blonde Salad, Jessica Stein of Tuula, and others. The bloggers co-hosted an invitation-only launch event for the line in New York City and were gifted many pieces from the line. Bloggers are a great tool in driving sales, too. The reach is wide (Song of Style has more than 1.8 million fans on her Instagram account alone) and the sites feature direct links to buy just below the photos. Never before has a tastemaker had such a direct connection to selling merchandise, and brands have taken note. You will likely see more of this in the future. When the 'It' Bubble Bursts Of course, not every "It" item will have the long shelf life of a Birkin or a Chanel 2.55 or a rag & bone Newbury (it is still their bestselling boot five years after its debut). In a post for Man Repeller, Sophie Milrom writes, "I accepted that what goes up must come down—and what is an It Bag eventually was an It Bag." Certainly there are exceptions to the rule that what goes up must come down, and most brands probably wish they could take a little of that Birkin magic and bottle it up for themselves. The truth is, however, that fashion trends come and go and so does the public's obsession with certain products. It's happening right now to the Isabel Marant wedge sneaker and it happened to the Chloe Paddington bag. People eventually tire of things that are so overexposed. If you're wondering what happens to "It" shoes and bags when nobody wants them anymore, here's Sophie's theory. "Maybe like every other cultural phenomenon that can't be explained, they are big in Japan." [Photo: Viva Luxury]
Calling All Bag Ladies! You Need One Of Dagne Dover's Functional, Yet Stylish Totes In Your Life
The editors at SHEfinds wrote this blog post on behalf of Dagne Dover and received compensation as part of our participation. SHEfinds receives commissions for purchases made through the links Are you that girl commuting with three giant, overflowing bags knocking people around every morning? If so, step away from the daily juggling act and check out Dagne Dover's amazing tote bags! This brand has mastered the art of organization by strategically arranging pouches, straps, compartments,and pockets in just the right places--all while maintaining good looks and design. You'll never have to worry about your laptop or tablet getting beat up on the way to work--Dagne Dover's totes feature a padded laptop pocket. On your way to the gym? You'll take comfort in the fact that your water bottle isn't going to spill all over your valuables--Dagne Dover included a water bottle holder inside their bags. And for all you ladies who constantly find yourself asking, "Where are my keys?!" (me!), Dagne Dover built in a handy key strap. Believe it or not, there's more. While running around town on the weekend, you have to make sure you're prepared for anything so Dagne Dover bags also have compartments for your wallet, lipstick, notebook, and pens. Pretty comprehensive, right?! But here's where it gets good: Dagne Dover's handbags aren't just practical--they're insanely freaking gorgeous, too! Even if I were just carrying one thing, I'd totally rock one of these totes like any other "It" bag of the moment. Dagne Dover actually just introduced their newest collection of fashionable and functional totes: the Modern Mexicana. With colors and textures inspired by Mexican landscape and culture--think beautiful corals, dreamy blues, and classic neutrals--these bags will have you summer-ready in no time. SHOP DAGNE DOVER'S MODERN MEXICANA COLLECTION NOW