Why Wait Until Memorial Day? Isla Fisher Already Busted Out Her Summer Whites
She may play a small role in the bigger-than-life Great Gatsby, but that didn't stop Isla Fisher from making a splash in this Lover Broderie Skating Dress ($437). Sure, she broke the white before Memorial Day rule, but that darn thing was outdated anyway. Ready to start wearing summer whites, too? Whether you dare to wear white to a pre-summer kickoff or to a graduation this month, you should add Isla's summer dress to your shopping cart ASAP. Score it below. Lover Broderie Skating Dress ($437) [Photo: Splash News] Looking for more A-list style? Check out looks like Rihanna's Isabel Marant tank,  Jessica Alba's Matt Bernson sandals and Alessandra Ambrosio denim cutoffs.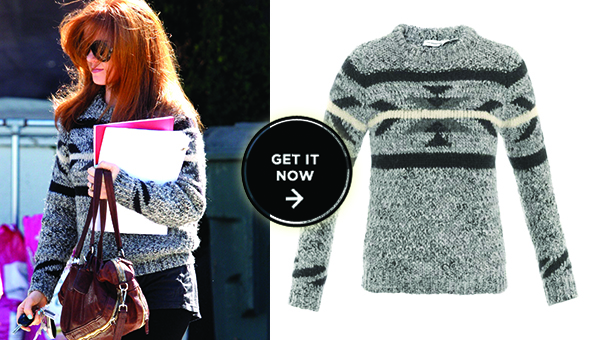 Another Celebrity In An Isabel Marant Love Affair: Isla 'Baron Cohen' Fisher
She may have procreated with one of Hollywood's most outlandish actors, Borat and Bruno alter-ego Sasha Baron Cohen, but Isla Fisher has a kooky side to her as well (see Bacherlorette and/or Wedding Crashers). Wouldn't you love to be a fly on the wall in that household? We'll have to put our plans for a double date on hold, and in the meantime just admire Isla's cozy fair isle sweater, courtesy of none other than designer of the moment Isabel Marant herself: Étoile Isabel Marant Ouda Wyoming Sweater ($400) Isla isn't the only celeb to flaunt her love of Isabel Marant. It seems the designer has been on everyone's radar lately from her sold-out wedge sneakers to Rihanna's jacket. Shop above! [Photo Credit: Splash News] Shop more celebrity style worth copying such as Rihanna's slick jeans, Pippa Middelton's necklace,  and Katy Perry's jacket.
Get The Look: Isla Fisher's Exact Leopard Print Jeans And Leather Jacket
Isla Fisher in her Current/Elliott stiletto jeans and All Saints leather jacket Isla Fisher was looking fierce in her Current/Elliott leopard print jeans ($199) with her All Saints leather jacket ($175, down from $250), and her exact pieces are still available. Click in for all the deets. (more…)