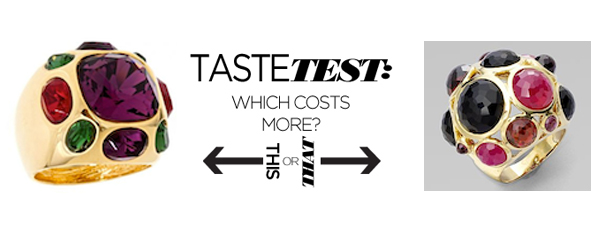 Can You Tell Which Jeweled Cocktail Ring Costs $3,000 More Than The Other?
(more…)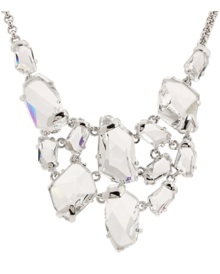 50% Off Kenneth Jay Lane Wedding Jewelry: Statement Necklaces, Drop Earrings, More
Lovers of costume jewelry know that Kenneth Jay Lane is king; his CZ jewelry is full of character. If you love his crystal-embellished bangles in everyday life, I highly recommend his faux diamond jewelry for your wedding day -- particularly his diamond drop earrings and Kate Middleton-inspired sapphire jewelry. We found said items for half off -- like this amazing Crystal Clear Statement Necklace, which is just $445.50, down from $810. (more…)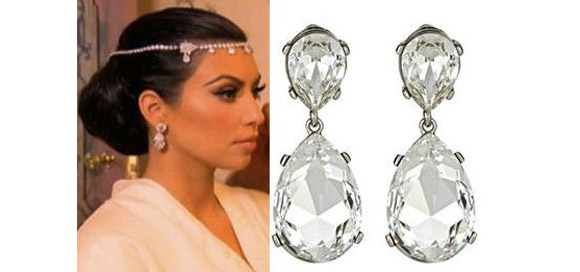 Kenneth Jay Lane's $132 Drop Earrings Look Exactly Like Kim Kardashian's $5 Million Pair
Kenneth Jay Lane, the celebrity replica king, has already mastered Kate Middleton's wedding jewelry, and now, unofficially, he's taken on Kim Kardashian, too with a pair of  Crystal Teardrop Earring ($132) that look exactly like her 28-carat, $5 million Lorraine Schwartz earrings. Though the pair existed long before Kim's big day, they do prove that you don't need a 8-figure wedding budget to look like a million bucks. Shop our guides to the best wedding costume jewelry, black bridesmaid dresses, and simple wedding dresses.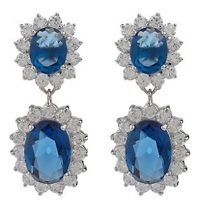 50% Off Kenneth Jay Lane Jewelry — Including Kate Middleton Replicas
It may surprise you that costume jewelry designer Kenneth Jay Lane has been designing pieces for the royal family for decades -- mostly because you'd assume they'de be dripping in real diamonds and gemstones. But indeed, he is "tight" with the royals, and so his KJL collection of royal wedding-inspired pieces -- including Kate Middleton's infamous drop earrings -- was a no brainer. Now, the piece are 50% off, including these KJL Princess Simulated Sapphire Drop Earrings ($49, down from $70). (more…)
Up To 50% Off Lee Angel, Kenneth Jay Lane & More Costume Jewelry At Thomas Laine's Summer Sale
If you're jewelry budget is non-existent, or you just love the look of costume jewelry, the Thomas Laine Summer Sale is going on now. Costume jewelry is hotter than ever - designer like Gerard Yosca, Kenneth Jay Lane and Lee Angel make this Editors' pick: This stunning pair of Gerard Yosca Antiqued Crystal Drop Earring ($36, down from $90). (more…)
Kate Middleton's Sold-Out Replica Earrings Are Back!
Fans of the royal wedding - or those of you who just creepily love Kate Middleton - rejoice: the replica's of her infamous drop earrings are back. The Kenneth Jay Lane's Royal Wedding Earrings ($39.62) were sold out for months, but now you can get your hands on the inexpensive pair. As a bonus, this look-alike pair by CZ by Kenneth Jay Lane is back at Nordstrom after selling out this Spring: So regal! CZ by Kenneth Jay Lane Pear Pavé Drop Earrings ($98). Royally obsessed? Shop replica's of Charlene Wittstock's crystal hairpiece and Pippa Middleton's bridesmaid dress. Then hit our guides to the best wedding jewelry.

Kenneth Jay Lane Debuts A Pair Of $39 Kate Middleton Replica Earrings – Get Them Now
Kenneth Jay Lane is no stranger to the royal family - he's been styling certain members for decades. So it naturally made sense for the costume jewelry designer to produce replicas of Kate Middleton's wedding day jewelry - especially those stunning diamond drop earrings Kate received as a gift from her parents. The Kenneth Jay Lane Princess Kate Earrings ($39) just hit -grab a pair before they're all gone. Check our guides to the best wedding costume jewelry, black bridesmaid dresses, and simple wedding dresses.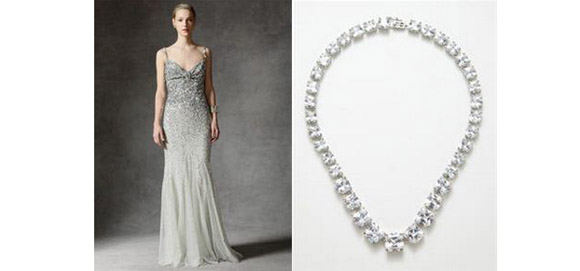 Exclusive: Preview Gilt's Wedding Shop Loot A Day Early (Vera Wang, Reem Acra, More)
Tomorrow, 4/14, Gilt's Wedding Shop will launch at 12pm, and like any Gilt sale, scoping the merchandise ahead of time is the key to scoring big. Luckily, the folks at Gilt were nice enough to share more than 25 product photos with us: like Vera Wang, Reem Acra, Alberta Ferretti and Temperley London gowns, to Judith Leiber clutches, Stuart Weitzman pumps, and Kenneth Jay Lane jewelry. One highlight? A $59,000 diamond necklace going for $19,000. Whoa, Gilt. Sale end 4/17, but we doubt the inventory will last that long: (more…)
QVC's Wedding Boutique Opened Today: Shop Kenneth Jay Lane Replica Jewelry, More
QVC launched a Wedding Boutique today, and while it won't become your go-to for gorgeous gowns and designer shoes, it is a good source for super cheap finds like Kate Middleton replica rings, mother of the bride shoes, and more. The site will also feature a Kenneth Jay Lane royal wedding jewelry replica collection, which hits on April 29th. Check out some of our picks from the boutique now: (more…)
Our Policy On Jewelry Is Like Amanda Seyfried's: The More, The Merrier
Amanda Seyfried was seen with stacked multiple chain necklaces to create a cool, chunky look. Pair this edgy trend with a basic top or dress and transition from day to night in no time. Try it at home for spring with some of these finds. (more…)
Happy Jewelry Monday: 50% Off Kara Ross, Kenneth Jay Lane, More
If you feel like you're in some sort of a mid-season fashion slump, the easiest way to pull yourself out of it - and update your wardrobe for less - is with costume jewelry. Luckily, Thomas Laine has our favorite jewelry designers - from Kara Ross (a Michelle Obama favorite), Alexis Bittar to Kenneth Jay Lane, and more - for up to 60% off: This bold Kenneth Jay Lane Polished Gold and Black Oval Necklace ($121, down from $242) is the perfect statement necklace - plus it goes with everything. Wear these Kara by Kara Ross Wave Gemstone Bangle ($206.50, down from $295) with pretty much everything. If your arms need some major warrior bling, this Gerard Yosca 8 Stone Geometric Cuff ($175, down from $250) is bad ass. More feminine, but equally eye-catching, these Erickson Beamon Chain Gang Earring ($285.60, down from $408) are perfect for trend-setting girly girls. More sales and deals: Neiman Marcus's Final Call sale (code WINTER) Cozy, On-Sale Sweaters at Saks 50% off shoes at Piperlime Vena Cava at Bloomingdale's 30% Off Madewell For more Michelle Obama approved fashion, check out our Deal of the Day posts and our guides to cardigans, cheap bras, sheath dresses and cocktail dresses. Follow the author of this post on Twitter @bridefinds.
Payday Promo: Enjoy Up To 70% Off Kenneth Jay Lane Jewelry At The Outnet
Spend your paycheck on some great jewelry by Kenneth Jay Lane that's up to 70% off at the Outnet--and it looks much more expensive than its price tag: It's all about statement necklaces this season, and this Kenneth Jay Lane Beaded Chain Link Necklace ($60, down from $200) definitely makes a statement. You should wear it with a simple blouse or basic tee when you need a pop of color. A cocktail ring like this Kenneth Jay Lane Gold-plated topaz ring ($30, down from $60) does wonders for any outfit. The gold color will look great with anything in your wardrobe. This Kenneth Jay Lane Multi-chain metal necklace ($32, down from $80) will work for your because it's the perfect balance of edgy. You can wear it to work and out for drinks without looking like a biker girl. This Kenneth Jay Lane Coiled wrap bracelet ($35, down from $100) is perfect if you're looking for something that makes a statement, but doesn't make a sound every time you move. Check out more sales and deals, see the best sellers on SHEfinds, and then head to our guides for the best cheap jewelry, the best clogs, the best Spanx swimwear, and the best flat sandals.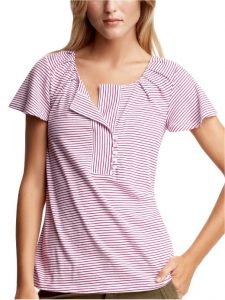 Deal Of The Day: Take 50% Off Tops From The Gap
Gap remains the perennial go-to for basic tees and blouses, which is why we're excited to see some of our favorite fall trends incorporated into the store's trusty tops. A fisherman striped top is always chic; for less of the gondola captain look, this blouse ($12.99 from $24.50) has flutter sleeves and some flirtatious cleavage. Wear this gorgeous deep green blouse ($24.90 from $49.50) with a pencil skirt to the office - we love the feminine sleeves and of course, the neckline pleating for drawing attention away from the tummy. The perfect top to accompany your favorite fall denim, we'd wear this slouchy top ($29.99 from $59.50) oversized, underneath a cozy blazer. Treat yourself to some new skirts and shoes to go with your discounted tops - check out our guides to the best in pleated skirts, oxford shoes, and boots. More Deals and Sales: Nordstrom: Up To 50% Off Skirts J.Crew: Up to 70% Off Blazers For Fall Martin + Osa: 25% Off Any Purchase of $100 or More
Really (REALLY) Strange Beauty: Change Your Face Shape, And Not With Rhinoplasty
This might be the most alternative trend we've ever come across. Kids in Tokyo are getting their faces (or other body parts, but the face is the most interesting, apparently) injected with saline solution in order to create crazy, artsy shapes. We have no idea where you get this procedure in the U.S., but we hope the answer is nowhere. If you've somehow engaged in this trend and now need to smooth back out, or merely want to keep your skin taut in the first place, we like DDF Doctor's Dermatologic Formula Advanced Firming Cream.  This is serious, scientific stuff that's a whole lot safer than Botox.