All I Want For Summer Is All Of This M Missoni Swimwear Goodness In My Closet Stat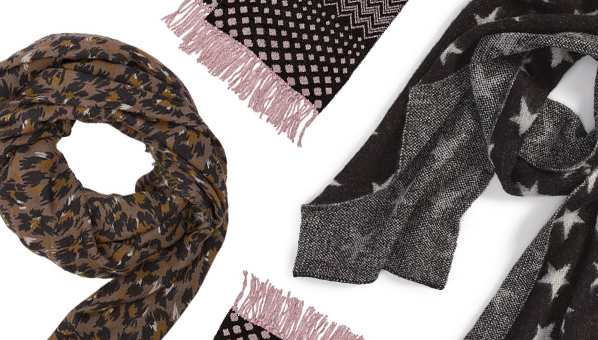 25 Designer Scarves on Sale: Missoni, Rag & Bone, Jil Sander, More
It's only the end of January, so it's still cold as hell—and it will be for the next couple of months. But by now, who wants to spend full price on cold weather accessories? At this point, you should be saving for spring, and spending only on things that are on sale, so if you still need (or want) a scarf, you shouldn't pay full price—but getting a designer scarf on sale that you can wear for the remainder of the winter and quite possibly next year is a whole other story. That's something you actually might want to seriously think about, especially since we happened to find 25 really good ones, with prices beginning at just $48 for a Maison Scotch scarf. And not to be a name dropper, but some of the other brands in the mix include Isabel Marant, Missoni, and Jil Sander...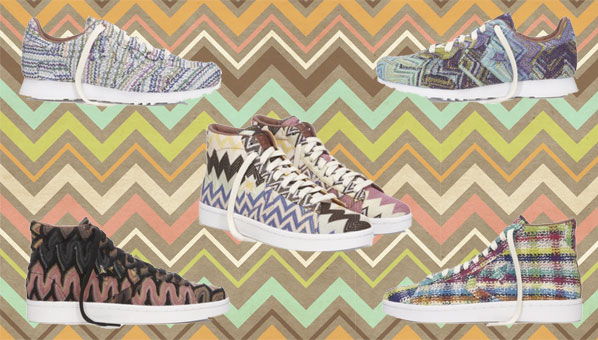 Missoni Teams Up With Converse For The Sixth Time: Shop The Collab Now!
Italian heritage brand MIssoni has really been upping its accessibility of late: first with last year's ridiculously perfect Missoni x Target collaboration that saw everything chevron-printed from wrap dresses to kitchenware, and this time with yet another release from the label's ongoing relationship from the sneaker purveyors at Converse. For their sixth (sixth!) collab, Converse and Missoni created a 20-piece range made of fabric from the Italian label's archives, which means -- you guessed it -- tons and tons of chevron! All 20 styles are either a traditional Auckland Racer or a high-top, and I don't mean to play favorites, but those sea-foam-green-and-cream high-tops are most certainly calling my name! Head over to Paris' Colette (don't worry, they ship worldwide) and browse the new offerings now. The only disappointing thing about the sixth go-around is that prices keep going up -- this time each pair is priced upwards of $400! We can't tell you to stock up thanks to Colette's one-pair-per-customer policy, but we do advise you get your hands on the pair ASAP! Looking for restock your shoe closet for fall? Check out our picks for the best equestrian style boots, get your hands on Pamela Love's first foray into footwear, or get moving with Hunter Boot's newest roll-up rainwear style.
The Second Havaianas x Missoni Collection Is Here: Pre-Order It Before It Sells Out
It hasn't even been a few hours since we found out that Monica Bellucci's Dolce & Gabbana lipsticks launched online early, and already we've spotted the landing of another much-anticipated collaboration collection. Missoni's second collaboration with Havaianas, Missoni ♥ Havaianas collection, which was not expected til June, is now available for pre-order at Nordstrom. SHOP the Missoni ♥ Havaianas collection here Available in two styles, navy and lime, the flip flops run for $70 a pair and, according to Nordstrom, will ship June 15. There are only some sizes left, so hurry up and reserve a pair before the collection even launches. If Havaianas X Missoni 1.0 and Missoni for Target taught us anything, it's that anything that Missoni puts its name on sells out within 24 hours. For more collaboration news, check out Trina Turk for Banana Republic (which will also launch early at Gilt tomorrow) and Anthropologie's June Made In Kind collaborations.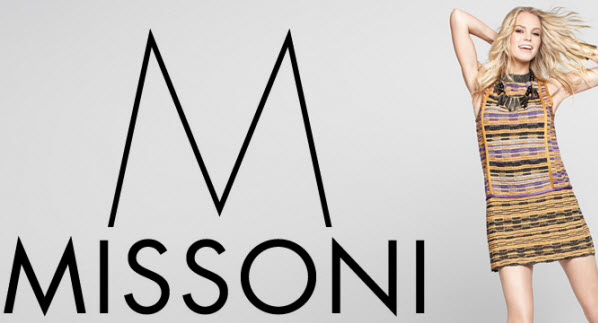 Summer-Ready M Missoni Is 60% Off At The Outnet!
M Missoni's signature zig zags are the official print of warm weather--light and airy and totally chic at the same time, you can mix and match them or wear them alone with your neutrals. SHOP THE M MISSONI SALE Check out this week's best sales and deals, online sample sales and even more adorable summer stuff, like summer hats, bikinis, and flat sandals.
Missoni's Newest Collaboration Launched Today! Shop Smoking Slippers For A Good Cause
Two weeks ago we went crazy over Missoni's FIFTH Converse collaboration. Imagine our surprise when we learned of another Missoni shoe collaboration launching today--so soon!  Muzungu Sisters, the ethical fashion label of Tatiana Santo Domingo and Dana Alikhani, CB Made In Italy shoe brand and Missoni have all teamed up together, along with Small Steps Project (an organization that helps children and communities living on rubbish dumps in Cambodia and Timor Leste) to make a three-piece capsule collection of loafers. Not only are these limited-edition shoes available in three of Missoni's signature patterns but they are also made from upcycled fabrics which would otherwise have been unused and discarded. With 10% of proceeds from each pair of $450 slip-ons bought going to Small Steps Project, who can blame us for wanting to be charitable? The Missoni x Muzungu Sisters x CB Made In Italy for Small Steps Project loafers will be available for purchase exclusively at Muzungu's Sisters website. And if Missoni for Target has taught us anything, get your hands on them fast before they are all gone. For more Missoni news read about Missoni for Target collaboration and shop 10 Eco Labels We Love  and our guide of Eco-Friendly Shoes.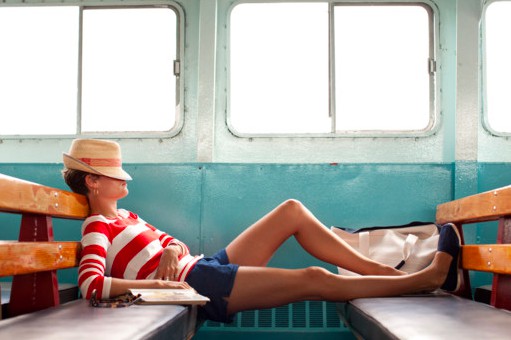 Missoni & Pucci Don't Want You To Lounge Around In Anything But Printed Espadrilles This Spring
There's a whole school of thought that says flats are spring's perfect shoe trend: they're comfortable and light, and make the perfect transition from winter's boots to summer's sandals. To which we say, "We're sick of ballet flats!" Don't fret, my foot-weary friend. Three of your favorite designers, DVF, Missoni & Pucci, agree that spring's biggest shoe trend will be printed espadrilles. Fun! (more…)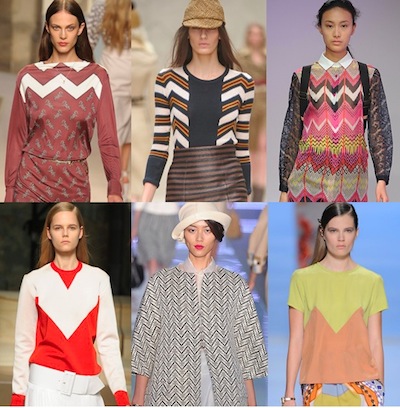 Move Over Straight Lines, Chevron Is The New Stripe for Spring
You can't knock a good solid stripe but this season, designers are showing some love to another classic design: Chevron. The Missoni style lines have been crafted into a flurry of colors and zig zag shapes and we for one, are loving it. Once the insignia of military uniforms and badges, the historical design is now updated for runway classics - cardigans, dresses, and blouses. Check out some of our fave picks below. Don't forget to check out some more of our favorite picks - everything from fall handbags, to leopard print shoes, to the best clogs.
Say What You Will About Ali Lohan's Weight, That Missoni Jumpsuit Is Pretty Sweet
Ali Lohan caused a bit of stir in Hawaii last week, where she was vacationing with sissy Lindsay, in a cut-out Missoni jumpsuit that proved the Ford model is taking her new gig seriously. Looking like a pin thin runway model, Ali was the subject of tabloid talk that she's now anno. Say what you will about her weight -- we're just loving her choice of swimwear. Get the look: MISSONI Daytona crochet-knit playsuit ($635) or one of these other zig-zag styles: (more…)
10 Real Missoni Flats From $98– Who Needs Target, Anyway?
This is big. For those of you who didn't get to grab a pair of Missoni for Target flats this week, these Missoni flats, from the regular designer collection, are on sale for even cheaper than Missoni for Target on eBay. (more…)
UPDATE: Missoni Crashed Target's Website. But We've Got A Secret Way To Get In…
Spread the word. Or don't---at least until you've clicked "purchase." Due to an extremely high volume of traffic (uh Target, was this somehow unprecedented?!), Target.com has crashed as of 8:00 this morning. We'll let you know as soon as we hear back from Target as to when the site will be back up and running, but in the meantime, we found a secret way to get onto the site... (more…)
Why It's Worth Camping Out For Missoni For Target Next Week
From left: the Missoni Doll and the light's reflection on the carpet BREAKING UPDATE. 9/13/11: Missoni for Target has launched, but the site is down. Here is the secret way to get Missoni for Target. Stuff you want sold out? Tons of Missoni for Target is already on eBay. Last night I stopped by Missoni for Target's private shopping event in Bryant Park---and it was an absolute madhouse. (more…)
BREAKING: See The Entire Missoni For Target Lookbook Here (Missoni Martini Shaker Included)
The infamous bike from the Missoni for Target collection BREAKING UPDATE. 9/13/11: Missoni for Target has launched, but the site is down. Here is the secret way to get Missoni for Target. Stuff you want sold out? Tons of Missoni for Target is already on eBay. After months and months of hearing about the Missoni for Target collection, seeing leaked snapshots of the line, and heavy contemplation of buying full-price Missoni in the interim, the entire collection of Missoni for Target lookbook photos are finally here. So start making your wishlists ladies, because September 13th is bound to be perhaps the most frenzied day in Target history. (more…)
Bridesmaid Gift Idea: The $29 Missoni Horoscope Tote In Her Sign
If you can't tell from our hysteria over Missoni for Target home, we're big fans of the brand. Now on Shopbop, there is an M Missoni horoscope tote ($29) selling for so cheap we want to buy one for everyone in our phone book. No, but, seriously, this is a genius bridesmaid gift idea: get her a "designer" bag, in her sign, and stuff it bridal party gifts like flip flops and mascara. She'll use it on the big day and long after. (more…)
July. Love, SHEfinds
Before you nosh at all those Fourth of July cook-outs, get yourself acquainted with this month's happenings. July 1: Princess Diana would be turning 50 today...we think she'd be pretty proud of Kate Middleton. July 2: It doesn't seem possible, but Ashley Tisdale is turning 26! July 4: Baby, you're a firework! Celebrate the 4th of July by looking extra-patriotic: we show you the right way...and the wrong way. July 5: Mac OS X Lion is set to be released later this month...better wear some animal prints. July 6: What do George W. Bush and the Dalai Lama have in common? Their birthdays! Celebrate with cowboy boots and yoga pants. (more…)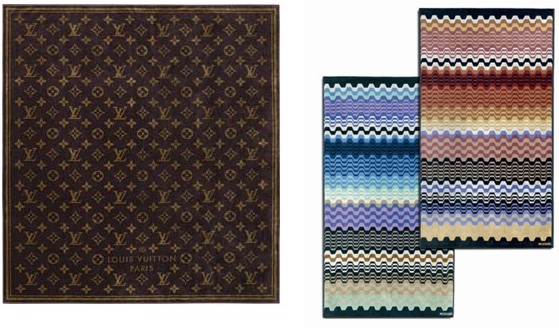 Designer Beach Towels You Can Afford (And Others That Shouldn't Leave Resort Collection Runways)
From left: Louis Vuitton and Missoni Towels While some designer beach towels, like the $1,690 Louis Vuitton Large Beach Throw (left) and the $215 Missoni Home Lara Beach Towel, may only be fit for P.Diddy's yacht in St. Tropez, it is possible to post up poolside while still feeling like a celebrity. And you don't even have to wait for Missoni for Target's line to get your hands on some designer beachwear that will still make you feel like you're sunning in Capri (when you're really just sneaking into your neighbor's country club). Check out all of our favorite under-$100 designer beach towels below: (more…)
Week In Review: Missoni For Target Photos Leaked, Net-A-Porter's End Of Season Sale, 5 Flat Sandals Under $50, More
Must-Reads: Photos from the hush-hush Missoni for Target Collection were leaked on Tuesday. Sorry we're not sorry, Target. We finally got our hands on photos of Mary Kate and Ashley Olsen's collection of The Row Handbags. It's safe to say that we're obsessed with what the Olsen's have described as an "Anti-It" line. Has your pedicure seen better days? Fear not, there's a pair of closed-toed shoes that can help...and we're not talking about the ballet flat. Try a pair of oxfords like these Steve Madden Trouser Oxfords for an edgier (and more comfortable) look. Is this Jeremy Scott leather biker backpack a case of a designer on crack, or is it a genius grunge-chic accessory? You're barefoot most of the summer, so why spend a small fortune on sandals? Take a look at these 5 Flat Sandals Under $50. Celebrity Style: Alexa Chung (and a whole host of other celebrities) love their Topshop Jamie Jeans. Priced at just $80, these babies are a steal. Nicole Richie loves to wear items from her Winter Kate line. But we can't help but think she loves these black and white floral Winter Kate blouses the most. The Alexander Wang Marti Backpack (now on sale) is a throwback to the mini backpacks of the 90s, except it's seriously chic and Kate Bosworth-approved. Sales and Deals: Ready, set, shop (!) at Piperlime's Final Sale. 4 Bangles for $51: These Gerard Yosca Riviera Bangles make accessorizing in a pinch, a cinch! Net-A-Porter is having a sale. Yes, this is our personal version of heaven. These 10 coveted designer bags are less than $500. But really, we're not kidding. Taste Tests: Can you tell which eyelet top costs $165 more than the other? Can you tell which colorblock platforms cost $537 more than the others? Guides to Check Out: Get ready for summer with our guides to the best swimsuits for your shape, swim cover ups, and summer fashion. Stay up to date with our calendar of online sample sales. Join our e-mail list for exclusive updates.
The Top 10 Designer Handbags On Sale Right Now (All For Less Than $500. Honestly.)
From left: Alexander Wang Box Bag ($397.50, down from $795) and Michael Kors Leather Shoulder Bag ($447.50, down from $895) While I consider myself a woman of many purses (most of them vintage), I do think there's something to say about owning an iconic designer purse that will remain a classic for years to come. While buying one full price would require me to skip out on my gym membership, cappuccinos, and happy hours (and maybe even rent, depending on the designer), buying one on sale would yields more euphoria and far less social or fiscal debt. With a little extra research, I found 10 amazing designer handbags---from the likes of Alexander Wang (pictured), Michael Kors (pictured), Chloé, Alexander McQueen, and M Missoni and more---all on sale for less than $500. See my top picks below: (more…)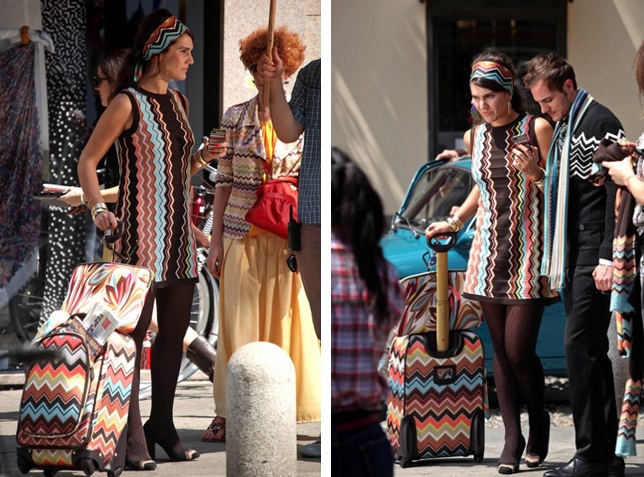 CONFIRMED: Missoni For Target Photos Have Been Leaked
Behind-the-scenes photos from the Missoni for Target campaign BREAKING UPDATE. 9/13/11: Missoni for Target has launched, but the site is down. Here is the secret way to get Missoni for Target. Stuff you want sold out? Tons of Missoni for Target is already on eBay. Missoni's much-anticipated collection for Target has been our minds since we first heard about it earlier this month---but until now, the collection has been kept so under wraps, that even the few of us who got to preview it were sworn against documenting it in any way. Luckily, we can confirm that the above photos indeed feature products from the line, which will be available in Target stores from September 13th to October 22nd. Additionally, WWD confirmed that Margherita Missoni will star in the print ads, as well as a 60's-themed TV commercial (ahem, see above). But while we're psyched to see images of that adorable shift dress, laptop case, and suitcase adorned by Missoni's iconic print, we're still jonesing for a look at the Missoni x Target bicycle. For more news on Missoni for Target and other Target collaborations, be sure to sign up for our newsletter.
In Anticipation Of The Missoni X Target Bicycle, We Present You With The 5 Most Exorbitant Designer Bikes
The $12,695 Chanel Sport Bicycle While the Urban Outfitters custom Bike Shop may appeal to fashion-savvy Bushwick hipsters, various couture designers' bikes (like the nearly $13k Chanel, above) are marketed towards more of a Hamptons-dwelling clientele. Somewhere in between the two (the West Village?), though, falls the Missoni for Target bike, which we've been declined access to any images of until the complete Missoni X Target line launches in September. We do know, however, that it will retail for a comparatively modest $399.99. In the meantime, check out our roundup of 5 ridiculously cute (and ridiculously priced designer bikes) below: Like this? Be sure to read all about the Missoni for Target Collection, kate spade, and how to look cute while riding a bike.
Your Registry Just Got Zig-Zag-Ier; Missoni For Target Hits In September & Includes Homewares
We're just barely over the excitement for Calypso for Target, and now comes news of another designer home collaboration for fall: Missoni for Target. The line hits September 13 and will include 400 pieces, making it the store's biggest capsule collection yet. (more…)
Thursday's Sample Sale Scoop: Missoni, French Connection, Splendid, More
Editor's Pick: Missoni at Rue La La Gilt Groupe: Dolce & Gabbana Apparel and Accessories, Splendid, Ali Ro, Candela, Splendid, TanTowel, Herban Essentials, Sprayology Rue La La: M Missoni, Missoni, Cuisinart, Horny Toad ideeli: Cole Haan sunglasses, French Connection, Tadashi, Jared Lang, Kenneth Cole, Kenneth Cole Reaction, Carlos Falchi, French Connection Modnique: Michael Kors sunglasses, Allen Allen, Ed Hardy bags, Joshua & Sons Watches Hautelook: The Beach is Back From Lucky Mag, Pixi, Elite Designs, Creative Recreation, Zak Designs, Nation LTD, Costa Blanca, Urban Behavior Ivory Trunk: Jewelry Blowout Beyond The Rack: Body + Soul, Murval, Sergio Zelcer, Guess sunglasses, Bare Elegance, My Jewelry Box, The Sak, Uttnam London, Premium Watch Event Billion Dollar Babes: HydroPeptide, Heys USA Luggage RowNine: Fendi Sunglasses, Heys USA Exotic The Sample Sale: Eco Skin Editor's Closet: Officina Del Tempo  Guiltless Purse: Take up to 70% off Tylie Malibu, Lauren Merkin, Marcio Furla, Kooba, Hayden Harnett, Isabella Fiore, Cole Haan, More OohILove: Take up to 90% off Louis Vuitton, Chanel, Christian Louboutin, Marc by Marc Jacobs, More Never miss a sale with our calendar of online sample sales. Shop our guides to the best cocktail dresses and the best celebrity dresses. Subscribe to SheFinds for fashion updates in your e-mail.
What We've Learned From Kate Hudson About Looking Better At The Beach
Kate Hudson was photographed on the set of Something Borrowed in the Hamptons wearing this tres chic beach outfit. From the flattering cover-up, to the big smile and boozy accessory, she looks confident and care free. So get over that bikini-related phobia, and follow Hudson's easy steps to looking better at the beach. 1. White Cover-Ups Make You Look More Tan, and Thus More Thin Even the fairest ladies on the beach know that a great white cover-up or white tee makes you look more tan. We also love the plunge neckline of Hudson's Missoni dress - choosing a flattering cover-up style for your body type is key. The waistline drawstring, plunge neckline and short sleeves of this sexy Milly Ava Voile Tunic ($210) are just like Hudson's, aka super flattering, and puts terry cloth beach covers to shame. 2. Tame Unruly Beach Hair - And Avoid Sea-Salt Dread Locks - With a Silk Head Scarf If you think wind and salt and sun equal bad hair day, you are wrong. It's simply an opportunity to accessories with super cute hats, scarves and high ponytails. Avoid beach-hair, and look put-together even on the windiest of days, with a bold, geometric silk scarf like Hudson's character did - like this Emilio Pucci Leite silk scarf ($156, down from $260). 3. Rock Oversize Sunglasses That Make You Look Like a Movie Star This one is self-explanatory - but dramatic, dark sunglasses are an easy way to make the beach look chic. And why not snag a designer pair marked 65% off like these Emilio Pucci Gene round-framed sunglasses ($122.50, down from $350)? 4. Accessorize with Sports Equipment Get off the beach towel and grab whatever paddle, racquetball or Nerf ball is closest and actually enjoy the day. Don't worry, you will still be catching rays - and getting major points with the dudes nearby. Be popular on the beach by bring a badminton set along, like this Halex Backyard Badminton Game ($9.99). 4. If all Else Fails, Get Some Liquid Courage Okay - we're only half kidding here. Check out more of our summer style tips - like the best rompers, cheap swimwear, SPANX swimwear and summer dresses.
The Tyra Take-Over Extends To The Web With Her New (And A Teensy Bit Frightening) Site
I guess it was silly of us to have thought that after catapulting herself to mega-stardom via magazines, television, movies, and music that Tyra Banks would have stopped there. With the launch of her new web site, which she has coined a "magaline" (online magazine, if you're not down with Tyra terminology) it seems that this lady has her eyes set on world domination, and frankly, if anyone could do it, it might be Tyra. Tyra: Beauty Inside Out, which launched yesterday late afternoon, is mostly photos of the America's Next Top Model host showing off her hot bod and wild wigs, with some articles about how to be fierce, the hardship of growing up tall (we feel so bad for you, Tyra), and other useful Tyra-musings. Hands down, our favorite part of the site has to be Tyra's Manifesto, in which the former model invites us to vow along with her to seek beauty in everything, know what colors work, and practice the art of "smize" ("smize" = smile with your eyes). We may not turn to Tyra's words of wisdom in times of trouble (as she seems to imagine so many will) but we've got to give her credit – she still looks great and by the looks of her site, certainly knows how to market it. For more of our favorite celebrity made-up words, be sure to check out our Rachel Zoe coverage.  And if you're merely looking to get a fierce new look, peruse our guides to some flattering black jeans and new fall leggings.
Top Five: Leggings That Want To Be The New Pant
Okay, we know everyone is sick of seeing LiLo incessantly photographed in a ratty band t-shirt (style copped from Sam Ronson) and plain black exercise leggings (style copped from 2006.)  However, that doesn't mean leggings themselves are a bad thing; they just need to be taken up a notch. Luckily, designers have responded to the need with an inspired bunch of new, more creative leggings ranging from denim to leather to liquid, because sometimes skinny jeans just aren't skinny enough. 1. They look like a pair of jeans...but they sure don't feel like them.  These Vince denim leggings in a dark wash are both stylish and maybe too easy to throw on every single day ($185). 2. Jodphur leggings, like these from Rag & Bone ($230) are definitely a statement item, but one that's easy to wear. 3. We certainly love the idea of leather leggings, but without a cool eight hundred bucks to drop on them, we're more than happy to settle with this faux-leather pair from Juicy Couture ($78). 4. Subtly snakeskin-printed black leggings suddenly seem to be everywhere. We like this pair from Urban Outfitters, which also zips at the ankle ($38 from $58). 5. For those not quite ready to go the distance required by jodphurs and snake prints, ease into the trend with a pair of actual (as opposed to lookalike) denim leggings like these from J Brand ($187). Lest you think we forgot the fast-rising trend that is liquid leggings, fear not.  We know all about those. And if you remain a steadfast jeans girl, we have plenty of options for you to choose from to pair with a classic tee.