Bella Hadid Falls On The Michael Kors Runway In Sky-High Heels
Today, Bella Hadid proved she is just like you and me. The model had some trouble walking in the sky-high heels and took a tumble at the Michael Kors spring 2017 show. Girl, word, totally been there before too (minus the whole supermodel runway thing). Before the fall, Bella was killing it. Look at that flow, that stare! https://www.instagram.com/p/BKWKSBTgZ_w/?taken-by=bellahadid Then, disaster struck: https://www.instagram.com/p/BKV7Zr2DkcG/ https://www.instagram.com/p/BKWKc3gjV37/ Bella was smiling through the whole ordeal, but some people in the audience had a different reaction... https://www.instagram.com/p/BKWJU7lg7pg/ The model recovered with a smile and finished walking. Hey, it's not like this is the first time a model fell at fashion week, and at least she did it with a good attitude! Real talk, though: do you think this song was running through her mind in the moment?? [youtube]https://www.youtube.com/watch?v=2H5uWRjFsGc[/youtube] Don't forget to check out: Kendall Jenner's DIY zit cream and Hailey Baldwin's detox diet [Photo: IMAXtree]
This Aerie Model Photoshopped Her Body To Prove A Point About 'Perfection'
Iskra Lawrence wants to prove a point about body image. The Aerie model shared two side-by-side photos on Instagram to show how easy, and quick, it is to photoshop a person's body. She wrote that her editing only took 10 minutes. Ten! That's as much time as it takes to grab a coffee at Starbucks. Crazy. The images are a powerful message themselves, but Iskra also wrote an important caption to go along with the post. She told her followers, "I wanted to post the unretouched pic right next to the retouched one so you could see the impact of how a few edits all done on my phone can completely change the way someone looks. I can't leave home everyday retouched & live in the "real world" airbrushed so why would I want to pretend to be online?" https://www.instagram.com/p/BI5DqE7hxUw/ As Iskra points out, photoshopping tools are literally a click away. But just because it's easy to shrink your waist or smooth your face, doesn't mean you should do it. What you should focus on instead is accepting yourself, flaws and all! Don't forget to check out: Kendall Jenner's biggest phobia and cat eye eyeliner hacks you need to try ASAP [Photo: Instagram]
How An It Girl Is Made: Gigi Hadid's Rise To Fame, Explained
Cindy Crawford Is Retiring From Modeling After Her 50th Birthday
Before Gigi and Kendall, there was Cindy Crawford. She is the one who invented the "supermodel" we know today. Someone who does more than just walk the runway or appear in editorials, but is also a media personality and brand. Cindy ruled the '90s and even recently posed alongside fellow iconic supers Naomi Campbell and Claudia Schiffer in Balmain's spring 2016 campaign. Now, she is saying goodbye to the modeling world. Cindy, 49, revealed in an interview with United Airlines' Hemispheres magazine that she plans to retire from modeling after her 50th birthday, which is February 20th. Publishing her book Becoming Cindy Crawford made her realize that she has accomplished everything she wanted to as a model. She tells the mag, "And I'm sure I'll have my picture taken for 10 more years, but not as a model anymore. And that's OK. I've done it. I've worked with all these incredible photographers. What else do I need to do? I can't keep reinventing myself. I shouldn't have to keep proving myself. I don't want to." Well, she has definitely had a very fulfilled career! Cindy not only appeared on covers from Harper's Bazaar to Vogue, she also walked in shows for brands like Chanel, hosted MTV's House of Style, starred in Pepsi commercials and wore one of the most iconic Academy Awards looks of all time (that red Versace dress!). She also created a line of beauty products, Meaningful Beauty, and is a published author. Cindy is a mother of two children, Presley and Kaia, and is married to businessman Rande Gerber. Here's a brief lookbook at her modeling career: https://www.instagram.com/p/7c22qqomhS/ https://www.instagram.com/p/x979emImho/ https://www.instagram.com/p/3UGlzhImlA/ https://www.instagram.com/p/8ltaxuomtc/ https://www.instagram.com/p/v_m2uhImmQ/ https://www.instagram.com/p/13G4Rcomrd/ https://www.instagram.com/p/vJW9CiImpB/ https://www.instagram.com/p/BBNc_pZImrN/ Don't forget to check out: everything you need to know about lampshading and Vanessa Hudgens' emotional tribute to her father [Photos: Splash News]
Here's Your Behind-The-Scenes Look At The Victoria's Secret Fashion Show
The Victoria's Secret Fashion Show doesn't air until December 8th (10 PM on CBS), but it is actually filming today! Here are a ton of #BTS (behind the scenes) 'grams to hold you over for another month. It looks like the girls are having zero fun. https://instagram.com/p/96BgK8mlTx/ https://instagram.com/p/96ZpOMGldi/ https://instagram.com/p/96b_O2mlRF/ https://instagram.com/p/96k43ipFh1/ https://instagram.com/p/96fTIJjo95/ https://instagram.com/p/96YMWOPFWJ/ https://instagram.com/p/96fTusQlnb/ https://instagram.com/p/96s1sszfUS/ https://instagram.com/p/96MfyaIPsH/ https://instagram.com/p/96sWTmhIEs/ https://instagram.com/p/96fSdHoPgO/ https://instagram.com/p/96ZJbRRryh/ https://instagram.com/p/96Sj-GGhzT/ https://instagram.com/p/96ee9zlVWZ/ https://instagram.com/p/96lALcmlRy/ https://instagram.com/p/9652zHmKxR/ https://instagram.com/p/96Z8WvBIDx/ https://instagram.com/p/96hca8HFK_/ https://instagram.com/p/96xWqcGlYn/ https://instagram.com/p/96cpBKmK-Z/ https://instagram.com/p/96t8vBD8pQ/ https://instagram.com/p/96ka0uD8or/ https://instagram.com/p/96t9rrJFi6/ https://instagram.com/p/96v_lJh6k6/ https://instagram.com/p/96wUZQh6lg/ https://instagram.com/p/96qgSwGIav/ https://instagram.com/p/96eEbcqbrf/ https://instagram.com/p/962IOKzUh6/ https://instagram.com/p/96nPi0IRZb/ https://instagram.com/p/96e0G0iBQ3/ https://instagram.com/p/96eFGxTUnh/ [Photo: Instagram]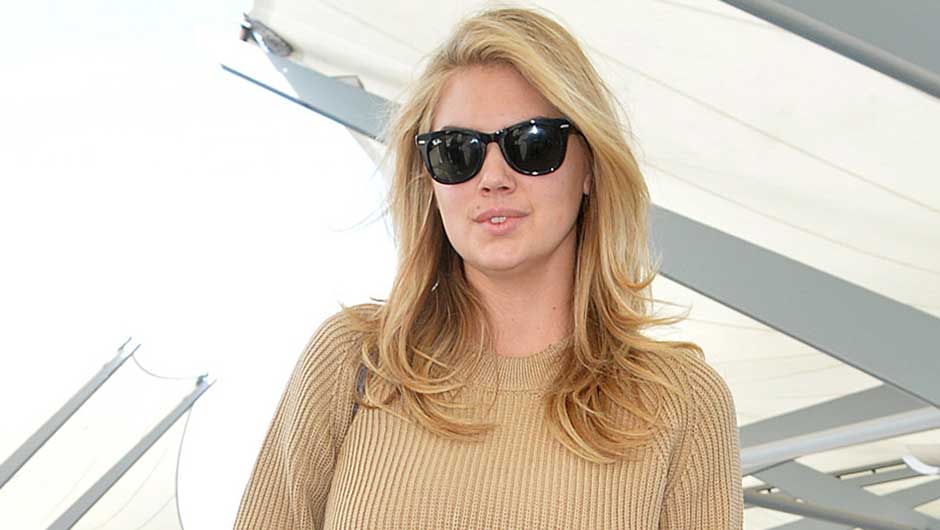 10 Models That Aren't Stick Thin
8 Models Who Don't Have Typical Runway Looks
High fashion models are usually kind of funky looking. Sure, there's gorgeous girls amongst the model set, but for every Gisele Bundchen or Alessandra Ambrosio is a Lindsay Wixon or Kelly Mittendorf. While the industry still has several strides to make regarding racial and body diversity, runway models often represent an unconventional type of beauty, despite the fact that most are tall, thin, and white. But some of the most successful models buck the standards of the industry itself. Designers may use a girl who kind of looks like a Praying Mantis to front a campaign, but she'll still have a certain body type or look that designers, agents, and scouts look for in a model. It's hard out there for a tall, skinny girl with couture catwalk dreams, but these next 8 models prove that although the industry has a long way to go, you can still have a hugely successful career even if you don't have that typical model look. In fact, those unconventional, unexpected features are part of what made them household names. Click through for the best top models who don't have what we'd usually think of as "model-y" features. Are you model-obsessed? For more, check out: 10 reasons why we love Julia Westling, adorable flashback photos of models when they were kids, and the most annoying quotes from Victoria's Secret models [Photos: Splash News]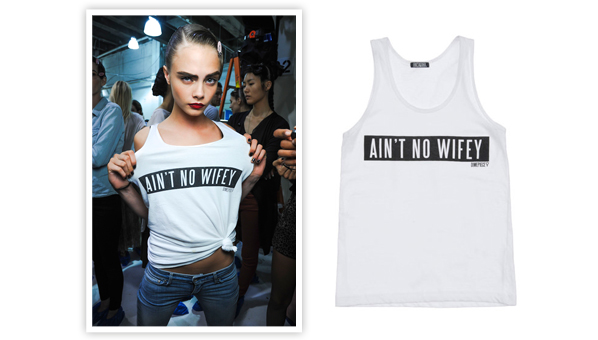 This 'Ain't No Wifey' Tank Is How To Look Like An Off-Duty Model This Weekend
Cara Delevingne is quite possibly the coolest model in the game right now (and certainly the most lady-loving), so when she's photographed in her street clothes - whether that's an MSGM bomber jacket or a some crazy kicks - the style blogs usually go nuts. Her latest look to go viral is the Dimepiece Ain't No Wifey tank she wore backstage at fashion week (above). I'm married, so I don't quite understand the stigma against getting "wifed up," but I also don't really care and think this cheeky tank is cool anyways. Get one: Dimepiece LA The Ain't No Wifey Tank ($45). Forever 21 is selling a similar item right now - a "Not Your Wifey" tee for $12.80. Not bad!
10 Reasons To Love Marc Jacobs Muse Natalie Westling (And That Rad Red Hair)
It seems the best way for a model to win the hearts of the fashion industry these days is to dye their hair a crazy color. How else can you explain the obsession with Chloe Norgaard, Charlotte Free, and now, Natalie Westling? She cut her teeth walking for Louis Vuitton, Chanel Haute Couture, Saint Laurent, and Marc Jacobs  last season when she was rocking her natural dirty blonde hue, but it's her newly-dyed bright tresses (which she colored for Marc Jacobs' Spring 2014 campaign) that's made everyone want to know more about her. She's certainly made an impression on designers Anna Sui, Giles, Vera Wang, Prabal Gurung, all of whom cast her this season, and we expect to see a lot more of her in Paris and Milan. Flip through the pages of your fave fashion glossy, and you'll find her featured in Saint Laurent and Valentino Red Label's Spring campaigns, plus she recently shot for Love magazine. One peep at her credentials, and the phrases "one to watch" and "next big thing," seem pretty fitting--and the way things are going for her, we're starting to believe the hype too. Bonus: it turns out Natalie Westling is also a pretty cool chick! We're not ashamed to say we kind of love her, and so should you. Click though the slideshow for 11 reasons why we (and everyone else) are digging her so much. Don't forget to check out Gwen Stefani's collaboration with ShoeDazzle, why Millenials suck, and the deets on the Kardashian Kids collection. [photos: Splash, Instagram]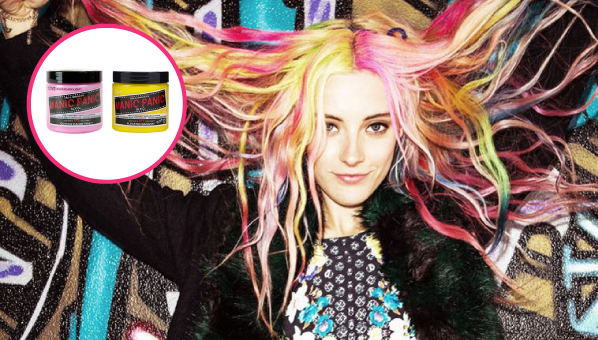 Manic Panic Gives Chloe Norgaard, Their Unofficial Spokeswoman, Her Own Collab
During New York Fashion Week, we spotted girl crush Chloe Norgaard backstage at Rodarte sporting a My Little Pony-inspired pastel pink and purple hair dye job. The model, known for her ever-changing and crazy-colored locks, colored her hair to specifically match the collection. Instead letting a colorist do the job, she opts for dying her hair at-home using Manic Panic, which leads us to some very exciting news. Norgaard has just confirmed a collaboration with Ricky's and Manic Panic for fall 2014. While she wouldn't leak any additional information, we know that it's definitely happening and that it's going to be awesome. We predict it will be a range of products and tips on how to get her exact looks, and maybe a few new fun color combos for the season. SHOP MANIC PANIC DYES NOW Don't forget to check out: Presidents Day sales to shop today, stars who had plastic surgery before 30, and 10 celebrities we were shocked to hear went to rehab. [Photo: The Cool Hour]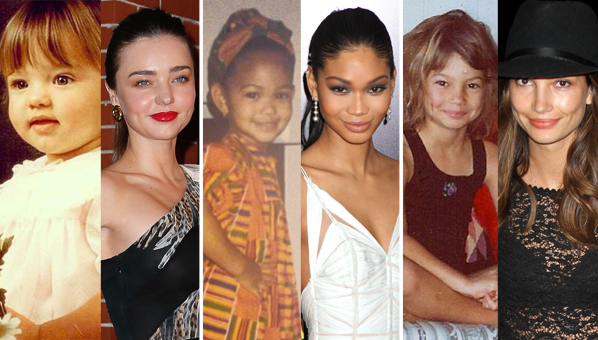 20 Model Throwback Photos: How They Struck A Pose Then And Now
Before they became famous for strutting about in designer clothes, models were just little kids like you and me. Trying to figure out how to feed themselves or tie their shoelaces. And just as we've come a long way from our days playing in the sandbox, so have some of the fashion industry's most recognizable faces. Before they grew up into the ferocious femmes we know and love today, these women were just like the rest of us: sweet, innocent, and ridiculously adorable. We could all use a bit of cuteness during these cold winter days, and you're in luck, because we're giving you all a huge dose for free. Check out these pictures of  20 models when they were just little girls-- years before their careers took off and their faces were plastered everywhere. We promise you, they were ALL just as cute then as they are beautiful now. Don't forget to read the 9 things you need to know about Lorde, Rachel Zoe's cancelled NYFW show, and this miracle clutch that will charge your electronics when you're on the run.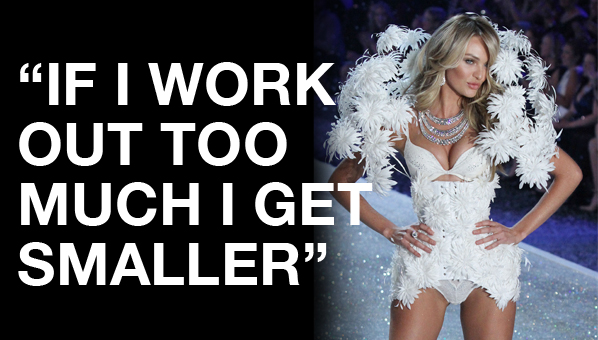 7 Annoying Quotes From Victoria's Secret Models #PrettyGirlProblems
If you gleaned nothing else from Beyonce's latest album, remember this: PRETTY HURTS. Indeed, good looks come with a series of challenges the rest of the average-looking-to-not cute population can never imagine. Just ask any Victoria's Secret model, crushed under the overwhelming pressures that come with being beautiful... or, rather, totally clueless. It ain't easy being tall and beautiful with tons of money and an unfairly efficient metabolism. Alas, us plebes cannot comprehend such #PrettyGirlProblems--you know, the ones that don't actually seem like problems in the first place.  But while Adriana Lima, Candice Swanepoel, and crew whine about the hardships their enviable figures bring, or wax poetic about some totally unrelateable aspect of their charmed lives, the rest of us are left  rolling our eyes. Click through the slideshow for 8 particularly annoying quotes from our favorite Victoria's Secret Angels. Ladies, we love you, but maybe lock it up next time. Don't forget to check out Khloe Kardashian's baby daddy debacle, 14 workout videos that will help you keep those New Year's resolutions, and what Cameron Diaz thinks about pubic hair.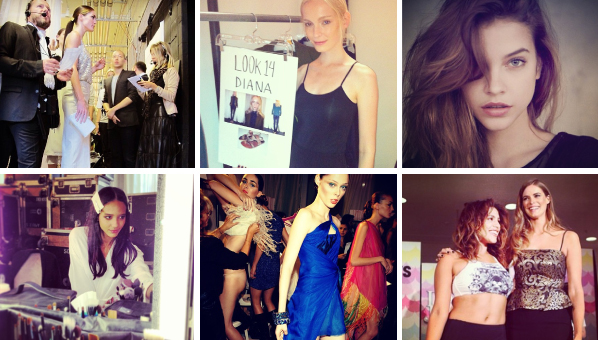 12 Models To Follow On Instagram This Fashion Week
If you're truly up on your fashion game, then the likes of Anja Rubik, Coco Rocha, Cara Delevingne and Doutzen Kroes already pop up in your Instagram feed for your daily dose of modelspiration. But with each fashion week, a new set of faces start to gain the public's attention, especially on social media where models give a unique perspective on the biz- from backstage shots, to party pics, to selfies with the designers themselves. These up-and-comers will give you a run for your money (oh wait, Instagram is free) if you follow them now.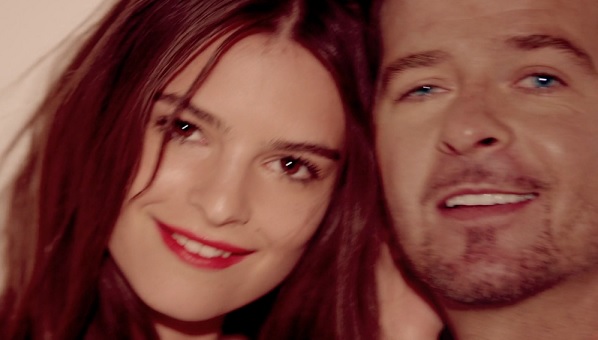 5 Places We Never Expected To Find Blurred Lines Star Emily Ratajkowski
Robin Thicke's Blurred Lines is arguably the song of the summer. Can you think of a single person who doesn't love it? And then of course, there's the video. Sure, there are three huge hitmakers on the song, but Emily Ratajkowski--the drop dead gorgeous brunette pictured above with Robin Thicke--is the undeniable star of the video. She's the girl everyone is talking about. Oddly enough, now that we know who she is we can't stop seeing her everywhere. And in places we'd never expect. Forever 21 website? She's there. Frederick's of Hollywood catalog. Random, but yeah, she's there, too. Click through the slideshow to see more of the unexpected places we've seen Emily Ratajkowski doing her thing. Be sure to check out the first photo of Isabel Marant x H&M, plus Taylor Swift's Keds collection. [Photo: Vevo]
Move Over Gisele: Meet The 5 Supermodels Of Online Shopping
When shopping online, a whole lot of emphasis is put on the model to make clothes look appealing enough to buy---that's why often times the model makes or breaks the piece for us. And here at SHEfinds, we spend a good portion of the day scouring online shopping sites, so we've gotten to know and love our own favorites. From "Cocked Eyebrow Girl" to "Smiles McGee," check out who made our cut after the jump: (more…)
Make Like A Victoria's Secret Angel And Bundle Up
Chances are, you probably aren't actively looking for a new scarf right now.  But before you go ahead and purchase that bikini, think again - it's freezing outside and a new scarf is something you'll definitely get some use out of (for the rest of the season and years to come). So take a peek and see which scarf is right for you--these Victoria's Secret Angels above have inspired us with their luxe versions: Find more ways to get the look. Shop our guides to the best heavy scarves and the best cashmere accessories. Join our e-mail list for exclusive SHEFinds updates.
Forbes Names The 13 Models With Brains And Bank "Supermoguls"
While models land magazine covers every day, not many have graced the pages of Forbes--until now. The business magazine named 13 of the most entrepreneurial supermodels recently, proving modeling can be a lifelong job, if you really know how to work it. See the entire list here, and then check out our slideshow with the best stuff you can buy from our favorite catwalkers: Follow the author of this post on Twitter @shefindseileen. See more news, plus all of the best sales and deals, online sample sales and best find of the day picks. Dress like an off-duty supermodel in a leather jacket, skinny jeans and over-the-knee boots.
Brooklyn Decker Displays A Surprisingly Cute Way To Ease Boots Into Your Wardrobe
Sports Illustrated cover girl (and wifey of tennis hottie Andy Roddick) Brooklyn Decker stepped out in a surprisingly cute combo of jean cut-off shorts and short Frye boots. I love this idea. What a better way to show off your new fall boots then with bare legs? Pair them with black dresses or pleated skirts this summer, then skinny jeans and leggings for fall. Get Brooklyn's exact look (hot husband not included) here: Brooklyn lovers her BCBGMAXAZRIA Textured Pullover Sweater ($188) and so will you. Pull it on over a white tank and shorts while its just starting to get cold, then layer it with vests or blazers this fall. Take advantage of great end-of-season deals on shorts, like these 7 For All Mankind Josefina Cutoff Denim shorts ($84.50, down from $169) that are still available in every size and are 50% off. Pair them with short boots for an extra kick. Brooklyn also loves her FRYE Women's Carmen Harness Short boots ($297.75) in this dark brown wash. Invest in this rich leather pair and you will wear them with everything through winter - skinny jeans, jeggings, skinny black jeans, tights and more. For more celebrity style tips, check out our guides to celebrity denim, over the knee boots, and cardigans.
What To Expect From Three New Models-Turned-Designers: Agyness, Coco and Stam
Turns out, every single thing Kate Moss does soon turns into a trend, whether she's rocking the gray hair or designing clothes for Topshop and handbags for Longchamp. Case in point: models are now eschewing the runways to create their own collections. Let's take a look at the three models who are stealing the design spotlight these days (sorry Project Runway): 1. Who: Jessica Stam. At only 23, she's perhaps the most widely-known of the three, Marc Jacobs named his best-selling "Stam" bag after her in 2005. Appeared in Vogue 20 times, she's also been the face of Dior, Bvlgari and H&M, and even dated DJ AM. Signature style: Being ahead of the curve. Designed: Stam is coupling with Rachel Roy to create a few pieces for her next Rachel Rachel Roy collection for Macy's, due out in October. What to expect: If Rachel Rachel Roy's current Macy's collection is any indication, the upcoming collaboration will include fashion forward pieces for less, like this on-trend putty colored handbag ($50.99) and this Rachel Rachel Roy detached rib chain cardigan ($111) that looks like something off the runway. 2. Who: Agyness Deyn At 27, she's been cited as muse to Burberry's Christopher Bailey, has been the face of Blugirl, Giorgio Armani, Burberry The Beat, and has walked in countless shows, from Oscar de la Renta to Anna Sui. Number of appearances in Vogue: 22. Signature style: Her cropped blonde hair always stands out from the pack--clothing-wise, she's punk rock hipster all the way--hardly ever seen without a leather jacket, a neon pair of sunglasses  or a pair of Converse in her downtime. Designed: 11 pieces for Barneys Japan, including leggings, tops and jackets. What to expect: Find out what the other two models-turned-designers have in store.