Oscar De La Renta Has Died
ABC News has confirmed though a family member that legendary designer Oscar de la Renta has passed away. He was 82 years old. De la Renta was diagnosed with cancer in 2006. He made a name for himself in the early 1960s when Jacqueline Kennedy wore his designs. He went on to launch his own label in 1965 and dressed many famous ladies like Sarah Jessica Parker, Penelope Cruz and Hilary Clinton. He most recently designed Amal Clooney's stunning lace wedding gown. De la Renta also won a ton of fashion awards for his unmatched work, including two COTY Awards, two Council of Fashion Designers Designer of the Year Awards and a CFDA Lifetime Achievement Award. His work with the American fashion industry is unparalleled. Our thoughts are with his wife, son, family, friends and colleagues. He will be greatly missed by the fashion world. [Photo: Splash News]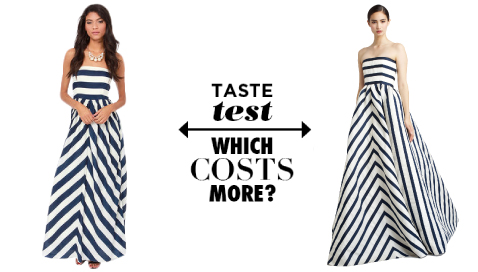 Can You Tell Which Nautical Maxi Dress Costs $6,736 More Than The Other?
We thought we'd found the perfect maxi (it comes in 15 colors!), but that was before we laid eyes on these two dresses. They each combine two of the biggest summer trends, maxi dresses (obvi) and nautical stripes, and both ditch the classic horizontal stripe for a trendy chevron pattern. The only major difference between the two is the slightly larger stripes on one and waaaaay larger price tag on the other. Can you guess which maxi is designer and which isn't? Answer: The dress on the left is Lulu's Dreamboat Come True Ivory and Navy Striped Maxi Dress ($54), and the Strapless Striped Gazar Gown ($6,790, currently sold out online) by Oscar de la Renta is on the right. Can you believe the price difference? Now, I think every gal should own a great maxi, but dropping $6K seems a little much when you can get a lookalike for a quarter of the price. Which do you like better? Let us know in the comments below! Want to test yourself some more? Try the difficult spike earrings challenge or the difference between these leopard print ankle strap sandals!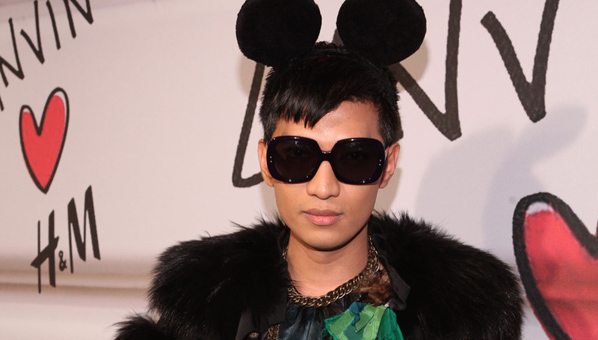 NEWS:Bryanboy Joins America's Next Top Model, Alicia Silverstone On Her Beauty Line & More
Loved Oscar de la Renta's runway neon streaked hair? Here is how to get it. [Birchbox Blog] Bryanboy (Bryan Grey Yambao) will be joining the cast of the reality show America's Next Top Model. [WWD] Girl Power! Michelle Obama and Béyonce continue proclaiming their love for each other. [The Cut] Paco Rabanne teamed up with an artist to create scented spray-on tattoos. [Daily Mail] Like this! Juicy Couture, Kate Spade and Lucky Brand are selling their stock on Facebook. [Fashionista] Alicia Silverstone talks about her beauty collection, of organic makeup and skin care, for Juice Beauty. [Bella Sugar] For more upcoming collaborations check out our news page, and pre-order Oscar de la Renta's sequined baseball t-shirts.
You Can Pre-Order This Sequin Baseball T From Oscar de la Renta's Resort Show
Oscar de la Renta just showed his 2013 Resort collection yesterday, but items from the show are already up for grabs: you can now pre-order this sequin baseball T-shirt ($2,490) today on TheFancy.com. The 100% silk top comes in evergreen (pictured) and navy. The price tag may be a little steep for most, but the idea is awesome: shop your favorite designer's runway show in less than 24 hours? Pretty sweet deal. SHOP NOW For more fashion news, check out Lisa Perry x Jeff Koons, Man Repeller x BaubleBar, and the 10 Dress Styles To Buy For Spring.
Vera Wang Is Seeing Red For Bridal (Plus, The 10 Most Memorable Gowns From Bridal Week)
Last season, she made waves with black wedding dresses, and for 2013 Vera Wang is seeing brides in an even more improbable bridal color: red! "Memorable" is what every new designer strives for, but is Vera taking it to the next level with these scarlet, rust and plum-colored gowns? Here's one argument: whether the style is a hit or a miss, if it's on people's minds, you're doing something right. We've rounded up the 10 most memorable gowns from this season's Bridal Market -- with Vera's entire show topping the list. (more…)
Get Oscar de la Renta's Quote Bangle On Facebook — Then Put It Under The Tree For Yourself
We already told you about Oscar de la Renta's Facebook store, a revolutionary "F-commerce" platform, which made FB shopping our new favorite pastime (second only to FB stalking). Today, you can get your hands on these enamel Quote Bangles ($48) -- which feature words of fashion wisdom from Oscar himself. (more…)
Wedding Sample Sale Scoop: Amsale & Angel Sanchez Gowns, Crane & Co. Stationery, More
Editor's Pick: Most Wanted Gowns at The Aisle New York (more…)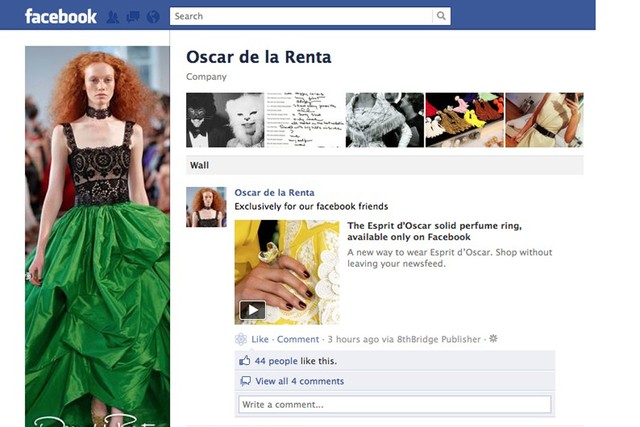 Facebook Shopping Is The New Facebook Stalking, Thanks To Oscar de la Renta
First there was e-commerce, then thanks to the burgeoning population of smart phones, there was m-commerce. And now? Oscar de la Renta is officially making "F-commerce" (ahem, that's Facebook commerce) a thing. While many luxury brands have already started to promote products and sales via Facebook, Oscar de la Renta is the first to execute the transaction exclusively via the social media platform. (more…)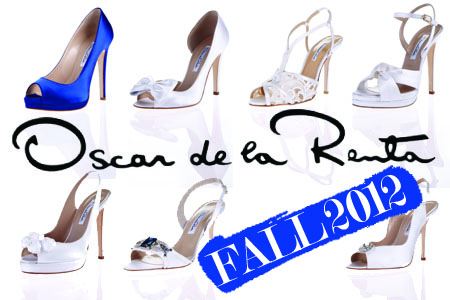 First Photos: Oscar de la Renta's Fall 2012 Shoe Collection!
We just can't get enough of Oscar de la Renta's Fall 2012 collection. Not only are the dresses #amazing, the shoes are too - and we have the first photos. You can see the entire collection after the jump, but be warned: you will experience some serious shoe lust. (more…)
PHOTOS: Oscar de la Renta Fall 2012 – Plus The Exquisite Gown You Can Shop Now
With its silk, lace, tulle, and even a few mullet dresses - Oscar de la Renta's Fall 2012 collection had us at hello. The collection isn't available to shop yet, but don't fret my pet. Not only do we have photos of the Fall 2012 collection (see 'em after the jump) we also found this utterly exquisite Oscar de la Renta Embroidered Tulle Gown ($6,590) to tide you over. (more…)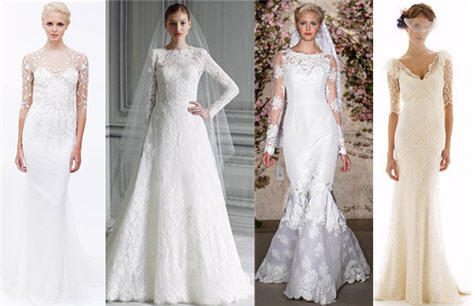 This Fall, Sleeves Are Back! (And You Can Thank A Certain Royal Bride For That)
We've seen sleeves galore on wedding gowns all around the Fall 2011 Runways of Marchesa, Monique Lhuillier, Oscar de la Renta, and Elizabeth Filmore (L to R), and you can thank Kate Middleton for this trend. After walking down the aisle in her gorgeous Alexander McQueen frock this past summer, we've seen exact replicas of her dress, altered designs, and fresh new wedding dresses with sleeves. Shop this elegant princess look now. (more…)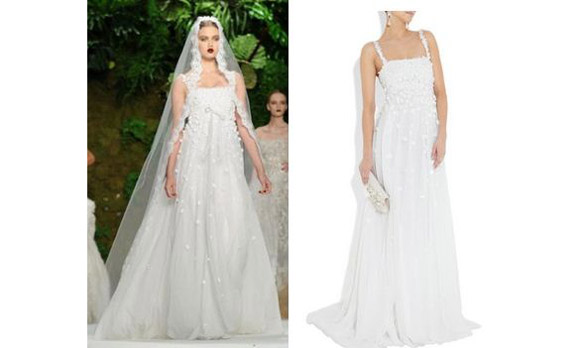 Oscar de la Renta's First Organic Wedding Dress Is Now Available At Net-A-Porter
Oscar de la Renta showed his very first eco-effort at the Runway to Green show this spring, and the results are so stunning you'll also see them in year's September Vogue. The tulle layers and hand-embroidered guipure flowers of this Oscar de la Renta appliquéd cotton-voile gown ($7,990) are made from 100 percent organic ivory cotton. While Oscar opts for authentic over synthetic materials in all of his designs, this is the label's first entirely eco-friendly design. Stylish, earth-friendly brides rejoice! Shop our guides to the best wedding costume jewelry, black bridesmaid dresses, and simple wedding dresses.
VIDEO: See How The Magic Gets Made At Oscar de la Renta
Last night, our pals over at Oscar de la Renta shared a behind-the-scenes video of Mr. de la Renta doing what he does best: making girls look pretty (for his Spring 2012 runway show, specifically): We love taking a peek backstage at these shows; it doesn't take the magic out of the experience to see how the dresses are made or the girls being prepped for runway -- it actually makes the experience all the more theatrical. What do you think? Shop our guides to the best wedding jewelry, lavender bridesmaid dresses, and outdoor wedding dresses.
VIDEO: Oscar de la Renta Spring 2012 (Every Look Is Better Than The Last!)
This week we watched one of our absolute favor designers - Oscar de la Renta - send his Spring 2012 bridal looks down the runway. The show was absolutely stunning - but don't listen to us. Watch for yourself: (more…)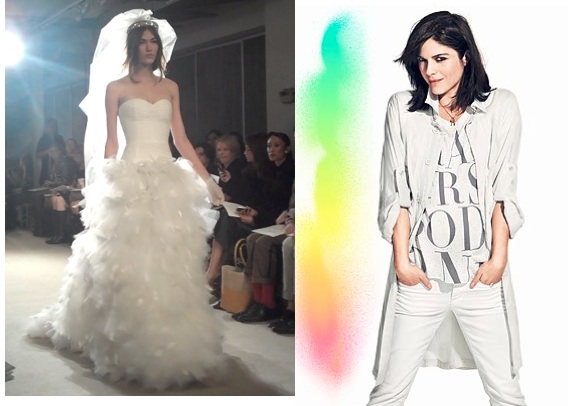 Midday Catch-Up: Bridal Fashion Week And Selma Blair's Ad Campaign For H&M
Oscar de la Renta, Marchesa's Bridal Collections The aisle overtook the catwalk at Bridal Fashion Week. Selma Blair: Model And Soon-To-Be Mom Selma, who is expecting her first child this summer, modeled for H&M's Fashion against AIDS collection. For more non-bridal, non-baby news: shop batwing tops, check out Angelina Jolie's latest jewelry venture, and get 20% off and free shipping during Bobbi Brown's friends and family sale.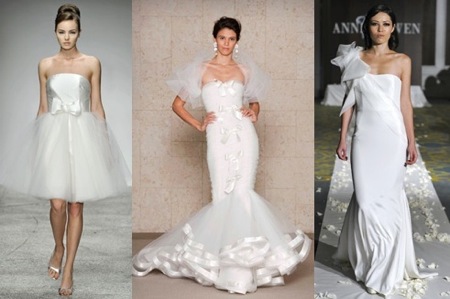 Wrap Yourself In Spring's Bow Trend: Dresses So Pretty You'll Feel Like An Actual Present
Prissy bows proved themselves pretty fierce on the spring 2011 Runway. If you can't afford fresh-off the runway designs from Amsale, Oscar de la Renta, or Anne Bowen (pictured above), we've found plenty that will satisfy you're stylish ego. (more…)
Video: Oscar de la Renta Lets Us Behind The Scenes Of His Fall 2011 Show, And It's Awesome.
[youtube]http://www.youtube.com/watch?v=tsxTMUrPG6o&feature=player_embedded[/youtube] This backstage video of Oscar de la Renta's fall 2011 show is masterful--it's like you're really there, minus the chaos and responsibility you'd feel if you were actually standing in that room. The best way to experience a fashion show. Shop Oscar de la Renta runway looks on sale at The Outnet now, and then check out all of our fashion week coverage. Get all judgy with us as we dissect the worst trends from fashion week 2011, and do some fashion cramming with 5 things we learned from New York, Milan and Paris Fashion Week.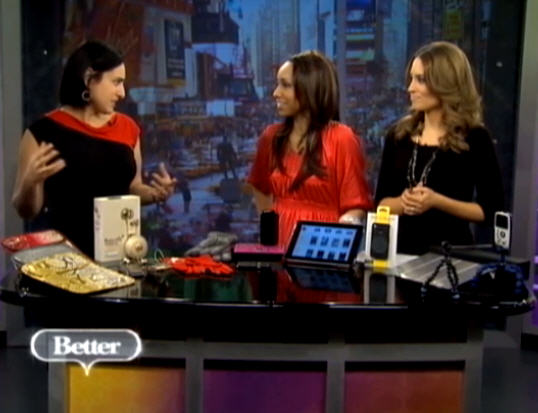 SHEfinds CEO Michelle Madhok Reveals Her Favorite Tech Accessories On Better TV
SHEfinds' CEO Michelle Madhok stopped by Better TV this week to reveal her favorite tech accessories -- and there are no geeky or manly ones in sight. This batch is just for the girls - from DANNIJO iPhone cases, to Vivienne Tam headphones, and ostrich Oscar de la Renta iPad clutches: See more of our favorite iPhone cases, iPad cases, more tech accessories and stylish laptop bags, plus all of this week's best sales and deals and best find of the day picks.
Sorry, Urkel, Techies Are Cool Now: Top 7 Designer Gadget Cases
If you're spoiling someone you love this holiday with a fancy gadget or tech product (that includes yourself) - then hook them up with a fancy designer case, too. It's the perfect gift for the label-lover or person who has everything in your life. Plus, it's a great way to own a designer accessory for less: See the DANNIJO iPhone case that made our 2010 Sold Out list, and the top 5 shopping apps for scoring big this holiday season. Then check out the best iphone apps and iphone bling. Subscribe to our mailing list for exclusive fashion e-mails. Follow the author of this post on Twitter @bridefinds.
Daily Links: Kate Moss Book Has A Built-In Mirror, Happy Birthday Oscar De La Renta, More
1. The Kate Moss book by Mario Testino has arrived. For $400, enjoy exclusive pictures and an inside cover mirror--do what you want with it (wink, wink).  [Coco Perez] 2. Katy Perry, feeling left out of the celebrity-turned-fragrance trend, decided to produce her own scent: Purr by Katy Perry will come to Nordstrom in November. [WWD] 3. Happy 78th birthday Oscar De La Renta! Take this fun quiz to see how much you know about the man, the myth, the legend and his clothes. [FabSugar] 4. Women may love the deals on online sample sales, but men don't agree. You'll never guess why. (Hint: Think football and beer) [The Cut] Never miss a thing with our Daily Links. Shop our guides to the best designer handbags and the best fragrances for every season. Subscribe to our online newsletter for instant fashion news.
Jessica Biel's Style Has Come A Long Way Since 7th Heaven
Jessica Biel sure has come a long way since  the "umbros and No Fear shirts" she's said she used to wear in the days of 7th Heaven. On a whirlwind promotion tour for the new A-Team movie, Ms. Justin Timberlake has been wearing some of the most gorgeous, feminine looks of her career. Get the look at home: Biel wore this sophisticated Oscar de la Renta ivory crepe de chine blouse and tweed jacket to the Today Show. To get the soft beige/ivory tweed jacket look, try this Tory Burch Holly Jacket ($247.50, down from $495.00). Pair it with dark jeans like Zoe Saldana did, for a trendier look. Nothing is girlier than a white, silk ruffled top; you will love this Robbi & Nikki Silk Sleeveless Blouse ($145). The sleeveless style is great for work (when paired with flared trousers) or for a cocktail party (when paired with a bright, patterned skirt). Jessica appeared on David Letterman in this incredibly chic and romantic blouse/trouser look. Biel paired the blue silk Christian Lacroix blouse with wide leg Catherine Malandrino. Try the look at home with this romantic Erin Fetherston Peignoir Blouse ($725) which, yes, is super expensive--but it looks exactly like hers - the sleeve length and silk buttons are a fashion throw-back. Very Mad Men, don't you think? Pair with wide leg or flared trousers like these ASOS Kick Flare Tailored Trouser ($42.27), which are incredibly flattering - especially when worn with some high strappy heals or pumps. Biel was a knock-out in this floor-length, bold patterned DVF gown at the CFDA awards. Get a little slice of DVF maxi dress magic yourself. This Diane von Furstenberg Ethyl Linen Wrap Gown ($385) is perfect - from the bold pattern, flowy feel to the sexy neckline. Study up on more of the summer trends Biel's been wearing. From rompers to clogs and summer dresses - we've got you covered.
Watch Oscar de la Renta's 2011 Resort Show Live Streaming Now
Watch live streaming video from oscardelarenta at livestream.com Want to feel like Anna Wintour for the day, or at least 15 minutes? Watch Oscar de la Renta's 2011 resort show live streaming at 1 pm EST. The brand is the latest to jump on the live stream bandwagon and let everyone get a glimpse of their show, even if you don't work in the fashion industry. No tickets, no lines, no crowds. It's the best. For more inside access, check out our Twitter stalking, and then see our guides to the best celebrity sunglasses, the best black dresses, and the best summer dresses.
Found: Oscar de la Renta Lookalikes From Two Unlikely Places
An Oscar de la Renta employee was astounded when he/she spotted Max Mara Studio clothes (left) at Lord & Taylor that closely resembled Oscar de la Renta's spring 2008 collection (right). I don't know if designers should be flattered or upset, but for shoppers like us who can't always afford high-end designer garb, it's a gateway to designer duds for less.  In fact, we have two fashion lookalikes that you should snap up now: It's all about clogs this season, and although Steve Madden is always getting in trouble over copyright infringement, we can't help but love their Steve Madden Merlow Sandals ($149.95) on the left that are a close replica of these Miu Miu Suede Clogs ($495) on the right. This Givenchy striped blazer (about $1,500) on the left is in every fashion magazine right now, but who knew Spiegel, our Mom's favorite catalog, would make such an affordable alternative--Spiegel Ponte knit striped blazer ($79)-- that looks cool, too. See how you can get designer collaborations first, and then check out our guides to the best clogs, the best blazers, and the best pleated skirts.
Trend Spotting: Would You Dare Wear Denim Shoes?
We all love (I mean, really love) our denim... for our legs. Denim on our shoes, however, is a new style we're still trying to wrap our heads around (along with denim handbags, but that's another story entirely). Leading the pack are the usual high-end icons Dolce & Gabbana, Chloe, Alexander McQueen, and Manolo Blahnik. But is this spring trend really wearable? We dug up some downright stylish shoes made of denim for your discerning taste to decide. If you have the cash to splurge on one pair of luxe denim shoes, these Yves Saint Laurent Tribute Denim Platform Sandals ($716) with their sophisticated dark denim and rich cognac stiletto heels should be your first choice. Channel your inner hipster with a pair of thrift store chic Fossil Pilar Flats ($88); the patchwork leather detailing plus the pointy toe make for a cool and comfy weekend shoe. If there's one pair that won't push your budget over the line, these well-priced Old Navy Ribbon-Trim Ballet Flats ($20) can help you dip your toe in the spring trend, since it likely won't last. These Joie Turn Me Loose Sandals ($263) are not technically made of denim (they are, in fact, leather), but they do mimic the look and feature some hardcore gold dome studs that add a tough yet chic look to your attire. So are you on board with this denim shoe trend or do you prefer these classic shoe trends? I'm still working the over-the-knee boots trend and loving my booties, but who knows what spring may bring.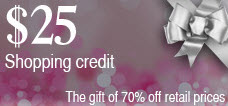 Top Five: Gifts For Your Office Co-Workers
An office-organized Secret Santa can be a pesky to-do, especially when you draw the name of someone you don't know all that well. Avoid the scramble, here are our top five gifts for your coworkers, all under $25, Secret Santa style. 1. For your shopaholic coworker who's always browsing online sample sales come lunchtime, gift her with a Beyond the Rack gift card ($25)--and we promise the next time you need a favor, she won't hesitate. 2. Your female coworker will love Philosophy's The Winter Escape gift set ($19) featuring peppermint hot cocoa shampoo (yum) melting marshmallow lip shine and "body souffle." 3. Who doesn't want their apartment to smell like creamy Godiva chocolate? The candy company makes delectable candles ($22.50) that last, like this milk chocolate truffle scented one. 4. Let your officemate listen to the holiday songs of their choosing with a universally-useful iTunes gift card - for $15, they'll get a good amount of new songs for their iPod. 5. Everybody hates dry, crackly hands in the winter, which is why a Kiehl's Hand Care For A Cure ($12.50) makes a great present. The cream moisturizes, soothes, and protects your skin, plus all proceeds go to AIDS research. Searching for more gift ideas? Check out the holiday worthy finds in our guides to the best in comfy gloves, hats, and slippers.
Iman And Her Glam Jewelry To Appear on HSN
Iman, former supermodel (and hot wife of David Bowie) will appear on HSN this weekend, starting at midnight on Friday. She joins a slew of others (Rachel Zoe included) who have showed up on the network. The line, Iman Global Chic, is full of affordable statement pieces like hammered cuffs, chunky rings and crystal drop earrings. We're obsessed with the idea of this glitzy cocktail ring and elegant  knot necklace as finishing touches to our new holiday party dress. Channel Iman's signatue look with these vintage-inspired onyx stone earrings and her eclectic baguette stretch bracelet, or simply check out the designer herself on HSN. Finish up your holiday accessory shopping with the help of our guides to the best in necklaces, earrings, and cheap jewelry.
Taste Test: Which Studded Wrap Bracelet Won't Strangle Your Salary?
Test your style smarts with more taste tests from our archives and find more ways to accessorize your holiday party outfits with our guides to bracelets and earrings.

Sponsored Post: Make Your Holidays More Comfortable With Hanes
I am a complete black tights fiend, which should be a surprise to exactly no one, being that I live in New York and wear almost exclusively dresses. Being an at least mildly logical individual, I had the presence of mind not to wear my compressive shaping tights to Thanksgiving last year – but I did wear another pair of beloved black tights, and to be honest, the elastic, digs-into-your-hip waistband was almost worse. The tugging and pinching and trying to hike them up or roll them down so they wouldn't hurt during dessert (I know, but it was Thanksgiving!) was enough to make me want to spend the next year's dinner in sweatpants. Thankfully, I just got this pair of Hanes Opaque Tights, and I've worn them with almost absurdly frequency since they arrived. In fact, I'm wearing them right now, and eating roasted Brussels sprouts with pancetta. And they're still comfortable. I got the tights in my normal size, but a holiday-friendly tip: If you want a comfy, high-waisted fit and a super-opaque leg, order a size up. And have a comfortable holiday.
Velvet Leggings Make Us Feel Like We're Five, In A Good Way
These leggings remind us of some pants we had when we were toddlers, but we really think this is going to be a thing: we've seen velvet leggings pop up in tons of collections we love (Alice + Olivia, Bop Basics, and more), and there's even a $600 pair from Moschino (which, for the record, we do not support). This trend is good. We're impressed. Because, to point out the obvious, leggings are really comfortable, easy to tuck into boots, and go with everything. To point out the not so obvious, velvet is thicker and more forgiving than regular-legging cotton, which means not everyone will see your pink thong (unless, of course, you intend otherwise). Plus, who doesn't love running their hands over soft, cushy velvet on a cold winter day? And it's not that weird to sit at brunch with your hands on your thighs, right? No, I know, it's so not.
Deal Of The Day: Take Up To 60% Off Casual Blouses From Banana Republic
If you're worried about what to pair with your trendy high waisted leggings and super skinny jeans, we suggest slipping on a blousy top in a fall tone or pattern - it's a simple way to pull off the tight pants thing and not look too over the top. For some excellent options, check out the fun blouses now on sale at Banana Republic. Not sure what to wear with all those  layered necklaces you bought this summer? A crew-necked roomy blouse ($18 from $50) like this sophisticated style will definitely do the trick. Add a little luster to your wardrobe with a simple silk tee ($30 from $60). Wear this guy with denim or a fitted skirt and don't forget to don your go-to t-shirt bra for an optimal effect. We love the glossy look of this gray floral top ($40 from $70) and that the casual neckline is accentuated by fancier (and flattering) puffed sleeves. Shop fall fashion with our guides to the best in fall handbags, plaid shirts, and rain gear. More Sales and Deals: The Gap: Save up to 25% with the code SAVE123 Nordstrom: Up to 50% off blazers and jackets for fall Chico's: Up to 50% off women's apparel
News: Louboutin Creates Charming Barbie Scenarios, Lash Enhancement Grows, And More
1. More (visual) details on Christian Louboutin's line for Barbie have been released.  We like what he's doing, slimmed-down ankles notwithstanding.  [CocoPerez] 2. Lash enhancers, including prescription treatments, are quite a growing business.  While we're interested in following this development, we'll stick with a swipe of the best mascara every morning for now.  [LA Times] 3. Sarah Jessica Parker is releasing a new, very Carrie Bradshaw scent, SJP NYC.  If you're more of a Samantha than a Carrie, peruse different fragrancs for every season. [WWD] 4. Lindsay Lohan got confused at a Victoria's Secret launch party and leaned on a cake she mistook for a giant perfume bottle.  Maybe her leggings were too tight and somehow constricted bloodflow to her brain? [NYP]
Only One Day Left To Win A $50 Hanes Gift Card
You know you want some fresh undies and workout tanks for the new season. Well, Hanes is one of our favorites for soft panties, bras, and those comfy white V-necks you go through like wildfire. That's why we're giving away $50 Hanes Gift Cards to two very lucky readers – and if you shop through us, you'll get 10% off any order (even the unlucky can take advantage of that). It's all a part of this week's Freebie Friday contest - so don't waste any more time, you've only got one day left to enter. For more top skivvies, check out our guides to the best underwear, best bras, and the most flattering lingerie.