You Have To See All The Cute Coats On Sale For Less Than $50 At Nordstrom Right Now
Ladies, if you're still in need of a winter coat, stop everything and get over to Nordstrom ASAP. Why, you ask? They're having a HUGE sale on coats right now! But the best part? All of these amazing coats are under $50! So you can score shopper faves like the popular Thread & Supply Double Breasted Peacoat or the Maralyn & Me Faux Fur Trim Puffer Coat and tons of other options for a steal! And you'd better hurry up an put one (or two!) in your cart quickly because you will not see these prices again. You've been warned. Thread & Supply Double Breasted Peacoat ($37.90, down from $58) Steve Madden Side Zip Bomber Jacket ($39.90, down from $68) Maralyn & Me Faux Fur Trim Puffer Coat ($41.40, down from $69) Coffee Shop Textured Faux Leather Jacket with Removable Faux Fur Trim ($46.80, down from $78) Maralyn & Me Faux Fur Trim Puffer Coat ($47.40, down from $79) GRAB A STYLISH FROM NORDSTROM COAT ASAP Be sure to check out this flattering, Nordstrom sweater and these stylish $39 booties from Sole Society! [Photo: Nordstrom]
Nordstrom's Crazy Popular Peacoat Is Only $30 And Back In Stock In Two New Colors
We've written about the crazy popular Thread & Supply Double Breasted Peacoat on sale at Nordstrom before, but things just got even better. Not only did Nordstrom just re-stock the classic peacoat in two gorgeous new colors, but it's cheaper than it's ever been before--just $30! Yes, you read that right--a warm, stylish and flattering winter coat for just $30 at Nordstrom. That is pretty much unheard of, which means you need to act fast. This deal definitely won't last. The two newest color additions? A super pretty pink-toned grey and an iconic navy blue:  Thread & Supply Double Breasted Peacoat ($30.32, down from $58)  Thread & Supply Double Breasted Peacoat ($30.32, down from $58) And if you're looking for the classic colors like black, olive green and camel, they're still in stock too! You really can't get a coat for cheaper than this, especially at Nordstrom, so act fast! Thread & Supply Double Breasted Peacoat ($30.32, down from $58) Thread & Supply Double Breasted Peacoat ($30.32, down from $58) Thread & Supply Double Breasted Peacoat ($30.32, down from $58) SHOP NORDSTROM'S BESTSELLING PEACOAT NOW Be sure to shop ASOS' 30% off sale.
This $39 Peacoat Is Selling Fast–Order Yours Before They're All Gone!
If you've been holding off on getting a winter coat because you just haven't found the one or you've been waiting for a killer deal (or both!), stop what you're doing right now and head over to Coats Direct. Why? We teamed up with them on an exclusive deal you shouldn't miss. For a limited time only, SHEfinds readers can score this warm and flattering Braetan Women's Hooded Jacket for just $39.99, down from $350. This is not a drill! Everyone knows peacoats are classic and never go out of style, but this one is even better because it has a hood. That means on windy or snowy days, your head will be warm without any risk of hat hair. The double-breasted silhouette is also super flattering and the chocolate brown color is a refreshing departure from black and grey. This deal is going to go fast, so don't wait. Use code SFB39 at checkout to get this amazing coat for just $39.99, plus free shipping! Braetan Women's Hooded Jacket ($39.99, down from $69.99) SHOP MORE COAT'S DIRECT DEALS NOW Be sure to check out this cozy fleece cardigan and this amazing Nordstrom sweater dress! [Photo: Coats Direct]
These Coat Trends Need To Be On Your Radar This Winter
The only thing that makes saying goodbye to those beautiful summer nights even somewhat bearable is the fact that you get to refresh your wardrobe with stylish cold-weather gear. The one closet staple to refresh on the regular? Your coat options, of course! If you're looking to seriously upgrade your outerwear options with a new stylish statement coat that'll keep your warm from late October to the end of February, these are the fall coat trends that need to be on your radar--and in your shopping cart ASAP! Beige Deconstructed Long Sleeve Trench Coat 1. Classic Trench. You can never go wrong with a classic trench. It's the perfect topper to grab on chilly fall days, plus it's perfect for layering over sweaters as winter sets in. Chances are you already have a traditional trench in your closet, so switch things up this winter with this Beige Deconstructed Long Sleeve Trench Coat. The unexpected neckline and bow details on the sleeves make it extra special. Black Herringbone Check Tie Cuff Coat 2. Prints & Patterns. This time of year it's all about the patterns. Plaid is quintessential fall, but if you're looking for something a little more surprising this Black Herringbone Check Tie Cuff Coat is for you. In addition to the cool print, it also features one of the season's hottest trends: statement sleeves. Talk about a double dose of style. Black Faux Fur Trim Fallaway Coat 3. Faux Fur Details. A little fur goes a long way when you need some extra warmth, but also when you're looking for a small touch of glam. This Black Faux Fur Trim Fallaway Coat features leather sleeves and a soft and cozy faur fur collar making it the perfect pick for chilly weather. Bright Pink Textured Coat 4. Texture. When you're looking for a coat that doesn't fit the regular mold, investing in a staple that has some texture is a must. Try a style like this Bright Pink Textured Coat which has a nubby feel that just begs to be admired. Silver Cracked Coated Metallic Aviator Jacket 5. Metallic Glow. Last but not least, don't be afraid to stun in an eye-catching metallic option. Not only are metallics flattering on lots of skin tones, but they're also neutral so they'll look good with any outfit. This Silver Cracked Coated Metallic Aviator Jacket is not only a classic silhouette, but the fur details ensure it's warm and cozy on cold days, too. SHOP MORE COOL COATS NOW [Photo: River Island]
This Is–Hands Down–The Best Black Peacoat For Winter (And It's Only $37!)
If there's one coat that you need in your outfit rotation this winter, it's definitely a chic black option that you can wear with any combination of winter layers. Luckily, Nordstrom has the perfect investment on sale right now--this amazing Double Breasted Peacoat from Thread & Supply! This super popular peacoat is a total hit with shoppers. How could it not be?! This classic button-up coat is not only gorgeous with its flattering fit as well as the quality detailing featuring embellishments like its tortoiseshell buttons and button tab cuffs that really make the coat stand out. (Trust us: There's nothing basic about it!) But what's even better, you can own this steal for practically nothing, as it's only $37! Bonus: it also comes in tons of other colors, so don't miss your chance to grab this must-have while it's still in stock. Thread & Supply Double Breasted Peacoat ($37.90, down from $58) Be sure to check out these cult leggings from Anthropologie and this crazy popular tunic at Nordstrom! [Photo: Nordstrom]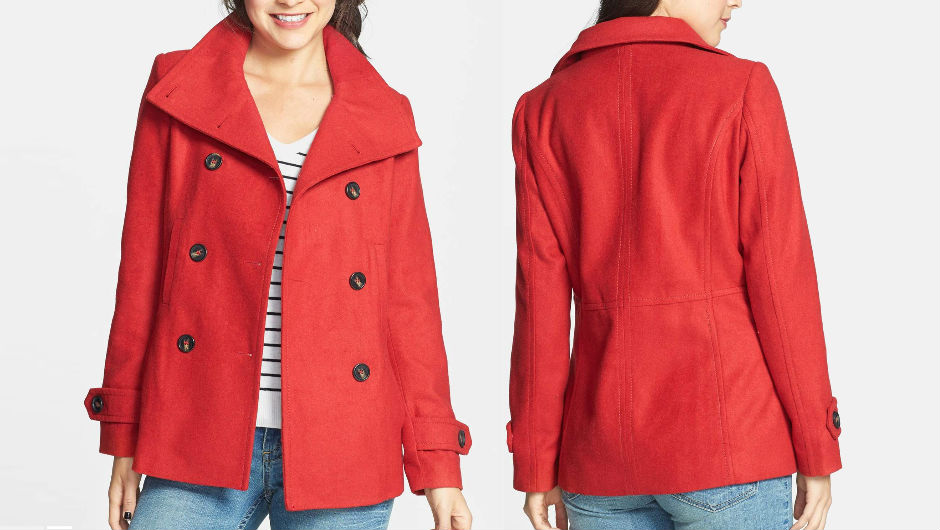 Nordstrom's Super Popular Peacoat Is Now Available In Red… And It's Only $37!
The temps are getting chilly in the early mornings and late nights, which means you need to get your outerwear options in order ASAP. Still on the hunt for the perfect statement coat to rock this season? Head over to Nordstrom right now. Why? This super popular Double Breasted Peacoat from Thread & Supply now comes in a fierce new color: red! We've been watching this bestselling peacoat since last winter and every year, without fail, it sells out so fast. So consider yourself warned: you probably won't find a cuter, warmer coat at a price like this, so orders yours ASAP. The new red color is a refreshing break from all the black, grey and navy blue coats you usually see in the winter, plus it's one of those colors that looks good on every skin tone. Get yours ASAP! Thread & Supply Double Breasted Peacoat ($37.90, down from $58) And if red is a little too "out-there" for you, not to worry. There are still a bunch of other muted colors available, too. Just hurry because at this price, this coat sells out fast! Thread & Supply Double Breasted Peacoat ($37.90, down from $58) Thread & Supply Double Breasted Peacoat ($37.90, down from $58) Thread & Supply Double Breasted Peacoat ($37.90, down from $58) Thread & Supply Double Breasted Peacoat ($37.90, down from $58) SHOP MORE NORDSTROM DEALS NOW Be sure to check out this amazing Nordstrom sweater dress and this crazy good sale on Rebecca Minkoff leather bags! [Photo: Nordstrom]
Psst! Snag This Amazing Trench Coat For Just $30 (Down From $250) With Our Exclusive Promo Code
You may still be in denial about fall, but make no mistake, the chill will be here before you know it. That's why you need to start stocking your closest with cold weather gear ASAP! Don't know where to start? Coats Direct has the number one item we guarantee you'll be wearing out all season long: this Draped Asymmetrical Trench Coat from Laundry by Design. This gorgeous trench coat is classic, but the draping gives it a little flair so it doesn't feel totally boring. And it's flattering fit looks amazing on any body type--and with all levels of layering! Did we also mention that this wardrobe staple is crazy cheap?! For a limited time, you can score this beauty for just $30 (down from $250!) by using code SFLA30 at checkout. And just to sweeten the deal even more, that same code will also get your free shipping! This is not a drill! Get your hands on this gorgeous trench quick because this deal will not last long. Draped Asymmetrical Trench Coat ($30, down from $250) SHOP MORE COATS NOW Be sure to also check these popular Nordstrom leggings and this super flattering black pants. [Photo: Coats Direct]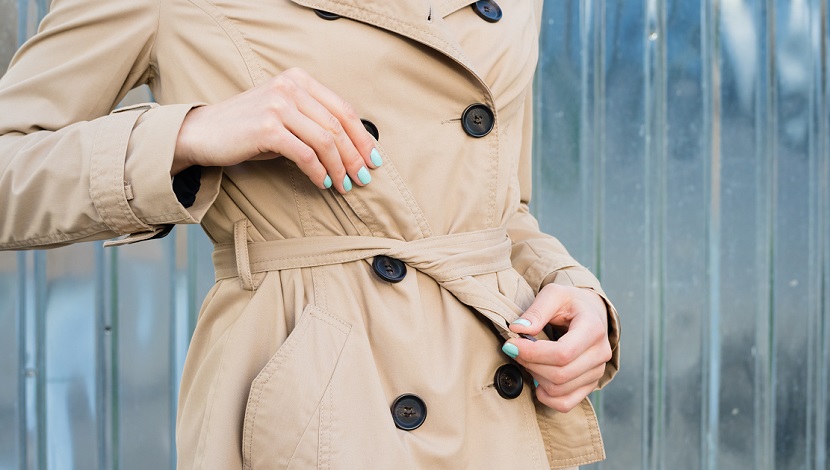 Shop Our Favorite Winter-To-Spring Transition Jackets Now!
Here's How To Get A Gorgeous Designer Coat For Just $32 (Hint: We Have An Exclusive Promo Code!)
You're probably thinking there's no way you're going to buy a coat with spring just one month away. I hate to break it to you, but you're wrong. And you're seriously missing out! Right now is actually the best time to buy a coat because the prices are insanely low. Case in point: our friends at Coats Direct are currently offering an additional 20% off their already low prices on all black coats and jackets for a limited time only. That means outwear that was once over $150 is now as low as $32! Just use code SHEFINDSCDB2B at checkout to get your discount. These deals won't last, so you need to act fast! Even if you don't wear your new coat until next year, these prices can't be beat. Hurry! Laundry By Design Belted Spring Jacket ($32, down from $175) Esprit Belted Wool Coat With Patch Pockets ($44.80, down from $260) Hilary Radley Faux Fur Trim Wool Wrap With Hood ($66.40, down from $395) Laundry by Shelli Segal Faux Suede/Faux Fur Moto Jacket ($69.60, down from $335) Betsey Johnson Toggle Coat with Faux Fur Trim Hood ($63.20, down from $325) SHOP BLACK COATS FOR CRAZY CHEAP NOW Don't miss these amazing $18 jeans and the best drugstore beauty products. [Photo: Coats Direct]
Treat Yourself To A Gorgeous Bright Coat Because There Are So Many Good Ones On Sale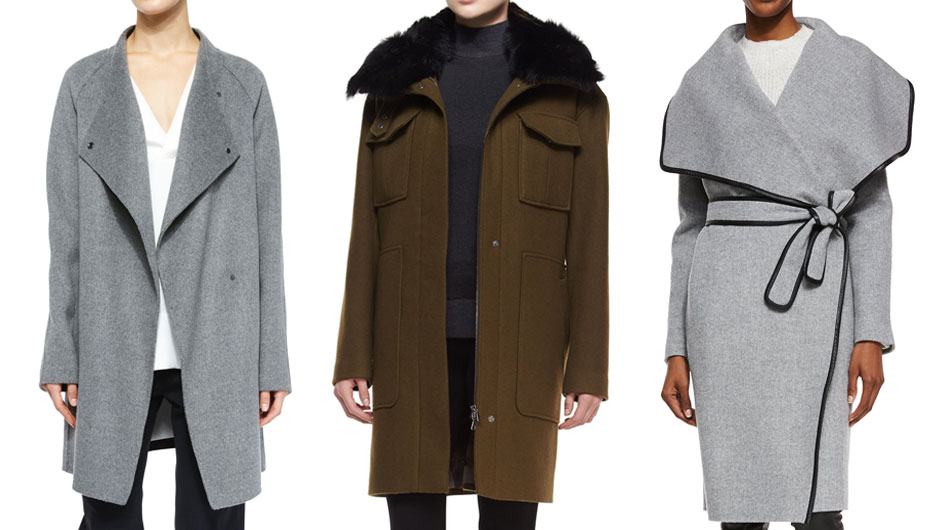 Need A New Winter Coat? Get To Neiman Marcus' Sale Section ASAP!
Despite this recent stretch of spring-like weather here in NYC, winter temps are on the way. And when it finally gets cold, you're going to need a warm, stylish coat to brave the frigid temps. Chances are, after the winter we had last year, your old coat isn't in such great shape, which is why Neiman Marcus' current sale is so sweet. Not only do they have tons of coats on sale, but we're talking serious markdowns--like up to 60% off! As for brands and designers, they have the best of the best. From Vince to Theory, this is just the end of fall treat you deserve. Shop a few of our favorite coats on sale below: Vince Two-Tone Sweater-Back Coat ($417, down from $695) Neiman Marcus Quilted Long Leather Jacket ($148, down from $425) Theory Yvoia Bolton Coat With Fur Trim ($836, down from $1,195) Neiman Marcus Faux-Leather Quilted Puffer Jacket ($147, down from $245) Vince Drape-Front Leather-Trimmed Wool Coat ($556, down from $785) SHOP MORE STYLISH COATS ON SALE NOW Be sure to check out the new Beachwaver blow dryer and how to wear knee-high boots. [Photo: Neiman Marcus]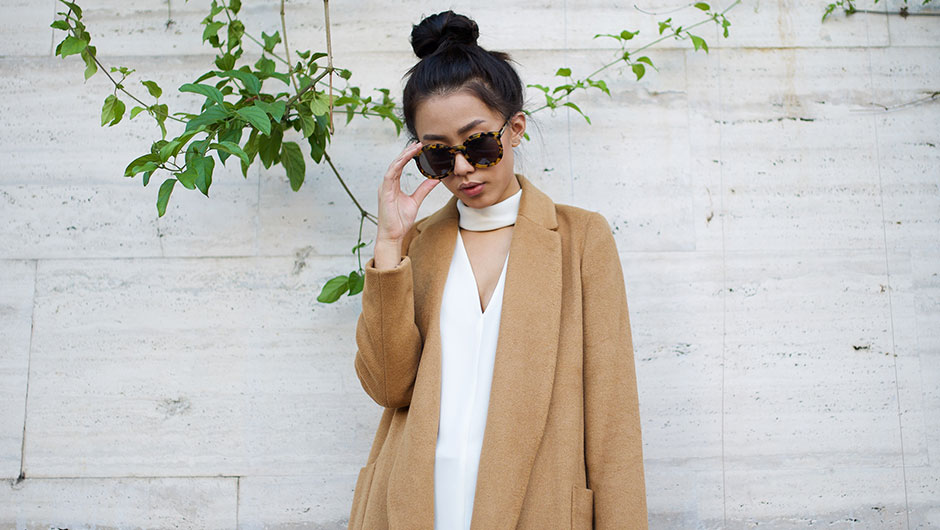 All I Want For Christmas Is A Camel Coat–These Are The Ones I Love Most
Believe It! Olivia Culpo's Cute Plaid Coat Is Really Only $55
NFL's newest sweetheart, Olivia Culpo, is stealing the hearts of football fans and the fashion set. The brunette actress enjoyed an autumn stroll looking every bit the part in her Madden Girl Juniors Buffalo Check Hooded Jacket ($55, down from $80). The juniors department just became cool again, especially at this low price. Tim Tebow can have the girl--we will gladly take the jacket. Shop it below. Madden Girl Juniors Buffalo Check Hooded Jacket ($55, down from $80) For more shoppable celebrity style, check out Gigi Hadid's Nike sneakers and Maria Menounos' Tunic Dress. [Photo: Splash News]
Rebecca Taylor Dishes On Her New Outerwear Collection (We're Obsessed!)
We recently sat down with designer Rebecca Taylor to discuss her new outerwear expansion, of which our editors are entirely obsessed (can we talk about the cocoon coat with the blue shearling collar!?!). The designer dished on her bestselling moto jacket, her inspiration for the new styles, and some super-helfpul advice for the SHEfinds reader on choosing her new coat for fall. Thank you, Rebecca! Read it now: SHEfinds: Your leather moto jacket is so cult! Tell us about it.  Rebecca Taylor: Our leather jacket is garment washed, which really offers the customer the softest supple leather, and it's lined with jersey making it extremely comfortable. SF: Is the popularity of the moto one of the reasons you decided to expand your outerwear collection? RT: I've always had outerwear in my collections, but this season I really wanted to expand our outerwear and offer the Rebecca Taylor girl a coat or jacket for every occasion. SF: What is the inspiration for the new styles? RT: The collection was created with a focus on luxury and function. I wanted each piece to marry modern femininity with comfort and offer unique cuts and silhouettes in unexpected colorways. SF: What should a woman look for when choosing a new coat for fall? RT: I would say having a coat that keeps you warm is the most important thing. It's also important to think about the layers you'll be wearing underneath your coat--make sure there's enough room if you plan to wear chunky knits. In a lot of areas, the winter season can feel like a very long time. A coat is a staple piece that carries you through the season--you need something that's going to last. SF: What details are you loving for outerwear this season? RT: I'm really loving unique embroideries, beautiful embellishments, and faux fur details. SF: What style details should a woman look for when shopping for a coat this season? RT: I think it's important for a woman to feel special and confident in whatever she wears. Make sure it's something you'll love to wear again and again. SF: Do you believe in investing in a good coat, opting for trendier lower-prices ones, or a mix of both? RT: I do think it's important to invest in a good quality coat but I think you can also enjoy trendier lower-price pieces as well. It's great to have a mix of both- your good coat is your go-to for every day wear while trendier ones can be worn for special occasions when you want to feel a bit more dressed up. SF: Your faux fur looks and feels amazing! What is the secret?! RT: For our faux furs, I shave off the seam allowance in order to cut out any bulk. This really allows the fur to feel elevated and luxurious. Melton Faux Fur Coat ($795) Icicle Cocoon Coat ($795) Boucle Moto Jacket ($495) Wool Shearling Cocoon Winter Coat ($895) Shearling Vest ($995) Polar Faux Fur Vest ($550) Washed Leather Moto Jacket ($895) Amsterdam Tweed Jacket ( $595) Lace Bonded Jacket ($475) Patch Faux Fur Vest ( $595) Embellished Tweed Jacket ($550) Metallic Leather Moto Jacket ($995) Faux Merino Moto Jacket ($695) Artisan Tweed Fringe Coat ($650)
Wondering How The Heck To Really Wear A Poncho? These Outfit Ideas Will Help
Loeffler Randall Just Introduced An Outerwear Collection!
Today is a big day. Why? Because accessories retailer Loeffler Randall just introduced a beautiful outerwear collection. Loeffler Randall outerwear is comprised of moto jackets, vests, bombers and long coats. This collection is made from fine, luxurious leather and soft shearling. Get a head start on finding your new fall and winter coats by shopping Loeffler Randall's newest collection! Shearling Vest in Bone ($995) Foam Leather Moto Jacket in Lavender ($1,095) Shaved Shearling Bomber in Cheetah ($1,295) SHOP ALL LOEFFLER RANDALL OUTERWEAR Don't miss Nordstrom's 60% off shoe sale and shop the belt Kendall Jenner wears almost every day! [Photo: Loeffler Randall]
Sorel Is Launching Coats This Fall!
If you were sick of seeing Canada Goose and Moncler coats everywhere this winter (or just jealous because you wanted one), you'll have an opportunity to wear something different (but equally warm) this fall: Sorel is launching an outerwear collection! According to WWD, Sorel has become more of a women's fashion brand in recent seasons (as evidenced by all their boots I see on 5th Avenue) and the forthcoming outerwear collection is an extension of that. The collection will include 8 styles for women, including a goose down and coyote fur 'Joan of Arctic' parka featuring a nylon-canvas shell and priced at $875. SHOP SOREL BOOTS NOW [Photo: Ty Milford for Sorel]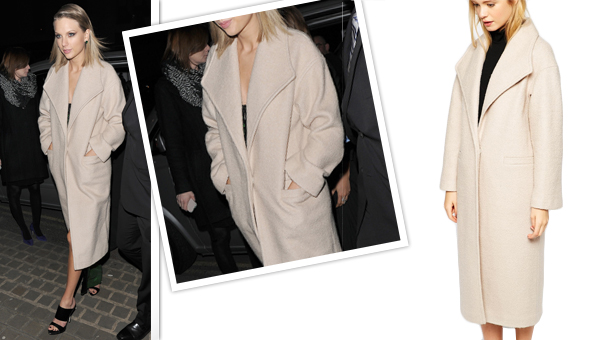 Taylor Swift Really Loves ASOS Coats–This Is The Third One She's Worn This Winter!
First Taylor Swift wore this pretty powder blue topper, then she rocked this super snuggly ASOS Cocoon Coat and just this week she was snapped wearing yet another coat from ASOS. This time she chose this just-as-amazing ASOS Duster Coat in Textured Wool ($166). Is ASOS paying the queen of New York to model their jackets or did they just get very lucky? We love it when our super stylish celeb friends find clothes that don't make our bank accounts sweat. ASOS coats are affordable, trendy, and cute which makes this long winter seem a little more bearable. This longer style will keep your bum warm on cold seats and the soft, pale color will carry you through March. Grab the duster coat below! ASOS Duster Coat in Textured Wool ($166) Shop more great celebrity style, like Reese Witherspoon's workout gear, Beyonce's sunglasses, and Margot Robbie's leather leggings. [Photo: Splash News]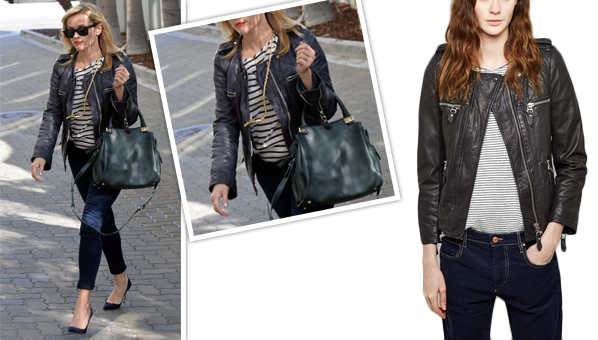 Reese Witherspoon's Isabel Marant Leather Jacket Is Only Available In 3 More Sizes
The leather jacket of the season is designed by none other than Isabel Marant. And which A-lister is already rocking it? Reese Witherspoon, of course. Her Isabel Marant Etoile Kady Leather Jacket ($1,210) will seamlessly tie together any outfit you throw at it. From denim jeans to printed dresses, Ms. Marant has nailed this leather look. Sure you have to spend a little ching to look this great, but we promise this leather piece will carry you through seasons and invoke envious stares wherever you take it. Snag it below before word gets out. Isabel Marant Etoile Kady Leather Jacket ($1,210) PS: Can't justify another black leather jacket? This one also comes in cream and red here. For more great celebrity style, check out Reese Witherspoon's sneakers, Taylor Swift's ASOS coat and Gigi Hadid's heels. [Photo: Splash News]
Spring Starts Next Week Which Means You'd Better Have A Cute Raincoat Ready
Yes, it's just about that time of year. Impromptu snowstorms will soon be replaced by seemingly never-ending spring showers so we suggest your prepare. Of course, that means you'll need to have lots of stylish rain gear at the ready and nothing is important than a cute raincoat or anorak. Don't have a good one in your closet? No worries--we rounded up the best of the season in the slideshow. Be sure to check out the best cheap workout gear, cute maxi dresses and how to layer bracelets. [Photo: Trop Rouge wearing an Ali Ro anorak]
Spring Is Only 17 Days Away Which Means You Need To Order A New Trench Coat Stat
Counting down the days until you can throw that heavy coat into the back of the closet? Us too! And with the official start of spring just 17 days away--it's March 20, FYI--now is the perfect time to order yourself a new trench coat. Every woman knows it's the perfect topper for those unpredictable months between winter and summer, plus all you need is one good one and it will last years. We rounded up the best of the best in the slideshow--get one for yourself today so you can bust it out on the first slightly-less-freezing day of spring. Be sure to check out Shopbop's big sale, cool platform espadrilles and spring break essentials under $50. [Photo: Always Judging wearing a Tibi trench coat]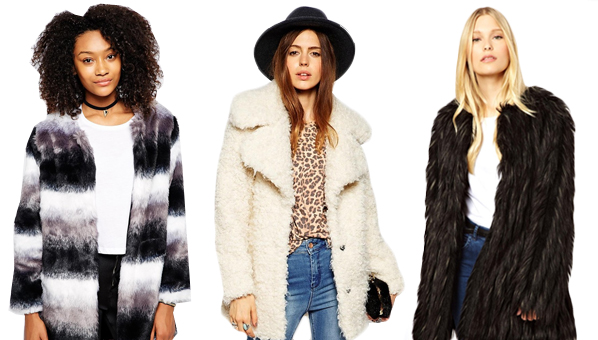 The Time To Buy A Faux Fur Coat Is Now: 20 Really Good Ones On Sale
You guys, I did something crazy last week. Like, Britney Spears circa 2007 crazy (love you, Brit Brit). I bought this Topshop 'Leah' Faux Fur Coat ($109.99, down from $170) at the Nordstrom clearance sale. How could I not?! I know there's only a month left of winter (although it feels like the sun will never shine again), but this is the faux fur coat of my dreams! It has everything I was looking for: a neck-covering collar, mink color and hem just below the waist. I couldn't pass it up, especially at a discount. This led me to do an Interweb search for more faux fur coats on sale. If this one was still in stock AND marked down, there had to be more really good ones out there. Turns out, there's at least 20 that are worth your time looking through. Click the slideshow to see what we found. Editor's Picks: Motel Faux Fur Coat in Stripe ($72, down from $145), ASOS Faux Curly Fur Coat ($68, down from $147), Urbancode Faux Fur Coat ($156, down from $340). Don't forget to check out: 7FAM jeans up to 60% off and Stuart Weitzman shoes for 50% off
18 Super-Warm, Weatherproof Parkas All On Sale For Under $100
If you want to keep warm this winter while still maintaining your street style cred, then switch your puffer coat for a parka. (Extra style points if you find one with faux fur trim.) Within the outerwear family, consider the parka your cooler, older cousin. Its utilitarian features are not only super functional to face the elements, they add a special appeal that's effortless too. But parkas can get pricey, especially right before winter starts when everyone wants their very own, so we managed to find these coats at just under $100. (Score!) Now you can look—and feel warm—for the rest of the season. Check out our slideshow to see which price-friendly parka you'll be wearing. Don't forget to check out: hats, scarves and gloves from $5, celebrity beanies under $100, and designer boots on sale.
Bet You A Dollar One Of These Bright Coats Will Make You Hate Winter Less
Let me just tell you, there are a lot of army green coats this season. A. LOT. Add to that the black, blue and grey selection that's always available during this season, and it's really no surprise we're all so depressed all winter. We need some color in our lives! Luckily, tons of designers are on board the color therapy bandwagon because there's no shortage of vibrant coats to choose from this winter. From Burberry's bright orange topper to Marc Jacobs' radiant red number, click through the slideshow to shop coats in all colors of the rainbow. Be sure to check out the new waterproof UGGs, faux fur scarves and leather accented dresses. [Photo: vivaluxury.blogspot.com]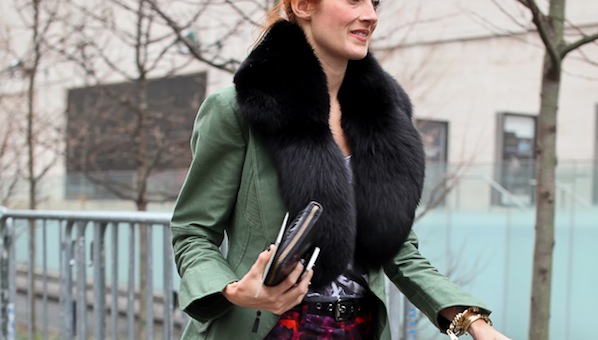 The Only Way To Look Cute In This Kind Of Cold Is In A Fur Collar Coat
I hope you're ready because it's about to get real. Real cold, that is. Here on the East Coast we've been spoiled over the last few weeks with temps in the 60s, but that's all about to change. Our advice? Get a fur collar coat in your life. Not only are they crazy stylish, but they are practical because they're warm. Shop some of our top picks in the slideshow. For more must-try winter trends, check out gold handbags, cute sweatpants and shearling boots. [Photo: Lee Oliveira]
You Have To See All Of The Good Coats Nasty Gal Has For Less Than $200
I do not love winter one bit, but I am a sucker for gorgeous coats. Judging by my closet, you'd think I live somewhere that never gets warm, but I just can't resist a cute, warm topper. Last week, I had the chance to get up close and personal with some of the new coats now available on Nasty Gal and holy cow--they are amazing. I'm talking long leather options, blanket coats, plaid styles--I literally wanted them all. The good news? They're so cheap, you don't have to get just one! Click through the slideshow to shop the best of the bunch. Don't miss our exclusive Q&A with TOMS founder Blake Mycoskie, Jennifer Lawrence's cute striped top and the new Starbucks x Swarovski collection. [Photo: Nasty Gal]
FYI, The Best Black Moto Jackets This Season Aren't Actually Leather
One of the things I knew I wanted at the beginning of September was a black moto jacket. Seems simple enough, except there are so many out there it was actually quite difficult to pick the one. It was also a little tricky because I knew I didn't want a leather moto jacket. Why? Because I'm always cold and if I get a jacket, I want it to keep me warm. After some digging, I'm happy to report I found the most amazing non-leather black moto jacket out there this season--it's the Piperlime Collectionn Coated Shearling Jacket ($149). I received it in the mail last week and it's even better in person than in the picture. The faux fur lining is super soft, but so is the outside! I highly recommend it. If that black moto jacket doesn't suit you, no worries. I rounded up a bunch more I came across in my shopping and I have to admit--they're kinda better than the leather versions. Hopefully you'll find one you love for fall/winter. Click through the slideshow to start your search. Don't miss the best blanket coats, buffalo plaid and quilted shoes. [Photo: Creators of Desire]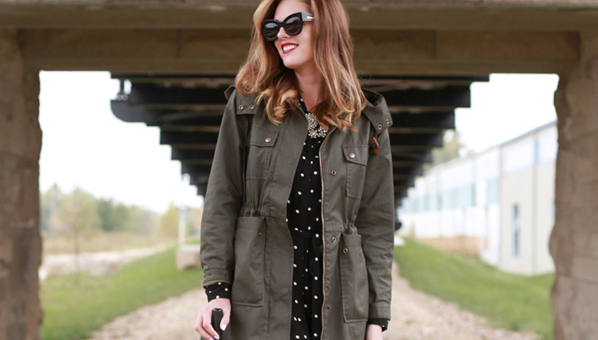 10 Light Rain Coats That Literally Have You Covered When A Summer Storm Hits
You may think April showers brings May flowers, but every year we get it wrong. While our minds are constantly on the thought of warm weather during the summer, we tend to forget about the weeks of thunderstorms that come with it. Whether we like it or not we have to admit this: it rains in the summer! And though an umbrella and boots will do some good, you still need to cover up so your clothes don't get wrinkled and wet. You need a rain coat, but not just any rain coat. With summer comes the heat, so it's not like you'll want to pull out your winter one to protect you from the rain and humidity. Instead, you'll need a lighter, comfortable jacket that won't stick to your skin during those humid rainstorms. We suggest a lined rain coat with lightweight material. So check out this slideshow of perfect summer raincoats, you never know when it'll thunderstorm next! Be sure to look at these awesome summer heeled sandals, rash guards, and how to wear red, white and blue. [Photo: What I Wore]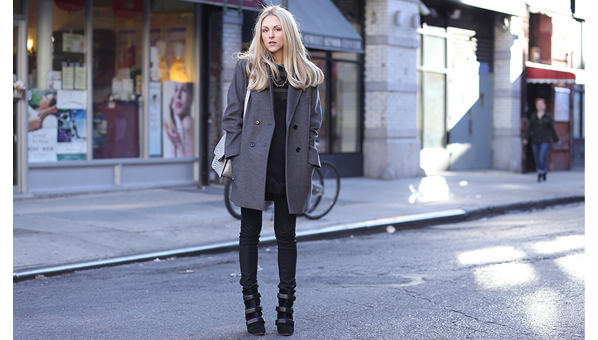 10 Winter Coats That You'll Wear Now, Next Year And Every Season After That
We hate to break it to you, but there's still 53 days left of winter. And if there's anything we learned from the 2013-3014 season, it's that temperatures can get reeeeally low. As much as it feels like we've already had our fair share of cold weather, it's not going away anytime soon. So it's totally necessary to have a few coats in your closet to combat any temps below 50 degrees. But if you're worried about buying trends that you won't wear next year, then you've come to the right place. We've rounded up 10 classic winter coats that are always in style season after season. You can buy them now, wear for the rest of the season, and know you have them ready to go in your closet come next winter. From parka's and trench coats, to belted and shearling-lined coats, we've got the 10 styles every girl should have in her closet year after year. And don't forget to check out: the bra that only unhooks for true love, cold weather boots celebs wore at Sundance and how to look cute even when it's freezing [Photo: Peace Love Shea]
18 Long Moto Coats That Are Made Just For Winter
Oh, moto jackets. How we love you so. Once fall hits, you're like our second skin. You're perfectly rebel chic. So stylishly badass. But once the temps really start to drop, we sadly have to stow you back into our closets. What's a girl to do?! Well, we're happy to inform you that our favorite moto jackets come in coat-form now. Woo! Now you can channel your inner Kate Moss all winter long. Read more fashion and beauty stories: stylish gadgets for the tech-savvy, colorblock coats, and the most-talked-about hairstyles of 2013. [Photo Credit: The Courtney Kerr, Stripes And Sequins]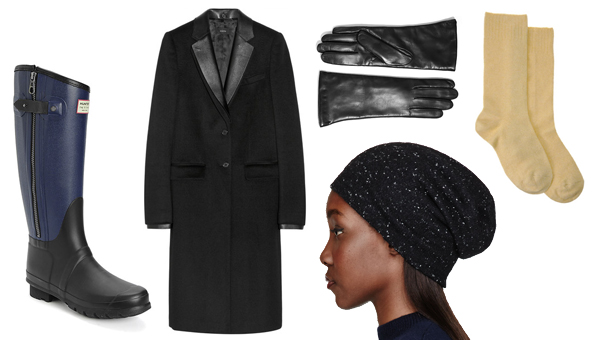 12 Winter Splurges That Are Totally Worth It: A Good Coat, Cashmere, More
We still can't fully wrap our heads around the sad truth that fall is almost over. The unseasonably warm weather we enjoyed in October and November are but distant memories, and now, we're looking at three (who are we kidding, it's more like five) months of frigid temperatures, dry skin, and Seasonal Affective Disorder. Yeesh. What's a girl to do in light of these impending sorrows? Shop, of course! Battle the gloomy weather and treat yourself to luxe winter essentials that will keep you toasty and looking fabulous all season. These pricey pieces might put a little hurt on your wallet, but you'll wear them for many bitter winters to come, thus eliminating any guilt you might feel for shilling out so many of your hard-earned coins now. Check out our slideshow to see some of our fave investment pieces. Want more winter fashion? Don't forget to peep the Winter Trends Men Hate, fur scarves, and sweet snowboarding gear from L.A.M.B. x Burton.
The Best Cozy, Check Coats (Because It's Coats Weather Now, People)
Plaid, checks, grid prints--call them what you want, but squares are in for fall. Check (or checked) coats are a must this season, and luckily, stores that you can actually afford to shop, like ASOS and ZARA, have lots of the stuff. Click through the slideshow above to shop the best. [Photo: Lee Oliviera]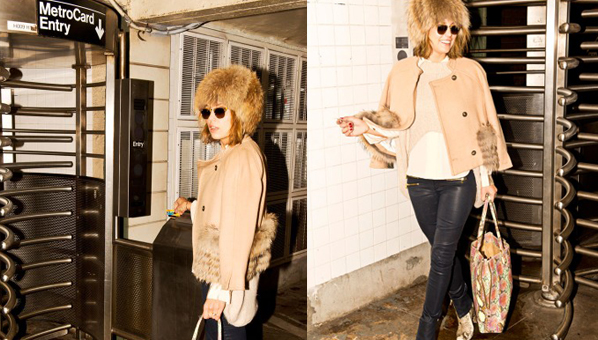 The Pretty Girl's Guide To Commuting: How To Look Good When You Get To Work
To quote Game of Thrones, "Winter Is Coming." The freezing temps, the snow, the sleet, the rain, and salt-ridden sidewalks. Yes, you'll have to face these weather challenges head-on soon, especially during your daily commute. And what's worse than showing up to work and the back of your favorite black slacks are covered with slush? If facing these winter trials are brand new to you, or if you're looking to step up your warm layer game, then read on. We've gathered a few tips and tricks on how to dress appropriately (while still sporting a stylish outfit under all of those layers) during the inevitable cold weather. Click the slideshow to find out how to good when you commute. Have more tips on dressing for your cold weather commute? Share them in the comments section below! For more tips, check out: boots to wear based on the weather, everything you need to know about Isabel Marant x H&M and 10 ways you're making your skin worse [Photo Credit: The Glamouri]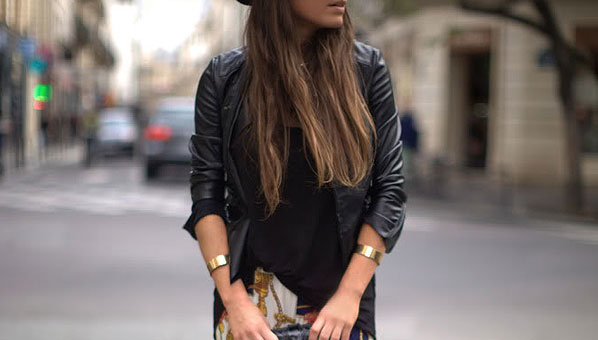 Just Say 'No' To Motos: The Best Leather Jackets Of The Season Are Draped
Clothes this season tend to err a bit more on the comfy side with oversized and PJ-like everything. It's a bit of an androgynous season, then, to say the very least, but don't think that to fit in with the trend you need to buy outwear that will swallow you whole. Filling in the voids left behind by the usual jacket culprits -- think leather, fitted, puffy, tweed -- are a droopier breed of jacket that won't overwhelm your shape, but that will still fit in with this fall's casual vibe: the drapey leather jacket. Drapey enough to wear over your sleepwear-inspired work attire, but also thick enough to actually keep you warm when the breeze starts to get cooler, these jackets take the fitted feel of blazers and mix it up with the looser look of a sweater. Turns out that this casual and comfy fall trend is even restructuring the traditional leather jacket -- and in the best way possible. [Photo: Be Frassy]
The Comfiest Winter Coats EVER
Winter sucks. Really, it's awful. It's cold -- no, it's freezing -- and unless it's snowing outside -- and like really snowing -- even looking out the window from your cocoon of a bed is bleak, much less going out in it. But we're big girls and getting out of the house, into the office and then catching up with friends later is a pretty big part of our lifestyles. So what's the solution? Finding the coziest, comfiest coats out there. And when it comes to outerwear you'll snuggle up with indoors too, there are a lot of options. From teddy fur coats to faux fur, oversized and blanket-like, patterned or plain, all you need is a budget (this list starts at only $119!) and some cooler weather -- the latter of which is on its way if you're lucky enough to not have too much of it just yet. [Photo: Lee Oliviera]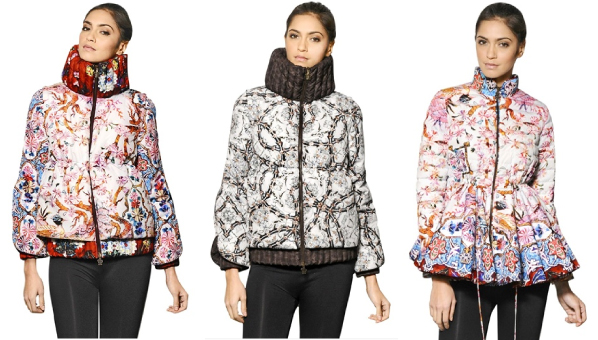 Mary Katrantzou's Prints Are All Over These Moncler Jackets
Want to know what the coolest winter jacket will be this season? Anything Moncler M, the result of a collaboration between the Italian luxury outwear label and Mary Katrantzou. The Queen of prints brings her amazing bold graphic patterns to this capsule collection of down jackets. It's the perfect mix of Katrantzou's feminine designs with Moncler's signature cold weather gear. We don't know anyone who wouldn't want to rock one of these jackets next season. Click the slideshow to shop all the Moncler M jackets now! For more collabs we love, check out: Peter Som x Kohl's DesigNation, Stila x Dancing With The Stars makeup sets and the complete Catherine Malandrino x DesigNation lookbook
How To Look Put-Together On A Rainy Day
I always feel like I look like a drowned rat on rainy days. I never seem to wear the right jacket or shoes--and don't even get me started on my hair. And even though it's pouring out, there's always that one girl gracefully dodging puddles in her cute rain boots and perfectly fitted trench coat. After several days of showing up to work looking like I got lost in the Amazon rainforest during my commute, I decided I wanted to make summer rain storms my bitch. Here are the rainy day survival tricks I've learned so far: Wear water proof makeup. If the weather forecast says rain, reach for your waterproof mascara in the morning. You never know when you'll get caught in downpour or splashed in the face (seriously). Unless you are under the age of 10, multi-colored rain boots are not acceptable. I don't care who makes them. Invest in a pair of classic, black rain boots--preferably ones that look like regular boots. I love this pair by Burberry ($275) because they a) don't even look like they are made out of plastic and b) will go with whatever outfit you already have planned. Pick up a bottle of anti-humidity spray. Kate Middleton is the only woman in the world that can pull off frizzy hair. Swing by Sephora and get yourself a bottle of Bamboo Smooth Kendi Oil Dry Oil Mist ($35). Trust me, it's worth it. A belted trench always looks classy. It's almost impossible to go wrong with a classic beige trench coat. Opt for one with a cinched waisted for a more fitted look. Bonus points if you find one with a hood. Plastic ponchos are only okay if you are a tourist at Disney world. Unless your trapped at Epcot in the middle of a torrential downpour, don't even think about touching a plastic poncho. In order to help you follow these rules, I rounded up the best boots, umbrellas and rain jackets for surviving this miserable weather (and looking good at the same time). Flip through the slideshow to check out my rainy day picks. And for sunny days, check out these classic-style sunglasses, pastel sunnies and our guide to the best sunglasses.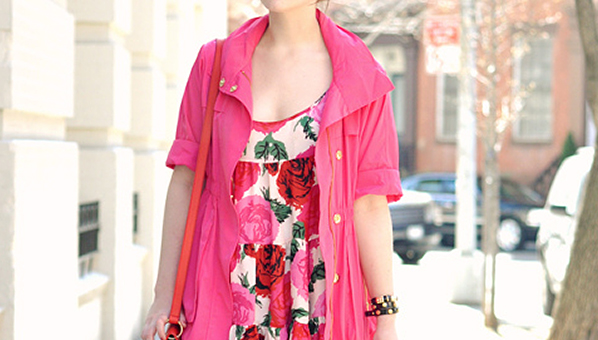 When Warmer Weather Hits, Trade In Your Wool Coat For One Of These Cool Anoraks
As much as we love layering, there comes a point in early spring when all we want to do is hang up our sweaters, scarves, and coats and throw on an easy, lightweight jacket. And every spring, without fail, our jacket of choice is the anorak. Versatile and weatherproof, anoraks actually shield you from the spring elements (namely, rain), while providing a perfectly casual and cozy cover up for warm(ish)-weather attire. This spring, we're loving traditional, oversize silhouettes, but we're also falling for anoraks in refreshingly cool colors and patterns (think polka dots and colorblock). The best thing about these jackets? They'll never go out of style--and you can just as easily wear them on a hike in the country as you can on your hike to the subway every morning. Shop our favorite anoraks of the season in the slideshow, then check out more spring jacket trends: bright leather, embellished denim, and lace bombers! [Photo: Keiko Lynn]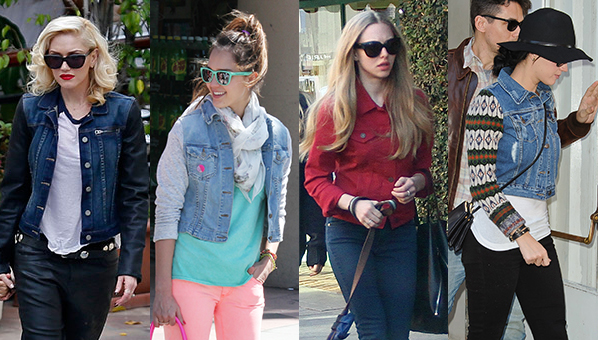 Denim Jackets Get A Major Makeover For Spring: Studs, Stars, Metallic, More
It's almost spring, which means denim jackets are back in style...again. Everyone and their mom has the same boring denim jacket. Thankfully, this year denim jackets are getting a much needed makeover. Gone are the childish cropped jackets and mommy denim-- this spring's jean jackets are totally bad ass. Think studs, metallics, and tons of mixed media. Get your inspiration from Gwen Stefani and rock a cool jean jacket with leather sleeves or go bright with colored denim like Amanda Seyfried. We rounded up an amazing mix of colored, distressed and embellished jean jackets for every style. Splurge on jacket from the denim brand R13 (they just released their first line of outerwear) or go crazy with tons of different styles from Forever 21. Click through the slideshow to shop all the best denim jackets for spring. Be sure to let us know which one is your favorite. Want more spring trends? Shop woven shoes, anchor themed clothing and accessories and jungle prints. [Photos: Splash News]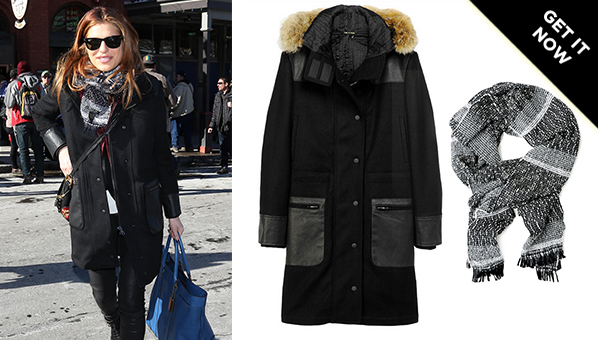 Get Blizzard-Ready In Lake Bell's Rag & Bone Coat And Scarf From Sundance
Since the Northeast is about to be buried under a layer of snow, we can all use a few tips on how to look good in the freezing cold. Maybe we could all learn a little something from Lake Bell. The actress not only took home the screenwriting award at Sundance for In A Word - a project she also starred in and directed - but she also nailed the perfect cold weather get-up in a Rag & Bone Belfast coat ($300) and the patterned Rag & Bone Raj scarf ($60). We love the warm jacket's edgy canvas patches and fur-trimmed hood. Plus, it's the perfect price for a versatile winter coat. The jacket and scarf aren't available just yet, but they will likely be back in stock soon at Rag & Bone so be sure to set an alert. For more celebrity style, shop Kate Beckinsale's discounted jacket, Miley's high-waisted pants & crop top, and Jessica Biel's jeans, tank and bag.
Kate Beckinsale's Drape-y Jacket Is On Sale
Kate Beckinsale has been slowly making her way onto our style radar with subtle, chic fashion choices that look great without ever feeling over the top. Last Tuesday, the Total Recall star stepped out in a textured Helmut Lang Perma Jacquard Jacket ($557, down from $795) while shopping at Fred Segal in Santa Monica. She paired the two-tone topper with baggy boyfriend jeans cuffed just above her ankle boots and a high pony, earning the British actress an incredibly effortless-yet-cool vibe. Kate has been really feeling this look lately, as evidenced by another recent relaxed-jeans-and-ankle-boots ensemble topped with a structured jacket. Is she pioneering a new trend? Or just sticking with a winning strategy? For more celebrity style, check out Kate Bosworth's high-low ensemble, Rihanna's lace-up swimsuit and Miley Cyrus's crop top look.
Metallic Moto Jackets To Help You Get Your Post-Holiday Fix Of Shiny Things
Didn't get all-things sparkly out of your system over the holidays? Don't worry: you can still wear shiny pieces well into the winter months. One of the best ways to rock the look right now is with a metallic moto jacket, a trendy, eye-catching alternative to the black leather jackets everyone has been wearing. Try a statement jacket in shimmery gold, bronze or silver over a simple outfit of muted colors, such as a winter white cable knit with black pants and booties. If you still need more color, add a splash with a bright scarf. For our roundup of metallic moto jackets, click through the slideshow. Want to shop more trends? Check out these Man Repeller-approved cursive 'love' rings, try out a clear box clutch and shop some hot one-pieces for your winter holiday. [Photo: moehfashion]
Found! Suri Cruise's Navy Blue Puffer Coat
If you live in the Northeast, you know how cold it's been these last few days. Sure, we've experienced colder, but that doesn't mean it's not frigid out there. So what do you put on your kid to keep him/her warm? Well, if you're Katie Holmes you turn to J. Crew Crewcuts and they're super lightweight, yet warm puffer coats. That's what Suri is wearing in the pic above and despite the grimace she appears to be perfectly warm in her topper. (more…)
Nor'easter, Shmor'easter: Rachel Zoe's On-Sale Military Coat Is A Safe Bet
The first major snow storm of the season has rolled through the Northeast and we are already so over it. It's like the Russian tundra out there. How appropriate, then, that Rachel Zoe would show up in this cozy Russian military-inspired coat. Even better, thanks to post-Holiday sales, the All Saints Spitalfields Soviet Coat is now 50% off ($262.50 was $525). Pair it with some combat boots and furry headband and you'll look right out of the Kremlin. Maybe we can put up with this weather after all. For more celebrity style, check out Kate Bosworth's under $100 Top Shop look, try out LeAnn Rimes' head-turning jumpsuit, and click through the 12 celebrity trends we couldn't get enough of in 2012.
A Lesson From Katie Holmes In Non-Bulky Winter Dressing
Every winter, we manage to encounter the same problem. I mean, how on earth are we supposed to look cute bundled up in layers and layers of bulky fabric? Last Wednesday, Katie Holmes may have solved that problem while out in NYC with daughter Suri. In her Moncler Genevrier Coat ($1,525), the Broadway actress mastered the art of wearing puffy coat without looking like, well, a puffer fish. Or that kid from A Christmas Story. Paired with her sleek leggings and Rag & Bone Classic Newbury Booties ($495), which are so hot right now with fashion-set celebs, any bulkiness added to the top half is automatically balanced out on the lower. Agree that it's time to finally look warm and cute? Get Katie's un-puffy puffer coat and all-the-rage booties, below! Moncler Genevrier Coat ($1,525) Rag & Bone Classic Newbury Booties ($495) See how other celebs are keeping warm, and don't miss Zoe Saldana's $30 coat, Anna Paquin's sweater and Kate Moss's jeans.
Zoe Saldana's Coat Is $30 And From Old Navy
Can you guess where Zoe Saldana, lead actress in the all-time highest grossing box-office film and recipient of Vogue's coveted Best Dressed title, got her coat? Unbelievably, the Avatar star's bright (like, Curious George bright) yellow topper is none other than Old Navy's Women's Classic Wool-Blend Coat ($29, was $55). Guys, it's even on sale. Cue the gasps! Could she possibly have borrowed it from Olivia Palermo, who was spotted in the exact same piece just last month? Or perhaps Old Navy is in the midst of a celeb-ridden PR stunt, and there are more banana-yellow clad celebs in our future. Regardless, when you're as gorgeous as Ms. Saldana -- and your boyfriend is none other than the smoking hot Bradley Cooper -- let's face it, you can wear a burlap sack and still shine like gold (or a yellow school bus). Better get yours quick! With two top stars now wearing it, this coat is sure to sell out fast. Get yours now, below.   Old Navy's Women's Classic Wool-Blend Coat ($29, was $55) What are other celebs wearing? You should see Jessica Chastain's Givenchy boots, Kate Moss's favorite jeans and Hilary Duff's trendy jacket.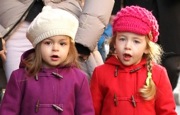 Another Day, Another Adorable Pic Of Tabitha & Marion Broderick Rocking Appaman
I mean, if you had to picture Sarah Jessica Parker's daughter, they'd totally look like this. They may only be toddlers, but can't you already tell Tabitha and Marion Broderick are already following in their mom's fashionable footsteps. They're adorable! (more…)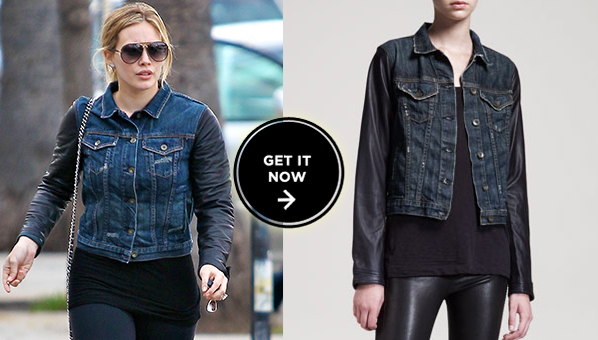 How To Look Cute After A Workout, According To Hilary Duff
New mom Hilary Duff is really trying to keep that hard-earned size-26 booty, as evidenced by a surge of paparazzi shots in Yoga-ready ensembles. This time, however, the Disney darling almost had us fooled. She tossed this rag & bone Distressed Leather-Sleeve Jean Jacket ($495) over her leggings-and-tunic combo post-Pilates last Wednesday before heading to Paper Source in Los Angeles for some festive wrapping paper. So, we have learned two things: One, Hilary Duff is magic, and actually does things after a workout. And second, she looks cute doing those things (leather sleeves are a major trend!). What's your secret, Hil? Endorphins? Ehh.. we'll pass. rag & bone Distressed Leather-Sleeve Jean Jacket ($495) See what other celebs are wearing, like Anna Paquin's J.Crew sweater, Beyoncé's dress on ASOS and Jessica Alba's under-$250 outfit.
Torn Between The Black And The Grey Coat? Buy An Ombre One And Get Both.
Love the ombre trend, but not quite sure you can pull off ombre tights? Lucky for you there's another way to wear ombre this winter: an ombre coat. Now before you start thinking over-the-top rainbow colors, stop. These ombre coats are actually pretty and understated and dare we say the ombre even makes them slimming. Everyone from alice + olivia to Rebecca Taylor made one this season, so there's sure to be a style that suits you. Click through the slideshow to shop our favorite ombre coats. Still looking for a cool coat? Check out jackets with leather sleeves, peplum coats and Fay wool coats.
Bundle Your Little Girl Up in the Same Appaman Coats Sarah Jessica Parker's Twin Daughters Wear…
Cold out there, huh? If your kid's winter coat just isn't cutting it, take a cue from Sarah Jessica Parker and buy the same parka she puts her twin daughters, Marion and Tabitha, in. They're wearing Appaman's Rivington coat in the pic above and we found the exact same one here: (more…)