Feet Stickers Are The Bizarre Thing You Need To Have This Summer!
Brad Goreski Tells Us What To Wear When It's Really, Really Hot
This Is The Only Bra You Need This Summer, So You Can Stop Looking
The Best One-Piece Swimsuits That Work On Everyone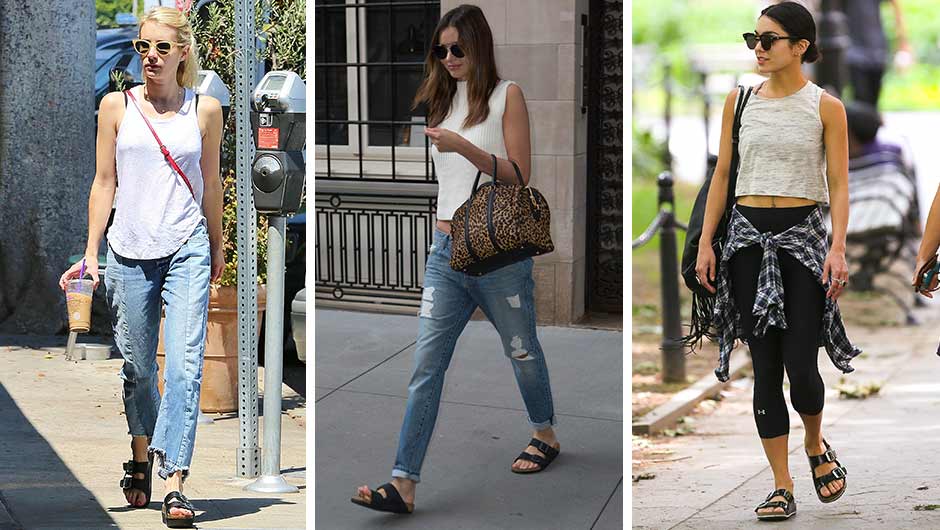 The One Pair Of Sandals Everyone Will Be Wearing This Summer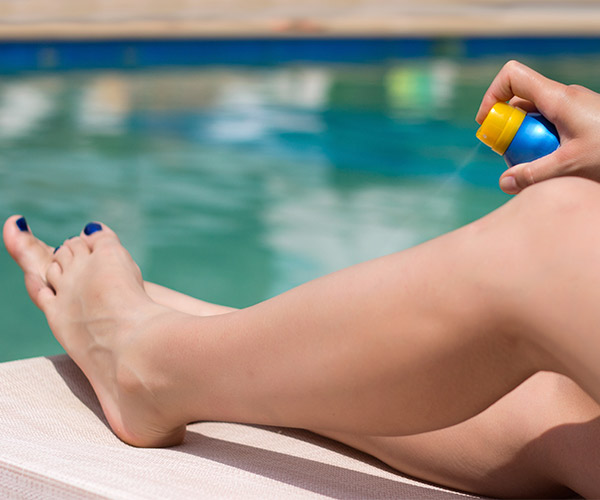 The Right Way To Apply Spray Sunscreen, According To A Dermatologist
How To Not Run Out Of Rosé This Summer (Worst Thing Ever)
The struggle is real when it comes to making a rosé bottle last for one dinner, let alone an entire night. Luckily, that won't be a problem this summer. Yes Way Rosé and Winc teamed up to keep the pink-tinted wine flowing with Summer Water Societé: a premium members only direct-to-consumer rosé club. Yep, you won't have to live through another rosé drought ever again. Well, unless you go through these bottles like water... which you probably will since that's kind of the point! Here's how it works: members will receive three "drops" of magnum-sized (that's 1.5 liters!) Summer Water bottles along with items curated by Yes Way Rosé's founders and expert rosé drinkers Erica Blumenthal and Nikki Huganir. Each package includes three magnums (aka, six regular-sized bottles) and one fun item like a S'well water bottle or Societé dad cap. Check out the swag: The first delivery will arrive for Memorial Day Weekend to kick-off summer and the last will land just in time for Labor Day--so you can finish off rosé season the best way possible. Signs ups start today for $350 with shipping and good vibes included. START LIVING YOUR BEST ROSÉ LIFE NOW If for some reason you don't know what to do with your magnums, here are two rosé cocktail ideas: Summer Water Sangria "Sangria is always super fun for parties and outdoor BBQs. Make it with Summer Water and it takes it to a whole other beautiful level. It's a win-win when a cocktail is refreshing and gorgeous to look at. "-Erica and Nikki, Yes Way Rosé. Ingredients: -1 bottle of Summer Water Rosé -1 orange sliced -1/2 grapefruit, sliced -1/2 cup strawberries, sliced -1/2 cup raspberries -1 lime, sliced -A handful of mint leaves Directions: Pour a bottle of rosé into a pitcher or punch bowl. Add fruit and mint leaves. Stir and let sit for 1 hour (or up to overnight) before serving. Tip: pour into sealable mason jars to take on a picnic, to the beach, or anywhere on the go. Yes Way Rosé Negroné "The Summer Water Roségroni is a combination of our favorite kind of cocktail, the Negroni, and Rosé, which is obviously our favorite kind of wine. It's a playful, fresh spin on a classic and the best of both worlds."-Erica and Nikki, Yes Way Rosé. Ingredients: -3 oz Summer Water Rosé -1 oz Lillet White Apertif >-3/4 oz Campari Directions: In a double old-fashioned glass, add all the ingredients. Add ice (a big rock is best), and stir until cold. Take a big piece of grapefruit peel (peel only — no pith!), and express the grapefruit oils over the top of the drink and around the rim. [Photos: Winc]
The One Thing You Shouldn't Do If You're Having Summer Scaries
Somehow, Labor Day Weekend is already here (seriously, where did June, July and August go?), which means, unfortunately, we're forced to deal with the summer scaries. For the uninitiated, the summer scaries are that bummed out feeling we all get when we all realize that our days of summer Fridays, crop top temperatures and lazy beach weekends are numbered. But luckily, there are ways to beat the summer scaries - it starts simply with thinking positively. Instead of having that same old conversation with your friends/coworkers/neighbor about how bummed you are about summer ending, keep it positive. While it may only seem like small talk, all that negativity about summer ending can make your thoughts turn super negative - which is what causes the summer scaries in the first place! Next time your friends start up another round of complaining about the end of summer, switch the conversation to everything you're excited about for fall. (Even if pumpkin spice isn't your thing, it'll be nice to get outside without sweating like crazy again!) While the warm sunny weather is still here, make sure to make the most of it. Treat yourself to one last beach trip, wear sandals as much as possible and take full advantage of the long weekend! Once you've savored the last bit of summer, you'll feel ready for sweaters and fall leaves. When you start talking about how excited you are for fall, you just might start to believe it yourself - no suffering from the summer scaries necessary. [Photo: Shutterstock] Also check out: What Does It Mean If You're Always Hot? and The Best Labor Day Sales To Shop This Weekend
6 Memes That Accurately Describe How You're Feeling About The End Of Summer
We're not over the fact that it's already August, like really?! The summer flew by and somehow we've ended up just days away from Labor Day. You might be cursing those 90-degree days, or dreading your sweaty walk to work, but before we know it, it's gonna be fall, and we'll all be craving those warm summer nights and days at the beach #rip There's no better way to describe how we feel about summer being over than to turn to social media, duh. We compiled some of our favorite memes to attempt to put into words how we feel... Scroll through to check out the funniest and most accurate memes about the end of the summer! https://www.instagram.com/p/BIqi4phAENz/?taken-by=memes&hl=en https://www.instagram.com/p/BHUwbsaBCBU/?taken-by=girlwithnojob https://www.instagram.com/p/BHU8eHBAItL/?taken-by=thebraintickle https://www.instagram.com/p/BIVccvQA-Y0/?taken-by=beigecardigan https://www.instagram.com/p/BHU-lYuhys2/?taken-by=ifunnymeme&hl=en https://www.instagram.com/p/BIawjCJDooi/?taken-by=betches Make sure to check out These Dog Instagram Accounts You Need To Follow and How To Get Loyal Likers on Instagram!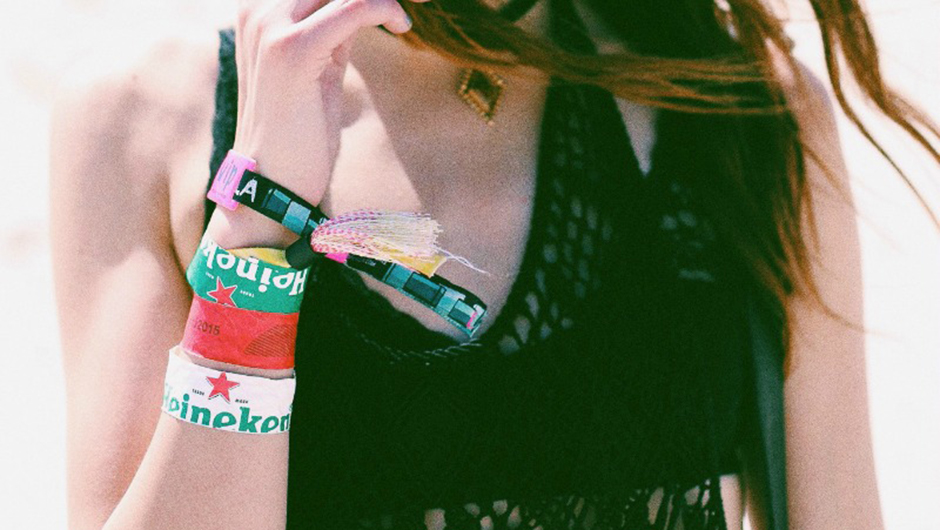 6 Cool Ways To Save Your Concert Passes From This Summer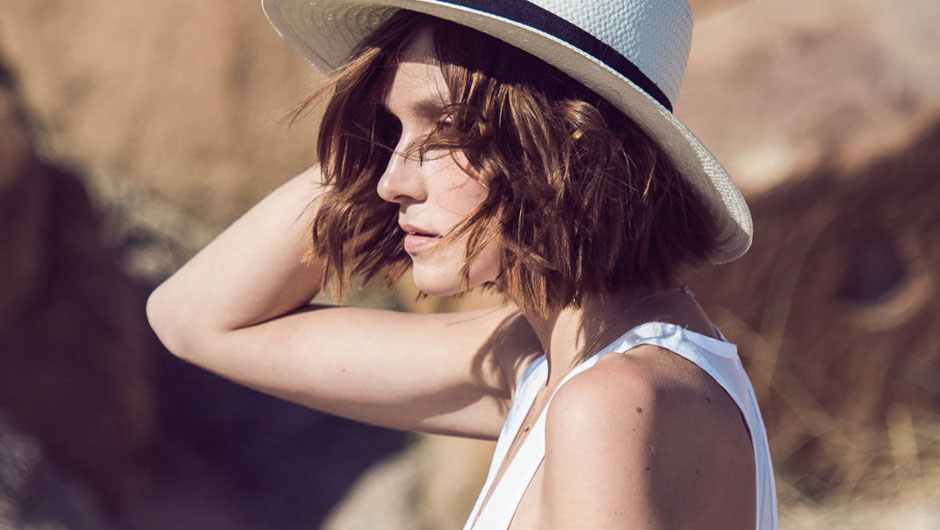 1-Second Tricks For Cooling Yourself Down If You're Nowhere Near A Pool Or Shower
Sometimes when I'm commuting to work in summer, I show up at the office all hot and sweaty, but have a morning meeting right away that I need to get cleaned up for. I don't want to be perspiring or have a sweat stache while sitting close to my co-workers, so I need a way to take my body temp down--fast. If you're like me and need to immediately cool your body down, try these two proven tricks. They work for me every time (because of science, you see!): READ MORE: The One Color You Should Never Wear When It's Hot Out (It's Not Black!) Put something cold on the back of your neck. The sensor for your body temperature is in your neck, so if you cool this spot you can trick the rest of your body in to thinking it's cooler than it is. If I'm at home, I use a face cloth or an ice cube or a bag of frozen peas. If I'm at work, I use a paper towel from the bathroom. If you really want to be hardcore, you could roll an ice cube in the back of a handkerchief or scarf and tie it around your neck and where it like that. This could prevent you from sweating so much in the first place. Run cold water over your wrists. Heat radiates from the body in a couple key places--from the hands, feet, face and ears. Target these specific areas if you need to cool down quickly. At work, I run cold water over my wrists for at least 10 seconds. This can actually reduce your body temperature for about an hour (just enough time to get through that first meeting!). At home, I'll fill the tub with cold water and sit on the ledge with just my feet in the water or stand in my daughter's kiddie pool. Kiddie pools are a great at-home option for adults (seriously) because of how effectively cooling just your feet can cool your body. If you don't have a real pool, just buy a cheap plastic one on Amazon. It's a poor man's paradise! [Photo: Ania B]
Here's How You're Celebrating National Watermelon Day: Watermelon Sangria
Happy National Watermelon Day, everyone! We have the perfect way to celebrate the fruit of summer: a cocktail! And no, it's not making a vodka-infused watermelon (I've tried it, and it's harder than it looks). We have something easier and yummier - Watermelon Sangria! We're combining the two things that literally scream summer - watermelon and sangria. Personally, we don't think it can get any better! Here's how to make your perfect summer cocktail to honor this fruit on its big day: Ingredients: 4 cups of cubed, seedless watermelon, 1.5 cups of white wine, 1 oz. Anejo rum, 2 oz Cointreau, 2 oz simple syrup, 2 limes, ice. 1) Make 2 oz of simple syrup: pour equal parts water and sugar into a saucepan, and heat over medium heat until the sugar dissolves in the water. Once the edges start to simmer, and the mixture is clear, immediately remove it from the heat. 2) Purée fresh, seedless watermelon in a blender. Then strain it into a large pitcher. 3) Add the simple syrup, wine, rum, and Cointreau to the pitcher and stir. 4) Juice 1 lime and add it to the pitcher. 5) Cut the other lime into thin slices to add into the pitcher. 6) Cover and refrigerate for 2-4 hours. 7) Serve over an ice-filled glass. And if you're feeling fancy... garnish with a small cube of watermelon and a fresh mint sprig! Check the official recipe here. Make sure to check out What Your Favorite Drink Says About You and The Drink of The Summer: Frosé [Photo: Shutterstock]
The Worst Things To Wear On A Really, Really Hot Day
These Confetti Tattoos Are The Coolest Thing To Happen This Summer
I don't even know how I discovered these confetti temporary tattoos, but I am so into them. I think what I like most about them is that they are slightly more subtle than Flash Tattoos. Those come in all types of patterns and designs, big and small, while these Mr. Kate BeautyMarks 'The New Makeup" - Confetti ($14) are just like little sprinkles for your body. Trust us, this is a good look: https://www.instagram.com/p/_slXZNy1f2/ https://www.instagram.com/p/-lOhz_y1fI/ They're also different from the gold and silver metallic tats everyone else is wearing, which is another reason to love these temp tats. Bring 'em for a summer weekend getaway or put some on before your next music festival. Then take lots of pics because you're sure to get those double taps on Instagram wearing these babies. BeautyMarks 'The New Makeup" - Confetti ($14) Don't forget to check out: where Mila Kunis bought her $90 wedding ring and shop the wrap-around choker trend [Photo: Mr. Kate]
13 Cool Printed Beach Towels That Are So Freakin' Good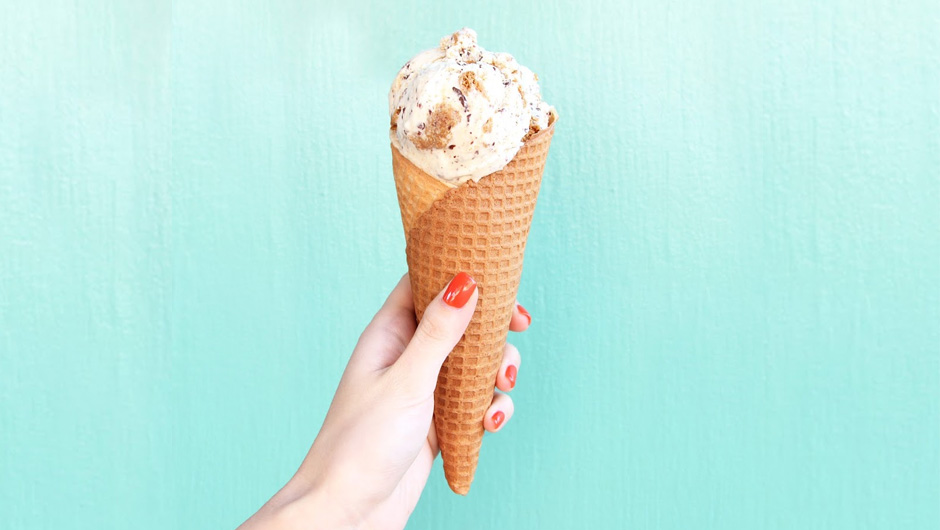 The Best Ice Cream Shops In Every State, According To Foursquare
Foursquare did the right thing and compiled the best ice cream shops in each state (D.C. included!). The list is made up of the top-rated places based on user reviews, so you know it's legit. It's summer, it's hot out, and you should be eating ice cream on the reg. Here are the best place to do it across 'Murica: New York Ample Hills Creamery 305 Nevins St, Brooklyn, NY https://www.instagram.com/p/BHPsfhfjij-/?taken-by=amplehills California Bi-Rite Creamery 3692 18th St, San Francisco, CA https://www.instagram.com/p/BHfXj0IAqZq/ Texas Amy's Ice Creams 3500 Guadalupe St, Austin, TX https://www.instagram.com/p/BAsLJLwnD3F/ Florida  ChillN Nitrogen Ice Cream 8271 SW 124th St, Miami, FL https://www.instagram.com/p/zOHYcNxpjL/ South Carolina Hilton Head Ice Cream 55 New Orleans Rd Ste 114, Hilton Head Island, SC https://www.instagram.com/p/BDEYlswIBE9/ Arizona Churn 5223 N Central Ave, Phoenix, AZ https://www.instagram.com/p/8b3myYAGPb/ Tennessee Bobbie's Dairy Dip 5301 Charlotte Avenue, Nashville, TN https://www.instagram.com/p/BG5Cs92Krsa/ Colorado Sweet Action Ice Cream 52 Broadway, Denver, CO https://www.instagram.com/p/BHiWUNFg3yy/ Oregon Salt & Straw 838 NW 23rd Ave, Portland, OR https://www.instagram.com/p/BH4vgu6DoQm/ Louisiana Creole Creamery 4924 Prytania St, New Orleans, LA https://www.instagram.com/p/BH3WmLXglph/ SEE THE FULL LIST HERE Don't forget to check out: cult Starbucks drinks everyone should try and crazy facts about Pokémon [Photo: Aww Sam]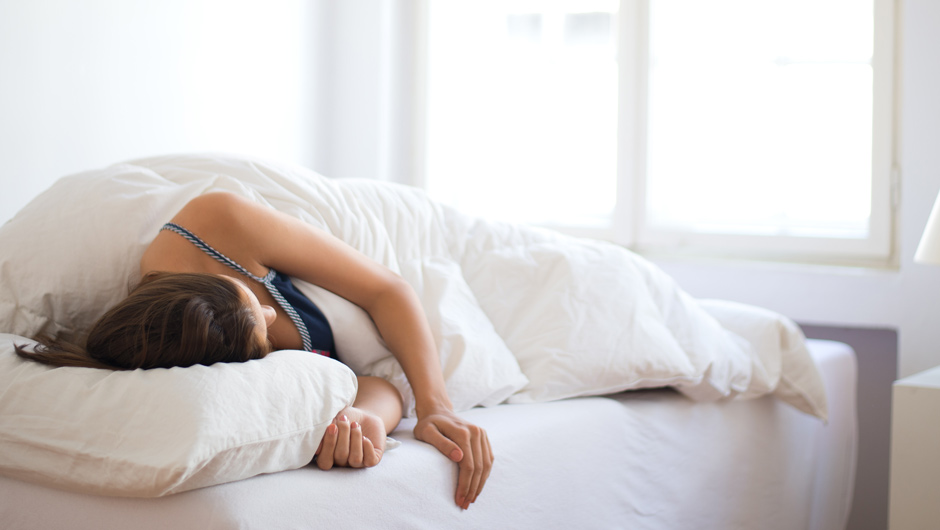 Once and For All, Is It OK To Sleep With A Fan On?
The summer heat can get to us all. We're kind of over those 97 degree days where you can literally feel the moisture in the air - ew. Even worse than hot days, are hot nights. There is nothing more uncomfortable than sweating in your sleep. But there's an easy solution: put a fan on! Cool air will quickly come your way... Hold up. There might be some issues with using a fan at night, and we are here to finally determine whether this quick fix for heat is good or bad... Here's the scoop: there are two negative aspects of using a fan to cool yourself while you sleep. First, fans dry out the air. You might think good, now the hot, sticky moisture will be gone! Nope, when you dry out the air, your mouth and trachea become dry, leading to a bad night's sleep. Not to mention that you'll lose your highly-needed 8 hours of sleep, because you'll have intense thirst, and you could give yourself a cold! No one wants to get sick from a fan... at least get a cold from kissing a cute boy, right? If you think your air is drying out, try using a humidifier to put some moisture back in the room. Second, fans that aren't used frequently during the day collect dust. So, when you turn on your fan thats sole purpose is to be used at night, you are actually blowing dust straight into your face, ew. This can cause clogged sinuses, leading to a sinus infection, a cold... you name it. So either regularly clean your nighttime fan, or suffer the consequences! Why? Well, when your body isn't in perfect condition, your immune system has to work harder to keep off bacteria and viruses. So if you're putting yourself in an irregular cold environment, your immune system might not be able to fight 'em off. So, if you're dead set on sticking with your fan, whether the noise soothes you or you're just stubborn, make sure you're using it properly to avoid getting sick! Make sure to check out If You Should Sleep With Socks On and the answer to If You Should Sleep With A Bra On? [Photo: Shutterstock]
Does Wearing Jeans On A Hot Day Really Make You Hotter–Or Is It All In Your Head?
To wear jeans or not to wear jeans--that is the question I have every morning when getting dressed lately. On the one hand, I know that with jeans I don't have to shave or worry about my legs not being in summer shape. But on the other hand--jeans are too hot for summer, right? Right?? Well, maybe not. A friend brought up a good point--does wearing jeans really make you hotter, or is it just psychological? I had to find the answer (I'm just weird that way) and did an internet deep dive on the topic. READ MORE: What To Wear When Your Legs Aren't Ready For Skirt Season So let's start with the science of sweating--why do we sweat? When we get hot we sweat, and in order for our bodies to cool off from the heat, we need that sweat to evaporate. According to this NPR article, it's the evaporation of sweat that drains the heat from your body. That's pretty straight forward, right? According to the professor of environmental physiology and ergonomics they spoke to (so, yea, pretty legit), for sweat to evaporate you need air to flow all over your skin--as much as possible--thus the natural urge to wear fewer clothes when it's hot out. More air flow = less hot feeling. READ NOW: 4 Ways To Deal With Back Sweat Now, using this logic alone, we would all be running around naked in August--which isn't exactly feasible, is it? Unless you live on a nudist colony you need to wear something. This is why skirts and dresses are so popular in summer--they allow you to be fully clothed but get that much-needed air flow to your legs (the same goes for why sleeveless tops are best). But before you write off wearing pants completely--let me represent an alternative view here. This is where the pants-in-summer debate really heats up (sorry for the pun): some people swear that pants actually block the sun/heat from hitting your skin and can keep you cooler. This claim I could not substantiate with any scientists or doctors--but there were several message board posts about it. And that's the internet equivalent of scientific research, right? Another argument for wearing jeans and other pants in summer is that most people's offices have the A/C blasting during the summer months, so you actually need to cover your legs *more*. If this is true of your office, then yes, wearing jeans in summer might not be a bad idea. READ NOW: The Best And Worst Fabrics To Wear When It's Really, Really Hot Now that we can agree that more clothes coverage make you hotter (remember the air flow issue, from above!), but that someone's personal preference might be to wear more clothes--how exactly do you reckon that? Well, there are plenty of tips for how to pull of things like jeans in summer... like this one from Business Insider. You can read the whole thing, or I can give you just the info you need to know: -The lighter the denim, the better. Denim typically weighs 12 ounces to 16 ounces. Go for the 12 stuff. -Avoid stretch denim or skinny jeans. The synthetics that make denim stretchy aren't breathable (as compared to something like a cotton or a linen). Remember, you want breathable fibers when you're sweating. The absorb moisture and breath it away from your skin. -Avoid "raw" or "dry" denim. If you see those words on the description, don't buy them for summer wear. The fabric is stiffer which makes it less breathable (until it's more broken in, of course). -Go for distressed or hole-y denim. As long as it's office appropriate, go for distressed denim that has patches that are worn through (or best case scenario, huge holes). This will allow for that air flow you're so after. -Cuff it, cut it or roll it. Do whatever you can to get some air flow up in there. If you're cuffing jeans, BI suggests skipping socks--that seems to be the style rule. Cuffs = no socks. Wear slip-on sneakers, flats, boat shoes, or pumps or sandals with a sturdy heel. READ MORE: Is It Bad To Wear Shapewear When It's Really, Really Hot? The Answer So, there you have it--jeans make you hotter, but that's OK if you need to wear them, just choose wisely. Was this article helpful? Let us know in the comments below or send your summer style questions to [email protected] [Photo: Viva Luxury]
There's No Cute Name For Arm Chafing Like There Is For Chub Rub, But Here's The Cure
Chub rub is that thing when you don't have a thigh gap (me!) and your thighs rub together in dresses and on really hot days they start to chafe. It's as unfortunate as it sounds, and the bad news just got worse: it happens to your boobs and underarms, too. There's not a cute name for it yet (brub, armcicles, bafing) but it's definitely an established medical problem, and now's the time of year when we get it the worst. READ MORE: 5 Simple Ways To Prevent Inner Thigh Chafing There is a product on the market that cures it, though--the only problem is you might be sleeping on it. Why? Because it comes from a brand known for dealing with other, um, intimate women's problems. READ MORE: How To Wear Shorts If You Don't Have A Thigh Gap Monistat's Chafing Relief Powder Gel is actually the undercover cure for this problem. It's only $6 and its exactly what you need for chub rub and its sisters boob rub and arm arm. Monistat Complete Care Chafing Relief Powder Gel ($5.99) We wrote an extensive review of Monistat for chub rub last year--and the effectiveness for side boob, underboob and underarm rub is the same. The gel is super lightweight on the skin and is hardly noticeable when you're wearing it. The smell is not noticeable, either, so you can definitely get away with wearing it. Most importantly, though, it totally works in keeping skin from getting irritated--even for meaty girls like myself whose skin loves to touch itself in different places. It worked for me last week when it was 95 degrees in New York City. I'm a commuter, so I do a lot of straight-arm-going-back-and-forth-fast-walking , and I legit had no chafing. I was wearing a spaghetti strap dress, too, so there was lots of skin exposed. So--will you try it? Let us know if it works for you--and what other summer problems you're dealing with rn.
How To Prevent Your iPhone From Overheating (Worst Thing Ever)
We know... we just can't go anywhere without our phones. While we're in bed, in the car, and even in the bathroom (c'mon we all do it), we bring our phones everywhere. So it makes sense that we're attached to them while we spend time outside this summer. But what should we do when our screens get too hot to touch or you get that notification that you need to let your phone cool down (worst thing EVER)? We thought of some ideas to help keep your phone cool while you enjoy the summer sun. Pocket it! Get a beach towel with pockets attached to it! Whether you're relaxing on a lounge chair or lying on the beach, you can stuff your phone in the pocket, and keep it out of the sun! Beach Vault. Try out this new beach hack - The Beach Vault! This gadget lets you bury your valuable items underground, under your towel, safe from thieves AND the sun. The vault will keep your phone away from the rays, and prevent it from overheating. Pace yourself. Don't use your phone too much at once, and limit the amount of things you do on your phone. You probably came to the beach to relax, so let your phone relax, too! Doing too much to your phone while it's under extreme heat will make it overheat even faster. Only do what's necessary to try and keep your phone under temperature control. Disconnect. If you're at the beach, you should take the time to disconnect from your phone and enjoy where you are! Whether you're with friends or there on your own, take in the waves, enjoy the company, and give your technology a break! Your phone will thank you, and we're sure you'll enjoy your time that much more. Hopefully, this simple tips will keep your phone from overheating, and let you enjoy your day at the beach! Make sure you check out 5 Ways To Prevent Hair Damage When You Go Swimming and What Your Go-To Bikini Bottom Says About You [Photo: Shutterstock]
5 Ways To Prevent Hair Damage When You Go Swimming
I know too many women who won't dunk their heads when they go swimming. On a really hot day, nothing feels as refreshing as taking a dive into a pool and going for a swim. But, we take our hair care very seriously here at SHEfinds, and understand the internal debate in terms of protecting your hair from pool damage - the struggle is real. We want every woman to feel confident and able to enjoy all that summer has to offer, so we did some searching and found the official advice on how to protect your hair from chlorine this summer - and by official, we mean advice from swimwear professionals, Speedo. 1) Tap Water. Speedo says to always soak your hair with tap water before swimming so that it absorbs regular water instead of chlorinated water. Hmm, very interesting! 2) Oils on Oils. Once your hair is wet, Speedo recommends that you apply some Moroccan, argan, coconut, or olive oil to your hair. The oils will act as a repellant to the pool water, further protecting your hair from chlorine damage. 3) Sunscreen. If you're swimming outdoors, apply some sunscreen (probs spray for the best effect) to your hair to avoid dryness and discoloration (if your hair is color-treated), from the sun. 4) Lather Up. After swimming, give your hair a double-wash to make sure you get all of the chlorine outta there! If your hair is dry, try using a super-hydrating or anti-chlorine shampoo. 5) Conditioner. Leave in a deep conditioner for 10-15 minutes to re-hydrate your hair. Or if you're in a rush, use a hydrating conditioner in the shower and leave it in for 2-3 minutes! So, there's no reason to fear the pool. With these simple hacks, your flowing tresses will be protected all summer long! Be sure to check out The One Second Trick For Getting Sand Completely Off Your Body and The Interesting Science Behind Why Your Hair Gets Lighter In The Summer [Photo: PeaceLoveShea]
Find Out What Your Go-To Bikini Bottom Says About You
Sun's out, buns out! Summer's here and we're all showing off our bikini bodies. Everyone's body is beautifully different and deserves to be shown in its best light. So, since we already know what your bikini top says about you, we want to know about your favorite bikini bottom... and your bottom! Whether you love the hipster, high-waisted, or Brazilian booty, your bathing suit bottom says something about you. Check it out! A) String. She wore an... you've got it - itsy bitsy bikini! You dare to bare some summer skin in a string bikini bottom. You love a challenge, and you're not afraid to try new things. Your fit physique is always ready to join in on a game of beach volleyball or a run on the beach. Sometimes your confidence can make others intimidated, so just make sure to show off your goofy side and laugh it off! B) Brazilian. Quente! (That's 'hot' in Portuguese, fyi) You've got a great booty, and you're not afraid to show it off. If you could live at the beach, you would - you love the summer, and know how to ~get your tan on~. You're confident in your body and who you are, but be careful that you don't come off as self-centered. Your sense of self allows you to be a great friend and shoulder to lean on. C) Hipster. Plain and simple, that's your motto. You know what looks good on your body, and you like to stick with it. You enjoy having a large friend group, but don't like being the center of attention. Sometimes you get a little bit "stuck in the middle," so make sure that you don't get lost in the crowd! Try some new things this summer - you never know what you'll find. D) Boyshort. You're sporty, and you've always been an athletic one. You love your daily workout, and enjoy athleisure clothing - so why not wear it at the beach?! Your boyshort bikini bottoms are perfect for a friendly soccer game with friends or a race in the pool! Make sure your competitive side doesn't get the best of you and enjoy the summer fun! E) High-Waisted. You're the friend that is always in the know. Whether it's the latest style, designer, singer, or store, you know where the newest fashion is, and your friends love you for that. You're always on the lookout for the next new thing, but don't let that take away from your relaxing time. No matter which bottom you love to wear, you will look fab in any style! Make sure to rock your look whether you're at the beach, pool, or any destination this summer. Make sure to check out What Your Go-To Bikini Top Says About You and This 1-Second Trick For Getting Sand Completely Off Your Body!
The 1-Second Trick For Getting Sand Completely Off Your Body
We're all for spending a relaxing day in the sun and sand, but a beach day can make for a pretty serious mess when it's time to leave. We're talking sand. Everywhere. Especially if you have somewhere to be post-beach day or simply don't want to make a mess of your car, getting rid of sand on your skin before leaving the beach is a must - but that doesn't mean it's easy. The one easy trick for getting your skin sand-free once and for all? (And no, we're not talking about those showers near the entrance!) Next time you're beach-bound, throw a bottle of baby powder in your bag. Before getting into your car, pour some into your hands and "wash" any sand-covered body parts - the sand should slide right off! If you've been struggling with those beach showers only to have more sand stick to your wet legs and feet, this hack will be a welcome fix! Honest Organic Baby Powder ($11.95) For more summer beauty hacks, check out: The One Thing You Should Do As Soon As You Start To Feel Your Skin Getting Sunburned and The One Thing You Should Always Do Before Going To Bed [Photo: Frassy]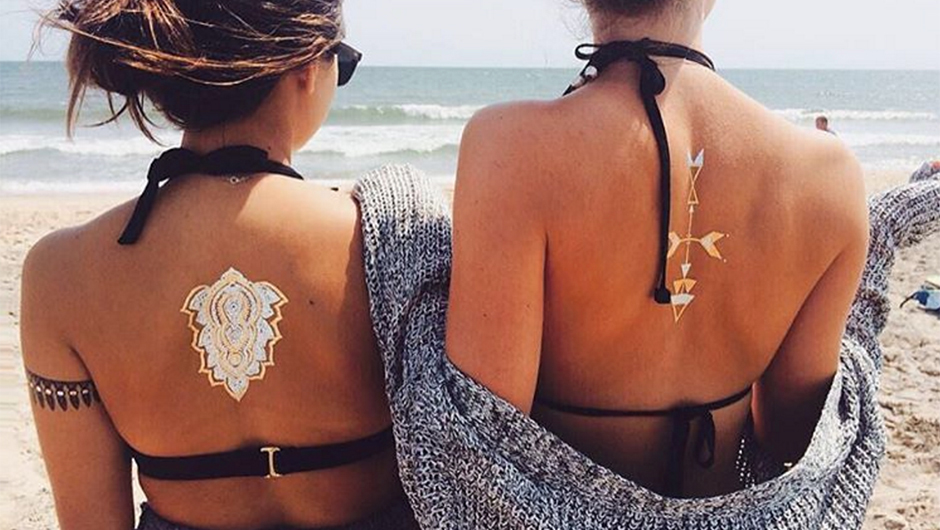 How To Get Flash Tattoos Completely Off
Over the Fourth of July weekend, you likely wore some trendy R,W,& B outfit and accessorized with Flash Tattoos, because summer, duh! The darty you went to in the Hamptons/Margate/Fire Island was lit and you looked festive AF. But the best part of your holiday was when your Instagram post of your metallic temp tat did really well (double tap, like). #MissionAccomplished. But now it's a few days later, and your Flash Tattoos just aren't coming off. Every morning, your embarrassment increases as you walk into work with those shiny shapes all over your body. (again!). How do I get these off of me? You've scrubbed and scrubbed, but the tattoos are really stubborn. Well, we've got your back, and found the official way to get flash tats off: The Flash Tattoos official website says, "To remove your Flash Tattoo, simply soak your skin in baby oil, olive oil or coconut oil for one minute then gently scrub off. Repeat as necessary. Apply lotion to moisturize and soothe the skin area." So there you have it - hopefully, this simple trick helps you get rid of those old, peeling Flash tats and also stops those awkward stares from co-workers... ;) Make sure to check out Summer Actually Isn't The Right Time to Eat Oysters, FYI and The Easiest Way To Clean White Clothes, Once and For All [Photo: Instagram]
The One Thing You Should Never Do Before Going To The Beach
Everyone wants silky, smooth skin before hitting the beach. However, the one thing you should never do before going to the beach might surprise you. Although it's tempting, you should never shave your legs directly before going to the beach. Shaving right before heading to the beach can leave your skin prone to irritation. It can even result in prickly heat, which is a a rash that can develop after a person sweats far more than usual and sweat glands become blocked. Shaving opens up your pores and exposes your skin to elements such as sun, sand, salt and chlorine. In fact, you want to avoid shaving before jumping in the ocean at all costs. Salt water can get into your open pores and cause an intense burning sensation.  To be safe, shave your legs the night before your vacation. This will give your pores time to close and prevent irritation. Here are some more shaving tips to help keep your skin silky smooth all summer long: This also applies to waxing! Be sure to wax at least 24 hours before going to the beach. Always wear sunscreen. This is the best way to protect your skin from the sun. Change your razor blade regularly. If you use a dull razor, you risk getting razor burn. A bad razor can cause skin irritation and open your skin up to infections. Apply moisturizer after shaving. This will help protect your skin from the elements. Shave your bikini area 24 hours in advance to going to the beach or laying in the sun. This area is extra sensitive to the sun, sand, and chlorine. Ready for the beach? Check out our guide to getting tan without laying out in the sun. [Image: Natalie Off Duty]
Find Out What Your Go-To Bikini Top Says About You
Everyone's got their own style - we know what necklines, dress shapes, shoes, etc. look best on each of our bodies. And this sense of self doesn't stop there... everyone has their favorite type of bikini top! Whether you love a halter, triangle, or bandeau style we each know our go-to top. So let's find out what your favorite bikini top says about you... A) Triangle. You know that most of the time, it's best to just keep things simple. You love a chill day at the beach, playing some volleyball or swimming in the waves. You never say no to an opportunity to catch up with friends, and always give positive vibes. Your ~no stress~ attitude can sometimes lead you into a few sticky situations, but you're comfortable in your own skin and know that good things will work out. RELATED: What your height says about you B) Bandeau. Sometimes people think you're a little high-strung, but you'd rather think of it as put together... You are known as the queen of #NoTanLines and you like things to be in order. When something goes astray, you make it your priority to fix it. Be careful not to micromanage those around you, and remember that sometimes it's okay to just let things happen.  RELATED: What your ring finger length says about you C) Halter. You're a little different than a bikini, because you've got some more weight on your shoulders (if you know what we mean). You are strong and confident, and you don't let the haters get in your way. You're always down for a game of beach soccer and can run with the best of 'em. You defend your friends as if they were family, and are loyal AF. Sometimes you intimidate others, so try to show how your determination is all out of love. RELATED: What your hair color says about you D) Bustier. You're probably more busty than your friends, but you know how to dress your body to a T. You've always been on trend, knowing what's new and what's hot - so it's no wonder that you've picked up this swim style! You've got so many stories to share, and love to surround yourself with close friends to confide in! You know how to #work what you've got and you're not afraid to try new things. [Photo: Shutterstock]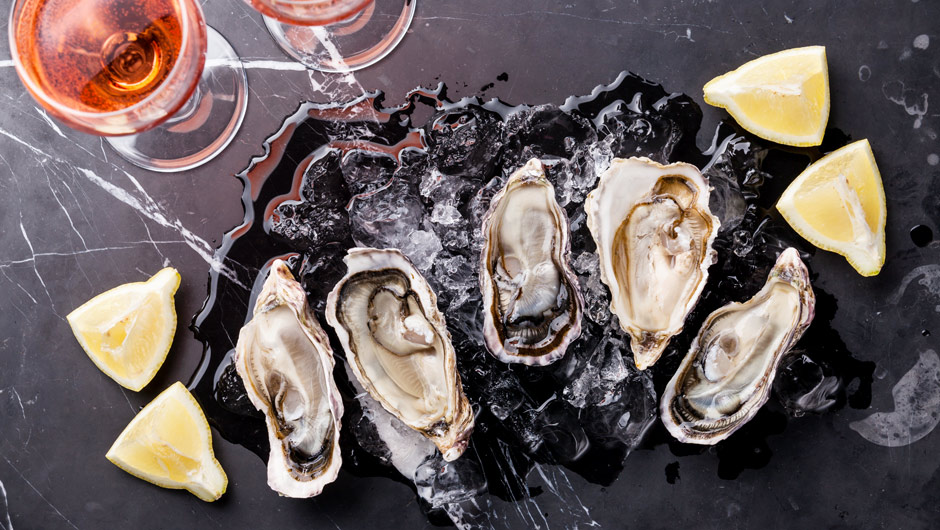 Summer Actually Isn't The Right Time To Eat Oysters, FYI
Sorry to burst your oyster-eating bubble, but you actually shouldn't be consuming the shellfish during the summer. Say what? Turns out, there's an old rule that oysters should not be eaten during months that do not contain the letter "R." So that's May, June, July, and August, which I was under the impression was the required time of year to eat oysters at every meal. This idea comes from the fact that red tides, which are large blooms of algae that collect along coastlines, occur during warm weather and spread toxins that can be absorbed by shellfish, mainly oysters. But don't freak out just yet. According to The New York Times, you're only at risk if you eat locally harvested shellfish. Most shellfish in restaurants and supermarkets are commercially harvested, which means the are strictly regulated by law to be safe for eating. Also, lots of restaurants take extra precautions and import their oysters from cold weather places. Phew.  So, basically, don't go out to the beach and find your own oysters, but feel free to order 10 rounds of those $1 oysters at happy hour from your fave seafood restaurant. Don't forget to check out: the bathing suit Gigi Hadid, Taylor Swift and Hailee Steinfeld all wear and the least-used emojis [Photo: Shutterstock]
5 Easy Ways To Get Tan Without Laying Out In The Sun
Let's be honest, everyone loves looking tan - we've never heard anyone say that they don't want to have that summer glow. But... we've definitely heard people complain that they don't feel tan enough. If you're one of those, we've got your back. Whether you're stuck inside working all summer, don't have a skin tone that gets tan, or need to be protected from the sun, we've got tips to help you get kissed by the sun, without actually baking on your pool chair or beach towel. 1) Foundation and Bronzer. It can be this simple! If you want some more color, try going one shade darker in your foundation, or find a bronzer that you like. Makeup can work magic, so give it a shot! Make sure you apply evenly to ensure that you have a natural glow. 2) Tan Towels. Ugh - we freakin' love these! These Tan Towel Half Body Towelettes are a quick and easy way to get that summer tan that you're lacking. Take the towelette and apply it to your face, chest, arms, hands - anywhere! Just make sure that you are applying it to clean skin, in circular motions, and wash your hands after, and you're good to go! For more skin coverage, try the full-body size. 3) Spray Tan. Ah, old reliable... or unreliable? Spray tans have been around forever, and they work - when you get them done right! Find someone who you trust and try out a spray tan for your summer skin. They last a long time, and are sure to give you #tangoals. 4) Wear White. This trick is an oldie, but goodie. Wearing white makes you look tanner by comparison. When you're feeling confident about your skin tone, wear your favorite white tee or white jeans, and work it! We're sure that you'll look tanner in seconds. 5) Natural Sun. You don't need to fry outside to get a natural tan. Apply some sunscreen and take a walk outside - you'll get an appropriate amount of sun without actually laying out. Getting sun exposure safely is a great way to get a nice tan. Try out some of these tips, and, hopefully, you'll be enjoying your new tan in no time! Make sure to check out Ab Cracks Are The New Thigh Gap, Apparently and The One Thing You Should Do As Soon As You Star To Feel Your Skin Getting Sunburned [Photo: Prosecco and Plaid]
8 Memes That Accurately Describe How You're Feeling About That Summer Body
July 4th has come and gone and now it's OFFICIALLY summer, which means, you're probably freaking out about that summer bod. Same girl, same. Actually, the entire Internet is on your level. There are a ton of memes that accurately describe all our feelings about working out and eating healthy now that it's bathing suit season. It's just, like, the struggle is so hard, you know?? Hopefully, these hilarious quotes and memes will make you feel slightly better about not having the body of Jessica Alba. But, really, is it even possible for anyone else look like her?? OK, time for laughs! https://www.instagram.com/p/BFPL8mSHjFY/?taken-by=mytherapistsays https://www.instagram.com/p/BHP3ERCh7Vg/ https://www.instagram.com/p/BDUDslODuM9/ https://www.instagram.com/p/BF36PGsmDdB/ https://www.instagram.com/p/BF2fAatyCPI/ https://www.instagram.com/p/BGO4KW1njIx/?taken-by=mytherapistsays https://www.instagram.com/p/BGXN3JaL6oY/ https://www.instagram.com/p/BEmFZq7DuLF/ Don't forget to check out: how to get rid of underarm dark dots and the best beauty products from Urban Outfitters [Photo: Instagram, Meme: Morgan Maloney]
Exactly What To Do If You Get Poison Ivy
This summer, while we're out there camping glamping (let's be honest), it's important to remember those safety tips and rules that we learned way back when perhaps during those days as a girl scout or at sleepaway camp. We'll never forget the handy rhyme "leaves of three, let them be" to remind us which leaves aren't safe - but what do we do if we accidentally come in contact with poison ivy? The American Academy of Dermatology explains that poison ivy is caused by the oil that is found in the plant, and isn't actually contagious and it doesn't spread - if you see it in new spots, it's just a delayed reaction. BUT - if you see the rash swelling, this is a sign of a serious reaction, and go see a doctor ASAP. If your rash is just itchy or red, here are some tips to help calm your reaction: Try applying a cold compress to the area to help with possible itchiness Use some soothing calamine lotion, non-prescription hydrocortisone cream, or an antihistamine. These remedies should help with the itching and redness, too. Hopefully, these tips will help you prepare for any unwanted poison ivy on your nature excursion. So get your tent, marshmallows, and sleeping bags, and head off into the great outdoors this summer feeling prepared! Be sure to check out The One Thing You Should Always Do Before Going To Bed and The One Thing You Should Never Do After Getting A Mosquito Bite [Photo: Flickr]
SOS: What To Do Right Before You Need To Be In A Bikini
You've got t-minus 2 hours to get ready for your day at the beach... oh sh*t. While men everywhere are doing extra push-ups, pull-ups, and sit-ups, what should us ladies do? We want to look and feel our best while wearing our bikinis, and we need something fast, easy, and effective. So, your friends here at SHEfinds did some research for you (you're welcome) and we found some quick fixes to get you feeling great for your beach day. Don't Get Salty. Sodium can cause major bloating, so cut out processed foods. Try to go raw the morning before your beach excursion and eat some fresh fruits and vegetables. Hydrate. We know you've heard this every time someone brings up losing weight, but drinking water is one of the best things you could do for your body. You'll flush out toxins, reduce bloating, and leave your body feeling healthy and your skin glowing... which we always love as a bonus! Cut 'em Out. No surprise here, but cutting out carbs and alcohol reduces extra bloating, giving you a flatter, leaner look for your bathing suit body. Probiotics. Taking a probiotic helps align your digestive track - it really helps reduce excess bloating and gas. Planks. If you want a mini workout to look a little more toned, try out some planks to make your abs stand out. Apparently, Miranda Kerr loves doing planks before a photo shoot! Channel your inner Victoria's Secret Angel... To know more about how to get bikini ready, check it out here. [Photo: PeaceLoveShea] Check out Once and For All, Is It Bad To Shave Every Day? and Is It Bad To Wear Shapewear When It's Really, Really Hot?
Once And For All, Is It Bad To Shave Every Day?
It's only getting hotter out, ladies, so we know what that means: time to bear some skin. Throw on your favorite pair of jean shorts, slip on that sundress, and strut your stuff! #werk But seriously, summer means skin, and skin means shaving. We wanted to know, is it really bad to shave every day? It's always so hard to tell if we need to shave, so isn't it just easier to shave every day and never have any questions? But also, we don't want to irritate our skin any more than it needs... Well, we did some digging and found out the truth: it's not bad to shave every day! Shocking, we know, but experts say that if your skin isn't getting irritated or dried out from shaving, then shave away! Make sure not to cause extra cuts or razor burn, and you're in the clear. After shaving, your legs are extra sensitive, so stock up on some SPF lotion that will keep your legs hydrated and protected from the summer sun! Check this out to read more about saving safety and keeping your skin beautiful this summer. Be sure to check out 8 Useful Tricks For Anyone Who Uses Foundation and 10 Perks You Didn't Know You Could Get At Ulta [Photo: Facebook.com/Skintimate]
10 Celebrities Who Are Melting In The Heat, Just Like The Rest Of Us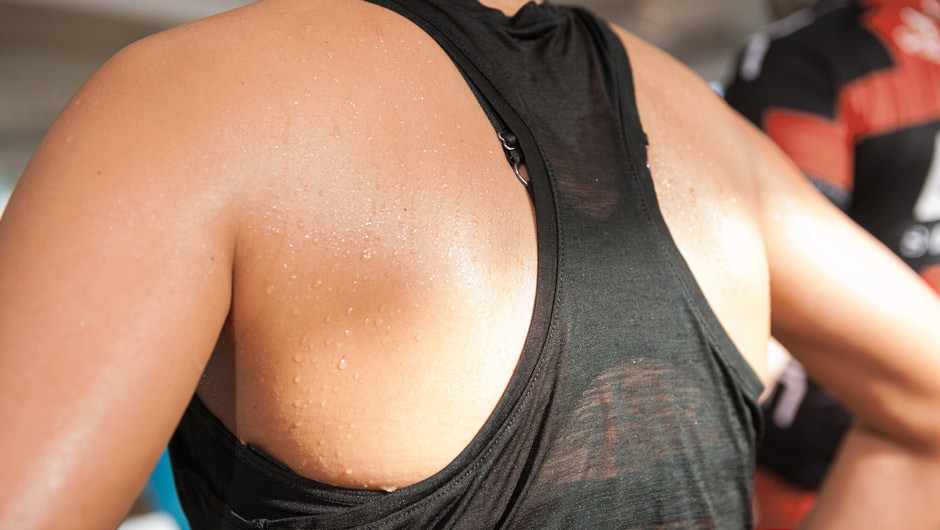 10 Summer Struggles Every Woman With Big Boobs Understands
While we take pride in our curves, having big boobs isn't necessarily all it's cracked up to be. (Hello, doubling up on sports bras for working out and backaches at the end of the day.) Unfortunately, in the summer, big boobs present even more of a hassle. If your chest is on the larger side, you'll feel us on these big boob summer struggles. 1. Two words: boob sweat Most people end up with sweat stains under their armpits in the summer, or sometimes even back sweat - but lucky you, because boob sweat stains are also a ridiculously common occurrence. 2. A bathing suit that actually fits? It's a miracle. All those cute but insanely flimsy bathing suit tops are just not even an option - and don't even get us started on the struggle of getting the dreaded underboob effect in nearly every suit we try on. 3. Oh, and you can forget about bikinis that come as a set. Your swimsuit top and bottom size haven't been the same since you were 12. Picking out an amazing bikini and then realizing the top and bottom are sold as a set is basically a tragedy. via GIPHY 4. Wearing a bikini in the ocean comes with some major risks. As in, one massive wave is all it takes to have you standing topless in the middle of the beach. Lovely. 5. Life jackets come with their own struggles. Can't get the life jacket buckled up around the twins? Oh well, guess you'll have to drown. 6. You've given up on bralettes. The whole "sexy lacy bralette peeking out from under a low-back dress thing?" Yeah, that's one trend that's just not going to happen. via GIPHY 7. Meanwhile, the only bras that support you enough are also the hottest. As you can imagine, extra padding, wiring and thicker straps only becomes 10 times more uncomfortable when the temperatures reach 90 degrees daily. 8. "Crop top" translates to "slightly longer bra." The majority of crop tops end up being just a little bit too cropped when stretched over your chest. Ugh. 9. Trying to get a back tan at the beach involves a lot of strategy You'll totally own up to the fact that you've resorted to digging two holes in the sand before. No shame. 10. Any top that keeps you cool also looks automatically sexual. V-neck? Tank top? Loose, flowy button down? It doesn't matter because they all result in uncomfortable stares. We feel you, ladies, we feel you. Dont miss: Find Out What Your Heigh Says About You and The One Thing You Should Never Do After Getting A Mosquito Bite [Photo: Shutterstock, Giphy]
The One Thing You Should Never Do After Getting A Mosquito Bite
Summer means outdoor BBQs, sunsets, fireworks... and mosquitos ugh! The season is meant to be spent outside, but how annoying are those mosquitos. Suddenly realizing that you have 10 red, puffy, itchy bumps on your legs is the actual WOAT. Unfortunately, mosquitos are kind of unavoidable during the summer, so how can you make sure that your bites go away as fast as possible? Don't itch them. You're kidding, right?! Nope... if you can avoid itching your mosquito bites, they will be less itchy in the long run, and go away faster! Why? Well basically, once a mosquito bites you, it leaves behind its saliva which your body recognizes as a foreign substance. So, in response, your body's immune system produces antibodies to fight the invader, which results in the release of histamine (the compound that makes things itch and swell). When you start itching a mosquito bite, you give your immune system another wake-up call, and more antibodies and histamine are released, aka, more swelling, itching, and redness. So, next time you've been bitten by the bug, try holding off as long as you can to scratch. You'll be thanking us later! Make sure to check out Nordstrom's Cute Sandals and This Rumor About The New iPhone 7! [Photo: Shutterstock]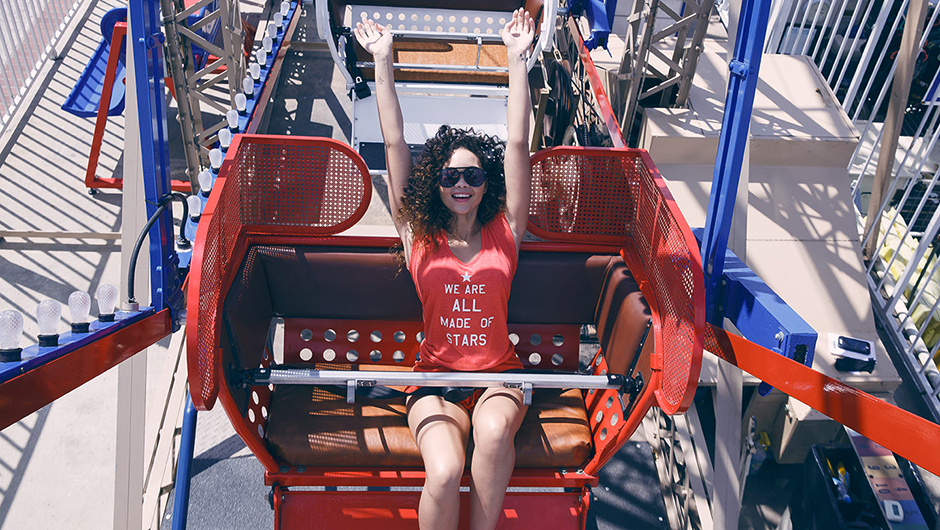 Everything You Need For The 4th Of July: Patriotic Bathing Suits, Sandals, More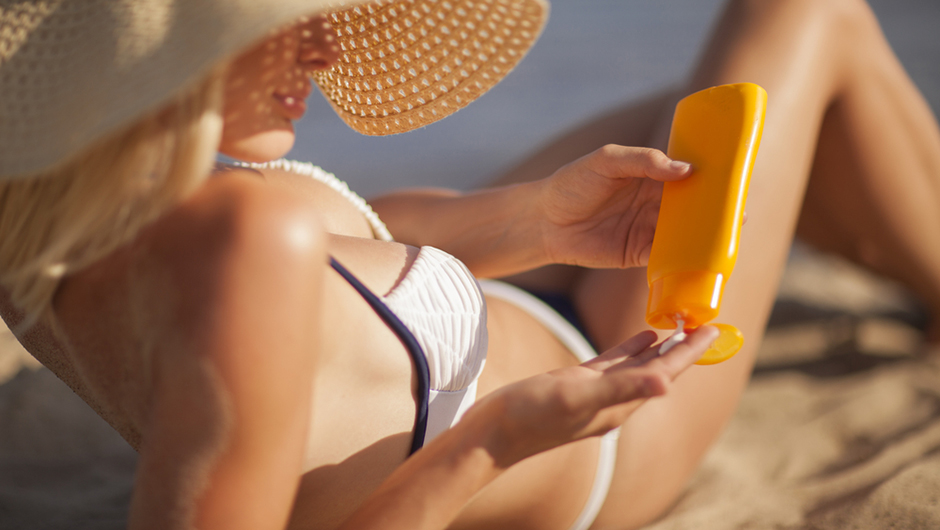 Once And For All, This Is The Exact SPF You Should Be Wearing On Your Face
I love being tan, plain and simple. I wait 9 months during the year just to feel the warmth of the sun on my skin, and watch myself get that glow that, let's be honest ladies, we all crave. But the sun comes with the danger of skin cancer... How can we achieve our optimal tans without damaging our skin? We found out exactly what SPF you should really be wearing on your face in order to enjoy the sunshine, but also protect your skin! First, do we all actually know what SPF means? Just as a reminder: SPF stands for Sun Protection Factor. Dermatologists from the American Academy of Dermatology recommend that we wear sunscreen of SPF 15 all year long, and use water-resistant sunscreen of SPF 30 or higher during prolonged sun exposure. Technically this means that it would take 30 times longer to burn while wearing SPF 30, rather than not wearing any sunscreen. The AAD concludes that SPF 30 sunscreen blocks 97% of the sun's rays, and using a crazy high SPF block (like 90+) doesn't actually make a difference. They also say that creams and sunscreen sticks are great to use on your face! So, find some SPF 30 block, make sure to re-apply every 2 hours, and you're good to go! Definitely check out this sunscreen stick by Fresh, it's super easy to apply again and again and again: Sugar Sport Treatment Sunscreen SPF 30 ($25) Check out the AAD for some more tips and tricks about how to stay safe from the sun this season. Be sure to check out The One Thing You Should Never Do To Your Jeans and 5 At-Home Remedies to Treat Razor Burn! [Photo: Shea Marie/PeaceLoveShea.com]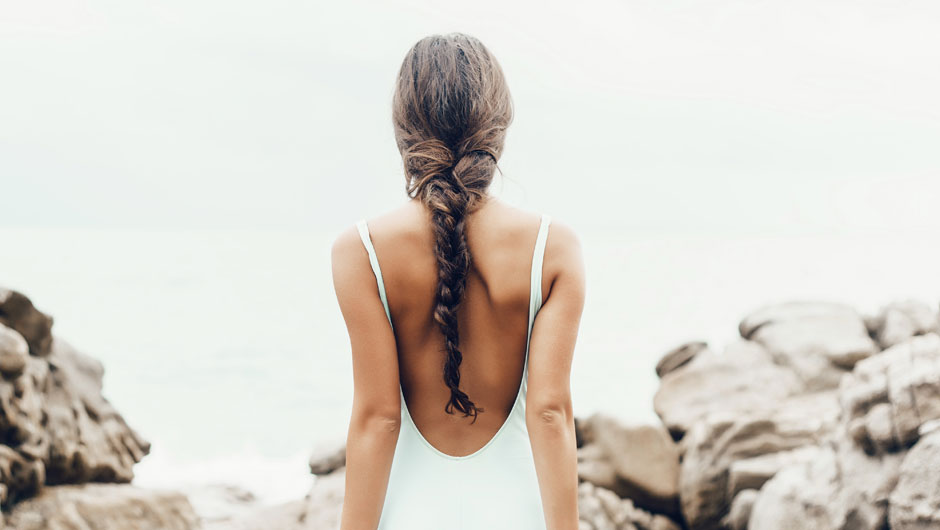 Why You Should Be Swimming With Your Hair In A Braid
I have really tangle-prone hair. I was one of those little girls that would cry and scream and demand more No More Tears spray when my mom would brush my hair. Now, as an adult I have color-treated hair which makes the situation so much worse. Pretty much any time my hair gets wet--after a shower, after swimming--I have to deal with mucho tangles. I don't cry about it *as much* anymore, and I have picked up a few tricks for dealing with the issue: One trick is to use a square paddle brush. This is especially great if you have long hair. This wooden one from Aveda is good, or you can get one like a $4 Conair one at the pharmacy. You're good either way. When it comes to swimming in a pool or an ocean--the trick is to wear your hair in a braid. Learning to do this was a complete game changer for me. I used to literally bring a hair brush to the beach--now what I do is just quickly braid my hair before jumping in, usually in a side braid like this because I'm a really bad braider (and yes, tangly hair runs in my family!): https://www.instagram.com/p/BFJliiJNJi8/?taken-by=nycnewlywed&hl=en It really does the trick. That way, when you get out of the water, you just take out the braid and run your fingers through your hair. You won't have any tangles and your hair will have perfect beach waves by the time it dries. Or you can do boxer braids or french braids or pigtail braids--whichever you prefer/are able to do fairly quickly: https://www.instagram.com/p/BG4oL2VyT09/?tagged=braids&hl=en https://www.instagram.com/p/BG4pmCHIVba/?tagged=braids&hl=en These girls know what I'm talking about: https://www.instagram.com/p/BG4mzbbFoyY/?tagged=braids&hl=en Even Kylie Jenner knows: https://www.instagram.com/p/BG4plx1tLiI/?tagged=braids&hl=en https://www.instagram.com/p/BG4k0htHUKI/?tagged=braids&hl=en
This Is The Most Flattering Bikini Bottom
Okay, ladies... it's officially bikini season. Scary, we know, but don't be afraid to show some skin! We found the bathing suit bottom style that looks good on, well, everyone. Impossible, you might say, but this one style will make sure that your backside is looking on point. This "miracle" is none other than the hipster bikini bottom. Shocking, right? It's nothing crazy, nothing new, the hipster has been around forever--but this bikini bottom is the perfect style for your body's behind. Hipster-style bikini bottoms have a wide enough side band to make sure you don't get cut-off in a bad spot and they cover your backside just enough so there aren't any potential fashion slip-ups. The coverage is amazing! Check out some of our favorite hipster bikini bottoms here: Lucky Brand 'Fireworks' Hipster Bikini Bottoms ($62) L Space 'Estella' Bikini Bottoms ($70) Rip Curl 'Lovebird Luxe' Hipster Bikini Bottoms ($26.40) Make sure to check out What is Frosé and these awesome Slide Sandals. [Photo: Prosecco and Plaid]
13 Swimsuits That Are Basically Graphic Tees For The Beach
The 5 Best At-Home Remedies To Treat Sunburn
After growing up with my mom constantly nagging me, "did you put on sunscreen?!" it's hard to believe that I still manage to get burnt during the summer. No matter how hard we try, sometimes the sun is just too strong, and we can't avoid getting a little too much color. We can all agree that we'd prefer sun-kissed skin rather than looking like a lobster. Here are some ways to soothe a sunburn with things you might already have at home OR can buy at the drugstore! Body Lotion. Find your favorite body lotion and lather up! If your lotion happens to have aloe vera in it, even better--the infusion of aloe will ease any stinging, and is also very helpful for peeling skin. Take a Bath. Adding certain elements to your bath can help soothe and eliminate the discomfort of your sunburn. Try adding apple cider vinegar to even out the pH balance of your skin, baking soda to eliminate irritation and redness, or some essential oils to relieve general pain. Hop in, and relax! Drink Water. When you're sunburnt, your skin is dry and dehydrated, so you need to replenish your body's water supply! Load up on water, juice or your favorite sports drink to rehydrate. Tea Bags. Apply freshly brewed tea to your sunburnt areas using a wash cloth. Black tea reportedly draws heat from sunburnt skin and also helps restore your skin's pH balance. Add some mint to your mixture for a cooling effect, and you've got yourself a soothing at-home fix. Cucumbers. Try using one of our favorite veggies for your sunburn. Mash up some cucumbers in a blender to make a paste, and apply to your burnt areas--including your face! Relax with a nice cucumber mask, and let your sunburn heal. If you want some more at-home remedies for your sunburn, check them out here. Also, make sure to check out 4 Genius Tricks to Fake Super Long Hair and How to Wear Sneakers to Work.
Calling It Now, Frosé Is Going To Be Everywhere This Summer
Nothing says summer like a great cocktail, and we've got the best one ever. Yep, you read that right. Forget your Tequila Sunrise margarita and white sangria--your drink of choice this season should be frosé. So now you're probably wondering, "what IS frosé?" Well, it's rosé in slushie form. Why didn't anyone think of this sooner?! https://www.instagram.com/p/BE1eFQDjqWR/ https://www.instagram.com/p/BGhY_jmNlUW/ https://www.instagram.com/p/BGie48BBFiD/ Ok, now that you're thirsty, here's a recipe from Bon Appetit to make this pretty, pink drink. Pour rosé into a 13x9" pan and freeze until almost solid, which should take at least 6 hours. Boil sugar and 1/2 cup of water in a medium saucepan; stir and let cook for about three minutes or until the sugar dissolves. Add strawberries to the mix and then remove from heat. Let it sit for 30 minutes to infuse syrup with strawberry flavor. Strain through a fine-mesh sieve into a small bowl; cover and chill until cold, which should take about 30 minutes. Scrape rosé into a blender. Add lemon juice, 3½ ounces strawberry syrup, and 1 cup crushed ice and purée until smooth. Transfer blender jar to the freezer and freeze until frosé is thickened, which should take 25–35 minutes. Blend again until frosé is slushy. Pour 'em out and enjoy! https://www.instagram.com/p/BGZfQQCDfqJ/ This refreshing summer drink is sure to be at any and all happy hours, BBQs and summer parties. Not to mention, it's already starting to blow up on Instagram. So get ready because frosé season is here, y'all! https://www.instagram.com/p/BFt5iHvKf4J/ https://www.instagram.com/p/BFt8ztKtfmI/ [Photo: Erin McGinn Styling/Recipe: Abby Capalbo]
The One Thing You Should Never Do When Buying A New Bathing Suit
Buying anything online--especially swimwear--can be really tough. Items that need to fit *perfectly*, like your bathing suit, are hard to choose the best size for when you can't try them on in person--and if it's a brand you don't wear often, sometimes you have literally no idea what they're sizing is like. Is their medium my medium?? It can be really tough, so the one thing you should never do when buying a new bathing suit--especially online--is to order just one size of it. And I mean that you should 1) only order bikinis where the tops and bottoms are sold separately, 2) only shop from stores with free or extremely cheap returns, and 3) buy two sizes of the same suit (both top and bottom) if you're on the fence at all about sizing. This way, you can find the suit that truly fits you best--nevermind what size you *think* you are. If the top and bottom of a two-piece swimsuit is not sold separately--do not buy it. Unless you're a fit model for a size medium, it's highly unlikely that a medium top and bottom are both going to fit you in every suit, every brand and every style. It's just impossible! Shopping experts agree that the best tactic is to order two sizes of something, try them both on in the comfort of your own home in real lighting at the end of the day (when you are the most bloated) and take pictures in the mirror to determine which size is best. Then, return the wrong size (hopefully for free) and you'll have a suit you love and are likely to get the most wears out of. Good luck! [Photo: Prosecco and Plaid]
Summer's Best Denim Shorts Under $50: Ripped, High-Waisted, More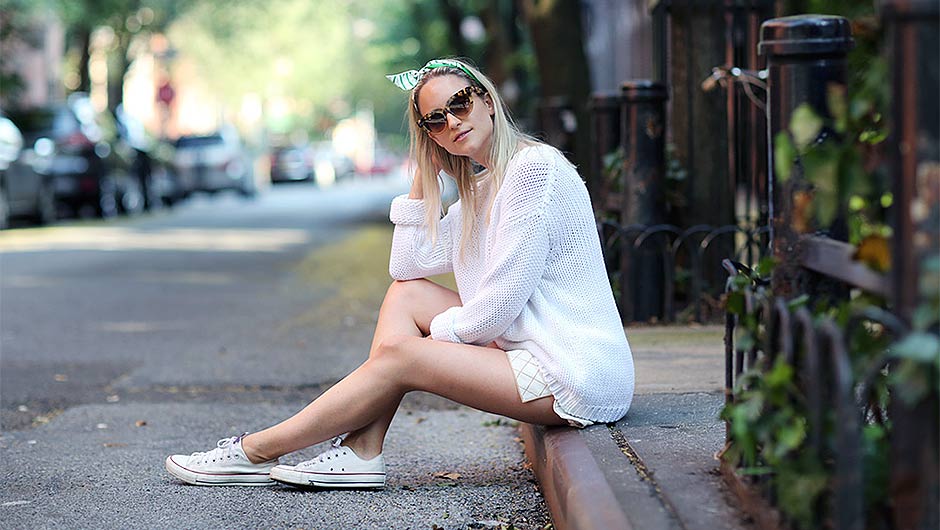 100 Under $100: Exactly What To Wear To Look Good This Summer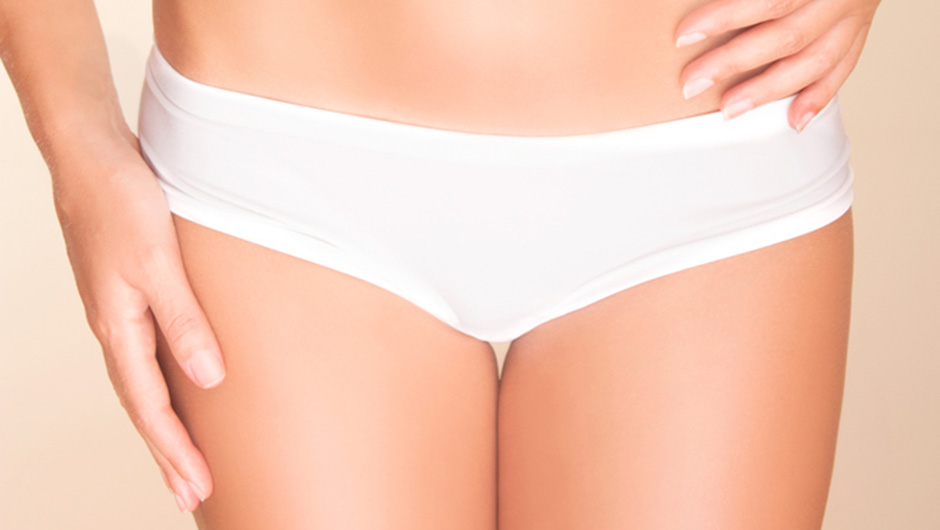 5 Simple Ways To Prevent Inner Thigh Chafing #NoThighGap
For those of us that don't have a thigh gap, we're all too familiar with our inner thighs rubbing together. Let's just say it's not exactly a comfortable feeling. Inner thigh chafing is definitely one of those issues that is bound to happen to most girls at some point or another, especially if you don't have skinny legs. Obviously, "chub rub" is much more problematic in the summertime, so here are five ways to prevent inner thigh chafing! 1. Baby powder. Wherever your thighs rub, simply sprinkle on some baby powder and this will help your legs from sticking. Reapply as needed. 2. Vaseline/body lotion. If you use a lubricate on your thighs, this will make them "glide" as you walk, therefore no rubbing! 3. Deodorant. This might be the oldest trick in the book. Chafing occurs when there is moisture and rubbing, much like your underarms, so it only makes sense that antiperspirant would help prevent chafing. 4. Lace thigh bands. Have you ever heard of Bandelettes? They are wide, elastic lace bands that sit on your upper thighs to keep them from rubbing. They even have non-slip silicone strips to ensure they stay in place throughout the day. 5. Coconut oil. Much like Vaseline or body lotion, coconut oil will provide a slick surface for your legs. Plus, it's super moisturizing! I'd like to point out that not having a thigh gap is no big deal. Of course, there are a bunch of hashtags on Instagram (#thighgap, #thinspo, etc.) that promote a skinnier look, but the bottom line is to love your body for what it is! If your legs happen to rub together when you walk, then so be it. Try these five tips and be on your way to summer comfort! Don't miss a 3-ingredient DIY waist trainer and hack J Crew's sale items with this cool new website! [Photo: Shutterstock]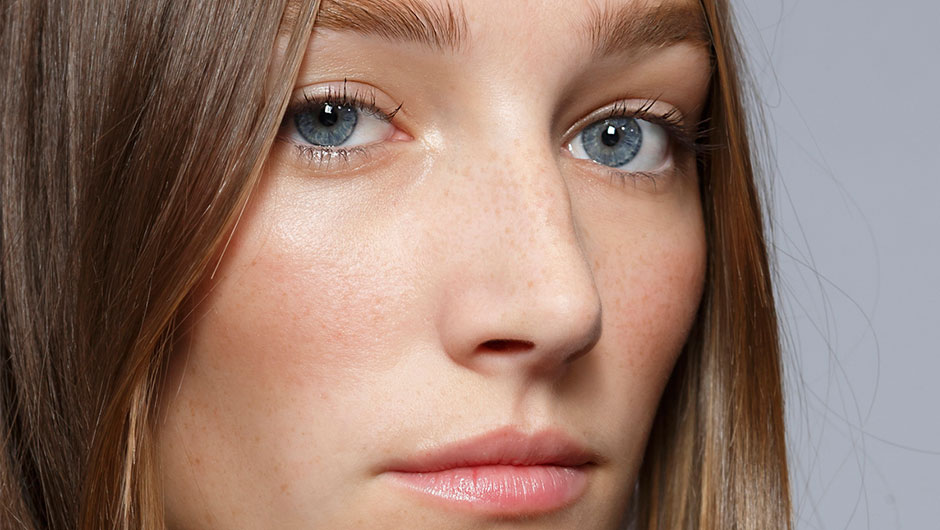 The Best Sunscreens For Everyday Use That Don't Feel Like Sunscreen
SHEfinds receives commissions for purchases made through the links in this post. I wear sunscreen every day, no exceptions. My friends say I'm a little obsessive, but I don't mess around when it comes to the sun. I might be pale, but at least I don't have to worry about skin care or premature aging. Most foundations and powders contain sunscreen, but don't be fooled--this does not offer adequate UV protection. In order to be completely protected from the sun, you should wear sunscreen every day. I get  why most people hate wearing sunscreen. Most traditional sunscreens are greasy and don't absorb well into the skin (plus, they give you the dreaded "white cast"). Thankfully, there are  tons of sunscreens on the market that not only protect you from the sun, but are good for your skin. Here's my breakdown of the 3 best sunscreens for everyday use: Supergoop! City Sunscreen Serum SPF 30 ($42): This is my go-to sunscreen. It's a lightweight serum that can be worn under your moisturizer and foundation. Not only is it great for every day use, but it's super moisturizing and helps reduce the look of fine lines and wrinkles. Purlisse Pur-Protect Moisturizers SPF 30 ($55): I was first introduced to Purlisse when I got it in my ipsy Glam Bag. I was immediately impressed with how quickly it absorbed into my skin. It feels like a regular moisturizer but has the added benefit of SPF. Plus, it doesn't smell like sunscreen (thank god). Dr. Jart+ Every Sun Day UV Illuminating Sunscreen SPF 36 ($34): This illuminating sunscreen is quickly becoming my new favorite skincare product. Not only does it protect you from UV rays, but it makes your skin appear glowy and radiant. Think of it as an illuminating primer, but with SPF.  Mark my words: This product is going to be huge for summer. It just launched in March and it is already sold out at Sephora.com. For more beauty products, check out Lancôme's new Juicy Shakers and the new Best of Becca Kit.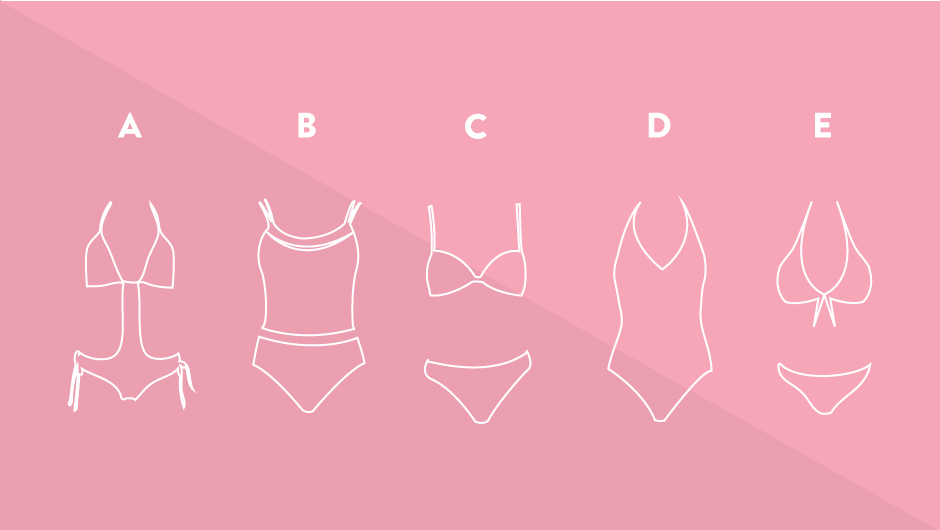 Find Out What Your Favorite Swimsuit Says About You
Bathing suit season is nigh! Which swimwear look are you taking to the beach this year? RELATED: Find Out What Your Favorite City Says About You A) Cut-Out If the edgy cut-out bikini is your jam, you are a total wild child. You crave attention wherever y0u go, and knowing you, you usually get it! You have that magnetic quality that attracts friends and admirers at every turn, but you're not interested in just anyone. You have a very discerning eye when it comes to new friends and love interests, you're really looking for someone who sees past the glitz and glam of your lifestyle and is able to confront the real, true you. Have you found that person? RELATED: Find Out What Your Favorite Fast Food Says About You B) Tankini Tankini gals are modest, sure, but that doesn't mean you don't know how to have a good time! On the contrary, the tankini-lover is often the most daring of them all. You know your limits, of course, but you love nothing more than a good adventure. Try a new water sport, eat a new type of sushi — do it all, girl! RELATED: Find Out What Your Eyeliner Type Says About You C) One-Piece One-piece swimsuits are the most traditional swimwear choice, of course. And to some degree, you do consider yourself traditional, but you're probably the only person who'd say so. Among your friends, you're known for letting your freak flag fly. You say what you feel and you don't let society or your peers censor your opinions. But, personally, you find a great deal of pleasure in the simple things — Gilmore Girls marathons, macaroni and cheese, gel manicures... You have a basic side that no one really knows about, it's your little secret. RELATED: Find Out What Your Wedding Song Says About You D) Bandeau Bandeau girls tend to be fairly independent. You might not see it, but this quality can be very intimidating to others. Every once in a while, remind your closest pals that you really, truly need them. No matter how independent you are, a girl always needs her besties! RELATED: Find Out What Your Go-To Lipstick Shade Says About You E) Bikini Bikini lovers are very self-aware — sometimes too self-aware... but you already knew that. Don't let that self-awareness get you down on yourself. Remember that you're a diamond in the rough, girl, and sometimes your perception isn't as clear as you think... RELATED: Find Out What Your Tongue Shape Says About You Don't forget to check out: Find Out What Your Lip Shape Says About You and Find Out What Your Wedding Bouquet Says About You [Photo: Shelby Rodriguez]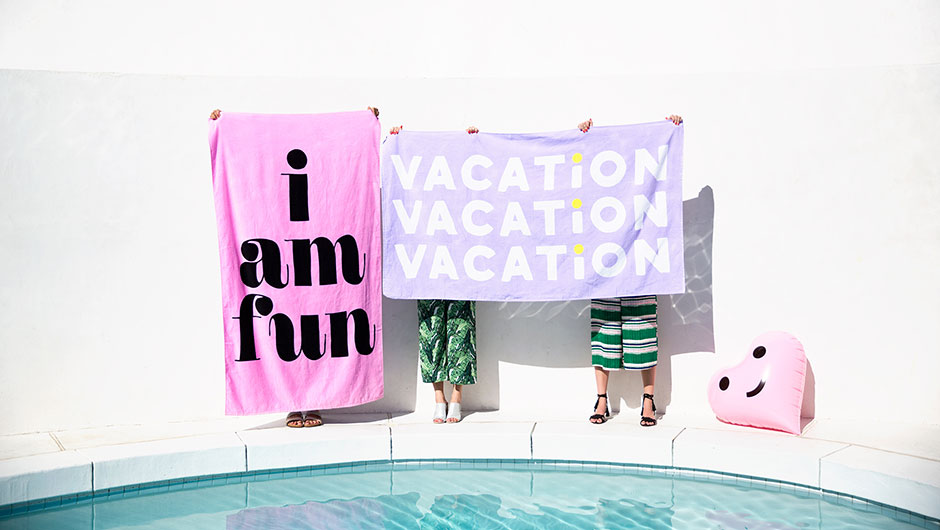 Pool Floats, Koozies… Ban.Do's New Collection Has Me Asking 'Is It Summer Yet?'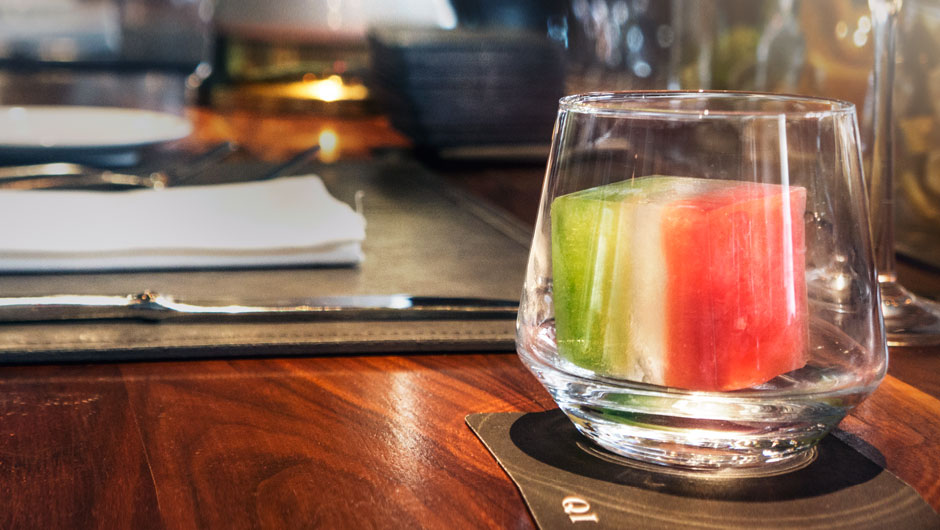 Cool Off This Weekend With A Homemade Italian Ice
It's Labor Day weekend and that's the only reason you need to treat yourself to delicious foods all weekend long. With temperatures rising into the high 80s here in NY, it's definitely the perfect time to break out the cool and refreshing snacks. One of the best ways to cool off is by enjoying a mouth-watering Italian ice. I mean, what's better than a cold, flavorful ice in the summer heat? Well, this homemade Italian ice might be. Bryan Schneider, bar director at Manhattan's Quality Italian, came up with his version of an Italian ice and it's super easy to make. Okay, so technically it's an ice cube but still awesome nonetheless. It represents the colors of the Italian flag and tastes amazing when paired with a margarita. Schneider's DIY Italian Ice is packed with flavor as it has jalapeño, Cointreau and strawberry. All you have to do is layer these three ingredients together, freeze and enjoy. Yes, please! Head over to The Back Label for the full tutorial. Don't miss the recipe for cucumber gin & tonic popsicles and shop 50+ Labor Day sales! [Photo: The Back Label]