Not Only Are These Black Swimsuits Super Flattering, But They Also Never Go Out Of Style
6 Common Bathing Suit Mistakes That Are Actually Aging You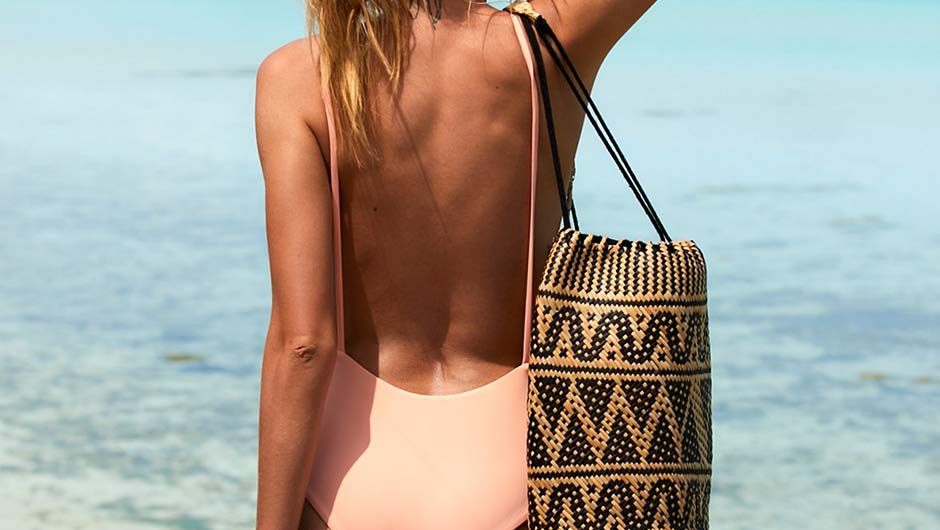 Proof That One-Pieces Can Be Just As Sexy As Bikinis? Check Out These Backless Swimsuits
6 Mistakes Women Over 30 Make When Shopping For Swimwear
Colorblock Swimsuits Aren't Just Pretty, They're Super Flattering, Too
Sun's Out, Buns Out: 8 Celebs Who Were Serious #SwimwearGoals At Cannes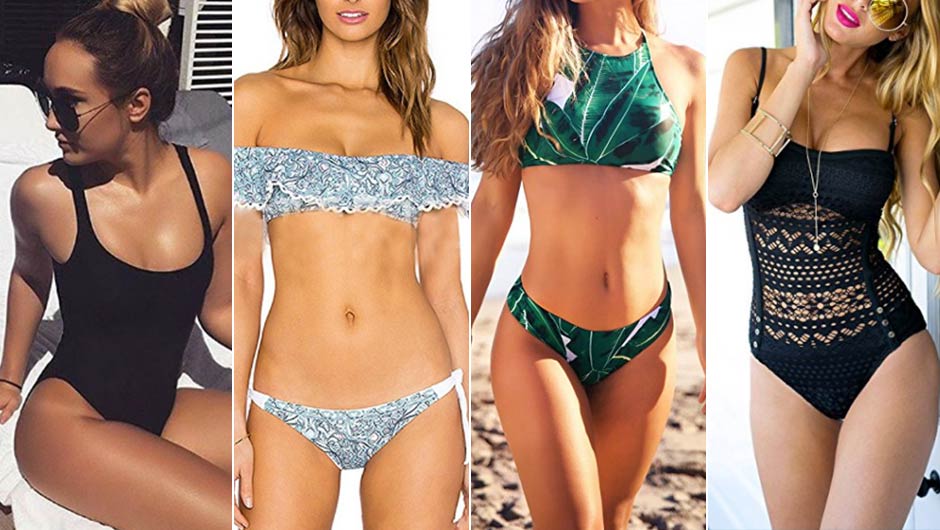 4 Cheap Bathing Suits From Amazon That Look Good On Literally Everyone
Can Someone Explain Why Velvet Swimsuits Are Happening?
You're Not Ready For Beach Season Without One Of These Shiny, Sleek Metallic Swimsuits
The One Bikini Bottom Everyone Will Be Wearing This Summer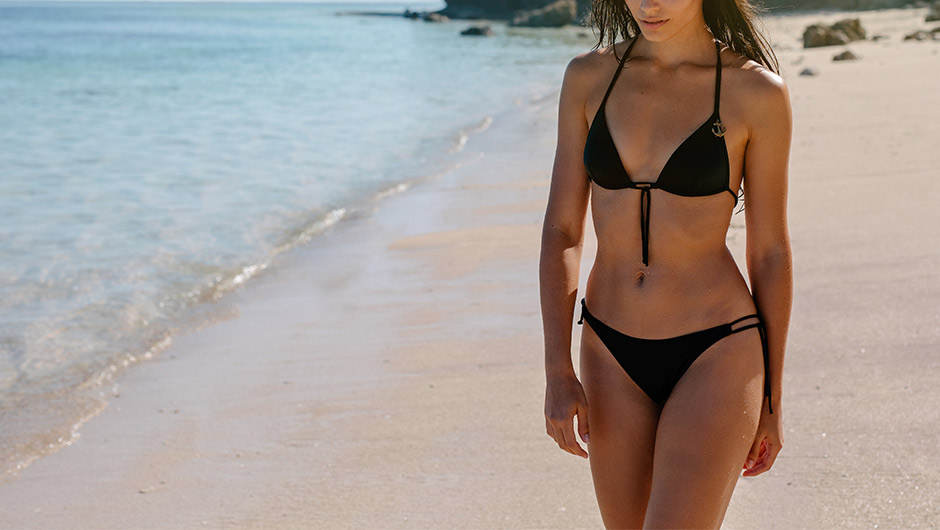 6 Trendy Bathing Suits You Just Should Not Own If You're Over The Age Of 30
Shop The Prettiest Scallop Swimsuits Now, So You're Ready For Beach Season In A Few Weeks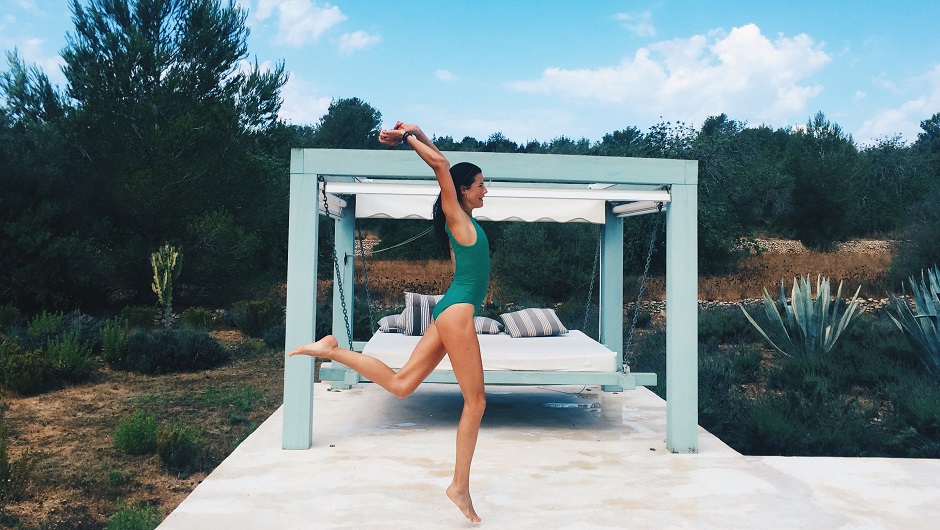 ADAY Just Launched Swimwear And These Suits Are Beyond Cute
Need a new swimsuit for summer? You're in luck! ADAY just debuted two super cute swimsuit styles just in time beach season! If you're a SHEfinds follower, then you know we're big fans of ADAY. Their leggings are so popular that they actually had a wait list. Really! ADAY is best known for creative clothing that's versatile, so you can wear it in comfort no matter the occasion. Much like their leggings that work just as well at the gym and outside the gym, their new swim range looks just as good at the pool as it does under trousers around town. If ADAY's leggings are any indication, these swimsuits are going to sell out soon so snag a few for yourself below. For the Win Swimsuit ($125) For the Win Swimsuit ($125) For the Win Swimsuit ($125) It Takes Two Piece ($105) It Takes Two Piece ($105) SHOP ADAY SWIMWEAR NOW Be sure to check out the best drugstore beauty products and cute floral handbags for spring. [Photo: ADAY]
7 Places To Buy Swimwear Online That You'll Wish You Knew About Sooner
We Just Found Out That You Can Still Shop Swimwear At Victoria's Secret–Here's How
This Is The Bikini Everyone Wants For Summer, So You Can Stop Looking
Stock Up For Spring Break With Our Exclusive 25% Off Sitewide Promo Code To Swimspot
Gearing up for a warm weather vacay this spring? Me too! And you know what that means? We've got the perfect reason to shop beach essentials like swimsuits, cover-ups and flip flops. And the best place to get everything you'll need? Swimspot! Not only do they have the best swim styles from brands like Splendid, Beach Riot, Vix, Reef and more, but we've got an exclusive promo code! For a limited time only SHEfinds readers will receive 25% off everything at Swimspot with code SheFinds 25 at checkout. Yes, that means you can snag that amazing Splendid bikini pictured above for crazy cheap, plus loads more crazy cute suits, too. Pretty sweet, right? Hurry and shop soon so your new goodies arrive in time for your trip! Splendid Chambray All Day Bandeau Bikini Top ($58.50, down from $78) Reef Cove Solids Bralette Bikini Top ($29.25, down from $39) Athena Desert Escape One Piece Swimsuit ($36.75, down from $98) Spiritual Gangster Chase The Sun Palms Tank ($37.20, down from $50) Havaianas - Slim ($19.50, down from $26) SHOP SWIMSPOT NOW Be sure to check out our favorite beauty products and $22 silk tank tops at The Outnet. [Photo: Swimspot]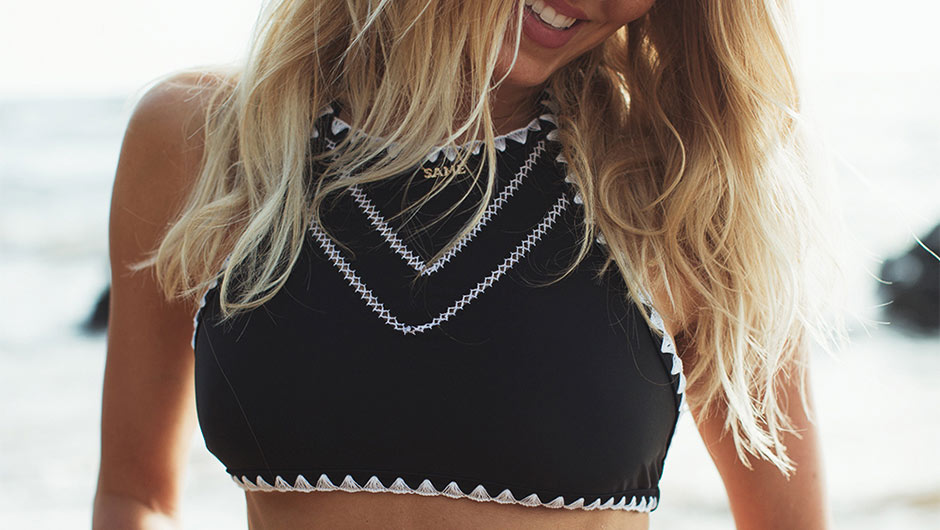 Spring Break Season Is Here–Shop Cute Swimsuits For Your Vacay Now!
PHOTOS: Celebrities On Their Beach Vacations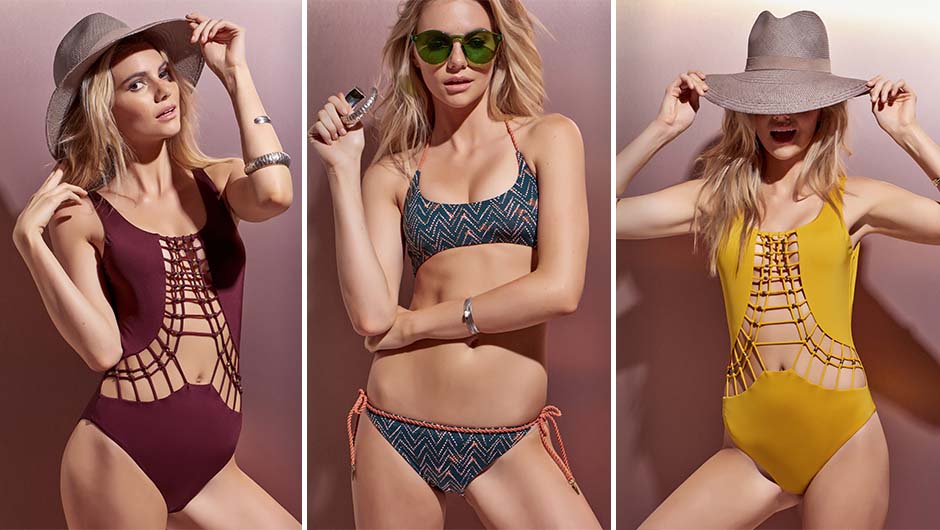 Beach Babes Rejoice–Dolce Vita Just Launched Swimwear And It's Amazing!
You're probably dreading the fact that winter is upon us, but here's some good news: Dolce Vita just launched swimwear and it is so good. And I'm not just talking about the pictures! I actually had the chance to get up close and personal with these suits and the quality is insane. I'm talking super soft fabrics and crazy flattering cuts. Best of all? The prices, baby! All the bikini separates are under $100 and the one-pieces are just $120. Whether you've got holiday plans to travel some place warm or you want to be extremely well-prepared for next summer, stock up now! MACRAME ONE PIECE ($120) ROUGH & TUMBLE TOP ($78) BANDEAU TOP ($78) SHOP DOLCE VITA SWIMWEAR NOW Be sure to check out the best drugstore beauty products and Kenzo x H&M. [Photo: Dolce Vita] Save Save
This Is Your Last Chance To Buy Victoria's Secret Swimwear, And It's All Freakin' Cheap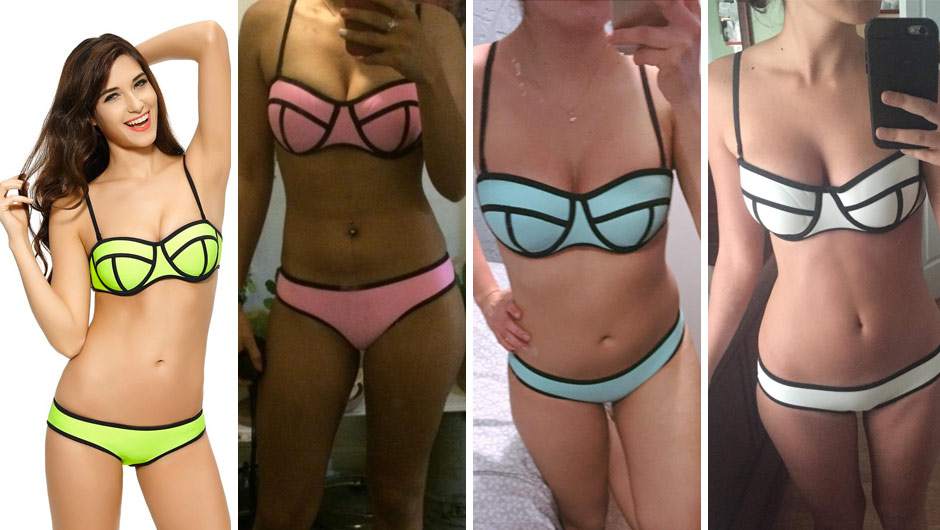 This $14 Bikini Looks Good On Everybody And Has Hundreds Of 5-Star Reviews On Amazon
Obsessed. Super Cute. Perfect fit!! HAPPY Worth every penny! Those are just a few of the reviews left by Amazon shoppers who can't get enough of this seriously cute colorblock bikini. Available in 9 colors, women are legit in love with this swimsuit. Proof? Just go read a few of the rave reviews; there are more than 500 of them, FYI. Style and fit aside, there's also the price. In a world where designer swimsuits can set you back hundreds of dollars, this flattering, trendy bikini is only $13.99. Yep, that's the cost of the full bikini, both top and bottom.  Pretty sweet, huh? Our advice? Get one in every color ASAP. Ebuddy Structured Bright Wet Suit Neoprene Bikini Swimsuit ($13.99) Ebuddy Structured Bright Wet Suit Neoprene Bikini Swimsuit ($13.99) Ebuddy Structured Bright Wet Suit Neoprene Bikini Swimsuit ($13.99) Ebuddy Structured Bright Wet Suit Neoprene Bikini Swimsuit ($13.99) Be sure to check out the nail polish colors that chips the least and Hollister's new activewear line. [Photo: Amazon]
Find Out What Your Go-To Bikini Bottom Says About You
Sun's out, buns out! Summer's here and we're all showing off our bikini bodies. Everyone's body is beautifully different and deserves to be shown in its best light. So, since we already know what your bikini top says about you, we want to know about your favorite bikini bottom... and your bottom! Whether you love the hipster, high-waisted, or Brazilian booty, your bathing suit bottom says something about you. Check it out! A) String. She wore an... you've got it - itsy bitsy bikini! You dare to bare some summer skin in a string bikini bottom. You love a challenge, and you're not afraid to try new things. Your fit physique is always ready to join in on a game of beach volleyball or a run on the beach. Sometimes your confidence can make others intimidated, so just make sure to show off your goofy side and laugh it off! B) Brazilian. Quente! (That's 'hot' in Portuguese, fyi) You've got a great booty, and you're not afraid to show it off. If you could live at the beach, you would - you love the summer, and know how to ~get your tan on~. You're confident in your body and who you are, but be careful that you don't come off as self-centered. Your sense of self allows you to be a great friend and shoulder to lean on. C) Hipster. Plain and simple, that's your motto. You know what looks good on your body, and you like to stick with it. You enjoy having a large friend group, but don't like being the center of attention. Sometimes you get a little bit "stuck in the middle," so make sure that you don't get lost in the crowd! Try some new things this summer - you never know what you'll find. D) Boyshort. You're sporty, and you've always been an athletic one. You love your daily workout, and enjoy athleisure clothing - so why not wear it at the beach?! Your boyshort bikini bottoms are perfect for a friendly soccer game with friends or a race in the pool! Make sure your competitive side doesn't get the best of you and enjoy the summer fun! E) High-Waisted. You're the friend that is always in the know. Whether it's the latest style, designer, singer, or store, you know where the newest fashion is, and your friends love you for that. You're always on the lookout for the next new thing, but don't let that take away from your relaxing time. No matter which bottom you love to wear, you will look fab in any style! Make sure to rock your look whether you're at the beach, pool, or any destination this summer. Make sure to check out What Your Go-To Bikini Top Says About You and This 1-Second Trick For Getting Sand Completely Off Your Body!
Find Out What Your Go-To Bikini Top Says About You
Everyone's got their own style - we know what necklines, dress shapes, shoes, etc. look best on each of our bodies. And this sense of self doesn't stop there... everyone has their favorite type of bikini top! Whether you love a halter, triangle, or bandeau style we each know our go-to top. So let's find out what your favorite bikini top says about you... A) Triangle. You know that most of the time, it's best to just keep things simple. You love a chill day at the beach, playing some volleyball or swimming in the waves. You never say no to an opportunity to catch up with friends, and always give positive vibes. Your ~no stress~ attitude can sometimes lead you into a few sticky situations, but you're comfortable in your own skin and know that good things will work out. RELATED: What your height says about you B) Bandeau. Sometimes people think you're a little high-strung, but you'd rather think of it as put together... You are known as the queen of #NoTanLines and you like things to be in order. When something goes astray, you make it your priority to fix it. Be careful not to micromanage those around you, and remember that sometimes it's okay to just let things happen.  RELATED: What your ring finger length says about you C) Halter. You're a little different than a bikini, because you've got some more weight on your shoulders (if you know what we mean). You are strong and confident, and you don't let the haters get in your way. You're always down for a game of beach soccer and can run with the best of 'em. You defend your friends as if they were family, and are loyal AF. Sometimes you intimidate others, so try to show how your determination is all out of love. RELATED: What your hair color says about you D) Bustier. You're probably more busty than your friends, but you know how to dress your body to a T. You've always been on trend, knowing what's new and what's hot - so it's no wonder that you've picked up this swim style! You've got so many stories to share, and love to surround yourself with close friends to confide in! You know how to #work what you've got and you're not afraid to try new things. [Photo: Shutterstock]
Here's The Bathing Suit Gigi Hadid, Taylor Swift And Hailee Steinfeld All Wore This Weekend
I won't get into all the details of Taylor Swift's annual 4th of July party because 1) You've probably read all about it at this point and 2) My invite got lost in the mail. So that's what you get, Swift. Anyways, the hostess herself and attendee Gigi Hadid both wore the Anne Marie Swimsuit ($168) by Solid & Striped--the two actually had a twinning moment. https://www.instagram.com/p/BHfV9uODLmv/?taken-by=taylorswift "Bad Blood" video participant Hailee Steinfeld also got the memo (gee, wonder how THAT happened??) and wore the same red-, white- and blue-striped one-piece. https://www.instagram.com/p/BHdt6TMj2YF/ Basically, this is how you get in with the squad if that's still your life #goals. If not, the one-piece is cute regardless and there's still Labor Day so... Anne Marie Swimsuit ($168) Don't forget to check out: how to step up your Instagram game and find out what are the least-used emojis [Photos: Jackson Lee/Splash News]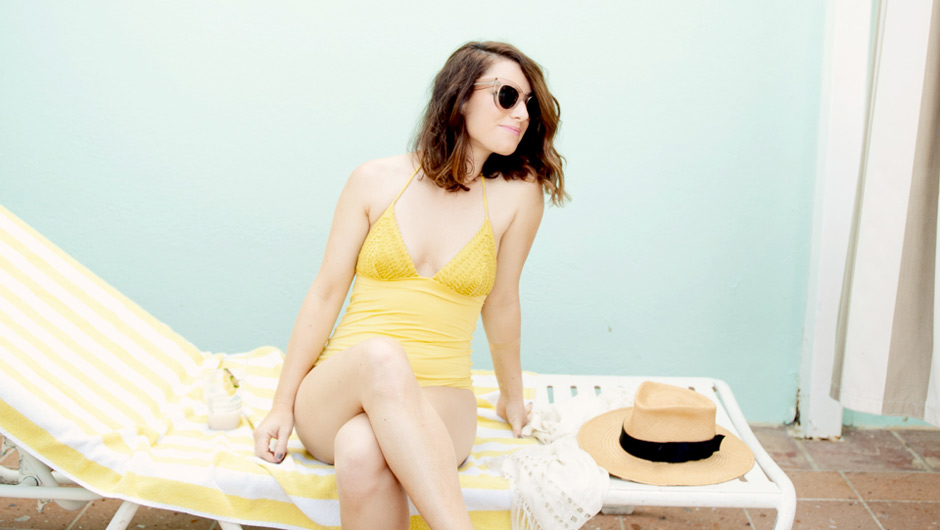 This Crazy Cheap One-Piece Looks Good On Literally Every Body
We can all pretty much agree that bathing suit shopping is the actual worst. A good swimsuit is a rare find, and most of the time, we end up walking out of the dressing room empty-handed and feeling defeated by swimsuits that are made to flatter only one body type. Things get even worse when we try online, that is, until now. This one-piece from Amazon is about to be a swimsuit shopping game-changer. Not only is it under $40, but it comes in 10 different colors. This isn't that dreaded grandma-esque one piece either--we're talking sheer, sexy crochet here. The best part: it's universally flattering (yes, every body type), and has a four-star average rating from a total of 486 happy women to prove it. Just look at the photo evidence below: Whether you're curvy, straight-figured, petite, tall, or somewhere in between, chances are this swimsuit will look killer on you. So what are you waiting for? Shop it here: Crochet Lace Halter Straps Swimsuit ($27.99 - $35). For more style and shopping, don't miss: 21 Jumpsuits That Prove They Are The Unsung Hero Of Simple Summer Dressing and Once And For All, Should You Wash New Clothes Before You Wear Them? [Photos: Cheetah is the New Black, Amazon]
Shop vix, Tory Burch, Mikoh And More Super Cheap Designer Swimwear At Net-A-Porter Right Now
This Is The Most Flattering Bikini Bottom
Okay, ladies... it's officially bikini season. Scary, we know, but don't be afraid to show some skin! We found the bathing suit bottom style that looks good on, well, everyone. Impossible, you might say, but this one style will make sure that your backside is looking on point. This "miracle" is none other than the hipster bikini bottom. Shocking, right? It's nothing crazy, nothing new, the hipster has been around forever--but this bikini bottom is the perfect style for your body's behind. Hipster-style bikini bottoms have a wide enough side band to make sure you don't get cut-off in a bad spot and they cover your backside just enough so there aren't any potential fashion slip-ups. The coverage is amazing! Check out some of our favorite hipster bikini bottoms here: Lucky Brand 'Fireworks' Hipster Bikini Bottoms ($62) L Space 'Estella' Bikini Bottoms ($70) Rip Curl 'Lovebird Luxe' Hipster Bikini Bottoms ($26.40) Make sure to check out What is Frosé and these awesome Slide Sandals. [Photo: Prosecco and Plaid]
13 Swimsuits That Are Basically Graphic Tees For The Beach
The One Thing You Should Never Do When Buying A New Bathing Suit
Buying anything online--especially swimwear--can be really tough. Items that need to fit *perfectly*, like your bathing suit, are hard to choose the best size for when you can't try them on in person--and if it's a brand you don't wear often, sometimes you have literally no idea what they're sizing is like. Is their medium my medium?? It can be really tough, so the one thing you should never do when buying a new bathing suit--especially online--is to order just one size of it. And I mean that you should 1) only order bikinis where the tops and bottoms are sold separately, 2) only shop from stores with free or extremely cheap returns, and 3) buy two sizes of the same suit (both top and bottom) if you're on the fence at all about sizing. This way, you can find the suit that truly fits you best--nevermind what size you *think* you are. If the top and bottom of a two-piece swimsuit is not sold separately--do not buy it. Unless you're a fit model for a size medium, it's highly unlikely that a medium top and bottom are both going to fit you in every suit, every brand and every style. It's just impossible! Shopping experts agree that the best tactic is to order two sizes of something, try them both on in the comfort of your own home in real lighting at the end of the day (when you are the most bloated) and take pictures in the mirror to determine which size is best. Then, return the wrong size (hopefully for free) and you'll have a suit you love and are likely to get the most wears out of. Good luck! [Photo: Prosecco and Plaid]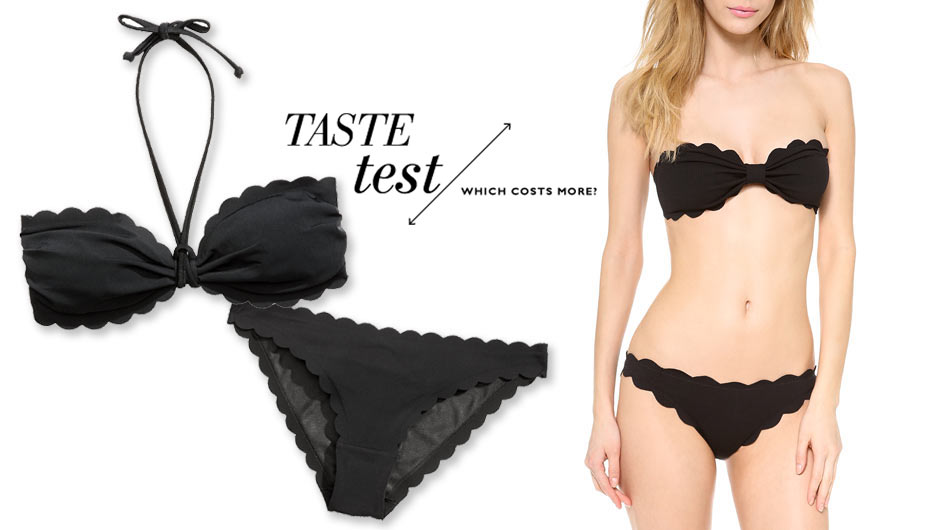 Can You Tell Which Scalloped Bikini Costs $247 More Than The Other?
Guess who's back... back again? One of our favorite pieces for the summer, the Marysia Antibes Scallop Bikini, is being sold in a similar style once again. Earlier in the season, Old Navy made a similar set, but now H&M wants in on the action, too! Celebs like Lupita Nyong'o and Rachel Bilson are fans of the $272 swimwear, but we are happy to share that you have another chance to own this style, for only $25. It's simplicity in color and scalloped design makes this two-piece a must-have for hanging out at the beach, or relaxing on a swan pool float. So let's put your eye to the test one more time: looking at the pics below, can you tell which swim set costs more than the other? Click on the pictures to find out if you guessed right! For more style news, check out the Australian Cut Swimsuit, The Closet Strategy, and these amazing dress shields! [Photos: net-a-porter.com, hm.com/us]
All I Want For Summer Is All Of This M Missoni Swimwear Goodness In My Closet Stat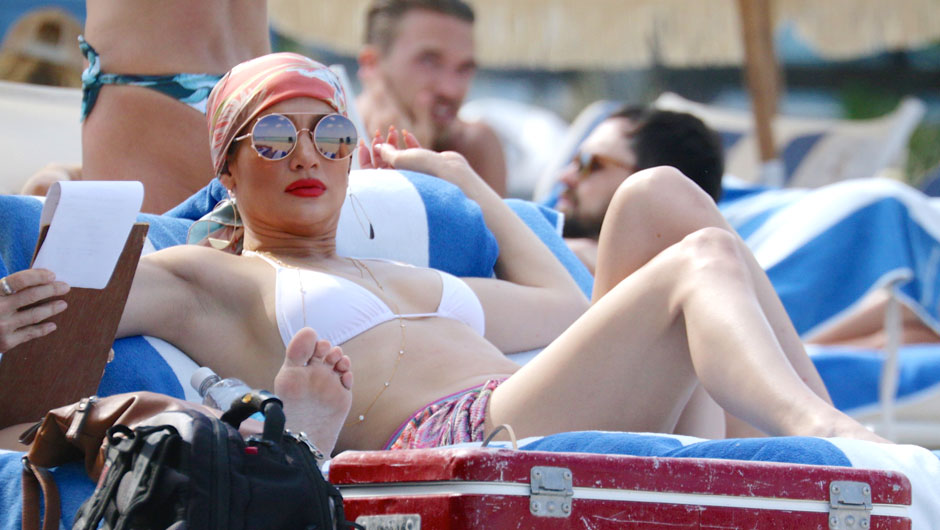 PHOTOS! The Sexiest Celebrity Bathing Suits Of All Time
'Just Put A Knot On It' Is The Fashion Rule That Works Everytime
Jessica Alba's Floral Bikini Is Only Available In One More Size–And It's On Sale
SHEfinds receives commissions for purchases made through the links in this post. Jessica Alba has been enjoying quality time in Maui with her family. She showed off her toned body in a Shoshanna Floral Triangle Top ($39, down from $79) and a Shoshanna Floral String Bikini Brief ($39, down from $83). As if these prices weren't good enough, take an extra 30% off sale items with code MARCH30 at Club Monaco. Hurry, though, because there's only one size left! Shop it below. Shoshanna Floral Triangle Top ($39, down from $79) Shoshanna Floral String Bikini Brief ($39, down from $83) Don't miss Eva Longoria's silk blouse and the one accessories all celebrities love! [Photo: Splash News]
You Can Expect To See This Swimsuit All Over Your Instagram Feed
Move over, Triangl. There's a new swimsuit in town. The new "it" swimsuit for 2016 is by a company called Same Swim and it's designed by fashion blogger and style influencer Shea Marie of the blog Peace Love Shea. All of Same Swim's suits are handcrafted in Los Angeles from the finest Italian swim fabrics. "We are in a new era of swim - where it is really becoming a respected form of fashion," Marie says of her collection. "It's exciting. I wanted to create something wearable but also very fashion forward. Something chic and classic with a twist that could appeal to all women." You can be certain you'll be seeing Same Swim all over your Instagram feed in the upcoming months. Here's the proof: https://www.instagram.com/p/_xvUY_RaWo/?taken-by=sameswim https://www.instagram.com/p/9Yc4DLRad-/?taken-by=sameswim https://www.instagram.com/p/60P6bJLbcC/?taken-by=jessmair https://www.instagram.com/p/-9lnVqL0Ta/?taken-by=peaceloveshea https://www.instagram.com/p/_GsDYKma79/?taken-by=shoplondongirl https://www.instagram.com/p/-_7EdKhyXM/?taken-by=carolinevreeland https://www.instagram.com/p/BAAK6RDKuv_/?taken-by=aniab Don't miss your chance to enter to win a free trip to Costa Rica and 8 January collaborations you need to know about! [Photo: Instagram]
Headed Somewhere Warm? Show Off Your Bikini Bod In Olivia Wilde's Pretty Printed Bikini
Need a new bikini for an upcoming getaway? Don't waste precious time and energy scouring the Internet for a cute suit; Olivia Wilde found one for you! While vacationing with her fam in Hawaii, Olivia recently rocked this Mara Hoffman bikini in Rainbow Multi print making her one of a zillion celebs who loves Mara Hoffman. When it comes to fun, bright bathing suits, no one does it better, so snatch up Olivia's exact bikini below. Mara Hoffman Cami Underwire Top In Rainbow Multi ($148) Mara Hoffman Classic Bikini Bottom In Rainbow Multi ($108) Be sure to check out Kylie Jenner's cool sneakers and Vanessa Hudgens' retro sunglasses. [Photo: Splash News]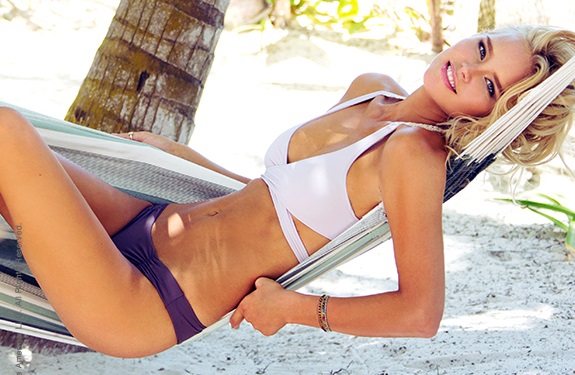 Meet Monica Wise, The Amazing, Inspiring Girl Boss Behind L*Space
When it comes to bathing suits and bikinis, L*Space is killing it. They're one of those brands everyone else knocks off thanks to their insanely cult following that includes celebs, style bloggers and real girls like you and me. But just who is responsible for this amazing brand we all know and love? That would be Monica Wise, a Florida girl who was ahead of her time when she decided to launch L*Space. Get to know her below. SHEfinds: Tell us a little about yourself? Did you always want to be a fashion designer? Monica Wise: I was born in Ohio, and moved to Florida at a young age to escape the cold winters. I married young, and when my ex and I realized it wasn't working out, I devoted myself to growing this collection. It was never something I thought I would be doing--designing swimwear--but sort of fell into it because I had an opportunity to do it and just went with it. I started out small--selling bikinis from the back of my car and eventually, moved to New York to take it a bit more seriously. After a few years there, I realized that New York wasn't for me so I left for California and haven't looked back. SF: When you started the brand, did you have any idea it would become so popular? MW: We started off small in the surf industry. Then, we were sort of ahead of our time because the industry was dominated by brands like Roxy and Billabong, and then here comes this little fashion swim brand that offers young girls more contemporary fits and styles, soft fabrics, and fabulous prints amongst an industry dominated by missy prints and scratchy lining. We were also one of the first brands to actually offer selling a bikini as separates instead of as a set so that really set us apart from everyone else. We had no idea that the brand would grow at the time, but looking back, it makes sense that it has become so popular with our fashion girls. They understand that you may be paying a lot for a bikini, but this bikini is going to last you season after season and become timeless. They understand fit, construction, and feel of the suit and are willing to pay premium prices for it. SF: What's the best-selling L*Space swimsuit? MW: Our best-selling bikini top is called our Chloe Wrap top which is now being duplicated in most every swim brand and rightfully so. It's a great top because it doesn't pull on the neck and has just the right lift and push that you'd want from a swimsuit. I would also say that our Jaime top is also up there, it is a pull-on style top with crisscross detail and adjustable straps that go over the shoulders. Most of the girls in the office wear it as a bra and I think because we are seeing swim being worn year round, as bralettes etc. this top is really making waves. SF: L*Space is expanding into shoes and apparel--what inspired this? MW: I always knew I wanted to be a part of a lifestyle brand and entering into shoes/sandals and apparel was a natural progression. Of course, anyone who frequents the beach wears sandals and clothes to get there, which is why we started with these two categories. I wanted to make L*SPACE part of our consumers everyday look no matter what the season. We are inspired by the shoreline, and traveling so each piece is easily packable. SF: What are the three items you can't vacation without? MW: Most of my vacations center around going someplace warm--so if we are talking about everyday items it would be sunscreen, a hat, and some leave-in conditioner. SF: If you weren't running L*Space, what do you think you'd be doing? MW: My husband and I are in the middle of a remodel and I've always loved the design aspect of projects like this, so if I wasn't running L*SPACE, I would probably be an interior designer. Although my husband and I love to travel, so my other option would be just traveling the world with him. And now, a quick peek at L*Space's new resortwear and sandals, which are available to shop at lspace.com. Be sure to check out this miracle hair serum and our favorite ponchos. [Photo: L*Space]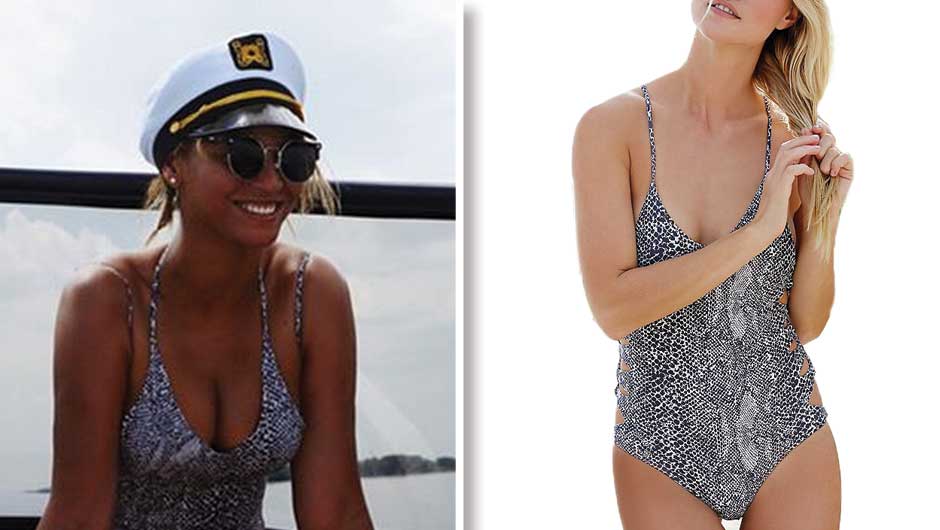 Why Yes, You Can Buy That Sexy One-Piece Beyonce Was Rocking On Instagram
So what that it's September?! You should always have an excuse to grab a new bathing suit (winter escape to the islands, anyone?), especially if said swimsuit was worn by Beyonce herself. Queen Bey recently modeled this Free People Acacia Florence Printed One-Piece ($205) on Insta and we're all about the sexy one-piece. Shop her suit below.  Free People Acacia Florence Printed One-Piece ($205) Be sure to check out Katie Holmes' Isabel Marant top, the best fringe booties for fall  and the best plaid dresses for fall. [Photo: Instagram]
Shop Kourtney Kardashian's Mara Hoffman Bikini Now, Breakover Body Not Included
While Lord Disick is traipsing through Vegas clubs, his ex, Kourtney Kardashian, is focusing on her friends, family and hot bod. She looked killer in a Mara Hoffman Reversible Twist-Front Bandeau Bikini Top ($128) and Ruched Brazilian Bikini Bottom ($110), showing off some abs and a sly smile. Breakups look good on this Kardashian and at under $300, you can have her sleek style without the heartbreak. Plus, with reversible bikinis, you get two for the price of one. Your Labor Day plans just got hotter--time to hit the gym and shop this suit below. Mara Hoffman Reversible Twist-Front Bandeau Bikini Top ($128) Mara Hoffman Reversible Ruched Brazilian Bikini Bottom ($110) Be sure to check out Khloe Kardashian's printed leggings, Chrissy Teigen's pretty blouse and Jaime King's maxi dress. [Photo: Instagram]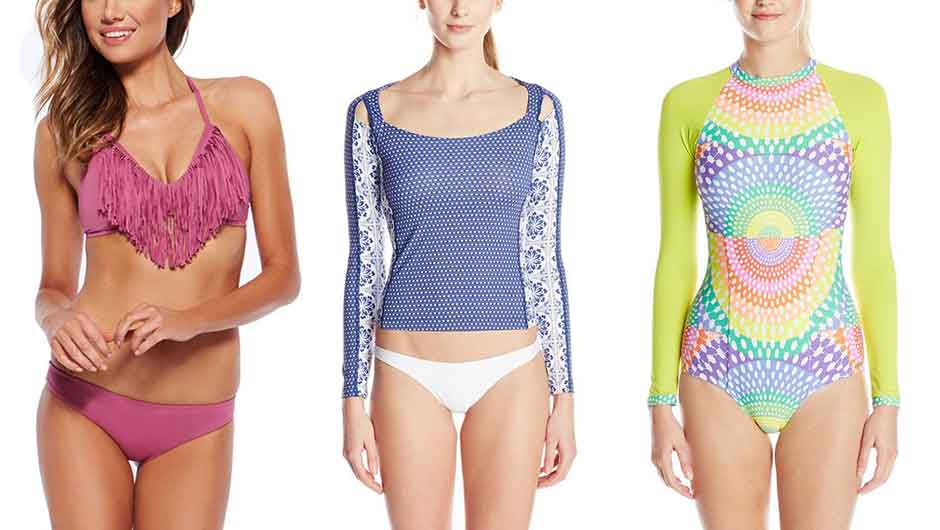 Right Now Is The Time To Get A Seriously Cute Swimsuit For Seriously Cheap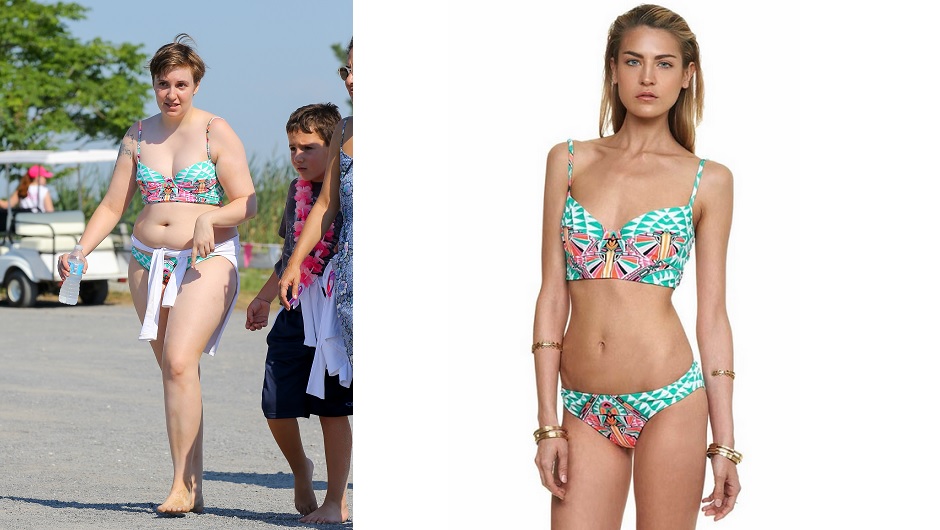 Right This Way To Buy Lena Dunham's Gorgeous Mara Hoffman Bikini
As soon as I saw this pic of Lena Dunham in a colorful bikini, I loved her even more. Why? Because she's a Mara Hoffman fan, too! That two-piece Lena is rocking is by none other than my favorite swimsuit designer of all time--the same brand celebs like Beyonce, Mindy Kaling and Jessica Simpson all love, too. If you're not team Mara Hoffman, you're seriously missing out! Sadly, Lena's suit isn't from the current season, but that didn't stop me from hunting it down for the lucky lady who still wants to get her hands on it. Shop below, but hurry--there are only a few sizes left! Mara Hoffman Cami Underwire Bikini Top ($132) Mara Hoffman Classic Bikini Bottom ($101) PS: You can also snag the bikini bottoms on sale for 50% off here! Don't miss Reese Witherspoon's cool sneakers and Vanessa Hudgens' cheap sandals. [Photo: Splash News]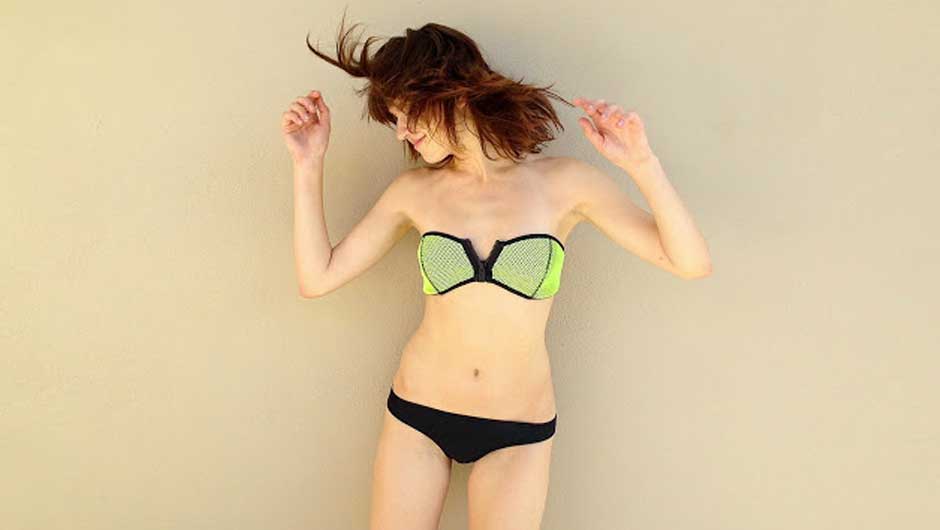 Here's The Main Reason Why You Shouldn't Dry Bathing Suits In A Dryer
For something that provides minimal coverage, bathing suits require maximum care. Bathing suits should be washed a certain way and dried a certain way, to maintain the quality and make sure it lasts for as long as possible. Also, bathing suits cost a decent amount of money so it's important to take care of them or else you're basically wasting your money. It goes without saying that bathing suits should either be hand washed or in a washing machine on gentle cycle. But what about the drying process? You shouldn't wring out a bathing suit because it causes extra wear, they can't dry in the sun because the color will fade and you most certainly should never, ever put bathing suits into the dryer. Putting bathing suits in the dryer is like throwing away your money. You might as well just buy a new bathing suit at that point. Why is this so bad? Your delicate bathing suit is now tumbling around in hot temperatures. This will not only cause your suit to stretch out, but also lose its shape and ruin the fabric. To properly dry your swimwear, lay it on a flat surface, either outside in the shade or somewhere in your house. You can also lay it on a towel to absorb more moisture, but remember not to wring it out! Don't miss how to wash your jeans so they last forever and shop the best high-waist bikinis perfect for any body type! [Photo: Fire on the Head]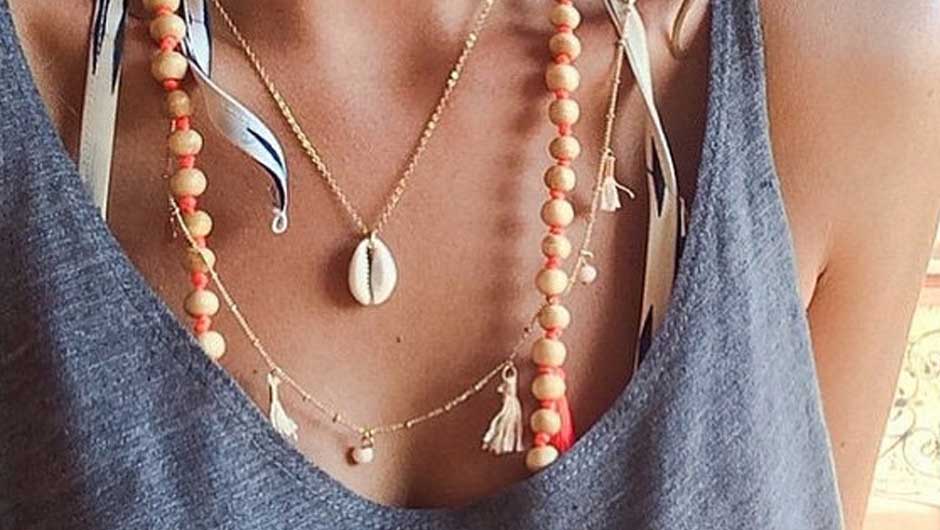 Cowrie Shells Are Making A Comeback!
Kim Kardashian Vs. Kylie Jenner–Who Wore This Mikoh Bikini Better?
Kim Kardashian and Kylie Jenner are no strangers to taking selfies while wearing bikinis...or anything else for that matter. However, things get a tad awkward when they post a selfie wearing the same exact bathing suit. This week Kylie posted a picture to Instagram wearing a strappy white bikini. I felt like we have seen this picture before and then I remembered Kim had posted an almost identical picture a little while back to her Instagram account. Both girls were wearing a MIKOH Sunset Skinny String Bandeau Bikini Top in the color bone. The only thing difference between the two pictures are the bottoms they are wearing. Kim opted for a matching stringy bottom called Lanai Bikini Bottoms and Kylie switched it up with Velzyland Skinny String Bikini Bottoms, both by MIKOH. The real question is...who wore it better? https://instagram.com/p/4P9rPuHGrL/?taken-by=kyliejenner https://instagram.com/p/1zUTlmuS4d/?taken-by=kimkardashian Kim and Kylie's top: MIKOH Sunset Skinny String Bandeau Bikini Top ($108) Kim's bottom: MIKOH Lanai Bikini Bottoms ($108) Kylie's bottom: MIKOH Velzyland Skinny String Bikini Bottoms ($108) Don't miss Kim Kardashian wore the most expensive denim jacket ever and Rihanna has plans to grow a fashion empire! [Photo: Kim Kardashian Instagram, Kylie Jenner Instagram]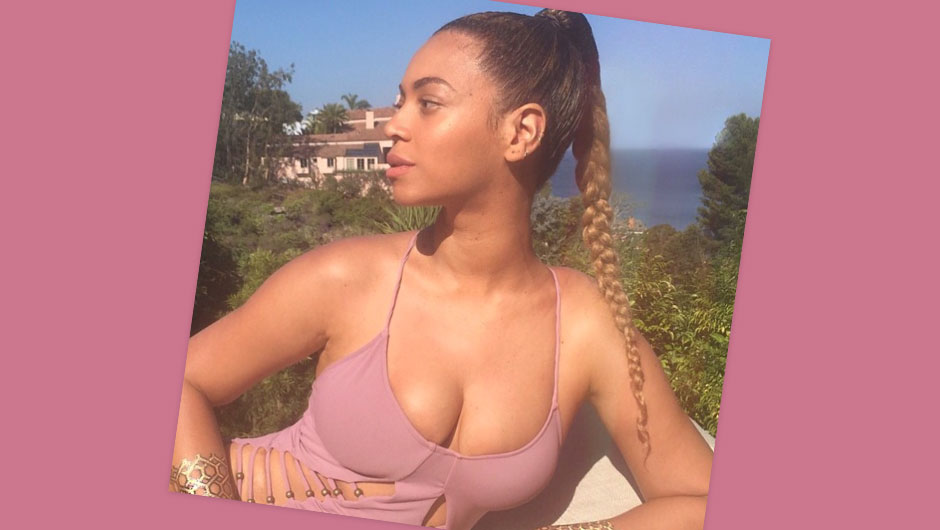 Beyoncé Approved This Mara Hoffman One-Piece–Buy It Here
We kind of fell in love with Beyoncé's one-piece swimsuit she wore in an Instagram picture yesterday. Luckily, we found where to buy it! It's the Solid Lattice Maillot One-Piece Swimsuit by Mara Hoffman and the color is called "dusty rose." It's complete with sexy cut outs and beads. This suit also comes in a cool blue color if pink isn't your thing. The back dips super low with crisscross straps. Hello, summer! https://instagram.com/p/4PPwPQPwzV/ Mara Hoffman Solid Lattice Maillot One-Piece Swimsuit ($242) Don't miss 7 times Bradley Cooper talked about love and hearts melted everywhere and shop Taylor Swift's $49 skirt! [Photo: Instagram]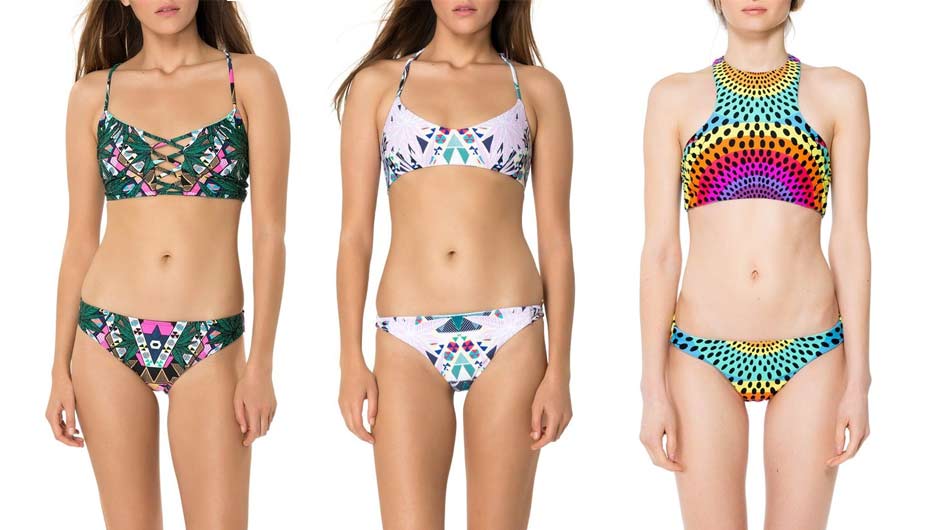 Selected Mara Hoffman Swimwear Is Up To 20% Off–Treat Yourself, You Deserve It
It's the best time of year! Why? Well, it's summatime aka Mara Hoffman bathing suit season! Selected swimwear is currently up to 20% off with no code required! Mara Hoffman swimsuits are just the best, in my opinion. They are attention-grabbing, playful, flattering and unique. What more could you ask for? SHOP NOW Don't miss where to buy Vanessa Hudgens' cool leather sandals and a first look at the new Ghostbuster's set! [Photo: Lattice Weave Cami Bikini Top, Basket Weave Bikini Top, Exclusive Racerback Bikini Top]
The 5 Best Brands For Plus-Size Swim
Victoria's Secret's Annual Swim Sale Is Happening Right Now
With the unofficial start of summer this past weekend, it's time to start stocking up on swimsuits! Victoria's Secret is having their annual swim sale, which means you can snag gorgeous and stylish suits 25%-40% off! There are tons and tons of styles to choose from, ranging from flattering one-pieces to sexy push ups. I personally love the Forever Sexy The Closeup Halter and the Beach Sexy The Getaway Halter. If this sale wasn't enough, today is the last day to get free shipping and returns with any swim purchase. Go, go, go...this sale is too good to miss! SHOP THE VS ANNUAL SWIM SALE NOW Don't miss Nordstrom's Half-Yearly Sale and Amazon's 20% Coupon Code! [Photo: Mesh-Inset Strapless One-piece, The Flirt Bandeau, Flounce Halter, The Midi]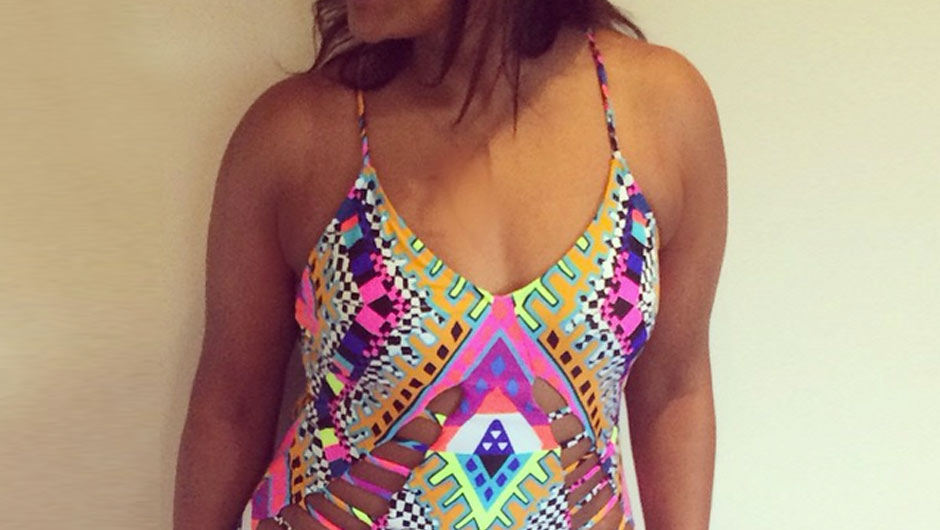 25 Super Flattering One-Piece Bathing Suits