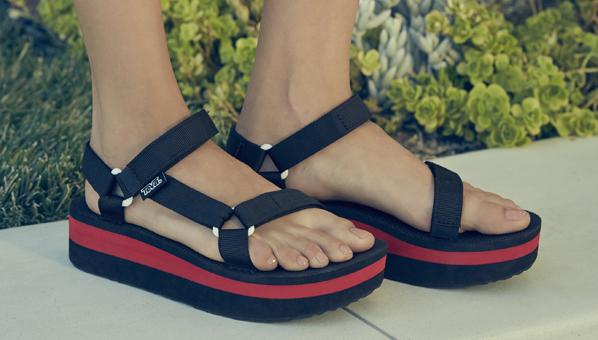 These Teva Flatforms Are Already On Backorder For Spring
I am beyond obsessed with these Teva flatforms I just spotted at Nordstrom (they're the best of both worlds--the flatform trend and the sporty sandal trend!), and it turns out that I am not the only one--it's not even April yet and they're already backordered! You'll have to wait until at least April 13th to get them, and that's if you order now. If you wait any longer you might miss out completely. They are still available in size 7, 8, 9, 10 and 11 (no 5 or 6) and the 10 is the only size that doesn't currently have a backorder (as of press time). Check 'em out:   Teva 'Universal' Flatform Sandal ($49.95, back-ordered until April 13)
Teva x Opening Ceremony Is All The Proof We Need That Normcore Isn't Going Away
Last month, we explained Normcore and what to wear to nail this look. So it's no surprise that the fashion world is getting on board with this trend. Teva sandals, yes the shoes you thought you'd never be caught dead in, are getting a snazzy makeover from Opening Ceremony. But should we be that surprised? After all, sport sandals are making a major comeback for spring and dressing like a Midwestern tourist is "in," so fashionable Tevas seem pretty logical. The Opening Ceremony and Teva Collection features three unisex styles, all including the nylon straps and comfy soles associated with this sandal. There's the "Universal Hurricane," which is the classic Teva Hurricane sandal updated with gold and silver removable ankle straps. Then there's the brand new "Gladiator Hurricane" which features Teva's classic patterns on ankle-high sandals. And the last style is a re-issue of a Teva favorite from the archive, the "Psyclon," which has a neoprene upper strap in black and teal. The collection hits Opening Ceremony stores and online May 23rd, prices range from $70-$90. Click the slideshow to see all six sandals from the collex! For more collabs we love, check out: Pharrell x Uniqlo, Zooey Dechanel x Tommy Hilfiger and Kate Hudson x Ann Taylor [Photo Credit: Opening Ceremony]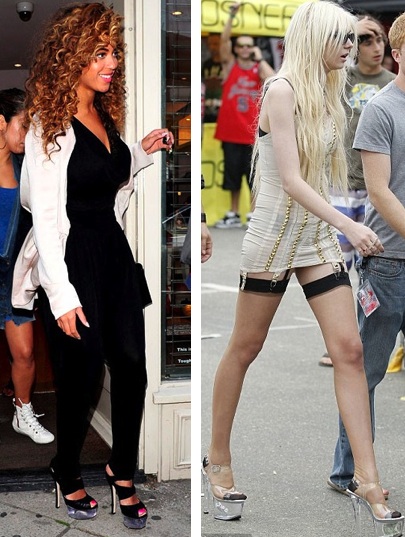 Stripper Heels, Side Boob And Swamp Rat: Six Trends We Wish Would Disappear In 2011
Lucite Stripper Heels: Beyonce and Taylor Momsen tried to make stripper heels happen in 2010. Let's hope we don't revisit it again. Animal Print Uggs: The Jimmy Choo for UGG collaboration produced a $600 studded boot that only a Hilton sister or Real Housewife of New Jersey could love. Sheer Clothing: Gwen Stefani stepped out in what looks like pajamas, Naomi Campbell rocked some side boob, and Leighton Meester let her granny panties hang out. Teva Stilettos: $330 Teva stilettos... everything that is wrong with America. Jeggings On Men, Or "Meggings" Jeggings for women... bring it on. Jeggings on men? No, thanks. I'm talking to you, Conan O'Brien. Rat Fur: Okay, the Olsen twins never wore swamp rat (that we can prove), but one designer did try to make Louisiana swamp rats a fur trend in 2010. Follow the author of this post on Twitter @bridefinds. Check out more Don'ts with our red carpet re-do's. Shop all of the best sales and deals, online sample sales and black dresses, party dresses, faux fur vests, pumps and blazers.
Week In Review: Conan Loves Jeggings, Teva Stilettos, More
Must-Reads: Jeggings - comfy, sexy, and now, they have the Conan O'Brien stamp of approval. Things we wouldn't even touch with a ten-foot pole: these Teva Stilettos. Snag yourself this week's Holiday Sold Out List picks including the Loeffler Randall rain boots, Rebecca Taylor Faux Fur Vest, TOMS gold herringbone shoes, Jeffrey Campbell's lace up booties, and the Paige Verdugo jeggings. Going, going, gone - the hot items this holiday that are literally selling out NOW are: this House of Harlow necklace and these UGG convertible clog booties. Our holiday gift guides will help when you don't know what to get your label loving friends, office friends, party girl friend, your reality-TV obsessed friend and your man. The perfect tweed jacket: Chanel made us want one but this jacket made it affordable. Taste Tests: Can you tell which black ankle boots are Brian Atwood and cost $400 more? Can you tell which wrap buckle boots are Chloe and cost $900 more? Can you tell which floral chain necklace is Lanvin and which is Old Navy? Sale Alert: Calvin Klein coats are 33% off - belt it up baby! Get four awesome holiday party dresses for under $115 - and yes, that's all four. Sam Edelmen's booties and oxfords are 70% off, can you say 'YAY?!?' We're obsessed with the deals that the J. Crew factory online constantly has. Cyber Monday had us flipping for 65% off Kate Spade handbags and even better deals at Bloomies, Stila, Macy's, and more. Celebrity Style: We really didn't need more excuses to love Alexa Chung's fashion sense but we keep finding them. Nicole Richie knows how to look good while working hard. We're not all as lucky as Natalie Portman to be able to beat the lines to wear Lanvin for H&M but we can look like it. This outfit is proof that Claudia Schiffer still has it. Beauty: Makeup gift sets are the perfect looks-more-than-it-was gift when you're pressed for cash. Guides to Check Out: For more gift ideas, check out the perfect gifts for your party girl friends, gifts for your reality TV-obsessed friends, and passive aggressive gifts for your frenemy. If you're still stumped, hit up Part 1 of Oprah's Favorite Things for 2010 and our many guides to things like skinny jeans, booties or gloves. Subscribe to our online mailing list for exclusive updates.
$330 Teva Stilettos: Everything That Is Wrong With America
I hope you didn't just eat your lunch because you're about to lose it. Teva just released a high heel version of its classic fug sandal, and priced the darn thing at $330. Sorry, Teva people, but 1) who would wear these and, 2) who would spend that much on them? We're at a loss, so we'll just let you admire these Grey Ant x Teva Stilettos in action (inexplicably hiking, that is). What to pack on your next camping trip. Pysch! For shoes that aren't the ugliest effing things we've ever seen... check our guides to the best over the knee boots, boots under $100, booties and leopard print shoes. Then see all of our sales and deals, best find of the day posts, and online sample sales, too. Follow the author of this post on Twitter @bridefinds.