These Colorful Sneakers Under $100 Are #WorkoutGoals
Lululemon Sneakers Are Here & You're Going To Want Them All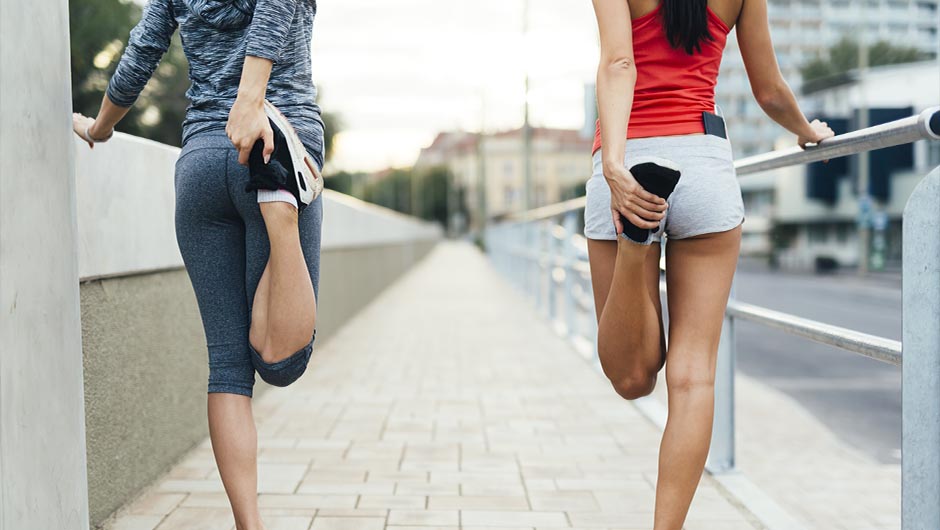 The One Color You Should Wear To Workout, According To Science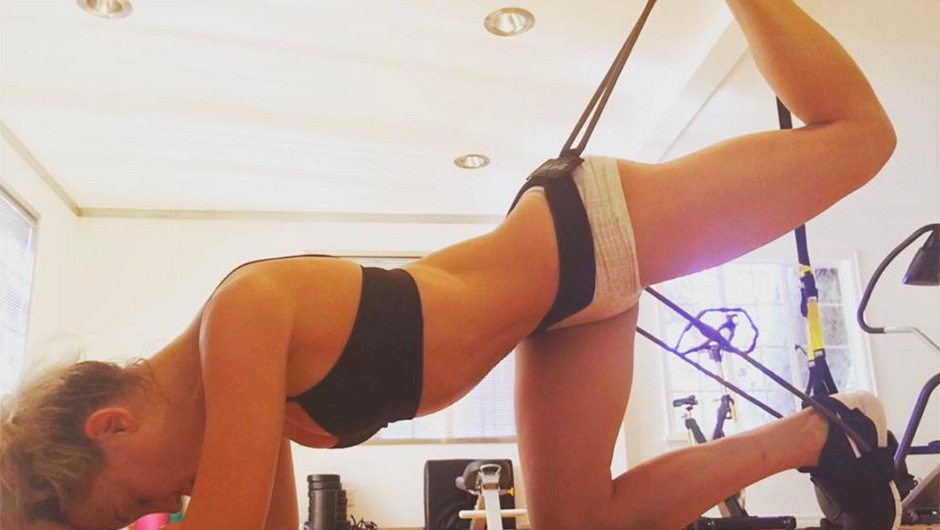 In Honor Of Her Birthday, Here's Kate Hudson's Favorite Product
I am very in to Kate Hudson. It's her birthday today and also mine, so in honor of what should be a nationally recognized holiday, I'm going to tell you all about the product that Kate has said she's "obsessed" with. Maybe this is a shameless attempt for the maker of the product, a dude named Dominic Banks, to send me one--IDK. I'm never against drawing similarities between the Kate and myself (those abs tho), so yes, this could be one more thing she and I have in common. Also, summer is coming. Just sayin', Dom. Back in October she Instagrammed a pic of herself using the "Booty Belt," a lower body fitness device that you wear around your waist and then hook around your feet to cause resistance. https://www.instagram.com/p/9UG5e9Jcnc/ According to Dom (we're on nickname basis now), this gives his clients that "perky" butt they're after. If Kate's is any indication, I'd say mission accomplished, dude. FYI, after Kate posted the pic, he sold 200 Booty Belts in 24 hours. The power of K. Huds! Get it: The Booty Belt System ($99.99) The Belt has also appeared on the Today Show, where Bobbie Thomas called it "the new tight master." K, Dominic--the balls in your court.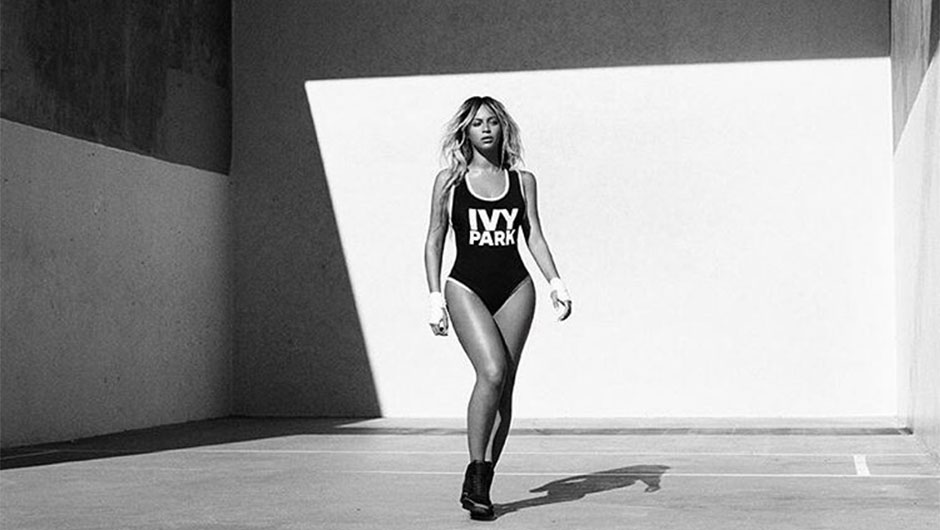 Beyoncé Debuts Athleisure Line With An Empowering Video
SHEfinds receives commissions for purchases made through the links in this post. Beyoncé debuted her brand new the athleisure line today, Ivy Park, and it does not disappoint. Queen Bey teamed up with Topshop's Sir Philip Green to create a collection of swimwear, tops, leggings and more. She announced the line with an empowering video where she models the collection and shares a personal journey. Blue Ivy even makes an appearance! https://www.instagram.com/p/BDnt9evPw5L/?taken-by=beyonce Ivy Park will be hitting Topshop and Nordstrom exclusively on April 14 so mark your calendars! In the black and white promo video, Beyoncé explains the reasoning behind the name Ivy Park. "I'd wake up in the morning, and my dad would come knocking on my door and tell me that it's time to go running," the voiceover starts. "I remember wanting to stop, but I would push myself to keep going. He taught me discipline and I would think about my dreams. I would think about the sacrifices my parents made for me. I would think about my little sister and how I was her hero. I would look at the beauty around me. The sunshine through the trees. I would keep breathing." She admits to having fears, which every person has experienced. "There are things I'm still afraid of. When I have to conquer those things I still go back to that park. Before I hit the stage I go back to that park. When it was time for me to give birth I went back to that park. The park became a state of mind. The park became my strength. The park is what made me who I am. Where's your park?" Watch the video below! [youtube]https://www.youtube.com/watch?v=mA1Wp1kfDfE[/youtube] Don't miss Christian Louboutin's brand new nude flats and see Cameron Diaz without makeup! [Photo: Instagram]
16 Pairs Of Sneakers That Will Help Kickstart Your Workout Resolution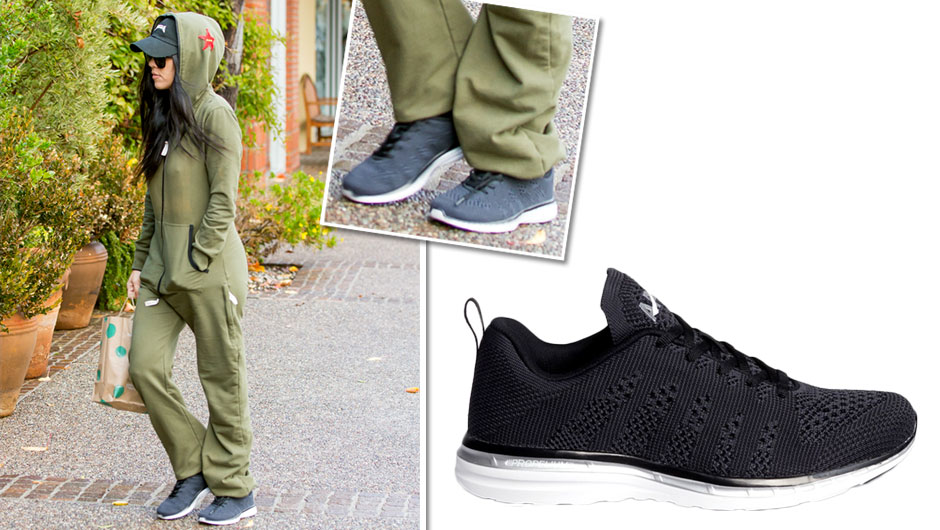 Copy Kourtney Kardashian And Add Her APL Kicks To Your Cool Sneakers Collection
Spotted: Kourtney Kardashian lunching with Scott Disick and her munchkins. Before we sit around and discuss the merits of this wacky relationship (or not), we zoomed in on the subtle yet sleek sneakers Kourt was rocking. Her APL Techloom Pro Neon Knit Sneakers ($140) are everything we need in an understated gym (or city) shoe. Trust us, every girl needs the perfect black sneaker for gym and tourist time. And do you really need another pair of Nikes? Be unique like Kourtney and shop her kicks below. APL Techloom Pro Neon Knit Sneakers ($140) Don't miss out on more fabulous celebrity style such as Gigi Hadid's affordable sherpa jacket  and Kendall Jenner's cool sunglasses. [Photo: Splash News]
Shop Now: Workout Gear To Step Up Your Gym Resolutions
15 Gifts Every Workout Lover Will Appreciate
These $44 Nikes Are The Best Cheap Workout Sneakers–Ever
Last week my doctor told me I need to start exercising. Instead of whining and complaining, I took this as an opportunity to treat myself. If I was going to be torturing myself running for 30-40 minutes every day, might as well get the joy of buying cute workout gear, right? My first purchase was a pair of Nike Revolution 2 sneakers ($44) and after just one week I'm in love. No, honestly--they're so amazing, I bought two additional pairs! Now before you judge me for spending a fortune, here's the really amazing news. These sneakers are less than $50! Yes, for real. Insanely comfortable and lightweight Nike sneakers for just $44! Price aside, these are seriously legit running sneakers. My feet are not at all sore after 2 miles on the treadmill and they look amazing on your feet. Don't just take my word for it, though. Google around the Web and you won't be able to find these sneakers rated below 4 stars anywhere. They're just that good. And the price! SHOP THE NIKE REVOLUTION 2 SNEAKERS NOW! PS: If you don't love the color combo above, no worries. These kicks come in TONS of other colors. Be sure to check out Loeffler Randall's fall sale and The Outnet's cute makeup bags.
Funny Workout Gear That Will Actually Motivate You To Hit The Gym (Maybe)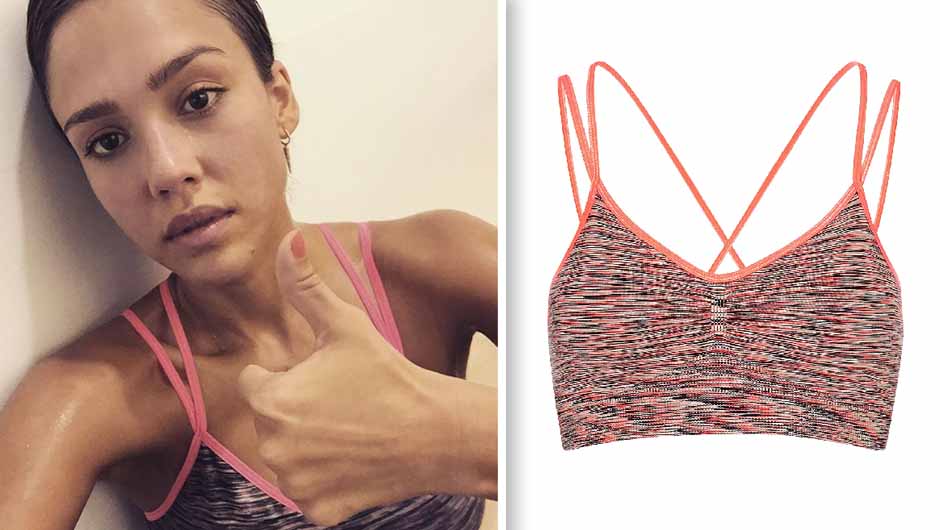 We Know Where To Buy That Pretty Pink Sports Bra Jessica Alba Was Modeling On Instagram
Thanks to Insta (and all social media), we can find daily inspiration in fashion, beauty, and even some motivation to hit the gym - because we all know half the battle is looking great when flaunting your bod. Jessica Alba broke a serious sweat in her Sweaty Betty Yama Padded Yoga Bra ($65), yet she still looked pretty gorg to us in her post-workout snap. Nothing brings out the inner yogi than a bright, patterned bra! Shop her sweaty style below and get to your mat asap. Namaste. Sweaty Betty Yama Padded Yoga Bra ($65) Be sure to check out Katie Holmes' Isabel Marant top, Rihanna's cool sunglasses and Beyoncé's sexy one-piece. [Photo: Instagram]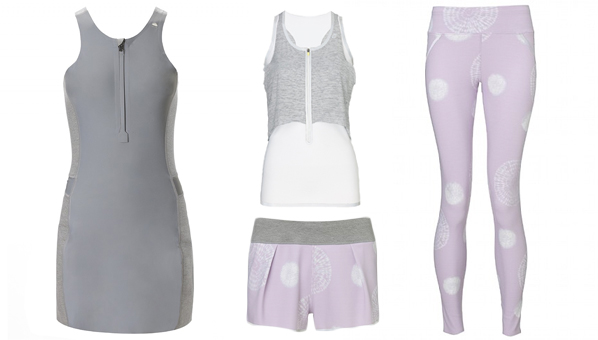 Sweaty Betty x Richard Nicholl Is Here! And Almost Too Pretty To Actually Sweat In
Good news for exercise fiends: British brands Sweaty Betty and Richard Nicholl have teamed up on a limited edition collection of runway-worthy workout gear that just dropped! The 8-piece line was first shown at London Fashion Week last September, and features a soft palette of white, grey and lilac. Expect the standard cute-girl-at-gym staples like pocket tees, pleated shorts and long leggings, as well as oh-you-fancy-huh items like a paneled "run dress," throwback white and grey skort and even a reflective swimsuit. Whatever your activity of choice is, this cool collab has the gear for you to sweat in. Click through the slideshow above to shop the entire line. SHOP NOW
The Incredibly Cool Styling Tip We Stole From These Gym-Obsessed Celebs
This week your focus is probably going to be getting on track with your New Year's Resolution to work out more, and we of all people know that you gotta look good to feel good (or at least, to feel motivated). Thankfully, celebs have also been hitting the gym hard lately (God forbid they have any holiday weight gain) and so there's plenty of motivation for getting ones self to the gym--and stylishly. Like, did you know that the absolute perfect (and celebrity-approved) workout wear combination is capri pants + colorful sneakers + a plaid shirt around your waist? Just ask gym buffs Khloe Kardashian and Hilary Duff who coined the look. Then shop everything you need to pull it off in the slideshow above. 12 WINNING COMBINATIONS 
The Best Celebrity Gym Sneakers–Identified
One of the millions who resolved to hit the gym and get in shape in 2015? Good for you. Right now you're probably feeling super motivated and on top of it, but studies show that enthusiasm will start to wane by the end of the month. By the time March rolls around most of us will already have given up on our resolutions altogether. So what's the key to fitness success? Cute sneakers, of course! Okay, that's not at all scientific, but we can personally attest that a great pair of kicks makes getting off your butt and working out exponentially slightly easier. Don't have a pair of sneaks that make you feel excited to hit the gym? It's time to change all that. We rounded up a bunch of cute gym sneakers as worn by your favorite celebrities in the slideshow. Buy a pair--or two!--to keep you motivated for months to come. Don't miss Khloe Kardashian's $40 workout leggings and workout clothes that will make you want to hit the gym.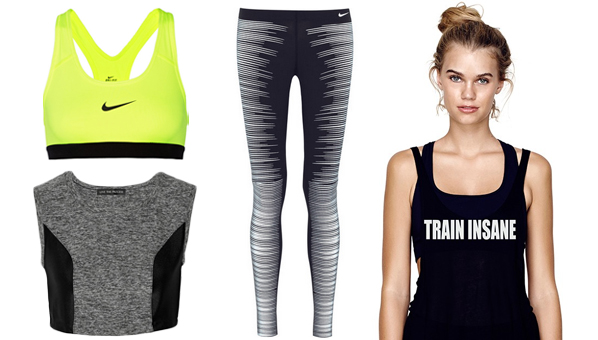 Shop: Workout Gear That Will Actually Make You Want To Achieve Your January Goals
With the New Year up ahead, chances are you're thinking about joining the gym, attempting that 30-Day Squat Challenge, or uploading a few fitness apps to your new iPhone 6. So if you're going to prepare to get fit in 2015, you might as well as look good doing it. Luckily, fashionable workout gear is a booming market right now, so the selections to look stylish while breaking a sweat are endless. (No more dirty T-Shirts and high school gym shorts!) From Nike sneakers to printed leggings, check out our slideshow of our favorite sporty items for you to stock up on for your new year's resolution. Don't forget to check out: Zella Leggings, Celebrity Fitness Routines, and 5 Questions With Closet Fitness Fanatic, Actress Erika Christensen.
Zara Terez Just Took Printed Leggings To A Whole New Level
If you didn't already know that printed leggings were the workout trend of the year, then I don't know where you've been, but if you've ever put a pair leggings on your body, you know that not every pair is created equal. Some are see-through when you bend over, some don't stretch enough, some stretch too much and some slide down, but the legging queen of the universe, Zara Terez, has these problems all figured out. I had heard about the brand from a few of my workout-crazed friends, but it wasn't until I moved to NYC that I fell in love. Yes, printed leggings are totally "in" but ZT takes it to a whole new level. From emojis to macaroons, donuts, makeup and fruit, you can express your individuality or inner fat girl food lover with these leggings. When we were invited to preview their new Performance collection leggings, which are perfect for the gym, soul cycle or running in the park, I was pretty darn excited, considering I've always wanted, but been afraid to wear a pair. As soon as I walked into their office and saw the whole Zara Terez team wearing them, I couldn't wait to slip my legs into a pair. And when I finally did put on my kindly gifted pair of Pink Crushed Makeup Performance Capris ($75), (check out the photo above) I was in comfy-pants heaven. Aside from the awesome print, these are the best workout leggings I've ever had, by far. They have just the right amount of stretch, give and what I like to call "suck in." You know, when the material is just tight enough on your legs that it shapes them a little bit and makes them look tones. Well, that's exactly what they did. And, when I finally hit the gym in them I was thrilled to find out that they have moisture and odor blocking technology. Aka. a sweaty girl's dream come true. So if you want to take a walk on the wild side and try out a pair of printed leggings, head over to ZaraTerez.com and check out their performance line. Who know, maybe you'll catch the attention of that cute trainer you've been eyein' in the gym. With ZT, anything is possible. Zara Terez Performance Capris ($75)
If Khloe Kardashian's $94 Leggings Don't Motivate You To Work Out, Nothing Will
The Kardashian sisters (plus mama Kris) recently stepped out for a family workout in the Hamptons and everyone looked shocking normal. It was Khloe, however, who stole the show by flaunting her long legs in these Vimmia Abstract Capri ($94). Now yes, $94 is an insane amount for workout clothes. But hey--if spending close to $100 on leggings doesn't get your butt to the gym, we don't know what will. It's a fail-proof stay in shape for summer workout plan, right? Get a pair for yourself below. Vimmia Abstract Capri ($94) Don't miss Kourtney Kardashian's cute short overalls, Olivia Palermo's white dress and Taylor Swift's black romper. [Photo: Splash News]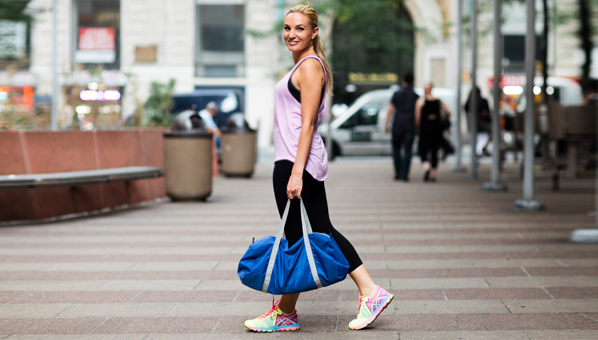 Can You Believe This Crazy Cute Workout Outfit Came From–Wait For It–Kohl's?
I'll be the first to admit that I have bumped up my workout in the last couple of weeks--gotta fit into that new baby blue bikini, right? But no fitness routine is complete without the right outfit, so I couldn't resist the chance to take Kohl's up on their offer to splurge on cute workout clothes. It didn't take long for me to realize what a great selection they have--and at amazing prices! Whether you love yoga or CrossFit, they've got cute leggings, tops, sports bras and even sneakers to get you moving while still looking cute. My favorite find? Because I'm a Barry's Bootcamp fanatic, I couldn't resist these ASICS GEL-Craze TR Cross-Trainers ($79.99 down from $84.99) which are great running shoes in addition to being super stylish thanks to the neon colors.   ASICS GEL-Craze TR Cross-Trainers $79.99 I also managed to score a pair of workout pants like these Cares FILA SPORT Solid Capris ($10) which are really versatile and so soft. My SO Burnout Racerback Tank ($5.99, down from $16) in pink is so cute I might even have to wear it when I'm not working out. The best part--my complete workout outfit costs less than $100! Head over to Kohl's now and see for yourself. SHOP CUTE WORKOUT CLOTHES AT KOHL'S NOW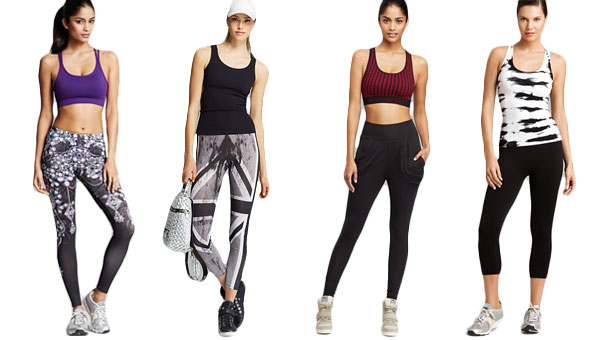 Phat Buddah: The Workout Line That's One Size Fits All
We've all had that moment in the dressing room when NOTHING fits and we vow to start a diet tomorrow (but never actually do). Well, Alissa Benishai, founder of the workout apparel line Phat Buddah, made a different promise to herself when she had this experience trying on Lululemon clothing. Instead of starting a diet, she created her own line of fitness gear. In a NYTimes profile on Alissa, she talks about how her brand came to be. The name Phat Buddah comes from her favorite part of Bikram yoga class when you can let your "Buddah belly" hang out. We like it already. Then she goes on about the nylon and spandex fabric used in her sports bras, leggings and tops that shrinks in the wash and stretches once you put it on. So woman of most sizes, at least up to a 14, can comfortably fit into her clothes (and don't have to worry about a dressing room breakdown). Again, another plus one for the brand that DOESN'T fat shame woman. Phat Buddah's one-size-fits-all apparel ranges in price from $30-$60 and is available at Bloomingdale's, as well as tons of gyms worldwide. Even Gwyneth Paltrow's trainer, Tracy Anderson, is a fan! Who can blame her when the brand's signature piece is glittery leggings? We're getting a pair of those ASAP. SHOP PHAT BUDDAH NOW And don't forget to check out: Miranda Kerr's Reebok sneakers, Katy Perry's new hair color and how to have the most fun wedding EVER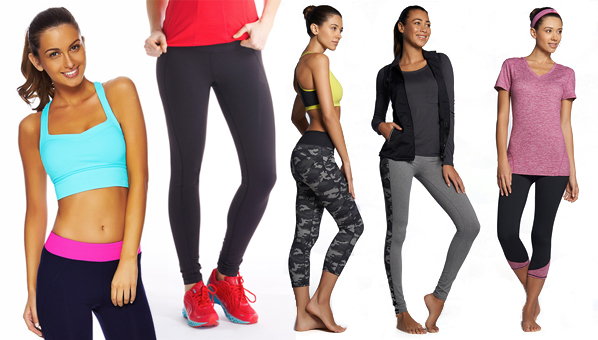 7 New Workout Lines You Need To Know If You Want To Keep Your Gym Resolutions
Sure, we've all heard of (and obsessed with) big brands like Nike and LuluLemon. And not kicking them to the curb by any means, but there are several amazing brands we've recently discovered that every gym-goer should check out. Some have just recently launched while others have been around for years but just making their way overseas to America. Either way, they're all made of top quality fabrics, come in fun colors and styles, and all approved by us. From gear designed by Kate Hudson to a best-selling brand over in Australia, check out our favorite new workout brands that will have you sweating in style this year. Don't forget to check out: Nike's new silver FuelBand, FitBit gives skin rashes, and New Balance sneakers are back in style.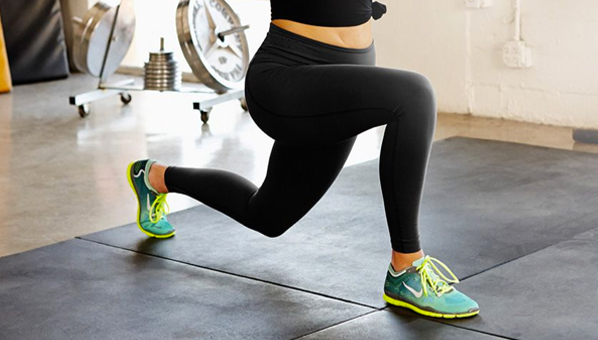 The Best Colorful Sneakers (To Help You Get Moving This Month)
We've officially survived the first week of 2014, so it's time to start plugging away on those new year's resolutions. If you're finding it hard to motivate during the polar vortex, we've got just the solution for you: colorful gym shoes. That's right, grab yourself a pair of these colorful kicks and hit the gym. These brightly-colored sneakers will inspire you to run faster and work out even harder than you normally do. Call us crazy, but there's just something about awesome new sneakers that does the trick for us. Check out the slideshow above for our favorite picks now. Don't forget to check out what we learned about celebs from their love songs, perfume for your hair, and Jessica Alba's skater skirt. [Photo: Nike]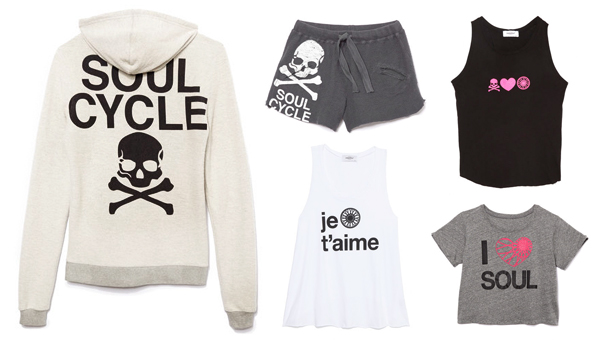 Will This SoulCycle x Shopbop Line Be The Thing That Gets You To Finally Try Spin?
Your friends have been trying to get you to do SoulCycle for like a year now, haven't they? If you still haven't tried it, this might be the thing that finally gets your butt on a bike: Shopbop's new exclusive 13-piece collection of SoulCycle gear, hitting the site tomorrow. Priced from $48 to $136, the collections includes tanks, t-shirts, hoodies, sweatpants and shorts in a color palette of pink, gray, white and black. And if you still don't sign up for a class in the end - no worries. The line is "A little bit 'workout' a little bit 'hangout'," according to SoulCycle's Found and CEO Julie Rice. So, go ahead and stick to the latter. SHOP SOULCYCLE ON SHOPBOP NOW [WWD via Racked]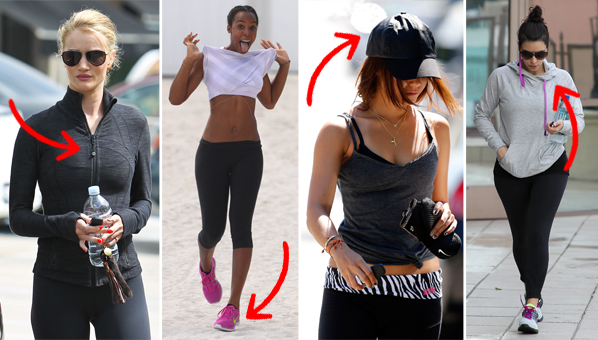 8 'Look Good At The Gym Without Trying' Looks We Stole From The Stars
You might just be there to get red-faced and sweaty, but there's no reason why you can't look at least reasonably put together at the gym. Now, we're not saying you need to roll up to Planet Fitness with a full face of makeup, or in a We Are Handsome bodysuit and Dolce & Gabbana corset à la Beyoncé in "Pretty Hurts," but it doesn't hurt to have a few cute-but-functional workout pieces in your arsenal. We looked to the stars for inspiration on some fly essentials you need when you're about to break a sweat. After all, shopping is a good way to motivate you to keep a certain New Year's resolution that involves excercizing more than 0 times a week. Don't forget to check out 10 celebrities who dominated the tabloid cover came this year, North West's fancy Christmas present, and 14 things we can't wait for in 2014!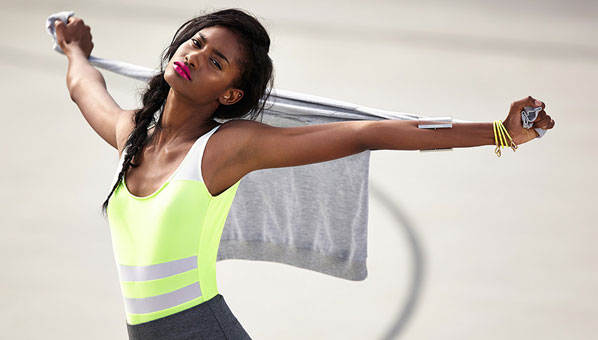 Update Your Workout Wardrobe For Fall With These 13 Editor Picks
You update your regular closet, so why not your workout clothes too? With the cool weather ahead, it's time to start shopping for sleeves, pants and ear warmers that will keep you warm while you break a sweat. Sure, you can sport last year's worn-down hoody, but research shows there is a direct correlation between what we wear and how we perform when working out, and looking the part can play a positive effect on progress. In other words, fresh new workout clothes will help you kick a*s even more so next spin class. From designer shoes to the most comfortable pants on earth (that we'd secretly wear as leggings), check out the slideshow above for the season's coolest gear. Fore more fashion news, check out Kim Kardashian's denim top, Taylor Swift's trench coat and Reese Witherspoon's jacket. [Photo via Nasty Gal]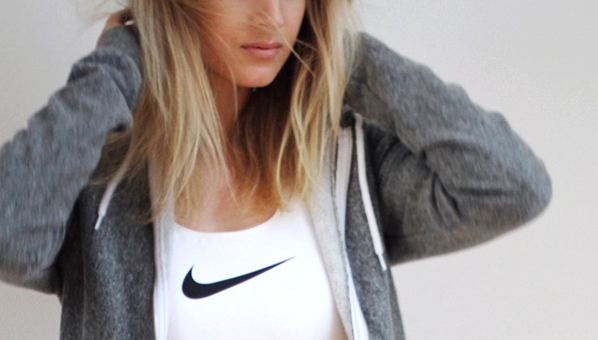 How To NOT Look Like A Hot Mess At The Gym
Research shows there is a direct correlation between what we wear and how we perform when working out, and looking the part can play a positive effect on progress. Bianca Jade, New York fitness trend expert, explains that, "Gyms aren't just places to work out anymore. They're places to meet people, socialize and network. So it's important to look and feel great." In fact, she's even pro-makeup at the gym and recommends a tinted moisturizer or concealer to hide imperfections. Amen! Now that doesn't mean you need to go out and get a blowout before every workout session, but there are a few things you can do that will make you look and feel hot while breaking a sweat (note: this waist cinching workout garment is NOT one of them!). From a proper sports bra to BB cream, check out the slideshow above for tips that will have you looking like a million bucks before you hit the gym. And rest assured, they won't have you looking like Tammy Faye Bakker. Want more beauty news? Check out: Marc Jacobs Beauty launches, JINsoon x Tibi and Michelle Phan's new makeup line now.
Stella McCartney Makes A Tennis Line–And It Includes A Miracle Dress For The Court
Stella McCartney is the fashion industry's biggest proponent of health, having created uniforms for London Olympics, countless workout lines for Adidas, and for trying to get us all off meat--and now she's bringing her impeccable style AND taste for fitness to her first-ever tennis collection for Adidas Barricade. The collection, which just debuted on Vogue and will hit stores this fall, is so good it makes us want to take tennis lessons--and not just for the hot pros. And we're talking miracle dress good. The line has to-be-expected tennis skirts & tops, but also features a dress with Stella's signature lose-5-lbs-in-5-minutes side paneling. Where do we sign up? (For court time and the line.) [Vogue]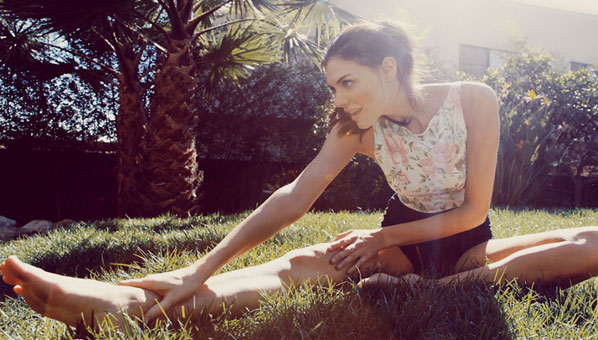 There's Only 9 Days Left Until Summer–You Can't Push Off Working Out Any Longer
"Go to the gym" has been on my to-do list since February (a goal I created for myself after gorging on discounted Valentine's Day candy). I don't know how it happened, but summer totally creeped up on me. The 60-day Insanity work out DVD I bought now has a layer of dust on it (it's also been a great coaster). But now that summer is only 9 days (!!!) away, there's no more time for excuses! If I'm going to get my bikini bod ready for the beach, it's now or never. And what better way to motivate myself than with a little shopping? I picked out some of the cutest and cheapest workout clothing. Flip through the slideshow to see my favorite gear. Look at it this way: you still have a few days of procrastination before your new workout clothing arrives! And don't forget to check out this colorful workout gear, Theory's fitness apparel and what to wear to your fitness classes.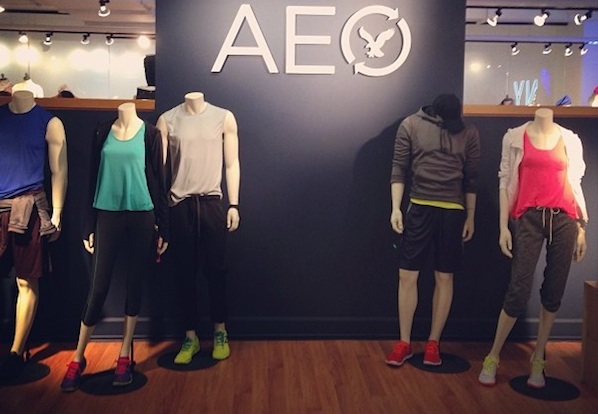 First Photos: American Eagle Is Launching Workout Gear For Fall
We just visited the American Eagle showroom to preview their Fall 2013 collection, and while they were lots of goodies (check our Instagram for all the photos!), the biggest news of the event was the fact that they're launching workout gear for fall. The line, which hits stores and online in July, includes colorful tanks, hoodies and drawstring cropped pants and will retail for $24.95-$44.95. See the first photo of the line (above), and stay tuned for more details to come. For more exercise gear (summer is less than 60 days away!!!) shop here, and then check out the best self tanners - all under $25.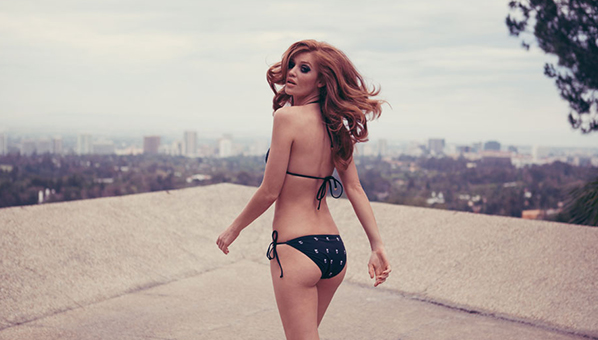 Only 60 Days 'Til Summer! Get It Tight And Right In This Cute, Colorful Workout Gear
Summer is going to be here before you know it (yay!), but that also means it's time to really start cracking down on those workouts you've been avoiding. We know it's not much fun, but when you look fantastic, future you will be happy you put in the extra hard work. And you know what could make those trips to the gym a whole lot better? Some awesome new workout clothes! Designers like Lululemon, Theory, and Stella McCartney for Adidas have made some really bright, fun workout gear that will be perfect no matter if you're running or doing yoga. And once you buy the clothes, you're bound to use them, right? Click through the slideshow to check out our favorite sneakers, leggings, shorts, tanks and more. [Photo: Wildfox]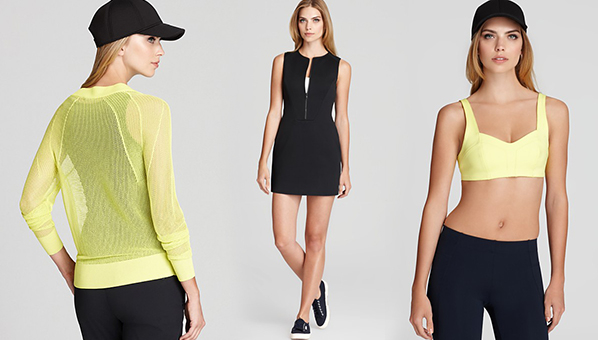 Workout Gear That Looks Good Out In Public: Shop Theory's Fitness Apparel Now
We love us some Theory. The label never disappoints when it comes to comfy luxury. We're talking tops and pants that you can really live in. So it's no wonder that they'd nail it with their workout gear through new line Theory 38. The collection of sweats, leggings, windbreakers and more fulfills all of our gym-wear needs, and more. So if you have lots of errands to run post-spin class, you won't have to worry about schlepping home to change. Theory 38 is mostly black, white and grey, with a few pieces that bring the pop of bright yellow, and the line ranges from $65 for a pair of track shorts to a $245 silk windsurf dress. Click through to shop the collection now. For more news, shop Splendid's new lingerie, learn more about Madewell's collaboration with Keds and check out Vans x "Love Me" kicks.
Jennifer Lawrence Preps For Awards Season In Adidas Gear You Can Shop Now
Jennifer Lawrence's first stint as SNL host on Saturday night may have received mixed reviews, but you could tell she was having a great time. What we also could tell is that she has been working out - girl's got to look good for awards season! She looked remarkably fantastic in her opening monologue in a strapless, belted top that showed off her toned arms and tiny waist. Talk about New Year's resolution inspiration. To get you started on your 2013 fitness goals, we've tracked down the exact Adidas Techfit Three Quarter Tights ($40) that JLaw was spotted in recently during her (effective) workout routine. Now get to toning! Get the Adidas three-quarter tights here. For more celebrity workout looks, check out Ashley Tisdale's hot sneakers, Hilary Duff's post-gym ensemble and Nicole Richie's yellow leather jacket.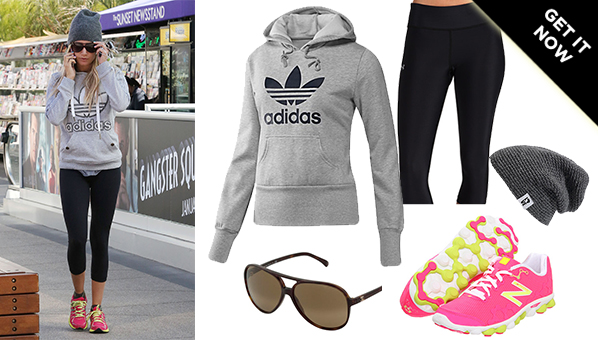 Ashley Tisdale's Workout Style Is Worth Copying (If Only For The Motivation)
Now that 2013 is upon us, those 'go to the gym more' resolutions are quickly being ignored and the excuses keep pilin' up. We get it, it's cold and windy and that glass of vino looks so much nicer than a sweat-fest. Which is why, we are bringing you inspiration in the form of one very blond actress, Ashley Tisdale. When Ashley gets into shape, she does so in style. We show you how: Start with a comfy Adidas Trefoil Fleece Hoodie ( $52, down from $65) paired with Under Armour HeatGear Lunge 17" Capri ($37). Then to spice things up in the grays and blacks, snag the bright New Balance W3090 Pink Sneakers ($84, down from $89). And last, but not least, give this mundane workout look some serious fashion points with CHANEL 5206 Sunglasses in color 7144P ($329) and a Krochet Kids Hand Crochet Slouchy Beanie ($21, down from $32). Some of her items were unavailable so we found similar ones but rest assured, this look will have you jogging all the way to the gym. [Photo Credit: Splash News] Shop more stylish workout clothes or check out some A-list style like Jessica Biel's parka, Hilary Duff's tiger sweater, or Chloe Moretz's award-show dress.
5 Fitness Classes You've Been Meaning To Try – And What To Wear To Them
My friends and I recently signed up for a tough fitness class we'd been dying to try, knowing we needed the post-holidays ass-kicking. We worried about whether we'd be able to keep up, but we also worried about sticking out. Dressing the part is half the battle in these classes, many of which have cult-like followings. The group workout inspires a camaraderie, and to feel like part of the team, you'll want to know the uniform. Plus, every class' clothing will differ a bit according to the type of activity. To help you avoid the first class discomfort, we've gone right to the source: the trainers themselves. From spinning to hot yoga, click through for the inside scoop on what to wear to your first class. For more fitness apparel, check out our roundup of bright running shoes, shop the best workout gear and Spanx for the gym?!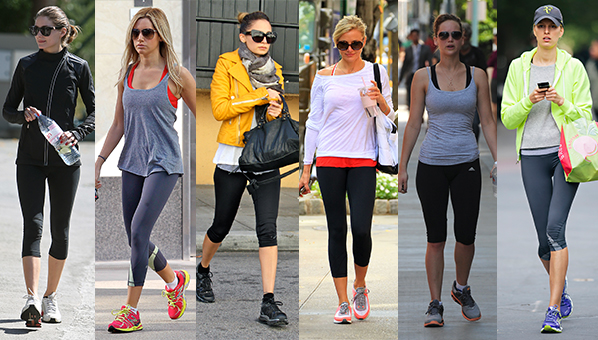 Lose The Baggy Tee And Fat Pants: Stylish Workout Gear Is A Much Better Motivator
If one of your New Year's resolutions was to get in shape, then listen up! I've always found that the most effective way to get myself motivated for the gym is to make sure I look good in my workout gear. It worked in high school—I won the "Best Dressed" award on my high school tennis team—and it's still working for me now. There's just something about slim-fit crops and a flattering racerback in a pretty hue that just makes me want to tear it up on the treadmill. And I'm betting it'll work for you, too. I've rounded up my favorite athletic wear that is sure to get you off the couch and into the gym. Click through for my picks, but be warned: you'll look so good that the paparazzi might mistake you for a celebrity gym rat. And while you're at it, check out these cute sneakers, neon workout gear, and gym-ready shapewear in case you want to fake it 'til ya make it. [Photos: Splash News]
Hate Exercise A Little Less In These Sweet Running Shoes
That 2012 girl who only dragged herself to the gym once a week is a thing of the past. In 2013, you've pledged to be a gym devotee, aka the girl that hits the treadmill, goes to Zumba class or rides a bike on the reg. To keep you motivated to get your (soon-to-be-toned) booty to the gym on a cold winter morning, we've rounded up some of the cutest running shoes on the market. Click through to find the pair that will have you excited to get in shape in 2013. For more cute fitness gear, check out Miley Cyrus' workout pants, try out Nicole Richie's yellow leather jacket and shop our cheap workout gear guide.
These Peach Nike Kicks Really Give Jennifer Lawrence A Run For Her Money
When she's not running from fellow tributes, Hunger Games actress Jennifer Lawrence is getting her fitness on near her home in L.A. On more than one occasion she's been spotted in these  grey and peach-colored Nike LunarGlide+ 2 sneakers, which also happen to be 50% off: Get these Nike LunarGlide+ 2 ($49.99, down from $99.99) now. Remember, it's never too late to start getting in bikini shape -- your goal can be to look good by Labor Day (which is 6 weeks away). For more celebrity style, get Miranda Kerr's A.L.C. dress, Anne Hathaway's Tory Burch espadrilles, Jessica Alba's Tara Matthews bikini.
We Found Awesome Neon Workout Gear That's So Bright It Should Be Illegal
Neons made a huge comeback in the fashion and nail polish worlds this summer, and we've just recently noticed a neon workout gear frenzy. That's right, we said workout. While it may not be our favorite thing to do, these bright hues  have us wanting to run miles and miles and miles (okay, that's a huge lie). But no really, they do have us more stoked about our gym visits. SHOP NEON WORKOUT GEAR If working out isn't in your cards, there's plenty of collaboration news. Check out Annabelle Dexter-Jones x Faith Connexion, Converse x Marimekko, and Nicole Richie x Macy's Impulse now.
H&M Is Opening A Pop-Up Shop For Their 'Sport' Line In July
In case you're headed to the London Olympics this summer, we thought you should know about this awesome H&M Sport Pop-Up Shop that is opening in July. Spectators traveling to the city will be able to shop the exclusive capsule collection at Convent Garden, starting Friday, July 6th, and in Westfield Stratford City on Saturday, July 7th, according to Style Sight. If you're not headed to jolly old England anytime soon, here's hoping the collection hits eBay soon... The collection includes sporty essentials like seamless sports bras, tanks, running shorts, windbreakers and leggings in jazzy neon brights and patterns. For news  on more Olympics gear, shop Butter London's Olympics trio, Adidas' Your Story collection, and Stella McCartney's Olympics uniforms.
There Are Only 2 Weeks Left Until Summer: 7 Last-Minute Bikini Body Tricks
While the weather outside has shown small signs of summer approaching, this doesn't mean that Memorial Day Weekend is delayed. In just two weeks, your highly anticipated long weekend will most likely consist of the ocean, sun, sand, and (legally) a drink in your hand. So as you count down the days, you might as well get into diet crunch time mode. Before you know it, you'll be flaunting a new bikini and an amazing new bod—with a day off from work for good measure. Not sure where to start? We've got you covered. LAST-MINUTE TRICKS & GEAR Read more fitness features: Stacy Keibler's workout gear, Miranda Kerr's Reebok outfit, and other celebrity fitness looks.
Get Stacy Keibler's Exact Nike & Under Armour Workout Gear, Aka George Clooney-Bait
Ah, the start of a new year and new resolutions, which in everyone's case, is usually centered around getting fit for those upcoming spring and summer vacays. So while you're still trying to convince yourself to get that gym membership or hit up that new hot yoga spot, here's an extra kick of inspiration: Stacy Keibler, who boasts a pretty bodacious figure, which caught the eye of notorious bachelor George Clooney. The blonde-haired starlet, DWTS alum, and former pro-wrestler (yes, you read that right) works out in style and we did the research to find you exactly what she sports to burn those calories. (more…)
Demi Moore's Weight Loss Bracelet + 8 Turkey-Blasting Products We Love
Skinny mini Demi Moore was just spotted sporting a Jawbone Up! -- a revolutionary (not out yet!) armband that tracks its wearer's eat, sleep and activity patterns. Paired with a free smartphone app, the high tech wristband makes suggestions for healthier living. Sign up to receive updates on the Jawbone here, and in the meantime, here are our 10 favorite weight-loss gadgets that are already on the market. (more…)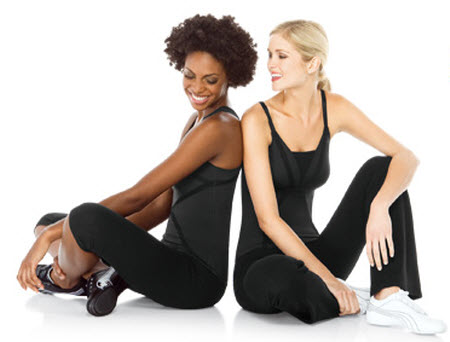 Now You Can Wear Shapewear To The Gym Without Looking Like A Freak (If That's Your Kind Of Thing)
It's a Catch 22: You're trying to get in shape, which is why you need to go to the gym in the first place, but you want to look hot in your workout gear. Well, Spanx has heard your connundrums, and they're introducing a solution: Spanx Active. (more…)
Nike And Champion Introduce Shapewear-Inspired Workout Pants: Because Everyone Wants To Look Hot Mid-Workout
From Left: the updated Nike Legend pants, and Champion's Absolute Workout Pants While slimming pants and leggings have already been popularized by brands like Lisse and Skineez, only recently have major athletic brands jumped on the shapewear bandwagon. Last week, I got a sneak peek of the "Nike Legend Pants" at the Nike Women's Press Preview and was impressed by how much thought went into their new design. With a new "powermesh" panel around the waist that sucks in the gut, pant seams that have been adjusted to contour the line of the leg, and a higher rise in the back to prevent slippage, they've essentially been sartorially engineered to make you look hot. But Nike isn't the only mainstream active wear brand to concern themselves with slimming technology: Champion also makes workout pants (like the ones above, right) that "skim your hips, follow your curves, and streamline your silhouette," according to their product description. Although the Nike pants are not yet out in stores, check out Champion's version and other shaping active wear picks below: (more…)
If A Celebrity Sweats In The Gym, Does Anyone See It? (And Other Celeb Workout Musings)
The floppy hat and the Birkin bag: go-to gym necessities, clearly... The whole celebrity gym-going thing has always kind of amused me. For one, don't celebrities already have their own in-home fitness centers (or at the very least, ellipticals)? If so, why bother making the oh-so-public trek to the nearest Equinox just to get photographed looking sweat-tastic? The answer is twofold: for one, the gyms and hiking trails A-listers frequent might as well be on the red carpet---they're swarming with nearby paparazzi, onlookers, and fellow stars. Secondly, the "celebrity gym run" is so much of a publicity stunt in itself, it's clear that their stylists outfit their workout ensembles, so as to make us mortals feel even more reluctant about gym going than we already are. And while I do not recommend sporting a knit cap or Hermès Birkin bag to your nearest Equinox, I do recommend choosing a pair of fun, colorful gym shoes that make you feel like a celebrity in your own right. Check out my favorite under-$100 stylish gym shoes below: (more…)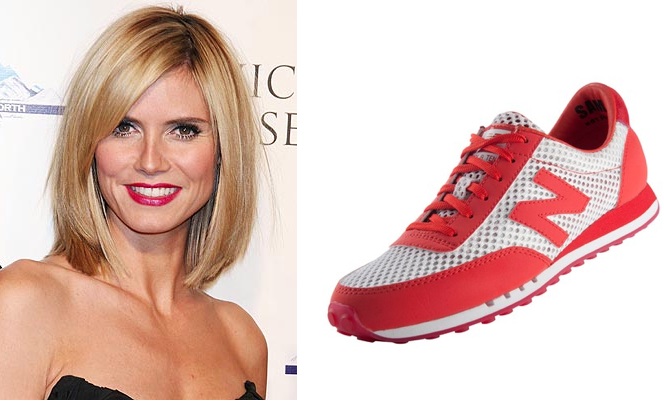 Guten Tag, HKNB: Heidi Klum's New Balance Line Now Includes Sneakers
Heidi Klum and one of the new styles from HKNB While Heidi Klum launched her line for New Balance last fall, the collection solely featured designer workout apparel.  However, Ms. Klum acquainted herself with what New Balance knows best---footwear---and released two modified versions of the brand's famous 410 and 320 designs (see above). The new sneakers, priced $80-$90, are now available exclusively on Amazon.com. Shop the entire Heidi Klum for New Balance (HKNB) now right here. Be sure to read up on the rest of our Heidi Klum-related news, or check out our shopping guides on cheap workout gear and the best sports bras.
These Tops Are Apparently Meant For The Gym: We'd Say Skip The Weights And Wear Them To The Bar Instead
These tops bring whole new meaning to sports "clubs." Although Adidas by Stella McCartney has already been around for seven years, I guess I never really gave it the proper credit it deserves (it could have something to do with my equally neglected gym membership...). But upon viewing the collection on Net-a-Porter, I was shocked at two things: 1. the fact that it looks absolutely nothing like athletic apparel 2. the affordable price points (likely due to the fact that despite the aforementioned statement, it is supposed to be athletic apparel). And thanks to deductive reasoning, I discovered #3: it makes sense to buy from the Stella McCartney for Adidas line because it's so reasonable, and just wear it everywhere BUT the gym. Check out my favorite picks below: (more…)
Break Up With Your Muffin Top: 6 Workout Essentials For Bikini Season
So we can't all look like we belong in the Victoria's Secret swimsuit catalog, but hey, we can try. And what better way to get into the workout groove than with new multi-weather workout gear? We're not talking about your brother's raggy sweatshirt, we mean sweat-absorbing leggings and wireless yet supportive sports bras. So take a look and find your motivation here to look like Alessandra Ambrosio in no time. (more…)
Can You Find Which Yoga Pants Cost $62.50 Less Than The Others?
Press your fashion luck with all of our Taste Tests. Shop our guides to the best cheap workout gear and the best black pants. Join our e-mail list for exclusive SHEFinds updates.
Former BFFs Nicole Richie And Lindsay Lohan Hit The Gym In Matching Nike Workout Pants
Nicole Richie and Lindsay Lohan may not be friends anymore, but both showed a newfound commitment to health by hitting the gym this week in matching Nike capris. (We're glad they don't look like this anymore.) Their fitness fashion routine is the same: printed scarf, oversize sunglasses and black handbag, black top and Nike leggings: See what else we're wearing this season with all of our winter trends. Shop our guides to the best coat trends, the best jackets, and the best military jackets. Subscribe to our online mailing list for SHEFinds in your inbox. Follow the author of this post on Twitter @bridefinds.