Leggings are a wardrobe essential for most women. But, for pregnant women, leggings are LIFE. Jeans and trousers can become restricting for pregnant women and almost impossible to button over a baby bump, making leggings their go-to bottoms.
While many brands offer maternity jeans, trousers, and pants for pregnant women, there's nothing like a stretchy, comfy, and versatile pair of leggings. As if finding stylish and comfy leggings that look good for work, gym, or on-the-go isn't already difficult enough, it can be even more of a challenge shopping for the fitting and flattering maternity leggings. That's why we've curated a list of the BEST maternity leggings with reviews where available from mamas themselves!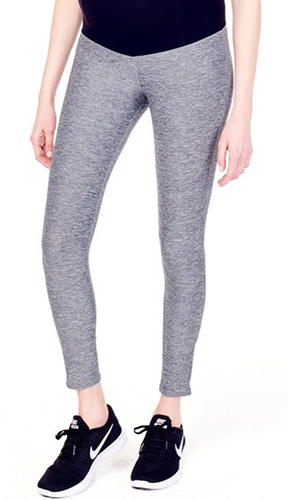 Ingrid & Isabel 'Active' Legging ft. Crossover Panel ($88)
These stretchy and comfy maternity leggings are perfect for mamas who work out. They feature moisture-wicking stretch fabric and a foldable Crossover Panel that provides lower-back support.
"These are the black maternity leggings I've been looking for! Thick enough to not be see-through, tight enough to give the body some shape, and stretchy enough to fit the growing belly!" –EmmaMeg
"These are seriously the best leggings! They are perfect for the beginning stages of a bump, and I'm hopeful they'll work throughout my pregnancy. I wish they weren't so expensive, but they are totally worth it." –Kateh1284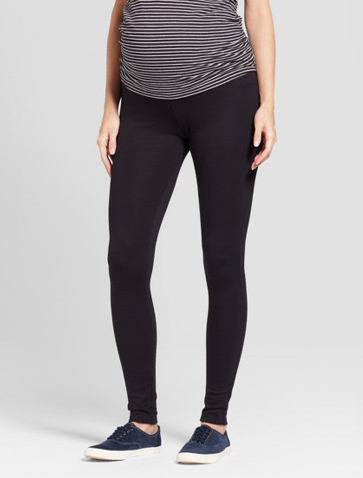 Ingrid & Isabel Maternity Crossover Panel Ponte Pants ($27.99)
The Ponte Pants are soft and stretchy like leggings, but have the look of jeans or trousers. The foldable Crossover Panel provides lower back support and there are front and back pockets, perfect for casual wear or running errands.
"These are very stretchy-like, thick active-wear with back pockets, which I love. I'm a size 8, 150lbs normally and a medium fit perfect. Also, they are very long, I'm 5″10 and they were plenty long. Great pants for casual days or dressing up" -JBmommy
"Love these pants! They are comfortable but look nicer than just leggings because of the thick non-see-through fabric and the pockets. The belly part is still a little big on me (I'm 19 weeks and 134 lbs) but I know I'll grow into it and they can be worn folded over too. I also like the crossover back so you stay cooler." -kmac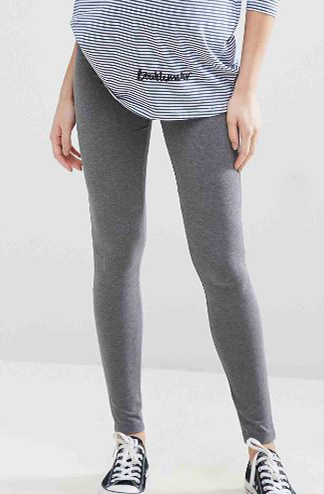 ASOS Maternity Full Length Legging ($19)
The ASOS Maternity Full Length Leggings are designed to fit through all stages of pregnancy. The bodycon fit and baby bump-friendly elasticized waistband will make these your favorite maternity leggings up until your due date. Sizes range from US 2 through 16.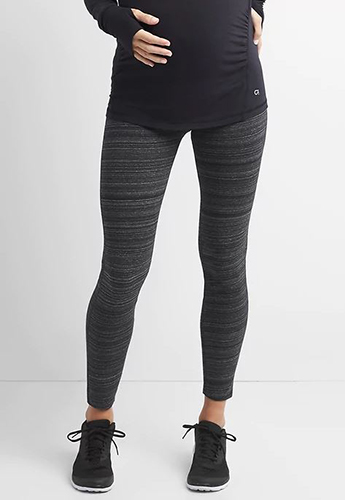 Gap Maternity GapFit gFast full panel leggings ($40, originally $49.95)
These moisture-wicking leggings with breathable jersey fabric will keep you cool during your workouts. They also feature a full panel that stretches over your bump for maximum support. Oh, and did we mention they're on sale for just $40?!
Motherhood BumpStart Under Belly Maternity Leggings ($29.98)
If you're not a fan of over-the-belly panels, opt for these Motherhood BumpStart Leggings that have an under belly panel instead. These comfy, soft jersey knit leggings are a must-have during the beginning stages of pregnancy.
"These are just great – I don't like the over-the-bump leggings as I usually feel they either slide down or cut off my breathing. These come in just at the right place. I'm 5'8″ and was 140 (size 4-6) before pregnancy. I bought the small according to the size chart and they are perfect! No show through, thick enough but not sweaty." –Holly Balcom
"Love, love, love these leggings! They are the only pants I wore out of the house during the final few months of my pregnancy. I would recommend basing sizing off of your pre-pregnancy weight (I was about size 2-4 pre-pregnancy), I got a size small in these leggings and they fit perfectly. They washed up great (I did cold-water wash, tumble dry low heat), and they were not see-through at all. Would definitely recommend to any soon-to-be mom for under belly maternity pants!" –SHansen
Old Navy Maternity Full-Panel Heavy-Knit Leggings ($19)
These leggings were made for women in their second and third trimesters. They feature a supportive panel that sits over the belly and heavy-knit cotton jersey fabric for comfort and stretch.
"Super comfortable. I can tell they'll be a staple for this pregnancy." -Kristik
"Nice leggings that are comfortable and thick. The belly panel is comfortable as well. I foresee wearing these throughout my 2nd and 3rd trimesters." -MarWen
Pregnancy is a beautiful, life-changing experience and women deserve to be comfortable and stylish throughout the process. What do you think of these maternity leggings? Let us know in the comments below!
[Photos: Cheetah Is The New Black; Motherhood Maternity]
SheFinds receives commissions for purchases made through the links in this post.