These $30,000 Christian Louboutin Boots Are NOT The Most Expensive Shoes Ever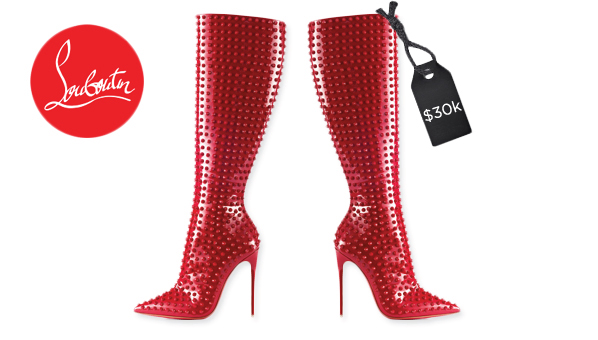 Would you bid on a pair of one-of-a-kind, custom-made, spiky red Christian Louboutin boots worth $30,000? Well, Jony Ive (Apple's Snior VP of Design) and Marc Newson think someone will. The two were asked by Sotheby's to come up with a list of items for the (RED)Auction, which raises money for the Global Fund to Fight AIDS, Tuberculosis and Malaria. Ive and Newsons chose 40+ of the most eclectic and amazing items ever, including a Russian cosomaut space suit worn in orbit and a Steinway & Sons custom white piano with a pop of red on the soundboard. The products are up for grabs this Saturday, November 23.
But back to the Loubs. At first we though these might be the most expensive shoes ever. But after doing some research we realized they are most definitely not…and by a long shot. Can you guess how much the most expensive shoes ever cost? $50,000? $100,000? Nope. Just a cool $3 million. That's right, The House of Harry Winston recreated the iconic ruby red slippers from The Wizard of Oz for the movie's 50th anniversary. Winston used real rubies to make the shoes, which is why they have the insanely high price tag. So the Loubs actually seem (kind of, sort of) reasonable. Especially since they're for a good cause. We actually wouldn't be surprised if a bidding war starts between Miley and Lady Gaga for these boots. Makes the usual $625 price tag seem like a bargain, am I right?
For more news, check out: shop Burberry nail polish from the runway, shellac for your hair and Nasty Gal is opening a real store